Communist Party of China
Political party of China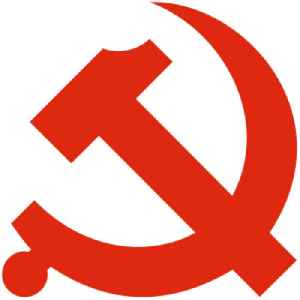 The Communist Party of China (CPC) is the founding and ruling political party of the People's Republic of China (PRC) and the second largest political party in the world after India's Bharatiya Janata Party. The CPC is the sole governing party within mainland China, permitting only eight other, subordinated parties to co-exist, those making up the United Front. It was founded in 1921, chiefly by Chen Duxiu and Li Dazhao. The party grew quickly, and by 1949 it had driven the Kuomintang (KMT)'s Nationalist Government from mainland China to Taiwan after the Chinese Civil War, leading to the establishment of the People's Republic of China. It also controls the country's armed forces, the People's Liberation Army.


Indians have done their best to respond to China's aggressive actions: Mike Pompeo

Speaking on India-China border tensions, US Secretary of State, Mike Pompeo said, "I have spoken with Foreign Minister S Jaishankar a number of times about this. Chinese took incredibly aggressive..
Credit: ANI Duration: 02:31
Published
Navarro walks back China trade deal comments

[NFA] Just hours after White House trade adviser Peter Navarro said the trade deal with China was 'over,' he walked back his comments -- which had in the meantime sent financial markets into a frenzy...
Credit: Reuters Studio Duration: 01:35
Published
Baloch activists hold anti-Pakistan protest in Canada for human rights violations in Balochistan

Baloch political and human rights activists gathered in Toronto on Sunday to protest against Pakistan and China for gross human rights violations in Balochistan. The protest was held under the aegis of..
Credit: ANI Duration: 02:24
Published
China displays 'rogue' attitude in neighbourhood, creates wedge between US, Europe: Pompeo

US Secretary of State Mike Pompeo on Friday criticized the Chinese Communist Party (CCP) for not only displaying its "rogue" attitude in its neighbourhood, particularly the recent escalation of border..
Credit: ANI Duration: 01:48
Published
A year on, Hong Kong protesters torn between hope and fear

Dozens attended a peaceful lunchtime rally in Hong Kong's Central financial district on Tuesday, marking one year since a massive rally that sparked months of pro-democracy protests. Supporters of the..
Credit: Reuters Studio Duration: 01:47
Published
Attack on Taiwan still an option: China general

China will attack Taiwan if there is no other way of stopping it from becoming independent, one of the country's most senior generals has said. Joe Davies reports.
Credit: Reuters Studio Duration: 01:03
Published
Police fire teargas in Hong Kong's biggest lockdown-era protests

Thousands take to Hong Kong's streets to protest Beijing's proposed national security laws - amid fears that the "one country, two systems" formula is being squeezed in Beijing's tightening grip. David..
Credit: Reuters Studio Duration: 01:36
Published
You Might Like



Aggressive stance against India, other countries confirms true nature of Chinese Communist Party: White House

White House press secretary Kayleigh McEnany said that according to President Donald Trump the aggressive stance of Beijing against India and other countries in the region confirms the "true nature" of..




IndiaTimes - Published





Mike Pompeo welcomes India's ban on apps

US secretary of state Mike Pompeo on Wednesday welcomed India's ban on certain Chinese apps that he said "can serve as appendages of Chinese Communist Party's surveillance state". ​​He..




IndiaTimes - Published





Ladakh face-off: US senators express solidarity with India

Expressing solidarity with the people of India on the Ladakh face-off with China, a top US senator has said India had made it clear that it would not be bullied by Beijing. Republican Senator Marco..




IndiaTimes - Published





Moving troops from Europe to counter Chinese threat to India: US Secretary of State Mike Pompeo

Pompeo said that the ruling Chinese Communist Party was posing a threat to India, Vietnam, Malaysia, Indonesia, adding that the "US military is postured appropriately to meet the challenges."




DNA - Published





Nadda attacks Rahul citing 2008 MoU between Cong, China's Communist Party

Accusing Rahul Gandhi of trying to "divide the nation" and "demoralise" the armed forces during crucial situations, BJP president J P Nadda asked on Tuesday if it was the "effect" of the MoU the..




IndiaTimes - Published





#JunkOneChina: Twitter rages against 'One China' policy, calls for end of 'oppressive CCP regime'

Many tweets highlighted the threats posed by the Chinese Communist Party (CCP), headed by President of China Xi Jinping.




DNA - Published





Pompeo tears into 'rogue actor' China for 'escalating' border tension with India

The US on Friday criticised the Chinese Army for "escalating" the border tension with India and described the ruling Chinese Communist Party as a "rogue actor."




IndiaTimes - Published





Ahead of border talks, Chinese mouthpiece warns India against US, asserts Beijing won't give up 'any inch of territory'

Ahead of talks between military commanders of India and China to resolve the standoff along the Line of Actual Control (LAC), Chinese Communist Party mouthpiece on Saturday warned India "not to be..




IndiaTimes - Published





North Korean leader Kim not believed to be critically ill: Chinese party source

North Korean leader Kim Jong Un is not believed to be critically ill, an official with the Chinese Communist Party's International Liaison Department told Reuters on Tuesday, following media reports..




Reuters - Published





China appoints Sun Jinlong as new environment ministry party head

China has appointed Sun Jinlong as the new Communist Party Secretary of the Ministry of Ecology and Environment, replacing Li Ganjie, the ministry's website showed on Tuesday.




Reuters - Published





China 'virtual idol' avatars mocked and removed amid coronavirus crisis

The Chinese Communist Party's Youth League removed a pair of anime-like characters this week after their introduction in the midst of the coronavirus outbreak unleashed a storm of criticism and mockery..




Reuters - Published





Pompeo plays down rift with Britain over Huawei, but steadfast on Chinese threat

U.S. Secretary of State Mike Pompeo on Thursday sought to defuse tension over Britain's decision to allow China's Huawei a role in its communication network, but described the Chinese Communist Party..




Reuters - Published





Special Report: How Hong Kong's greatest tycoon went from friend of China to punching bag

In January of 1993, an ambitious Chinese Communist Party boss, a 39-year-old official with chubby cheeks and a mop of black hair, visited Hong Kong. He was seeking out the city's rich among the..




Reuters - Published





China blocks visit by outspoken Australian lawmakers for study trip

Two Australian lawmakers known for their outspoken criticism of the Chinese regime said they had been barred from visiting the country next month because of their "frankness about the Chinese Communist..




Reuters - Published





China renews attack on Pompeo, says Communist Party criticism 'dangerous'

China's Foreign Ministry launched a renewed attack on U.S. Secretary of State Mike Pompeo on Friday, saying that his recent criticism of the Chinese Communist Party was "extremely dangerous" and..




Reuters - Published





Taiwan warns of possible attack if China's slowdown 'becomes serious'

Beijing could resort to military conflict with self-ruled Taiwan to divert domestic pressure if a slowdown in the world's second largest economy amid trade war threatens the legitimacy of the Chinese..




Reuters - Published





China to 'perfect' HK system as water cannon breaks up Guy Fawkes protest

The Chinese Communist Party said on Tuesday it would "perfect" the system for choosing the leader of Hong Kong after months of anti-government protests, as police in the ex-British colony fired water..




Reuters - Published





China to 'perfect' choosing Hong Kong leader as Guy Fawkes protesters rally

The Chinese Communist Party said it would "perfect" the system for choosing the leader of Hong Kong after months of street protests demanding democracy for the former British colony and denouncing what..




Reuters - Published





China says it will 'perfect' system for choosing Hong Kong leader

The Chinese Communist Party said it would "perfect" the system for choosing the leader of Hong Kong after months of street protests demanding democracy and denouncing what critics see as Chinese..




Reuters - Published





Explainer: What is China's Communist Party plenum?

The elite Central Committee of China's ruling Communist Party will hold a closed-door meeting from Monday to Thursday to set the major policies for the year ahead and beyond, and probably discuss..




Reuters - Published





Amid crises, Xi seems set to uphold Party's rule at secretive China conclave

China's Communist Party leaders will on Monday start their most important meeting this year, with President Xi Jinping expected to champion the Chinese model of governance while fighting protracted..




Reuters - Published





China's Communist Party to hold key meeting next week

China's ruling Communist Party will hold key meeting starting from next Monday until Thursday, state news agency Xinhua said on Thursday.




Reuters - Published





Chinese Communist Party newspaper attacks Hong Kong schools 'liberal studies'

Hong Kong's education system was described by the Chinese Communist Party's People's Daily newspaper as a "disease" that must be treated, in an editorial that blamed schools for inculcating students..




Reuters - Published





China state newspaper criticizes Apple for app use by Hong Kong protesters

The Chinese Communist Party's official newspaper, the People's Daily, lashed out on Tuesday at Apple Inc for allowing an app on its app store that tracks the movement of police around Hong Kong and is..




Reuters - Published





Stand up to Beijing, Hong Kong singer tells U.S. lawmakers, companies

Hong Kong singer and activist Denise Ho wants U.S. lawmakers and companies to criticize Beijing's actions in Hong Kong, to help change the Chinese Communist Party's behavior.




Reuters - Published





China to fight back against U.S. tariff move: People's Daily

China will fight back against the latest U.S. step to increase tariffs on Chinese goods, the ruling Communist Party's People's Daily said on Sunday amid an escalating trade war between the world's two..




Reuters - Published





Silk Road sweeteners: China woos Myanmar's NLD with junkets

The National League for Democracy was forged in an uprising against one-party rule. Its activists spent years in jail under Myanmar's military junta. But since taking power three years ago, the party..




Reuters - Published





Silence, security in Beijing on 30th Tiananmen anniversary: China's Communist Party detains several activists, shuts down live-streaming sites

China marked 30 years since the deadly Tiananmen crackdown on Tuesday with a wall of silence and extra security after arresting activists and tightening internet censorship ahead of the politically..




Firstpost - Published