Francisco Franco
Spanish general and dictator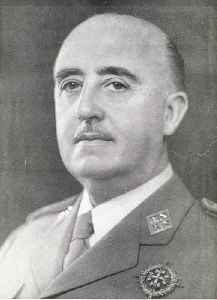 Francisco Franco Bahamonde was a Spanish general who led the Nationalist forces in overthrowing the Second Spanish Republic during the Spanish Civil War and thereafter ruled over Spain from 1939 to 1975 as a dictator, assuming the title Caudillo. This period in Spanish history, from the Nationalist victory to Franco's death, is commonly known as Francoist Spain or the Francoist dictatorship.


Spain's ex-king leaves country amid scandal

Spain's former king Juan Carlos has decided to leave his country, a dramatic exit designed to protect the monarchy after a barrage of corruption allegations surfaced against him. Libby Hogan reports.
Credit: Reuters - Politics Duration: 01:47
Published
You Might Like



Spain sees coronavirus pain easing, seeks new national economic pact

Spain's coronavirus death toll slowed on Thursday as its leader said the worst should soon be over and exhorted all sides in the politically-fractured nation to join an economic revival pact as they..




Reuters - Published





Spanish government to ban glorification of Franco dictatorship

The Spanish government plans to make it illegal to glorify the regime of former dictator General Francisco Franco as part of a reform of the country's criminal code, the Socialist Party said on Monday.




Reuters - Published





Topless protesters crash pro-Franco demonstration in Madrid

Topless female activists on Sunday interrupted a demonstration in Madrid commemorating the legacy of Spain's former dictator Francisco Franco, 44 years after his death.




Reuters - Published





Spain opens door to 31 exhumations in the Valley of the Fallen mausoleum

Spanish authorities said on Wednesday they would endeavor to exhume some of the thousands of civil war victims in the Valley of the Fallen, weeks after the remains of dictator Francisco Franco were..




Reuters - Published





With little fanfare and no Franco, Spain's Valley of the Fallen reopens

Visitors ranging from curious to nostalgic took in the new look of Spain's Civil War shrine in the Valley of the Fallen, as it reopened on Tuesday five days after the government exhumed the remains of..




Reuters - Published





Confronting its troubled past, Spain exhumes Franco

Cries of "long live Franco!" accompanied the laurel wreath-draped coffin of General Francisco Franco on Thursday as Spain removed the remains of its former dictator from the state mausoleum where he..




Reuters - Published





Franco family leaves Mingorrubio cemetery after reburial ceremony

The family of Spanish dictator Francisco Franco on Thursday left the Mingorrubio cemetery north of Madrid following a reburial ceremony for his exhumed remains.




Reuters - Published





Exhumation of former Spanish dictator is act of reconciliation says acting PM

The exhumation of Spain's former dictator Francisco Franco was a step towards reconciliation, acting Prime Minister Pedro Sanchez said on Thursday, after the general's remains were removed from the..




Reuters - Published





Behind closed doors, Spain exhumes Franco's remains

Cries of "long live Franco!" accompanied the coffin of Francisco Franco on Thursday as Spain removed the remains of its former dictator from the state mausoleum where he was buried in 1975.




Reuters - Published




Spanish dictator Franco's remains arrive at cemetery north of Madrid

Spanish dictator Francisco Franco's remains arrived by helicopter on Thursday at the Mingorrubio cemetery north of Madrid, where they are to be reburied after being exhumed from a state mausoleum.




Reuters - Published





Factbox: Reactions to Spain's exhumation of former dictator Franco

Spanish dictator General Francisco Franco's remains were exhumed on Thursday from a state mausoleum outside Madrid where they had lain since his death in 1975, for reburial in a private family vault.




Reuters - Published





Spanish dictator Franco's remains exhumed from state mausoleum

Spanish dictator Francisco Franco's remains were exhumed on Thursday from the state mausoleum in the Valley of the Fallen where they have lain since his death more than four decades ago.




Reuters - Published





For prisoner of Spain's Franco, exhumation is bittersweet

For one activist jailed by Spain's Fascists for his political views, Thursday's exhumation and reburial of Francisco Franco's bones after decades lying in state marks a bittersweet moment.




Reuters - Published





Franco exhumation a political game that debases his legacy, grandson says

A decision by Spain's government to remove Francisco Franco's remains from a state mausoleum is simply an act of political opportunism ahead of next month's election, the late dictator's oldest..




Reuters - Published





Factbox: Franco - Polarising Spain in life and in death

Spain will on Thursday remove the remains of Francisco Franco from the state mausoleum where he lies buried, as the Socialist government seeks to end decades of controversy over the dictator's resting..




Reuters - Published





Spain will exhume dictator Francisco Franco's remains on Thursday

Spain will on Thursday remove dictator Francisco Franco's remains from the state mausoleum in which he was buried in 1975, the government said on Monday.




Reuters - Published





Spain to shut mausoleum ahead of dictator Franco's exhumation

Spain will temporarily shut the mausoleum where Francisco Franco is buried from Saturday to avoid any disturbances as authorities prepare to exhume the dictator's remains.




Reuters - Published





Franco's remains can be exhumed, Spain's Supreme Court says

Spain's supreme court gave the government the go-ahead on Tuesday to exhume the remains of dictator Francisco Franco and move them from the state mausoleum in which he was buried in 1975.




Reuters - Published





Spain's supreme court rules in favor of exhuming Franco's remains

Spain's supreme court ruled on Tuesday in favor of exhuming the remains of former dictator Francisco Franco and moving them from the state mausoleum in which he was buried in 1975.




Reuters - Published




Spain's Supreme Court set to rule on whether remains of Franco should be moved

Spain's Supreme Court is expected to rule on Tuesday on whether to move the remains of former dictator General Francisco Franco from a state mausoleum that the leftist government and others have..




Reuters - Published





France's Macron demands answers after dual national detained in Iran

French President Emmanuel Macron on Monday demanded an explanation from Iran after the arrest last month of Franco-Iranian dual national Fariba Adelkhah, an incident that complicates Paris' efforts to..




Reuters - Published





France: has not had satisfactory response from Iran over fate of dual national Adelkhah

France has not received a satisfactory response from Iran over the fate of Franco-Iranian dual national Fariba Adelkhah, who has been arrested in Iran, and requests consular access to her without..




Reuters - Published





Spain claims palace in ongoing fight with Franco's descendents

Spain's socialist government has claimed ownership of Francisco Franco's summer palace in Galicia in its latest clash with the former dictator's descendents, who have challenged a plan to exhume his..




Reuters - Published





Spain protests Vatican envoy's criticism of Franco reburial plan

Spain formally complained to the Vatican on Thursday after its ambassador criticized the Socialist government's attempts to exhume the remains of dictator Francisco Franco and said it had achieved..




Reuters - Published





Spain suspends Franco exhumation planned for Monday

Spain's Supreme Court on Tuesday to suspend the exhumation, planned for June 10th, of the remains of former dictator General Francisco Franco from a state mausoleum, pending the result of appeals by..




Reuters - Published





Spain suspends exhumation of Franco's remains, originally planned for June 10

Spain's Supreme Court on Tuesday decided to suspend the planned exhumation of the remains of former dictator Francisco Franco from a state mausoleum, pending the result of appeals by members of his..




Reuters - Published