Jallianwala Bagh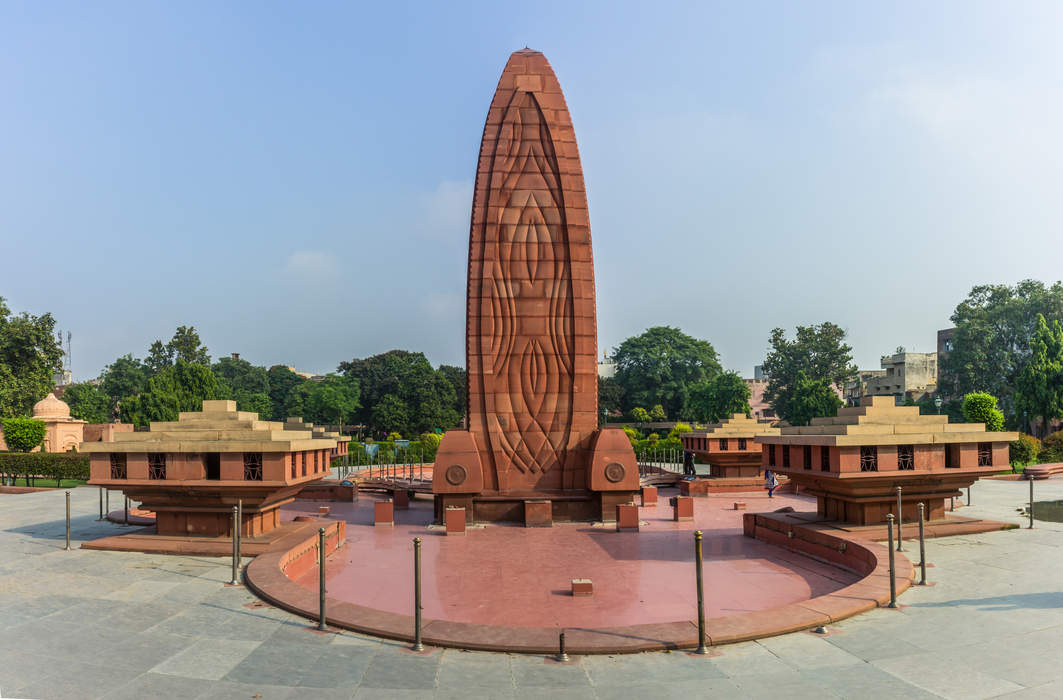 Jallianwala Bagh is a historic garden and 'memorial of national importance' in Amritsar, India, preserved in the memory of those wounded and killed in the Jallianwala Bagh Massacre that occurred on the site on the festival of Baisakhi, 13 April 1919. It houses a museum, gallery and a number of memorial structures.


You Might Like
PM Modi pays tributes to Jallianwala Bagh massacre victims
In a tweet, Prime Minister Modi said, "Tributes to those martyred in the Jallianwala Bagh massacre. Their courage, heroism, and sacrifice give strength to every Indian."
IndiaTimes - Published
Also reported by •DNA
Asaduddin Owaisi: Shaheen Bagh may be turned into Jallianwala Bagh after February 8
AIMIM chief Asaduddin Owaisi on Wednesday expressed his suspicion over the government using force to clear the Shaheen Bagh stretch where an agitation has been ongoing since over 50 days against..
IndiaTimes - Published
We are on right track: Pawar on Thackeray's Jallianwala Bagh comment
NCP chief Sharad Pawar said on Wednesday that Maharashtra chief minister Uddhav Thackeray's "Jallianwala Bagh again" swipe at the Centre was a sign that the alliance between Shiv Sena, his party and..
IndiaTimes - Published
Amit Shah firing at citizens like General Dyer in Jallianwala Bagh: Nawab Malik
"Amit Shah is firing at citizens of the country in the same way General Dyer fired at the people in Jallianwala Bagh. Amit Shah is no less than Dyer. The country is not run by guns and violence," Malik..
IndiaTimes - Published
Shiv Sena amps up attack on BJP; Samaana editorial slams centre over handling of anti-CAA protests
The editorial once again compared the situation to the 1919 Jallianwala Bagh massacre.
DNA - Published
Maharashtra CM's 'Jallianwala ...' remarks insult to martyrs: Devendra Fadnavis
Senior BJP leader Devendra Fadnavis on Tuesday termed as a "big insult to all the martyrs" Maharashtra chief minister Uddhav Thackeray's comparison between the police crackdown on students of the Jamia..
IndiaTimes - Published
Bill to remove Congress president as Jallianwala Bagh memorial trustee passed by Parliament
The government said the bill "seeks to make apolitical" the trust that runs Jallianwala Bagh National Memorial.
DNA - Published
'Ashamed and sorry' for crime committed here, says Archbishop of Canterbury at Jallianwala Bagh memorial
Welby also lied on the floor of the memorial after reading out a prayer to God to seek forgiveness.
DNA - Published
Canterbury's archbishop Justin Welby to offer peace prayers in Amritsar, but all eyes on Jallianwala Bagh visit
IndiaTimes - Published
Amarinder Singh dubs Harsimrat Kaur Badal 'habitual liar' over Jallianwala Bagh massacre remark
Punjab chief minister Amarinder Singh on Friday termed Union minister Harsimrat Kaur Badal a "habitual liar" over her remarks that one of his close relatives had lauded the role of General Dyer in the..
IndiaTimes - Published
LS passes Jallianwala Bagh National Memorial (amendment) Bill
Lok Sabha on Friday passed a bill which seeks to remove the Congress president as a permanent member of a trust that runs the Jallianwala Bagh National Memorial amid walkout by the Congress.
IndiaTimes - Published
Bill to remove automatic nomination of Congress President from Jallianwala Bagh trust tabled in Lok Sabha
Introducing the Bill, Tourism Minister, Prahlad Singh Patel said the Bill was passed in the 16th Lok Sabha but could not be passed in Rajya Sabha.
DNA - Published