Ayman al-Zawahiri
Egyptian physician, Islamic theologian and leader of al-Qaeda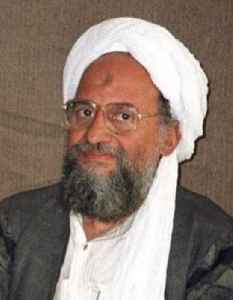 Ayman Mohammed Rabie al-Zawahiri has since June 2011 been the leader of al-Qaeda, succeeding Osama bin Laden, and is a current or former member and senior official of Islamist organizations which have orchestrated and carried out attacks in Asia, Africa, and the Middle East and also some in North America and Europe. In 2012, he called on Muslims to kidnap Western tourists in Muslim countries.


Threat from al-Zawahiri not serious: Raveesh Kumar
Ministry of External Affairs spokesperson Raveesh Kumar said on Thursday that the security forces are well-equipped and capable of maintaining territorial integrity.
DNA - Published
Don't think we need to take it seriously: MEA dismisses Al Qaeda's threat on Kashmir
India has the capability of taking care of its territorial integrity and sovereignty and there is no need to take seriously the threats on Kashmir by al Qaeda chief Ayman al-Zawahiri, the External..
DNA - Published
Inflict blows on Indian Army, govt: Ayman al-Zawahiri
He also brought to light Pakistan's involvement in fuelling cross-border terrorism in the message titled "Don't Forget Kashmir"
DNA - Published
Al-Qaida chief Zawahiri asks terrorists to step up attacks against India
Seated in a chair behind a large desk against a black background, Zawahiri, looking old and frail, spoke in Arabic in the video which ran English captions at the bottom. Suspected to be hiding in..
IndiaTimes - Published
Al-Qaida chief threatens India over Kashmir, unveils Pakistan's role in fuelling cross-border terrorism
Terror group al-Qaida's chief, Ayman al-Zawahiri, has told "Mujahideen in Kashmir" to hurt Indian interests in Jammu and Kashmir, in a message released by the outfit's media wing, as per the Foundation..
IndiaTimes - Published
Search this site and the web:
You Might Like