Essex
County of England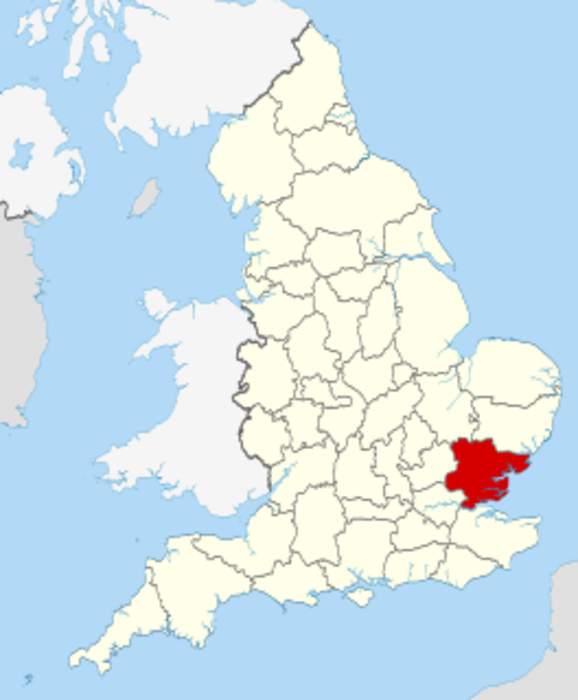 Essex is a county in the south-east of England, north-east of London. One of the home counties, it borders Suffolk and Cambridgeshire to the north, Hertfordshire to the west, Kent across the estuary of the River Thames to the south and London to the south-west. The county town is Chelmsford, the only city in the county. For the purposes of government statistics, Essex is placed in the East of England region.


Michelle Keegan slams 'disgusting' thieves for stealing dog

The Brassic actress threw her support behind the hunt for the missing pet by sharing details of the cocker spaniel recently taken from an Essex garden during the afternoon of the 2nd April and urged..
Credit: Cover Video STUDIO Duration: 00:48
Published
Body found in Epping Forest lake confirmed as Richard Okorogheye

Police have confirmed the body of a man found in a lake in Epping Forest, Essex, is that of missing 19-year-old Richard Okorogheye.
Credit: PA - Press Association STUDIO Duration: 00:41
Published
'No activity' on missing teenager's phone

The Metropolitan Police Service says there has been "no activity" on the phone of missing teenager Richard Okorogheye. The student has not been seen by his family since 22 March when he left their home..
Credit: ODN Duration: 00:47
Published
Protesters stage 'mask free shopping trip' in Tesco

A group more than a dozen shoppers entered the store - thought to be a Tesco in Chelmsford, Essex - without face coverings in protest against the current national COVID restrictions.
Credit: Yahoo News Duration: 00:21
Published
Car crashes into Chelmsford Aldi store

Cameras have captured the moment a car crashed through a supermarket window and knocked over shoppers.It happened at an Aldi store in Chelmsford, Essex, just before 12:00 GMT on Wednesday.
Credit: Yahoo News Duration: 01:03
Published
You Might Like
County Championship: Essex captain Tom Westley leads way against Worcestershire
Essex captain Tom Westley steers champions Essex to a steady start with the bat against Worcestershire.
BBC Sport - Published
Police searching for missing student Richard Okorogheye find a body in pond
Police searching for missing student Richard Okorogheye, who went missing two weeks ago, say they have found a man's body in a pond in Epping Forest, Essex.
Sky News - Published
New confirmed sighting of missing London student as police search forest in Essex
Police investigating the disappearance of student Richard Okorogheye have been carrying out searches in Epping Forest, Essex, after a new confirmed sighting of him nearby.
Sky News - Published
Surge testing in Brentwood area of Essex after one case of South Africa variant found
Surge testing is being deployed in the CM13 postcode in Brentwood where a single case of the South Africa coronavirus variant has been found.
Sky News - Published
Man on fringes of Essex smuggling ring jailed after admitting earlier lorry plot
A man has been jailed for 10 months after admitting to helping smuggle people into the UK a few weeks before 39 migrants died in the Essex lorry tragedy.
Sky News - Published
Essex lorry deaths driver 'not aware' of how many people in trailer
The driver who discovered the bodies of 39 illegal immigrants in the back of his lorry had no idea so many had been loaded in, a judge has been told.
Sky News - Published
Porsche Smacks SUV, Careens Off Wall and Lands On Top of Car
Bad news really does come in threes. Just ask this poor Porsche driver who sideswiped an SUV, drove off a wall and landed on top of another car. Ouch. The driver of this Porsche Taycan tried parking in..
TMZ.com - Published
Man arrested in Ireland in connection with deaths of 39 Vietnamese in 2019: UK police
Ronan Hughes, a 40-year-old from County Armagh in Northern Ireland, was arrested in Ireland on Monday in connection with the deaths of 39 Vietnamese nationals who were found in a lorry trailer in..
Reuters - Published
UK police say they believe all truck death victims were Vietnamese
British police said on Friday they now believe all 39 people found dead in the back of a truck in Essex near London last week were Vietnamese.
Reuters - Published
Three people released on bail in truck death probe: UK police
Three people arrested in connection with the investigation into the death of 39 people in a truck container have been released on bail, police in Essex in southern England said on Sunday.
Reuters - Published
Boris Johnson expected to appoint Priti Patel as new home secretary; all you need to know about Indian-origin MP from Essex
Britain's incoming prime minister Boris Johnson is expected to will promote Indian-origin politician Priti Patel to the top of government
Firstpost - Published
Keith Flint: Prodigy Frontman Died as a Result of Hanging
by Simon Baxendale - Keith Flint, the iconic frontman of ground-breaking electronic unit The Prodigy, sadly passed away last week at the age of 49. Flint's striking appearance and famous..
One News Page Staff - Published