European Council
Institution of the European Union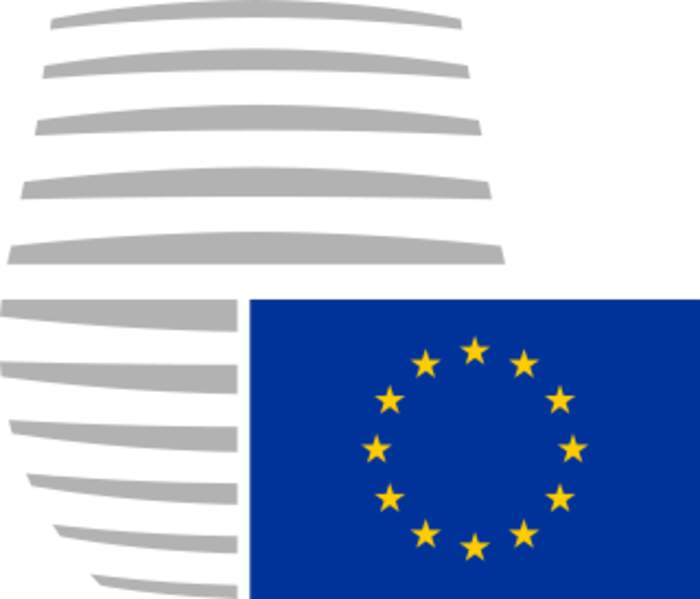 The European Council is a collegiate body that defines the overall political directions and priorities of the European Union. It comprises the heads of state or government of the EU member states, along with the President of the European Council and the President of the European Commission. The High Representative of the Union for Foreign Affairs and Security Policy also takes part in its meetings. Established as an informal summit in 1975, the European Council was formalised as an institution in 2009 upon the entry into force of the Treaty of Lisbon. Its current president is Charles Michel, former Prime Minister of Belgium.


Poland's Tusk vows to lead opposition to victory

Former European Council President Donald Tusk returned to the fore of Polish politics on Saturday (July 3), becoming leader of the main opposition party in a move that many members hope can revive its..
Credit: Reuters - Politics Duration: 01:25
Published
Slovenia's Janez Jansa takes over EU presidency amid fears for rule of law

Slovenia takes the European Council's helm for the next six months, but its populist prime minister has increasingly clashed with Brussels over democratic values.
Credit: Euronews English Duration: 01:58
Published
Charles Michel: EU is open to debate on waiving vaccine patents

Charles Michel, President of the European Council, speaks to Becky Anderson about waiving vaccine patents, the EU's stance on allegations of human rights abuses in China, and on the origins of the..
Credit: Bleacher Report AOL Duration: 07:21
Published
PM meets with EU leaders amid Northern Ireland Protocol tension

Boris Johnson meets with Ursula von der Leyen and Charles Michel on the sidelines of the G7 summit in Cornwall as wrangling over the Northern Ireland Protocol threatened to overshadow his hosting of..
Credit: PA - Press Association STUDIO Duration: 00:34
Published
Is freedom of the press at threat in Slovenia?

Are journalists being censored and intimidated in Slovenia? The Prime Minister of the next country to hold the Presidency of the European Council has come under fire for waging a war on the media...
Credit: euronews (in English) Duration: 08:00
Published
You Might Like



EU politician 'hasn't slept well' after seating arrangement gaffe

European Council President Charles Michel has said he is not sleeping well at night because he feels embarrassed about a seating arrangement incident at a meeting this week.




Sky News - Published




EU told to consider legal action over AstraZeneca COVID vaccine row

The EU should consider legal means to secure vaccine doses promised by drug companies including AstraZeneca, the president of the European Council has said.




Sky News - Published




PM Modi holds telephonic conversation with European Council president to discuss Covid-19




IndiaTimes - Published





EU leaders to hold coronavirus video conference on April 23

European Union leaders will hold a video conference on April 23 to discuss the economic response to coronavirus, the President of the European Council Charles Michel said on Friday, a day after EU..




Reuters - Published





EU prioritizing free goods flow, vaccine search: EU Council head

The European Union is prioritizing maintaining open borders for goods to flow and the hunt for a vaccine against the coronavirus, European Council president Charles Michel said in a video conference of..




Reuters - Published





EU disapproves of US travel ban, taken unilaterally and without consultation

The European Union disapproves of the U.S. decision to impose a unilateral travel ban on European countries, European Commission president Ursula von der Leyen and European Council President Charles..




Reuters - Published





EU leaders set to hold emergency talks over coronavirus

European Union leaders are set to hold a teleconference "shortly" to discuss a coordinated EU response to the coronavirus outbreak, the president of the European Council Charles Michel said on Monday.




Reuters - Published





Turkish President Erdogan to visit Brussels March 9

The European Council said on Sunday that Turkish President Tayyip Erdogan will visit Brussels on March 9, to discuss EU-Turkey matters including Syria and migration.




Reuters - Published





EU made no 'concrete' offer to Turkey on migrants: Erdogan spokesman

Turkish President Tayyip Erdogan's spokesman said on Wednesday that Charles Michel, president of the European Council, did not make a concrete offer on Wednesday in a meeting to deal with thousands of..




Reuters - Published





EU Council head urges Turkey to respect EU migrant deal

European Council President Charles Michel Tuesday called on Turkey to respect a 2016 deal with the European Union in which it agreed to contain the flow of migrants to Europe in exchange for billions..




Reuters - Published





UK flags taken down at EU buildings in Brussels ahead of Brexit

Britain's Union Jack was removed from lines of EU member state flags at the European Council and European Parliament buildings in Brussels on Friday evening ahead of the United Kingdom's exit from the..




Reuters - Published




EU: the more UK distances from bloc rules, the less market access

The more Britain diverges from EU rules and regulations after Brexit, the less access to the bloc's single market it will have, European Council President Charles Michel said on Friday.




Reuters - Published





EU's Michel urges Iran's Rouhani to comply with nuclear deal

European Council President Charles Michel said on Thursday he had spoken to Iran's President Hassan Rouhani and urged Tehran to comply with the 2015 arms control agreement that prevents it developing..




Reuters - Published





Britain needs Brexit parliament vote soon, EU's Michel says

The European Union hopes for a quick British parliament vote on Britain's withdrawal from the bloc and clarity on London's plans following Prime Minister Boris Johnson's triumph in elections, the head..




Reuters - Published





EU's Tusk: Trump is 'perhaps the most difficult challenge' for Europe

U.S. President Donald Trump poses one of the biggest challenges for the European Union because he is "praying" for the breakup of the bloc, European Council President Donald Tusk said.




Reuters - Published





EU's Tusk to lead struggling European center-right umbrella group

Outgoing European Council President Donald Tusk on Wednesday was elected president of the center-right European People's Party, a pan-European umbrella group that has been riven by infighting in recent..




Reuters - Published





Britain to become 'second rate' in the world after Brexit: EU's Tusk

Britain will lose influence in international affairs and become a "second-rate player" after it leaves the European Union, European Council President Donald Tusk said on Wednesday.




Reuters - Published





EU's Tusk says he does not plan to run for president of Poland

European Council President Donald Tusk said on Tuesday he would not run for president of Poland, dampening the expectations of some opposition supporters that he would challenge incumbent President..




Reuters - Published





Two UK political parties to try to trigger December 9 election

Two of Britain's smaller political parties have joined forces to try to trigger a Dec. 9 election and have written to Donald Tusk, the president of the European Council, to ask for a delay to Brexit to..




Reuters - Published





UK PM Johnson tells Tusk he does not want a Brexit delay

British Prime Minister Boris Johnson told European Council President Donald Tusk on Wednesday he did not want another Brexit delay, confident he could still get a deal through parliament by Oct. 31,..




Reuters - Published





EU's Tusk tells Johnson on phone call why he recommending Brexit extension

European Council President Donald Tusk said on Wednesday that he explained to British Prime Minister Boris Johnson on a call why he was recommending that leaders of the EU's 27 other member states..




Reuters - Published





EU's Tusk says he will recommend Brexit extension to avoid no-deal

European Council President Donald Tusk said on Tuesday that he would recommend that the 27 other member states of the European Union approve a delay of Britain's departure date following Prime Minister..




Reuters - Published




EU's Tusk taking Brexit request seriously, decision in days

The European Council president said on Tuesday that London's request for an extension of its deadline for divorce from the EU should be taken seriously, and the bloc's other members would never take a..




Reuters - Published





EU's Tusk says 'very close to final stretch' on Brexit

European Council President Donald Tusk said on Thursday that the EU and Britain were "very close to the final stretch" of Brexit, with approval by the British parliament and the European Parliament the..




Reuters - Published





EU's Tusk says Brexit deal 'always better than a no-deal'

European Council President Donald Tusk said of a new Brexit deal agreed on Thursday: "A deal is always better than a no-deal."




Reuters - Published





EU's Tusk convinced not opening talks with Balkans would be 'grave mistake': official

A failure to agree to open EU membership negotiations with North Macedonia and Albania would be a "grave mistake," European Council President Donald Tusk believes, a senior EU official said on..




Reuters - Published





Macron says he hopes EU leaders can endorse Brexit deal on Thursday

French President Emmanuel Macron said on Wednesday a deal with Britain on its departure from the European Union was being finalised and could potentially be agreed on at a European Council summit on..




Reuters - Published





Brexit clarity possible in seven to eight hours: Tusk

European Council President Donald Tusk said on Wednesday it should be known in seven or eight hours when Brexit could happen and in theory a deal could be accepted on Thursday.




Reuters - Published




Unclear if Brexit deal possible by time of European Council summit: French official

It is currently unclear if it will be possible to have a Brexit deal by the time of this week's European Council summit, an official from French President Emmanuel Macron's office said on Tuesday.




Reuters - Published





EU's Tusk says more tangible hopes for Brexit deal now than before

European Council head Donald Tusk said on Friday he felt slightly more hopeful the European Union and Britain will achieve a deal on the latter's withdrawal from the bloc following months of deadlock.




Reuters - Published





Tusk says Erdogan's threats of flooding Europe with refugees 'totally out of place'

European Council President Donald Tusk chastised Turkish President Tayyip Erdogan on Friday for threatening to send millions of Syrian refugees to Europe and blasted the Turkish operation in northern..




Reuters - Published





Tusk tempers optimism on Brexit deal, says time is nearly up though agreement is still possible

European Council President Donald Tusk said on Friday the latest round of Brexit talks carried no guarantee of success and time was nearly up for a deal to be reached by Oct.31, tempering a burst of..




Reuters - Published





EU's Tusk: Turkey's actions in Syria may lead to humanitarian catastrophe

European Council President Donald Tusk said on Friday that Turkey must understand the EU's concerns that Turkey's actions in Syria may lead to a humanitarian crisis.




Reuters - Published





EU's Tusk: Brexit deal may be possible but no guarantee of success as time is 'practically up'

European Council President Donald Tusk said on Friday the latest round of Brexit talks carried no guarantee of success and time was "practically up" - but that even the slightest chance must be used to..




Reuters - Published





EU's Tusk says there are 'optimistic' signs on Brexit

The head of the European Council Donald Tusk said on Friday there were optimistic signs that a deal on Brexit could be reached.




Reuters - Published





Ireland remains open to a 'fair' Brexit deal: Coveney

Ireland's foreign minister said on Tuesday European Council President Donald Tusk was reflecting EU-wide frustration when he accused Britain of playing a "stupid blame game" over Brexit.




Reuters - Published





Turkey's 'illegal drilling' undermines Turkey-EU ties: Tusk

European Council President Donald Tusk said on Monday that Turkey's drilling off the coast of Cyprus would damage ties between the European Union and Turkey, after Ankara announced it will start..




Reuters - Published





Irish PM spoke to Presidents Juncker and Tusk on Thursday

Irish Prime Minister Leo Varadkar spoke to European Commission President Jean-Claude Juncker and European Council President Donald Tusk on Thursday afternoon.




Reuters - Published





Tusk says EU united with Ireland on Brexit, unconvinced by British plan

European Council President Donald Tusk said on Thursday that the EU was fully united behind Ireland in talks over Britain's departure from the bloc, which he said was open to more talks with Britain..




Reuters - Published





UK PM Johnson to talk to Donald Tusk about new Brexit deal: spokesman

British Prime Minister Boris Johnson is due to speak to the European Council President Donald Tusk on Thursday to discuss his new Brexit proposals, his spokesman said, adding that he expected other..




Reuters - Published





UK PM Johnson told Tusk EU needs to move to reach Brexit deal: UK government spokeswoman

British Prime Minister Boris Johnson told European Council President Donald Tusk that movement and flexibility were needed from the European Union if a Brexit deal is to be reached, a British..




Reuters - Published





Varadkar and Tusk say no UK proposals yet that can replace backstop

Ireland's prime minister met European Council President Donald Tusk in New York on Monday for 45 minutes to take stock of the latest Brexit developments.




Reuters - Published





EU Council will be too late to negotiate Brexit deal: French source

Time to agree a Brexit deal is running out and it will be too late for European leaders to iron out a deal at a European Council meeting in Brussels in mid-October, a French diplomatic source said on..




Reuters - Published





Tusk: Domestic politics could drive Britain out of EU

British Prime Minister Boris Johnson might decide to go for Brexit at all costs, just to settle domestic political issues, European Council President Donald Tusk said on Friday.




Reuters - Published





UK PM Johnson told Tusk: We leave EU on October 31 whatever the circumstances

Prime Minister Boris Johnson told European Council President Donald Tusk that Britain would be leaving the European Union on Oct. 31 whatever the circumstances, a British official said on Sunday after..




Reuters - Published





Johnson to tell EU's Tusk UK won't pay £39 billion under no-deal Brexit: Sky News

British Prime Minister Boris Johnson is expected to tell European Council head Donald Tusk that the UK will only pay 9 billion pounds ($11 billion) instead of the 39 billion pound ($47.88 billion)..




Reuters - Published




EU's Tusk sees even more reasons to keep Russia out of G7

The president of the European Council on Saturday rebuffed Donald Trump's suggestion that Russia be readmitted to the Group of Seven (G7) advanced economies, saying there were even more reasons than..




Reuters - Published





Who would be Brexit's Mr No-Deal? Johnson and Tusk trade barbs

British Prime Minister Boris Johnson and European Council head Donald Tusk sparred on Saturday over who would be to blame should Britain leave the EU on Oct. 31 without a divorce deal in place.




Reuters - Published





UK PM Johnson says Tusk will be known as 'Mr No Deal' if agreement not changed

British Prime Minister Boris Johnson has warned European Council President Donald Tusk that unless he agrees to change the Brexit divorce deal, Tusk will be known as "Mr No Deal".




Reuters - Published