Atlantic Ocean
Ocean between Europe, Africa and the Americas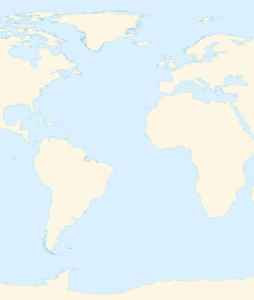 The Atlantic Ocean is the second largest of the world's oceans, with an area of about 106,460,000 square kilometers. It covers approximately 20 percent of Earth's surface and about 29 percent of its water surface area. It separates the "Old World" from the "New World".


Cockpit coffee spill forces commercial jet to make emergency landing
A commercial flight with 326 people on board was forced to make an emergency landing when hot coffee was accidentally spilled over the cockpit control panel over the Atlantic ocean, according to a..
Reuters - Published
Slow-moving hurricane Dorian pounds Bahamas, inches towards Florida coast
The slow-moving hurricane Dorian, one of the most powerful Atlantic hurricanes on record, pounded Grand Bahama Island on Tuesday and was forecast to come "dangerously close" to Florida's coast by the..
Reuters - Published
A Measles Type Virus Is Killing Thousands Of Seals
As the planet warms, Arctic ice continues to thaw at a rapid rate, threatening sea life across the globe. A new study shows the disappearance of Arctic sea ice has allowed a deadly virus to spread..
Credit: Wochit News Duration: 00:38Published
Hurricane Dorian, stalled over Bahamas, weakens slightly but still dangerous
Hurricane Dorian, one of the most powerful Atlantic hurricanes on record, showed some signs of weakening early on Tuesday as it remained stalled over Grand Bahama Island, the Miami-based National..
Reuters - Published
Dorian intensifies into a hurricane: U.S. NHC
Dorian has intensified into a hurricane and is expected to continue strengthening during the next few days over the Atlantic waters, the National Hurricane Center (NHC) said on Wednesday.
Reuters - Published
Sink or Swim? UK's Johnson takes G7 ocean dip
Facing accusations from political opponents of being out at sea over his Brexit strategy, British Prime Minister Boris Johnson strode into the Atlantic Ocean for a bracing dip on Sunday before tackling..
Reuters - Published
Teenage activist Greta takes climate campaign to the high seas
With the wind in her hair and TV cameras pointing at her, Swedish teenager Greta Thunberg began a trans-Atlantic crossing in a racing yacht on Wednesday to further her campaign for stronger action..
Reuters - Published
Climate campaigner Greta prepares to sail to the U.S. on boat with no toilet
Swedish teenage climate activist Greta Thunberg will set sail for New York on Wednesday, crossing the Atlantic in a racing yacht with no shower or toilet to join protests in the United States and take..
Reuters - Published
Oil-water mix of 3,200 gallons spilled off Canadian island into Atlantic Ocean, efforts to minimize environmental impact underway
An oil platform off the Canadian island of Newfoundland spilled nearly 3,200 gallons of an oil-water mix into the Atlantic Ocean, and efforts were underway to minimize the environmental impact,..
Firstpost - Published
You Might Like