Om Birla
Indian politician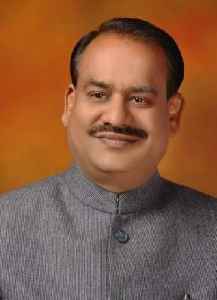 Om Birla is an Indian politician who is the 17th and current Speaker of the Lok Sabha. He serves a Member of Parliament for the Kota-Bundi constituency in Rajasthan. Prior to parliament, he was elected thrice to the Rajasthan Legislative Assembly from the Kota South constituency. On 19 June 2019, he was elected Speaker. He is a member of the Bharatiya Janta Party.


When LS Speaker Om Birla told opposition member, 'don't touch my staff'
LS Speaker's remarks came when the opposition members including Congress, TMC and DMK were protesting in the well of the House during the Question Hour as the Speaker denied them to raise the issue of..
IndiaTimes - Published
Lok Sabha Speaker to TMC MP: Don't do marketing of West Bengal
Lok Sabha Speaker Om Birla on Friday asked a leader of the Trinamool Congress not to do "marketing" of West Bengal after he spoke about a health scheme of the state government in the House
IndiaTimes - Published
Why opposition MPs are happy with Lok Sabha speaker Om Birla
Lok Sabha Speaker Om Birla has tweaked a parliamentary procedure which has pleased the opposition MPs. After every debate, the minister concerned gives his reply. Earlier, the opposition MPs would keep..
IndiaTimes - Published
'Fight there, not here': Lok Sabha Speaker tells Karnataka MP on water dispute
"Fight there, not here," was the cryptic remark of Lok Sabha Speaker Om Birla when a ruling BJP member from Karnataka spoke in Lok Sabha on Thursday about the state's long standing dispute with Tamil..
IndiaTimes - Published
Lok Sabha passes NIA amendment bill to give more powers to anti-terror agency
The bill was passed with 278 members voting in favour and six against it, said Lok Sabha speaker Om Birla.
DNA - Published
West Bengal chief secretary asked to convene meeting of committee monitoring central schemes
Speaker Om Birla informed Lok Sabha on Monday that he has asked the chief secretary of West Bengal to convene a meeting of a committee which monitors implementation of central schemes in states.
IndiaTimes - Published
Swachhata Abhiyan: Lok Sabha Speaker urges MPs to work for fulfilment of Mahatma Gandhi's mission
Lok Sabha Speaker Shri Om Birla led the Parliamentarians in undertaking Swachhata Abhiyan in the Parliament House Complex on Sunday. Accompanying Birla in the exercise were Union minister of human..
IndiaTimes - Published
You Might Like