Banksy
Pseudonymous England-based graffiti artist, political activist, and painter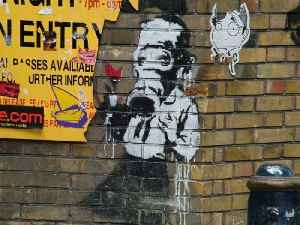 Banksy is an anonymous England-based street artist, vandal, political activist, and film director, active since the 1990s. His satirical street art and subversive epigrams combine dark humor with graffiti executed in a distinctive stenciling technique. His works of political and social commentary have been featured on streets, walls and bridges throughout the world. Banksy's work grew out of the Bristol underground scene, which involved collaborations between artists and musicians. Banksy says that he was inspired by 3D, a graffiti artist and founding member of the musical group Massive Attack.


Louis Theroux met Banksy at a football match

Louis Theroux claimed he met Banksy in 2001 at a Queens Park Rangers game.
Credit: Bang Media World Duration: 01:10
Published
Stolen Banksy artwork found in Italian farmhouse

A mural by secretive British street artist Banksy that was stolen from the Bataclan theatre in Paris, where Islamist militants killed 90 people in 2015, has been found in a farmhouse in central Italy,..
Credit: Reuters Studio Duration: 01:25
Published
Banksy artwork stolen from Bataclan found in Italy

The image of a girl in mourning had been painted on one of the exits of the Paris concert hall to commemorate the victims of the November 2015 terror attacks.View on euronews
Credit: euronews (in English) Duration: 00:26
Published
New Banksy artwork 'a morale boost', say hospital staff

Staff at a Southampton hospital have spoken of their pride and the morale boosting effect of being chosen to host the latest artwork by Banksy.
Credit: PA - Press Association STUDIO Duration: 00:42
Published
Artist Banksy pays superhero tribute to Britain's NHS staff

A young boy chooses a nurse as the superhero he wants to play with over Batman and Spiderman in a new artwork by Banksy that encapsulates the gratitude Britons have felt toward the country's National..
Credit: Reuters Studio Duration: 01:18
Published
You Might Like
Search this site and the web: