Banksy
Pseudonymous England-based graffiti artist, political activist, and painter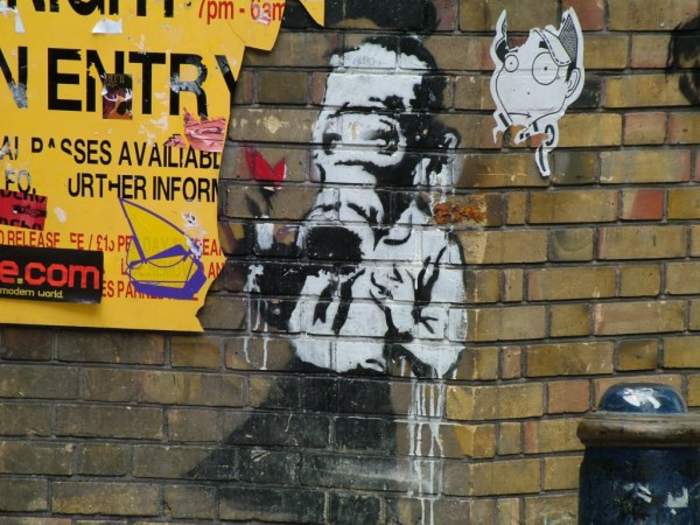 Banksy is a pseudonymous England-based street artist, political activist, and film director whose real name and identity remain unconfirmed and the subject of speculation. Active since the 1990s, his satirical street art and subversive epigrams combine dark humour with graffiti executed in a distinctive stenciling technique. His works of political and social commentary have appeared on streets, walls, and bridges throughout the world. Banksy's work grew out of the Bristol underground scene, which involved collaborations between artists and musicians. Banksy says that he was inspired by 3D, a graffiti artist and founding member of the musical group Massive Attack.


Banksy and Warhol works up for auction

Preparations take place at Christie's in London ahead of the Prints and Multiples auction for Banksy and Andy Warhol artworks. The auction is online and ends for the Banksy collection on March 30, and..
Credit: PA - Press Association STUDIO Duration: 00:36
Published
Banksy artwork on side of Reading Prison defaced with rival's name

A mural by street artist Banksy on the side of a former prison which housed playwright Oscar Wilde has been defaced with red paint.The artwork, on the red brick wall of the former Reading Prison,..
Credit: PA - Press Association STUDIO Duration: 00:54
Published
Banksy shares video of making of 'Create Escape'

Footage released on the British street artist's social media shows the making of the graffiti artist's latest artwork stencilled onto the former HM Prison Reading.
Credit: Reuters Studio Duration: 01:02
Published
Possible Banksy artwork appears on Reading prison wall

A possible Banksy artwork has appeared on a prison wall in Reading, Berkshire.Although it has not been officially claimed as the work of Banksy, the picture bears a resemblance to the artist's other..
Credit: PA - Press Association STUDIO Duration: 00:45
Published
Banksy may have scaled prison wall for latest work

The street artist Banksy may have been at work again in the UK.
Credit: Reuters Studio Duration: 00:45
Published
You Might Like