Taj Mahal
Marble mausoleum in Agra, India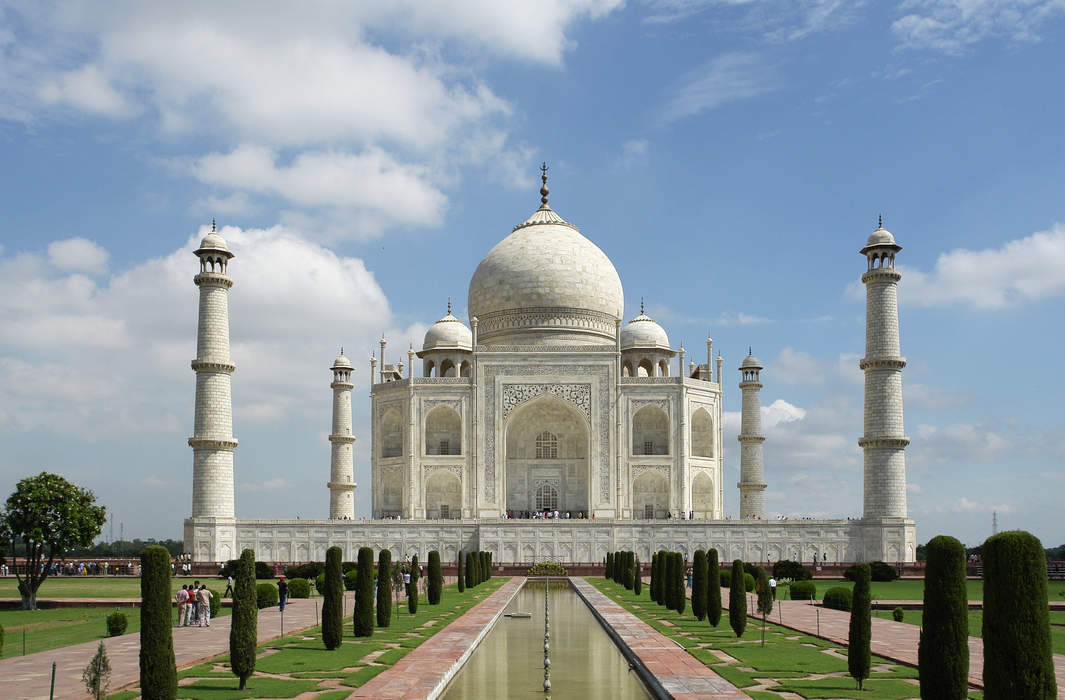 The Taj Mahal is an ivory-white marble mausoleum on the southern bank of the river Yamuna in the Indian city of Agra. It was commissioned in 1632 by the Mughal emperor Shah Jahan to house the tomb of his favourite wife, Mumtaz Mahal; it also houses the tomb of Shah Jahan himself. The tomb is the centrepiece of a 17-hectare (42-acre) complex, which includes a mosque and a guest house, and is set in formal gardens bounded on three sides by a crenellated wall.


Watch: Taj Mahal briefly shut, tourists evacuated after hoax bomb call

The Taj Mahal complex was vacated on March 3 morning after a hoax bomb call. Several tourists visiting the monument in Agra were asked to move out. Extensive checking was undertaken at the monument's..
Credit: HT Digital Content Duration: 01:55
Published
Bomb scare: Taj Mahal reopens for tourists

Assuring the people to not to panic over the threat call received claiming that there is a bomb placed in Taj Mahal,, IG Range Agra A Satish Ganesh said that there's 99% chances of it being a hoax..
Credit: ANI Duration: 01:46
Published
Taj Mahal bomb threat call was a hoax | Caller identified | Oneindia News

Two policemen in Uttar Pradesh's Gorakhpur were suspended and a case filed against them for their alleged inaction in a gangrape case related to a minor girl; Around 1000 tourists were evacuated from..
Credit: Oneindia Duration: 03:01
Published
Bomb scare at Taj Mahal, security on high alert

A bomb scare at the Taj Mahal created unrest among tourists and authorities. Soon after the threat call, tourists were evacuated and both entry, exit gates were closed. Informing about the threat call,..
Credit: ANI Duration: 01:36
Published
Flower exhibition near Taj Mahal grabs several eyeballs

Flower exhibition organised near the Taj Mahal in Agra on February 21. Flower lovers thronged to the exhibition centre to take a glimpse of varieties of flowers. The Flower exhibition attracted a big..
Credit: ANI Duration: 01:45
Published
You Might Like



Entry to Taj Mahal likely to be costlier from April, check new ticket prices

Indian tourists currently pay Rs 50 as entry fee for the monument, while foreign tourists shell out Rs 1100 to enter Taj Mahal.




DNA - Published





Bomb scare at Taj Mahal, tourists evacuated, search operation launched

Chaos regin supreme at Taj Mahal on Thursday (March 4) after report of a bomb in the historical buidling.




DNA - Published





PM Modi to virtually inaugurate construction of Agra metro project on Monday

Union Minister of Housing and Urban Affairs Hardeep Singh Puri, Uttar Pradesh Chief Minister Yogi Adityanath and other dignitaries will also attend the event that will be held at 15 Battalion PAC..




IndiaTimes - Published





Unlock 4.0: Taj Mahal, Agra Fort to reopen from September 21

Unlock 4.0 guidelines for social distancing and mask wearing have been circulated. While only 5,000 people would be permitted to visit the Taj daily, the Agra Fort will allow only 2,500.




DNA - Published





Barring Taj Mahal and Red Fort, all monuments in Agra allowed to open from Septemeber 1

All historical monuments in Agra except the iconic Taj Mahal and Red Fort will open from Septemeber 1, the district administration said on Thursday. The monuments were closed down in March as the..




DNA - Published





Trickle of visitors as monuments reopen after more than 100 days

Even as popular monuments like the Taj Mahal and Fatehpur Sikri remained off limits after the local administration in Agra decided against opening them to public, Delhi's Qutub Minar and Humayun's..




IndiaTimes - Published





'Make in India': Bombardier bags contract to supply 201 coaches, signalling for Agra-Kanpur metro lines

1.4 million daily riders will benefit from new metro services connecting the city clusters of Agra and Kanpur and iconic destinations including the Taj Mahal




DNA - Published





Taj Mahal, other monuments to stay closed as Agra sees surge in COVID-19 cases

Agra District Magistrate said that 55 new cases reported in past four days and there are 71 containment zones.




DNA - Published





Thunderstorm in Agra damages Taj Mahal's marble railing, Sikandar memorial

A thunderstorm roared through Agra on Friday evening and caused minor damages to the Taj Mahal.




DNA - Published





In the city of the Taj Mahal, coronavirus resurgence carries warning signs

On Feb. 25, a day after U.S. President Donald Trump and his wife Melania posed for pictures outside the Taj Mahal on an official visit to India, Sumit Kapoor returned to his nearby home from a trip to..




Reuters - Published

Also reported by •Reuters India


India shuts Taj Mahal; Pakistan cases rise after quarantine errors

India closed the Taj Mahal, its principal tourist site, and the financial hub of Mumbai ordered offices providing non-essential services to keep half their staff at home in increased measures to curb..




Reuters - Published




Coronavirus closes India's Taj Mahal, Mumbai to keep half its office workers home

India closed the Taj Mahal, its top tourist site, and the financial hub of Mumbai ordered offices providing non-essential services to keep half their staff at home as efforts to control the spread of..




Reuters - Published





India's Taj Mahal closed; Mumbai orders offices to keep half of workers at home

India closed the Taj Mahal, its top tourist site, and the financial hub of Mumbai ordered offices providing non-essential services to function at 50% staffing levels as efforts to control the spread of..




Reuters - Published





Free entry for women at monuments today

Tourism minister Prahlad Patel on Saturday said women visitors at all ticketed monuments protected by the Archaeological Survey of India will be granted free entry on International Women's Day on..




IndiaTimes - Published





Donald Trump emplanes for US after concluding India visit

Concluding his jam-packed maiden two-day visit to India, United States President Donald Trump on Tuesday night emplaned for his country from New Delhi. The US President participated in a host of..




IndiaTimes - Published





Donald Trump, Melania get clicked with CISF personnel in Agra

During the visit to the Taj Mahal in Agra on Monday, United States President Donald Trump and First Lady Melania Trump got their photograph clicked posing with the Central Industrial Security Force..




IndiaTimes - Published





Meet Nitin Kumar Singh, tour guide who accompanied the Trumps in their Taj Mahal visit

Several guides were screened before they could receive the responsibility of taking the Trump couple on a guided tour.




DNA - Published





Holding hands, Donald and Melania Trump tour Taj Mahal; joined by Ivanka, Jared Kushner

The visitors seemed to be taking the mausoleum in all its beauty, surrounded by perfectly trimmed shrubs in the garden and a clear blue sky.




DNA - Published





'Taj Mahal inspires awe... Thank you India!': Trump pens touching note, hails 'timeless testament' to diverse culture

Trump was accompanied by daughter Ivanka and son-in-law Jared Kushner, who were spotted strolling together before the historic monument, which is often considered a symbol of lasting love.




DNA - Published





President Donald Trump visits Taj Mahal, says America loves India

Trump, accompanied by his wife, daughter Ivanka and son-in-law Jared Kushner, arrived here from Ahmedabad. The Taj Mahal, which was built by Mughal Emperor Shah Jahan in memory of his wife Mumtaz Mahal..




IndiaTimes - Published





President Trump arrives in Agra to a boisterous welcome

US President Donald Trump and his wife Melania arrived in Agra on Monday to keep their date with the Taj Mahal even as hundreds of artistes welcomed the American leader at the airport with beautiful..




IndiaTimes - Published





Donald Trump to get 'key of Agra' to unlock city before visiting Taj Mahal

The 12-inch silver key will be given by Agra mayor Naveen Jain as a symbolic gesture of respect.




DNA - Published





Trump Agra visit: Ticket counters at Taj Mahal to close at 11:30 am on Monday

According to Agra DM Prabhu N Singh, Trump is scheduled to arrive at the Taj Mahal complex at 5:15 pm and will spend about an hour at the famed 17th century mausoleum. "People can visit the Taj in the..




IndiaTimes - Published





Donald Trump's Taj visit: Royal graves get mud pack, chandelier refurbished

Authorities at the Archaeological Survey of India had "advanced the dates" for mud-pack treatment for the graves of Mughal emperor Shah Jahan and wife Mumtaz Mahal at Taj Mahal in view of US President..




IndiaTimes - Published





From 'Namaste Trump' to Taj Mahal visit, US President's jam-packed schedule in India




IndiaTimes - Published





Agra gets a hurried makeover to sweep Trumps off their feet

: The tryst will last just a couple of hours, but Agra is going for a hurried beauty therapy. With barely 48 hours left for the rendezvous, the likely route of US President Donald Trump and first lady..




IndiaTimes - Published





Uttar Pradesh CM Yogi Adityanath to welcome President Trump in Agra

Uttar Pradesh chief minister Yogi Adityanath is scheduled to welcomes United States President Donald Trump in Agra on February 24, government sources said on Saturday. According to officials, chief..




IndiaTimes - Published





Ivanka Trump will also accompany dad to India

US President Donald Trump will be accompanied by not just his wife Melania and son-in-law Jared Kushner but also his high-profile daughter Ivanka on his maiden visit to India as president starting on..




IndiaTimes - Published





Trump likely to visit Taj Mahal on February 24




IndiaTimes - Published





Google marks India's 71st Republic Day with a doodle

Google on Sunday dedicated a doodle to observe India's 71st Republic Day. The doodle highlights the rich cultural heritage that permeates and unites the diverse nation—from the world-famous landmarks..




IndiaTimes - Published





Tourists stay away from Taj Mahal, other Indian attractions as protests flare

India's tourism industry has been hit by a wave of violent anti-government protests against a new citizenship law that have rocked several cities this month, with at least seven countries issuing..




Reuters - Published





India and China likely to iron out differences in city of Taj

After the recent strife in bilateral ties, India and China are looking to add some oomph to efforts by diplomats on both sides to stabilise the relationship. The government is considering hosting the..




IndiaTimes - Published





What was Agra called before it was named Agra? Scholars splitting hair

Agra based Dr Bhimrao Ambedkar University (BAU) has a new task these days that has put its history department blowing dust off old books and digging deep into state and central libraries. District..




IndiaTimes - Published





'Verdict perfect like Taj Mahal'




IndiaTimes - Published





Air purifier deployed at Taj Mahal to tackle pollution

The air purifier van deployed by the Uttar Pradesh Pollution Control Board (UPPCB) has capacity to purify 15 lakh cubic metre air in eight hours within a 300 metre radius




IndiaTimes - Published





Congress, NCP have accepted their defeat ahead of polls: Fadnavis

He said the only thing left for them to promise is that they will provide Taj Mahal to every person of Maharashtra once they win.




DNA - Published





UP: Baby feeding room opened in Agra's Red Fort

After opening the first-ever baby feeding room in Taj Mahal, the Archeological Survey of India (ASI) has now opened another baby feeding room in the Red Fort here.




DNA - Published





2,000 universities instead of Taj Mahal would have made Muslims the world's most educated community: Azam Khan




IndiaTimes - Published





Pest invasion leaves Taj black and green

Green and black stains have again started appearing on the marble walls of the Taj Mahal due to insect attack. According to ASI, black and green patches appear due to excreta deposited by a particular..




IndiaTimes - Published





3-hour time limit implemented at Taj Mahal, tourists perturbed

Visitors who spend more than three hours at the Taj Mahal will now be charged an additional fee, as a circular implementing the three-hour limit has come into force.




DNA - Published





Delhi's Ghazipur landfill mountain to rise higher than Taj Mahal

India's Supreme Court warned last year that red warning lights will soon have to be put on the dump to alert passing jets. India's Supreme Court warned last year that red warning lights will soon have..




IndiaTimes - Published