Navy
Military branch involved in naval warfare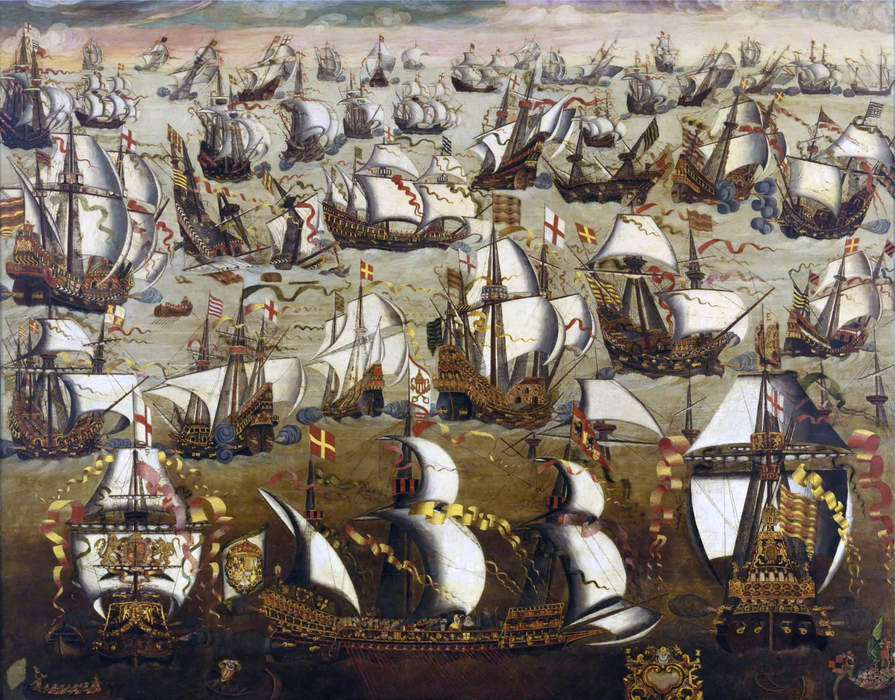 A navy, naval force, or maritime force is the branch of a nation's armed forces principally designated for naval and amphibious warfare; namely, lake-borne, riverine, littoral, or ocean-borne combat operations and related functions. It includes anything conducted by surface ships, amphibious ships, submarines, and seaborne aviation, as well as ancillary support, communications, training, and other fields. The strategic offensive role of a navy is projection of force into areas beyond a country's shores. The strategic defensive purpose of a navy is to frustrate seaborne projection-of-force by enemies. The strategic task of the navy also may incorporate nuclear deterrence by use of submarine-launched ballistic missiles. Naval operations can be broadly divided between riverine and littoral applications, open-ocean applications, and something in between, although these distinctions are more about strategic scope than tactical or operational division.


Soldiers receive ambulance training ahead of strike

About 600 members of the Army, Navy and RAF from across the country have been drafted in to help during the ambulance strikes over Christmas, some of whom have never driven ambulances before...
Credit: ODN Duration: 01:17
Published
You Might Like



'Historic milestone': Naval pilots carry out first jet landing on INS Vikrant

In a historic milestone, India's indigenously developed Light Combat Aircraft (LCA-Navy) on Monday landed onboard aircraft carrier INS Vikrant."A Historical milestone achieved towards Aatma Nirbhar..




IndiaTimes - Published





India to commission fifth Scorpene submarine as INS Vagir next week

The Navy will commission its fifth diesel-electric Scorpene submarine as INS Vagir next week, with the sixth and the last one to be delivered by the end of this year under the over Rs 23,000 crore..




IndiaTimes - Published





Former Navy SEAL John Devine Gives Back To Other Vets Through Rescue22

Former Navy SEAL John Devine is giving back to other vets and saving animals through his org. ... pairing rescue animals with disabled veterans, free of charge! The Rescue22 founder joined "TMZ Live"..




TMZ.com - Published





Govt approves project to tackle real-time maritime threats

The government has approved a major National Maritime Domain Awareness (NMDA) project, even as the Navy keeps an eagle-eye on the expanding Chinese naval activities in the Indian Ocean Region. The..




IndiaTimes - Published





Navy to focus on underwater capabilities, plans to increase submarines




IndiaTimes - Published





Keeping strong vigil on movements of Chinese vessels in Indian Ocean: Navy chief Admiral Hari Kumar




IndiaTimes - Published





Navy to conduct operational demo at Vizag, while two warships in Vietnam




IndiaTimes - Published





Integration of aircraft with INS Vikrant likely by May-June next year: Navy chief




IndiaTimes - Published





India to conduct major 'Sea Vigil' coastal defence exercise

India on Tuesday will kick off the major 'Sea Vigil' coastal defence exercise, with all maritime stakeholders led by the Navy and Coast Guard swinging into action along the country's entire 7,516-km..




IndiaTimes - Published





Navy SEAL PED Use Under Scrutiny Amid a Death During Hell Week

Navy SEALs are apparently using performance-enhancing drugs en masse -- a phenomenon under the microscope after a recent death -- and now ... the branch is cracking down. This all came under increased..




TMZ.com - Published





Defence ministry inks Rs 1,700 crore deal for additional BrahMos missiles for frontline warships

The defence ministry on Thursday inked a Rs 1,700 crore contract for supply of additional BrahMos supersonic cruise missiles, with a strike range of 290-km, for the Navy's frontline warships.The..




IndiaTimes - Published





India will have all indigenous vessels by 2047: Navy chief

Indian Navy chief Admiral R Hari Kumar said that close partnership between the Navy, shipyards, and industry will be key drivers in India's pursuit of becoming a developed nation by 2047, and by the..




IndiaTimes - Published





'Our answer to challenges': PM Modi inducts made-in-India Vikrant

Prime Minister Narendra Modi on Friday inducted into the Navy its first fully made-in-India aircraft carrier INS Vikrant — also the largest warship to be built in country — and unveiled a new..




IndiaTimes - Published





Navy pushes for third aircraft carrier after INS Vikrant to retain edge over China in Indian Ocean Region

With India's first indigenous aircraft carrier (IAC) set to be commissioned as the 45,000-tonne INS Vikrant on September 2, the Navy believes the project for a third carrier should be launched as..




IndiaTimes - Published





Navy staff booked for fraudulent activities




IndiaTimes - Published





Navy receives two more MH60R multirole helicopters from US

In a major boost to the ongoing modernisation of the air fleet of the Indian Navy, two more of the multirole helicopters MH 60 'Romeo' (MH 60R), procured from US defence major Lockheed Martin, have..




IndiaTimes - Published





Indian Navy to showcase growing strength of country's defence manufacturing

India-based defence attaches of around 25 countries of the Indian Ocean Region have been invited by the Navy to a two-day conclave later this month to showcase the growing strength of the Indian..




IndiaTimes - Published





Army and Navy start Agnipath registrations

The registration for recruitment in the Army and Navy under the new Agnipath scheme kicked off on Friday, with the IAF already attracting 3.28 lakh applicants for its online drive launched on June 24.




IndiaTimes - Published





UFO Expert Says 100 UFOs Swarmed Navy Ships, Pushes Back on Navy's Drone Claims

UFO expert Jeremy Corbell says at least 100 craft from out of this world swarmed a fleet of Navy warships ... pushing back against a Naval chief who told Congress it was just drones. Corbell -- who's..




TMZ.com - Published





Uninhabited Pacific island has been marked on charts in the wrong place for 85 years, Navy finds

The Royal Navy has found a remote uninhabited island in the Pacific Ocean has been in the wrong place for 85 years.




Sky News - Published




Navy wants to become 170-warship force in 10 years

The Navy aims to achieve its target of becoming a 170-warship force in another decade, even as it pushes for the conclusion of the tri-Service case for 30 armed MQ-9B Predator drones by next year as..




IndiaTimes - Published





CBI files two charge sheets in navy info leak case; serving naval commander, ex-officers listed

The CBI on Tuesday filed its first charge sheet in the case pertaining to arrest of Navy officers handling sensitive submarine retro-fitting project for allegedly leaking confidential information in..




IndiaTimes - Published




India gets new destroyer but China continues to widen the gap

With China now fielding the world's largest Navy and fast constructing two more aircraft carriers to add to its two existing ones, the Indian Navy has finally got a long-delayed shot in the arm with..




IndiaTimes - Published





Navy commander among 5 held for leaking info

A serving naval officer and two retired ones, along with two "private persons", have been arrested by the CBI in connection with the alleged leaking of confidential information about the modernisation..




IndiaTimes - Published





CBI arrests Navy officers in information leak case, Navy orders high-level investigation




IndiaTimes - Published





Plan to split Pakistan began in 1965: Senior Navy officer

Vice-Admiral Anil Kumar Chawla, flag officer commanding-in-chief, Southern Naval Command, said here on Saturday that India had begun thinking of separating East Pakistan from West Pakistan from 1965..




IndiaTimes - Published





US conducts 'successful' test of hypersonic missile technology

The test, conducted Wednesday at a NASA facility in Wallops, Virginia, is a "vital step in the development of a Navy-designed common hypersonic missile," the navy said in a statement.




IndiaTimes - Published





Navy extends medical assistance to Filipino crew member of merchant vessel




IndiaTimes - Published





DRDO signs deal with Army, Navy, Air Force for anti-drone system

The need for acquiring these systems under the emergency procedures was felt after the Jammu terror attack.




DNA - Published





Mahindra bags Navy's 1,350 crore contract for anti-sub systems

The defence ministry on Friday inked a Rs 1,350 crore contract with Mahindra Defence Systems Limited (MDS) to manufacture 14 integrated anti-submarine warfare defence suites (IADS) for front-line..




IndiaTimes - Published





For top military posts, MoD weighs merit over seniority

The defence ministry is "examining" a proposal that the commanders-in-chief (Cs-in-C) in the Army, Navy and IAF should primarily be selected on merit rather than seniority. Serious reservations..




IndiaTimes - Published





Navy prohibits flying of non-conventional aerial objects like drones within 3 kms of naval base, units




IndiaTimes - Published





Navy cranks up Op Samudra Sethu-II, first warship with oxygen supplies reaches Karnataka

With the Navy further cranking up its ongoing Operation Samudra Sethu-II, the first of the nine warships now deployed to transport desperately-needed oxygen supplies and other medical stores from..




IndiaTimes - Published





All Navy personnel inoculated with first dose of COVID-19 vaccine: Officials

According to data shared by the defence ministry in the Indian Parliament earlier this year, 3604 COVID-19 cases were reported in the Navy.




DNA - Published





800 defence personnel died by suicide in last 7 years: Govt

Almost 800 personnel of Army, Navy and IAF died by suicide in the last seven years, while there were 20 cases of "fratricide", once again underlining the need for better suicide prevention and..




IndiaTimes - Published





Navy team measures depth of glacial lake in Uttarakhand's Tapovan

In a joint operation, an Indian Air Force Advanced Light Helicopter (ALH) winched Navy's divers to measure the depth of a glacial lake formed upstream of Tapovan in Uttarakhand following the..




IndiaTimes - Published





Third diesel-electric Scorpene given to Navy




IndiaTimes - Published





Third Scorpene submarine to be commissioned into Navy in March




IndiaTimes - Published





Navy to conduct largest-ever drill to prepare for challenges in Indian Ocean Region




IndiaTimes - Published





Navy sailor set on fire by kidnappers for ransom in Maharashtra's Palghar, dies

The police spokesperson said that a case of murder under section 302 of the IPC and other sections was registered against the unidentified kidnappers.




DNA - Published





Navy conducts major review of combat-readiness of its Eastern Fleet

The Navy has conducted a major review of the operational preparedness and combat-readiness of its Eastern Fleet, which is deployed in the Bay of Bengal and beyond to protect Indian interests and keep..




IndiaTimes - Published





Back from leave, Navy sailor found dead onboard warship

Two days after returning from leave, a 22-year-old Navy sailor was found dead with a bullet wound on head onboard the Brahmaputra-class frigate, INS Betwa, that was anchored at Naval Dock early on..




IndiaTimes - Published





Navy orders Israeli anti-drone sights

The Navy has ordered a limited number of Israeli 'Smash-2000 Plus' computerized fire control and electro-optic sight systems that can be mounted on guns and rifles to tackle the threat from small..




IndiaTimes - Published





India-China standoff: India deploys marine commandos at Pangong lake in eastern Ladakh

The Navy commandos are soon going to get new boats for operations in the lake along with the existing infrastructure for operations.




DNA - Published





Navy chief visits strategically-located Andaman and Nicobar Islands

Navy chief Admiral Karambir Singh on Friday visited the Andaman and Nicobar Islands to review the operational readiness in the strategically-located archipelago, amidst the ongoing military..




IndiaTimes - Published





Fifth Scorpene sub 'launched', to be delivered to Navy in 2022

The country's fifth Scorpene submarine 'Vagir' was 'launched' at the Mazagon Docks (MDL) on Thursday. The diesel-electric 1,565-tonne vessel, which will now undergo extensive tests, harbour..




IndiaTimes - Published





Navy Warship INS Kora successfully test-fires anti-ship missile at 'maximum range', hits target with pinpoint accuracy

The Indian Navy tweeted pictures displaying the missile hitting the target ship at "maximum range'' with pinpoint accuracy.




DNA - Published





Navy will maintain peak combat readiness to tackle any contingency: Admiral Karambir Singh




IndiaTimes - Published





Navy's first batch of three women pilots ready for maritime reconnaissance mission on Dornier aircraft

Lieutenant Divya Sharma, Lt Shubhangi Swaroop and Lt Shivangi are now ready to take on all MR missions on Dornier aircraft, a Defence spokesman said on Thursday. They have been "operationalised on..




IndiaTimes - Published





Indigenously-built stealth corvette INS Kavaratti to be commissioned into Navy on Thursday




IndiaTimes - Published