Tesla, Inc.
American automotive and energy company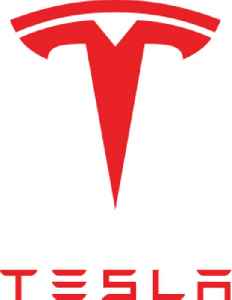 Tesla, Inc. is an American automotive and energy company based in Palo Alto, California. The company specializes in electric car manufacturing and, through its SolarCity subsidiary, solar panel manufacturing. It operates multiple production and assembly plants, notably Gigafactory 1 near Reno, Nevada, and its main vehicle manufacturing facility at Tesla Factory in Fremont, California. As of March 2019, Tesla sells Model S, Model X, and Model 3 cars. It is accepting reservations for the Model Y, Roadster (2020), and Semi vehicles. Tesla also sells Powerwall, Powerpack, and Megapack batteries, solar panels, solar roof tiles, and some related products.


Elon Musk says 'pedo guy' tweet did not suggest British cave diver was a pedophile
Elon Musk on Monday said he did not intend to accuse a British diver of pedophilia by branding him a "pedo guy" on Twitter, as the Tesla Inc chief executive sought to dismiss a defamation lawsuit.
Reuters - Published
Elon Musk Releases Tesla Patents for Free – in the Name of Climate Change
by Stephanie Boyd - While 2018 may well have been a year of mixed news as far as Tesla and SpaceX boss Elon Musk is concerned – at least with regard to his car firm's financial performance..
One News Page Staff - Published
Elon Musk Says 'Pedo Guy' Has Different Meaning In South Africa
Elon Musk faces a defamation suit after calling British ex-pat diver, Ver Unsworth a "pedo guy." Unsworth was part of the rescue team who saved a group of Thailand kids from being trapped in a..
Credit: Wochit News Duration: 00:32Published
Tesla Airbags Didn't Inflate: Family's Model 3 Crashed
A Tesla Model 3's airbags didn't inflate in a devastating highway accident earlier this year, the victims' attorney said. The family's lawyer said he sent a routine "preservation letter" to the company..
Credit: Wochit News Duration: 00:35Published
Tesla driver filmed 'asleep at the wheel'
A video of a driver appearing to sleep whilst at the wheel of a Tesla has raised eyebrows in the US. The footage, filmed on a busy toll road in Massachusetts, is the latest of a number of sightings of..
Credit: PA - Press Association STUDIO Duration: 00:28Published
Wall Street mixed ahead of holiday weekend
Wall Street showed mixed results Friday as investors were cautious ahead of a holiday weekend. Fred Katayama reports.
Credit: Reuters Studio Duration: 01:07Published
China to exempt Tesla cars from sales tax
Shares of Tesla rallied on Friday after China announced it will exempt Tesla cars from a 10 percent sales tax. Conway G. Gittens reports.
Credit: Reuters Studio Duration: 01:03Published
Tesla's Musk and Alibaba's Ma talk AI and 'inadequate' humans
Tesla's Elon Musk and Alibaba's Jack Ma made their first-ever joint appearance at a Shanghai conference, discussing topics ranging from Mars to AI. Rough cut (no reporter narration)
Credit: Reuters Studio Duration: 00:59Published
Tesla Insurance Now Available In CA
Tesla on Wednesday said that its long-awaited insurance product for owners was available. "Tesla Insurance offers comprehensive coverage and claims management to support our customers in California,..
Credit: Wochit News Duration: 00:49Published
Tesla Launches Car Insurance, Promising 30% Cheaper
Elon Musk's Tesla is getting into the insurance business: the company just launched Tesla Insurance to customers in California. The company said on Wednesday that they would offer rates that are..
Credit: Wochit News Duration: 00:33Published
Elon Musk Tweets About Asteroid Hitting Earth: NASA Says Calm Down
(CNN) Elon Musk, CEO of SpaceX and Tesla, tweeted that a "big rock" is going to hit Earth, and that we "currently have no defense." Musk's tweet was a response to another by comedian and podcaster Joe..
Credit: Wochit News Duration: 00:33Published
Tesla CEO Elon Musk Supports Andrew Yang
Tesla CEO Elon Musk tweeted out an apparent endorsement of Democratic presidential candidate Andrew Yang on Twitter on August 10. Yang, 44, is a venture capitalist from New York who believes in..
Credit: Wochit News Duration: 00:33Published
Tesla shares sink
Shares of Tesla sank nearly 15% early Thursday, a day after the electric car maker disappointed Wall Street by softening its language on turning a profit this year. Fred Katayama reports.
Credit: Reuters Studio Duration: 00:47Published
Earnings tumble at automakers, but VW defies the gloom
More evidence has emerged of tough times for the auto sector following weak numbers at Ford, Nissan and Tesla. But Volkswagen is defying the gloom with a big jump in earnings. Julian Satterthwaite..
Credit: Reuters Studio Duration: 01:43Published
Search this site and the web:
You Might Like