Tesla, Inc.
American automotive and energy company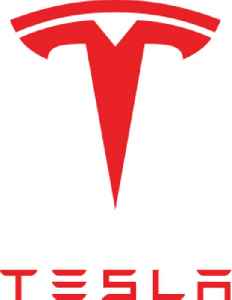 Tesla, Inc., is an American automotive and energy company based in Palo Alto, California. The company specializes in electric car manufacturing and, through its SolarCity subsidiary, solar panel manufacturing. It operates multiple production and assembly plants, such as Gigafactory 1 near Reno, Nevada, and its main vehicle manufacturing facility at Tesla Factory in Fremont, California. As of March 2019, Tesla sells Model S, Model X, and Model 3 cars. It is accepting reservations for the Model Y, Roadster (2020), and Semi vehicles. Tesla also sells Powerwall, Powerpack, and Megapack batteries, solar panels, solar roof tiles, and some related products.


Elon Musk says 'pedo guy' tweet did not suggest British cave diver was a pedophile
Elon Musk on Monday said he did not intend to accuse a British diver of pedophilia by branding him a "pedo guy" on Twitter, as the Tesla Inc chief executive sought to dismiss a defamation lawsuit.
Reuters - Published
Elon Musk Releases Tesla Patents for Free – in the Name of Climate Change
by Stephanie Boyd - While 2018 may well have been a year of mixed news as far as Tesla and SpaceX boss Elon Musk is concerned – at least with regard to his car firm's financial performance..
One News Page Staff - Published
Elon Musk's Tesla Factory In Germany Makes No Sense
Tesla CEO Elon Musk announced last week that a new factory is planned for Germany, in the Berlin area. This is a bad idea. The European auto industry already has too many factories for the region's..
Credit: Wochit News Duration: 00:35Published
Brexit uncertainty prompts Tesla to choose Germany over UK for first Europe plant
Tesla CEO told Auto Express that "Brexit uncertainty" had influenced the company's decision to open its first European plant in Berlin.View on euronews
Credit: euronews (in English) Duration: 03:33Published
Tesla picks Germany for first European factory
Tesla has chosen Berlin as the site for its first European factory. Julian Satterthwaite reports.
Credit: Reuters Studio Duration: 01:02Published
Elon Musk Wishes Model 3 Was Cheaper, Though Customers Weren't Interested
Tesla CEO Elon Musk said he wishes the electric-car maker's Model 3 sedan was less expensive in a June deposition obtained by PlainSite, an organization that advocates for transparency in the US..
Credit: Wochit News Duration: 00:32Published
Lawsuit Blames Faulty Door Design In Death Of Tesla Driver
Omar Awan was a Tesla lessee who died in February after his Model S sedan caught fire. Now, his family is suing the electric-car maker. According to Business Insider, they allege "the Model S' design..
Credit: Wochit News Duration: 00:39Published
Tesla: Surprise Quarterly Profit, Record Deliveries
FILE PHOTO: SpaceX owner and Tesla CEO Elon Musk speaks during a conversation with legendary game designer Todd Howard (not pictured) at the E3 gaming convention in Los Angeles, California, U.S., June..
Credit: Wochit News Duration: 00:36Published
Elon Musk Smoking Weed Cost NASA $5 Million
In 2018, Tesla and SpaceX CEO Elon Musk smoked weed on Joe Rogan's YouTube show. Since SpaceX is a U.S. military contractor, the government was not happy about this incident. According to Gizmodo,..
Credit: Wochit News Duration: 00:32Published
Future cars: Toyota doubles down, Dyson gives up
Different visions of future mobility: Toyota doubles down on hydrogen fuel cell vehicles, but James Dyson pulls the plug on plans for an electric car. Julian Satterthwaite reports.
Credit: Reuters Studio Duration: 01:24Published
Search this site and the web:
You Might Like