Syria
Country in the Middle East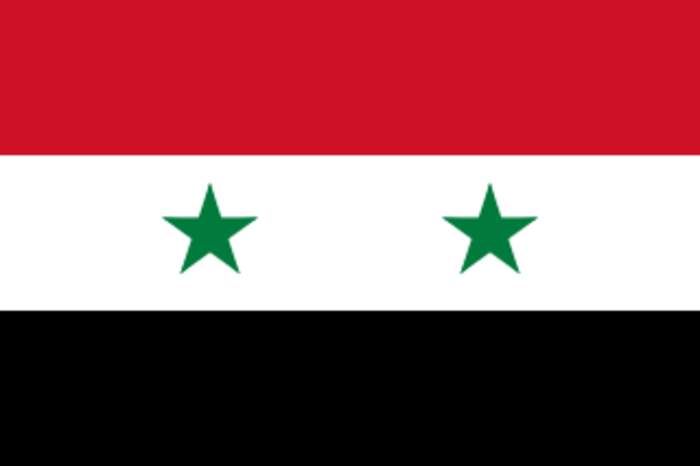 Syria, officially the Syrian Arab Republic, is a country in Western Asia, bordering Lebanon to the southwest, the Mediterranean Sea to the west, Turkey to the north, Iraq to the east, Jordan to the south, and Israel to the southwest. A country of fertile plains, high mountains, and deserts, Syria is home to diverse ethnic and religious groups, including the majority Syrian Arabs, Kurds, Turkmens, Assyrians, Armenians, Circassians, Mandeans, and Greeks. Religious groups include Sunnis, Christians, Alawites, Druze, Isma'ilis, Mandeans, Shiites, Salafis, and Yazidis. Arabs are the largest ethnic group, and Sunnis are the largest religious group.


Syria plans presidential vote for May 26

Syria has announced an election for May 26 that is almost certain to return President Bashar al-Assad for a third term. Washington and opposition figures have called the vote a farce. Lucy Fielder..
Credit: Reuters - Politics Duration: 01:13
Published
Myanmar coup: Protests cancel New Year events

Opponents of military rule in Myanmar canceled traditional new year festivities on Tuesday and instead showed their anger with the generals who seized power through low-key displays of defiance and..
Credit: Reuters - Politics Duration: 01:32
Published
Syrian refugees in Iraq face worsening living conditions

Why some Syrian refugees in northern Iraq still prefer to live in tents even after the Iraqi government decided to shut down camps for displaced people.
Credit: Al Jazeera STUDIO Duration: 03:22
Published
Syria's war: Widows in need of humanitarian support

Outside of Aleppo, in the city of Azaz, this Department of Family council, in cooperation with international organisations, is trying to help.
Credit: Al Jazeera STUDIO Duration: 01:30
Published
Taslima Nasreen says tweet against Moeen Ali was sarcastic | Oneindia News

Description:England cricketers are infuriated over Bangladesh writer Taslima Nasrin's now-deleted tweet on Moeen Ali. After reports floated that the Chennai Super Kings franchise removed the liquor..
Credit: Oneindia Duration: 01:24
Published
Amnesty human rights report: situation 'desperate' in Yemen, Syria


Credit: FRANCE 24 English Duration: 06:28
Published
Europe's week: Syria donation shortfall & WHO slams EU vaccine rollout

Here are some of the stories that topped the news agenda in Brussels this week.
Credit: Euronews English Duration: 06:59
Published
'ISIS targeting Hindu & Christian girls': BJP Kerala Chief K Surendran

BJP's Kerala Chief K surendran has said that the party will bring 'Love Jihad' legislation if they are elected to power in the state. He further alleged that the ISIS is targeting Hindu and..
Credit: HT Digital Content Duration: 02:18
Published
EU, U.S. and other nations pledge €5.5 billion to Syria reconstruction

The figure is less than was hoped for by the UN and less than was pledged last year.
Credit: Euronews English Duration: 01:40
Published
ISIS targeting Hindu-Christian girls in Kerala: State BJP chief

Kerala BJP chief K Surendran accused the Pinarayi Vijayan-led state government of not conducting enquiries in alleged love jihad cases. Terming love jihad a problem for BJP, Hindus and Christian..
Credit: ANI Duration: 01:21
Published
Brussels conference on Syria aims to raise billions for decade-long crisis

More than 50 countries are attending the virtual conference taking place Monday and Tuesday, where the international community is being asked for over €8bn to fund humanitarian causes.
Credit: Euronews English Duration: 02:50
Published
Alarm over ISIL resurgence in Syria

In an interview with Al Jazeera, the UN's special envoy for Syria cited worrying signs of a resurgence in the desert.
Credit: Al Jazeera STUDIO Duration: 06:00
Published
Syrian refugees tortured in Lebanon: Amnesty report

Lebanese military intelligence officers have committed violations against Syrian refugees including torture, Amnesty says.
Credit: Al Jazeera STUDIO Duration: 02:35
Published
Several killed in gov't attack on hospital in northwest Syria

At least six civilians, including a child, were killed after government forces fired on a hospital in western Aleppo.
Credit: Al Jazeera STUDIO Duration: 02:24
Published
Center supports children with Down syndrome in Syria

CNN's Arwa Damon visits the only Down syndrome support center for children in Syria's war-torn Idlib province, where volunteers strive to give some of the country's most vulnerable children a..
Credit: Bleacher Report AOL Duration: 04:39
Published
Prince William praises 'incredible heroes' tackling pandemic in war-torn countries

The Duke of Cambridge has said he is "totally overwhelmed by the scale of the burden" faced by the "incredible heroes" who are helping tackle the pandemic in war-torn countries.William spoke..
Credit: PA - Press Association STUDIO Duration: 00:59
Published
A look back at a decade of war in Syria

Over the last 10 years, as Syria fell deeper into the abyss, the country has burned and President Bashar al-Assad has clung to power. An uprising that started peacefully has left as many as half a..
Credit: Bleacher Report AOL Duration: 02:54
Published
From Damascus to Rouen: A Syrian dancer's long road to refuge

The war in Syria displaced half of the country's population, with many escaping to Europe for refuge - but the journey was rarely simple, or safe.
Credit: euronews (in English) Duration: 03:58
Published
Syria conflict 10 years on: In Raqqa, small freedoms mean a great deal to the residents


Credit: FRANCE 24 English Duration: 01:45
Published
How ISIS and coalition airstrikes combined to terrorise Raqqa

Amid Syria's civil war, Raqqa became known the world over for being the stage of some of the most horrific episodes of violence perpetrated by the so-called Islamic State.
Credit: euronews (in English) Duration: 03:51
Published
You Might Like



Syria's 'miracle baby' has cheated death several times - and brought together people across the world

The Turkish doctors treating her are calling her the "miracle baby".




Sky News - Published




Meet the Syrian doctor who left hospital bombings behind in Aleppo for the UK's COVID frontline

In the midst of gunfire and airstrikes that rained across the Syrian city of Aleppo, a young final-year medical student trained how to treat war injuries.




Sky News - Published





UNSC needs to introspect about the cost of its 'actions and inactions' on Syria: India




IndiaTimes - Published





Security forces move into notorious Syrian camp to oust ISIS elements

Security forces in Kurdish-controlled northeastern Syria have entered the notorious al Hol camp where ISIS sympathisers are being held.




Sky News - Published





'Creating the next generation of jihadists' - The return of IS to Syrian refugee camps

We'd been asked into the clinic of a camp called Al Hol to meet a young woman.




Sky News - Published




Humanitarian crisis, worsened by Covid-19, calls for relaxation of sanctions imposed on Syria: India




IndiaTimes - Published





'We have to judge them': The court trying Islamic State fighters left behind in Syria

On the edge of a dusty town in Kurdish-controlled northeastern Syria, a small team of lawyers are doing something remarkable; a task no other government globally is willing to do.




Sky News - Published




Close allies of Assad hit with UK sanctions for 'wholesale assault' on Syrian people

Six close allies of Syrian President Bashar al-Assad - incuding his foreign minister - have been targeted with asset freezes and travel bans as part of fresh UK sanctions.




Sky News - Published




Britain's treatment of Shamima Begum criticised - as new photos of IS bride in Syria emerge

Britain's treatment of Shamima Begum is a "disgraceful indictment of our national conscience", Olympic sculptor Sir Anish Kapoor has said.




Sky News - Published




A fractured state and a people displaced - counting the cost of a decade of war in Syria

After a decade of war, you might expect every city in Syria to be in ruins, and many are.




Sky News - Published




'Assad must be held accountable': Inside the 'optimistic' bid to bring Syria's president to trial

The Syrian government "must be held accountable" for crimes committed over the past decade, according to the Netherlands, which is leading the international action to bring President Bashar al Assad to..




Sky News - Published




Met's War Crimes Unit examining allegations against Asma al Assad, wife of Syrian president

The Metropolitan Police has launched a preliminary investigation into Asma al Assad, Sky News understands. 




Sky News - Published




Syrian president Bashar al-Assad and wife test positive for coronavirus

Syria's President Bashar al-Assad and his wife have tested positive for COVID-19, his office has confirmed.




Sky News - Published




After US airstrikes in Syria, Biden warns Iran of consequences for supporting militia groups

American airstrikes in Syria show that Iran can expect consequences for supporting militia groups threatening US interests and personnel, Joe Biden has warned.




Sky News - Published




US conducts air strikes against Iranian-backed militia facilities in Syria: Pentagon

The strikes, which were first reported by Reuters, appeared to be limited in scope, potentially lowering the risk of escalation.




DNA - Published





Joe Biden takes military action for first time as president - US launches airstrikes on Syria

The US has launched airstrikes on eastern Syria - the first military action undertaken since Joe Biden became president.




Sky News - Published




Ex-Syrian agent convicted by German court in landmark torture trial

A former member of Syrian president Bashar al Assad's secret police has been sentenced by a German court to four-and-a-half years in jail for facilitating the torture of prisoners.




Sky News - Published




Refugee camp 'womb' for new generation of IS extremists as killings surge

Killings have surged at a huge refugee camp in Syria housing Islamic State sympathisers, prompting warnings it is the "womb" for a new generation of extremists.




Sky News - Published




Drill-rapping jihadist bought 18-inch sword and plotted attack during pandemic, court told

A drill-rapping jihadist whose brothers travelled to Syria bought an 18-inch sword, a balaclava and a bullet-proof vest as he plotted an attack in the midst of the pandemic, a court has heard.




Sky News - Published





At UNSC, India highlights politicisation of Syrian conflict

This year marks 10 years since the conflict began in Syria in 2011.




DNA - Published





At UNSC, India warns of Syrian chemical weapons falling into the hands of terrorists

India has provided $1M to the OPCW Trust Fund for activities relating to the destruction of chemical stockpiles and related facilities in Syria.




DNA - Published





World cannot afford to dilute fight against terror taking advantage of Syria war: India at UNSC




IndiaTimes - Published





PM Modi holds discussions with two warring Kerala based Syrian church groups

The feud between the two factions intensified following implementation of a 2017 Supreme Court order, granting the Orthodox faction possession of over 1,000 churches and properties attached to them...




IndiaTimes - Published





NIA searches 7 Kerala sites in Syria terror trail




IndiaTimes - Published





DNA Special: Islamic radicalism spreading tentacles?

Kuztim Fezulai had some time back tried to join the ISIS in Syria for which he had to spend 22 months in prison




DNA - Published





Bengaluru ISIS module: NIA arrests two for radicalising youth

The National Investigation Agency (NIA) has arrested a business analyst working at a Chennai bank and a rice merchant from Bengaluru for allegedly radicalising members of a Bengaluru-based ISIS module..




IndiaTimes - Published





Hope to see comprehensive, peaceful resolution of decade-long Syrian conflict: India




IndiaTimes - Published





Arrested ISIS operative had planned terror attack in crowded areas on August 15: Delhi Police

Mustakeem Khan, alias Abu Yusuf, was in direct touch with his ISIS commanders. He had passports made in the name of his wife and 4 children. Earlier, he was being handled by Yusuf Alhindi who was..




DNA - Published





India's Rafale jets to have HAMMER missiles; weapon that was used in Iraq and Syria

It was pointed out that the Rafale jets with HAMMER missiles carried out airstrikes in Libya, Afghanistan, Iraq, and Syria.




DNA - Published





U.N. mulls proposal to reopen Iraq crossing for pandemic aid to Syria

The United Nations Security Council is considered a proposal to reopen a border crossing from Iraq into Syria for six months to allow the delivery of humanitarian aid to help millions of Syrian..




Reuters - Published





Iran rejects U.S. sanctions on Syria, vows to boost trade with ally

Iran on Thursday condemned as inhumane a fresh round of U.S. sanctions against its regional ally Syria and said it would expand its trade ties with Damascus.




Reuters - Published





In rebel Syria, some welcome sanctions but fear for economy

In the last bastion of the rebellion against President Bashar al-Assad, Syrians who fled his rule see new U.S. sanctions as a step in the right direction but say they must be shielded from any fallout..




Reuters - Published





Syria says new tougher U.S. sanctions breach international law

Syria said Washington's toughest sanctions against President Bashar al-Assad's government, which came to effect on Wednesday, violated international law.




Reuters - Published





French court finds Bashar al-Assad's uncle guilty of property fraud

The exiled uncle of Syrian President Bashar al-Assad was found guilty on Wednesday of acquiring millions of euros worth of French property using funds diverted from the Syrian state, and sentenced to..




Reuters - Published




U.S. hits Syria with toughest sanctions yet to push Assad to end war

The United States on Wednesday imposed its toughest sanctions ever targeting Syrian President Bashar al-Assad to choke off revenue for his government in a bid to force it back to United Nations-led..




Reuters - Published





U.S. to impose sanctions aimed at blocking Syria military victory

The United States will impose sanctions on Wednesday aimed at cutting off revenue for Syrian President Bashar al Assad's government in a bid to push it back into United Nations-led negotiations and..




Reuters - Published





For Syrian family with 16 children, life at Turkish border only gets harder

Providing for 16 children including four sets of twins is only getting harder for Ahmad Yassin al-Ali and his wife Fawza Umri, Syrians who were forced to flee their home nearly a decade ago and are now..




Reuters - Published





What do new U.S. sanctions mean for Syria?

The toughest U.S. sanctions yet on Syria take effect this week, increasing the pressure on President Bashar al-Assad as he grapples with a deepening economic crisis after a decade of war.




Reuters - Published





Turkey and Russia put off talks expected to tackle Libya and Syria

Russia and Turkey have postponed ministerial-level talks which were expected to focus on Libya and Syria, where the two countries support opposing sides in long-standing conflicts.




Reuters - Published





Artists around the world pay tribute to George Floyd

Protests against racism triggered by the death of African American George Floyd have inspired art around the world, from murals in Syria and Pakistan to graffiti in Nairobi.




Reuters India - Published

Also reported by •Reuters