K. Chandrashekar Rao
Chief Minister of Telangana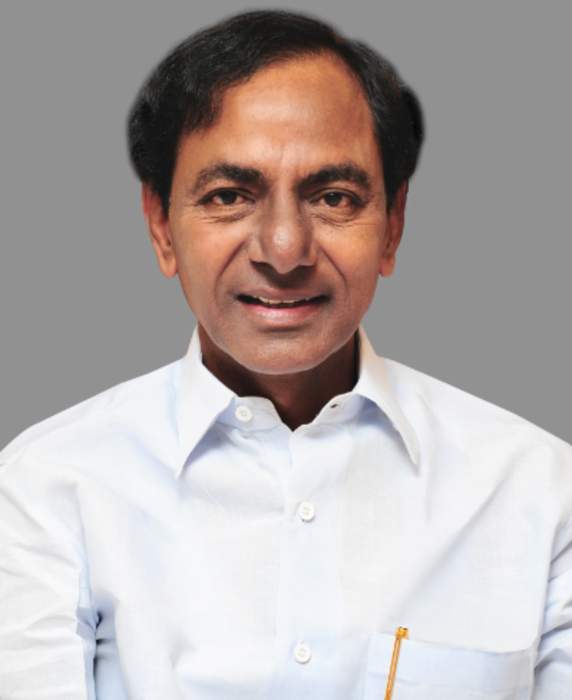 Kalvakuntla Chandrashekar Rao, often referred to by his initials KCR, is an Indian politician who served as the Chief Minister of Telangana since 2 June 2014. He is the founder and leader of the Bharat Rashtra Samithi, a state party in India. He is known for leading the Telangana movement to achieve statehood for Telangana. Previously, he served as the Union Minister of Labour and Employment from 2004 to 2006. He represents Gajwel constituency in the Legislative Assembly of Telangana. Rao took oath as the first Chief Minister of Telangana in 2014 and was re-elected for the second term in 2018.


Exit Polls 2023| Numbers Predict Congress Government in Telangana | No Hat-Trick for KCR? | Oneindia

Telangana's election results spell trouble for KCR's BRS party, signaling a potential end to their winning streak. The Congress party is poised for substantial gains in the state. Exit polls show..
Credit: Oneindia Duration: 01:38
Published
Telangana Assembly Elections 2023| Voting Underway | The Issues and the Key Faces | Oneindia News

The Telangana 2023 Assembly elections kick off with a three-way contest among BRS, Congress, and BJP for 119 seats. KCR eyes a hat-trick, BRS focusing on welfare schemes amid criticism, while Congress..
Credit: Oneindia Duration: 03:15
Published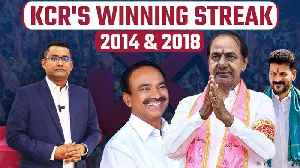 Telangana Assembly Election 2023: A look at how CM KCR performed in 2014 and 2018 | Oneindia

As Telangana approaches its polling date on November 30, with counting scheduled for December 3, the ruling Bharat Rashtra Samithi (BRS), led by Chief Minister Kalvakuntla Chandrasekhar Rao (KCR),..
Credit: Oneindia Duration: 09:04
Published
Telangana Assembly Polls|Congress Releases Poll Manifesto, Slams BRS| Oneindia Exclusive

Oneindia Exclusive. AICC Spokesperson Chamala Kiran Reddy slams K. Chandrashekar Rao's party BRS, accusing them of exploiting the people of Telangana. The party says the people gave a chance to BRS and..
Credit: Oneindia Duration: 06:39
Published
Air Scare for KCR| Chopper Makes Precautionary Landing at Farm House| Telangana CM Safe| Oneindia

A helicopter carrying Telangana Chief Minister K Chandrasekhar Rao had to make a precautionary landing at his Erravalli farmhouse shortly after takeoff due to a technical problem. The pilot opted to..
Credit: Oneindia Duration: 04:26
Published
You Might Like



Congress to wrest power from KCR's BRS in Telangana, predicts Axis My India exit poll




IndiaTimes - Published





Assembly Elections Exit Poll Results 2023: BJP has edge over Congress in Rajasthan, MP; KCR may lose Telangana

Exit poll results for the Assembly Elections 2023 in Madhya Pradesh, Rajasthan, Telangana, Chhattisgarh and Mizoram were declared on November 30.




DNA - Published





BRS complains to EC on Congress' alleged use of 'deepfake' technology in Telangana poll campaign

The BRS in Telangana has lodged a complaint with the Election Commission (EC) against the Congress, alleging the use of 'deepfake' technology by the Telangana Pradesh Congress Committee (TPCC) to..




IndiaTimes - Published





Telangana CM K Chadrasekhar Rao casts vote in native village

Telangana Chief Minister K Chandrasekhar Rao and his wife Sobha voted in Chinramadaka village in Siddipet district on Thursday. ​​He greeted some of the people gathered at the polling station in..




IndiaTimes - Published





Rahul Gandhi urges people to vote to build a 'Bangaru' Telangana

Rahul Gandhi urges people of Telangana to vote; Congress MP asks for large numbers in state Assembly elections. Voting begins across the state with heavy security arrangements. Congress leaders..




IndiaTimes - Published





Telangana polls: Campaign by political parties ends today at 5 PM, voting on November 30

The high-octane campaign for the Telangana Assembly polls will end on Tuesday. This campaign season has been the longest compared to other states like Mizoram, Madhya Pradesh, Chhattisgarh. The BRS..




IndiaTimes - Published





BJP leader from backward community will become CM: Piyush Goyal exudes confidence in BJP's victory in Telangana

Union Minister Piyush Goyal expresses confidence in BJP winning Telangana elections and a backward community leader becoming Chief Minister. Corruption, appeasement politics, and nepotism will be..




IndiaTimes - Published





Get rid of BRS if you want to end loot of public money: Priyanka Gandhi

Congress general secretary Priyanka Gandhi Vadra called upon the people of Telangana to get rid of the BRS government in the upcoming November 30 assembly polls. She alleged that the government has..




IndiaTimes - Published





Ousting 'corrupt BRS' is BJP's duty to people, PM says in Hyderabad

PM Narendra Modi considers 'liberating Telangana' from the allegedly corrupt BRS government of K Chandrashekar Rao a responsibility towards the people. He believes that the next CM of Telangana will be..




IndiaTimes - Published





K Chandrasekhar Rao sees a Congress conspiracy, Kharge blames 'lust for power'

A war of words broke out between BRS and Congress soon after Election Commission stopped disbursement of Rythu Bandhu money even as both the parties appealed to EC to reconsider its decision and allow..




IndiaTimes - Published





People are angry with BRS, no one wants KCR govt to come back to power: Amit Shah

Union Home Minister Amit Shah claimed there is anger against the ruling BRS in Telangana. He stated that people do not want the KCR-led government to come back to power. Shah attacked the BRS and..




IndiaTimes - Published





'Dora then, Dora now,' Telangana Congress ad mocks KCR'S 'hypocrisy'

The Congress Party mocks Telangana Chief Minister K Chandrashekhar Rao's 'dora' image in a campaign ahead of the Assembly elections in Telangana. Full-page advertisements list 14 statements made by KCR..




IndiaTimes - Published





KCR can't spare 2 minutes for people of Telangana: Rahul

Congress MP Rahul Gandhi launched on Sunday a scathing attack on Telangana CM K Chandrasekhar Rao, demanding explanations for alleged corruption and betrayal of public trust during his 10-year tenure...




IndiaTimes - Published





26/11 a reminder of dangers of weak, inefficient govt: PM Modi

PM Modi, speaking on the anniversary of the 26/11 Mumbai terrorist attacks, emphasized the danger of weak governments and the need for a strong BJP government. He referred to the chaotic response to..




IndiaTimes - Published





Financial assistance for schemes will be increased if BRS voted to power again, says CM KCR

Khanapur (Telangana), Chief Minister K Chandrasekhar Rao expressed confidence in the BRS returning to power in Telangana after the November 30 assembly polls. He pledged to increase financial..




IndiaTimes - Published





KCR runs most corrupt govt in country: Rahul Gandhi's swipe at ruling BRS ahead of Telangana polls

Ahead of the Telangana Assembly elections, Congress MP Rahul Gandhi addressed a public gathering in Andole, slamming the BRS government for corruption and involvement in paper leakages. He accused the..




IndiaTimes - Published





Not Congress, KCR should say what he has done for Telangana, says Rahul Gandhi




IndiaTimes - Published




KCR considers Telagana as his personal fiefdom: PM Modi

Prime Minister Narendra Modi launched a scathing attack on the ruling BRS government in Telangana, stating that the people of Telangana are marching ahead with a pledge to form a BJP government for the..




IndiaTimes - Published





Polls will decide future of Telangana, says Amit Shah as he launches blistering attack on KCR

Union Home Minister Amit Shah criticizes the ruling BRS in Telangana and highlights the significance of the upcoming Assembly elections. He accuses the incumbent government of corruption and..




IndiaTimes - Published





Election Commission issues advisory to Telangana chief minister, asks him to follow model code in 'letter and spirit'

Ahead of the Telangana Assembly polls next week, the Election Commission (EC) has issued an "advisory" to Chief Minister K Chandrashekar Rao for his controversial remarks against the Congress..




IndiaTimes - Published





Congress flattened BJP's tyres in Telangana, will do it in Delhi also, says Rahul Gandhi

Rahul Gandhi claims Congress punctured BJP's tires in poll-bound Telangana and will do the same in Delhi. He reminds Chandrasekhar Rao that Congress built the school, university, airport, and outer..




IndiaTimes - Published





'BJP, BRS are using ED, Income Tax department to target our party leaders,' Telangana Congress chief Revanth Reddy

Telangana Congress President Revanth Reddy accused the BJP and BRS of misusing the ED and IT departments in the recent raids on Congress leaders. He claimed that individuals who helped Vivek..




IndiaTimes - Published





People are tired of KCR's appeasement politics, says Amit Shah ahead of Telangana polls

Ahead of Telangana Assembly elections, Union Home Minister Amit Shah targeted the Bharat Rashtra Samithi (BRS) government in the state, alleging corruption and involvement of Chief Minister K...




IndiaTimes - Published





BRS gave terrorists a free run, BJP won't says Amit Shah

Terrorists garnered local patronage and operated with impunity in a part of Telangana right under the noses of police until the National Investigation Agency (NIA) began a crackdown, Union home..




IndiaTimes - Published





KCR promises special IT park for Muslims

Telangana CM K Chandrasekhar Rao has promised to set up a special information technology (IT) park for Muslim youth at Pahadishareef near Hyderabad, if the BRS is voted back to office. Addressing a..




IndiaTimes - Published





Election Commission notices to Congress, BRS for cusswords

The ECI has served notices on both Congress and BRS regarding use of cusswords during the campaign for the November 30 Telangana elections, reports U Sudhakarreddy. Notices were issued in instances..




IndiaTimes - Published





KCR indulged in scams worth thousands of crores, alleges Union home minister Amit Shah

Amit Shah has accused Telangana chief minister K Chandrasekhar Rao of corruption and has promised to investigate and imprison those involved in graft if BJP is voted to power in the state. The Union..




IndiaTimes - Published





'In 10 years, KCR only accumulated crores for son, did nothing for Telangana': Amit Shah in Telangana

Union home minister Amit Shah launched a scathing attack on the BRS government in Telangana, accusing chief minister K Chandrasekhar Rao of corruption and nepotism. Shah promised that if the BJP is..




IndiaTimes - Published





Telangana polls: K Chandrasekhar Rao says Congress leaders seeking votes saying they would join BRS after getting elected

BRS chief accuses Congress candidates of joining BRS after election; accuses PM Modi of importing coal from Adani's mines; criticizes BJP for lack of medical college and Navodaya School in Telangana;..




IndiaTimes - Published





As long as I am alive Telangana will remain secular: Chief minister KCR




IndiaTimes - Published





KCR promises special IT Park for Muslim youths in Hyderabad if BRS voted to power

BRS president and Chief Minister K Chandrasekhar Rao promises to set up a special Information Technology park near Hyderabad for minority youths to win minority voters. The government is focused on the..




IndiaTimes - Published





'BJP fighting with all dynastic parties across country': JP Nadda slams opposition in Telangana

JP Nadda, the national president of Bharatiya Janata Party (BJP), criticized the opposition for engaging in dynastic politics. He emphasized that the BJP is the only party fighting against dynastic..




IndiaTimes - Published





'Do you want Congress or electricity' asks KT Rama Rao addressing presentation for Trailblazer Telangana

KTR claims Telangana's progress under KCR-led TRS government. Telangana's per capita income has increased from Rs 1.24 lakh crore in 2014 to Rs 3.17 lakh crore in 2023. The state has witnessed..




IndiaTimes - Published





Telangana polls: Kharge hits back at KCR over criticism against Indira Gandhi's rule

Mallikarjun Kharge, the president of the All India Congress Committee, criticized Telangana chief minister K Chandrasekhar Rao for his comments against former PM Indira Gandhi. Kharge questioned where..




IndiaTimes - Published





Congress candidate Mohammad Azharuddin is an 'unsuccessful politician,' says Asaduddin Owaisi

AIMIM leader Asaduddin Owaisi criticized Congress candidate Mohammad Azharuddin, calling him an "unsuccessful politician" and expressing hope that voters would support his party candidate. Owaisi also..




IndiaTimes - Published





Akbaruddin Owaisi booked for threatening Police official, BJP says "KCR unable to manage law and order"

AIMIM leader Akbaruddin Owaisi has been booked for allegedly threatening a police officer in Hyderabad. BJP leader Syed Zafar Islam criticized Telangana Chief Minister K Chandrashekar Rao for his..




IndiaTimes - Published





'Congress has dozen Chief ministers, will only get 20 seats', says CM K Chandrashekar Rao in Telangana

Telangana Chief Minister K Chandrashekar Rao has mocked the Congress party, stating that they have multiple candidates for the post of chief minister but will only win around 20 seats in the upcoming..




IndiaTimes - Published





'Why do we need Indira Gandhi's regime when...': KCR hits out at Congress

Telangana chief minister K Chandrashekar Rao criticized the Congress party, questioning the need for a regime like Indira Gandhi's, stating that nothing good happened during that period. He highlighted..




IndiaTimes - Published





'Will do away with 4 per cent reservation for Muslims to give...': Amit Shah in Telangana

The Bharatiya Janata Party (BJP) has announced that it will eliminate the four percent reservation for Muslims in Telangana and distribute it among Scheduled Castes, Scheduled Tribes, and Other..




IndiaTimes - Published





Telangana polls: Amit Shah calls BRS, AIMIM and Congress as 2G, 3G and 4G parties

Union home minister Amit Shah, during a rally in Jangaon, referred to opponents in Telangana as dynastic parties. He called KCR-led BRS, AIMIM, and Congress parties as 2G, 3G, and 4G parties..




IndiaTimes - Published





Telangana has been eclipsed by KCR and BRS: BJP President JP Nadda in roadshow in Hyderabad

Telangana will go for assembly elections on November 30 and the counting of votes, along with other four poll-bound states, has been scheduled for December 3.




DNA - Published





'Indiramma rajyam' a dark era of starvation: KCR jibe at Congress pledge

Telangana Chief Minister K Chandrasekhar Rao criticized the Congress party and its promised 'Indiramma Rajyam' on the birth anniversary of former Prime Minister Indira Gandhi. KCR stated that the..




IndiaTimes - Published





'PM ka baap': Congress' Mallikarjun Kharge takes dig at PM Modi, Telangana CM K Chandrashekar Rao

Pointing out that the Telangana government is economically bankrupt, Kharge said, "When KCR was not in power Telangana revenues were in surplus. But today due to KCR's there is a debt of Rs 5,60,000..




DNA - Published





Telangana polls: Congress leaders favour only three hours of power supply to farmers, alleges KCR

Telangana Chief Minister, K Chandrasekhar Rao, criticized the Congress party for favoring only three hours of power supply to farmers and wanting to abolish the 'Dharani' land records management..




IndiaTimes - Published





Telangana polls: BJP's likely 'CM face' Rajender out to prove his political mettle again

Eatala Rajender, a former minister sacked by chief minister K Chandrasekhar Rao, is seeking re-election from Huzurabad constituency in Karimnagar district. He is also challenging KCR in Gajwel..




IndiaTimes - Published





Telangana assembly polls: Some families 'more equal than others' for political parties, given two tickets

The upcoming Assembly election in Telangana has seen a trend of family members entering politics. Members from ruling party BRS, like Chief Minister K Chandrasekhar Rao, his son K T Rama Rao, and..




IndiaTimes - Published





Telangana polls: Sircilla's textile industry weaves poll narrative with KCR's son Rama Rao in fray

Sircilla's textile industry, worth Rs 1,000 crore, is crucial in the upcoming Assembly polls in Telangana. The industry has seen a positive shift due to the state government's support and the efforts..




IndiaTimes - Published





Telangana polls: BRS government's Dharani portal becomes issue, KCR terms it flawless; BJP, Congress vow to abolish it

Dharani, an Integrated Land Records Management System in Telangana, has become a contentious issue ahead of the assembly polls. The system, launched by the government in October 2020, aims to..




IndiaTimes - Published





Telangana polls: KCR declares movable assets worth over Rs 17 crore

Telangana Chief Minister K Chandrasekhar Rao has declared movable assets worth over Rs 17.83 crore and immovable assets worth about Rs 8.50 crore, according to his election affidavit. He does not own a..




IndiaTimes - Published





Congress fields Telangana PCC chief against CM K Chandrashekhar Rao in Kamareddy




IndiaTimes - Published