Afghanistan
Country in Central and South Asia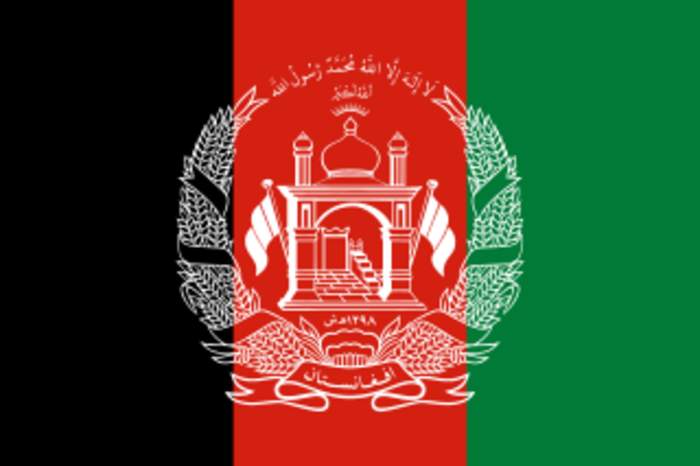 Afghanistan
, officially the
Islamic Emirate of Afghanistan
, is a landlocked country located at the crossroads of Central and South Asia. Referred to as the
Heart of Asia
, it is bordered by Pakistan to the east and south, Iran to the west, Turkmenistan to the northwest, Uzbekistan to the north, Tajikistan to the northeast, and China to the northeast and east. Occupying 652,864 square kilometers (252,072 sq mi) of land, the country is predominately mountainous with plains in the north and the southwest, which are separated by the Hindu Kush mountain range. As of 2021, its population is 40.2 million, composed mostly of ethnic Pashtuns, Tajiks, Hazaras, and Uzbeks. Kabul is the country's largest city and serves as its capital.
Middle school student in Afghanistan makes model vehicles from waste

Shakirullah, a secondary school student in the city of Khost, Afghanistan, collects waste materials in his district and builds model vehicles such as tractors and bulldozers.
Credit: euronews (in English) Duration: 01:06
Published
Taliban's latest order bans men and women from sitting together at restaurants | OneIndia News

In its latest clampdown in Afghanistan's western Herat province since seizing power, Taliban has now put a ban on men and women from sitting and eating together at restaurants. This is Taliban's latest..
Credit: Oneindia Duration: 01:44
Published
NGO Warns That Almost 10 Million Children Are Starving in Afghanistan

NGO Warns That , Almost 10 Million Children , Are Starving in Afghanistan. Save the Children warns that approximately 9.6 million children in Afghanistan are facing daily food insecurity amid a..
Credit: Wibbitz Top Stories Duration: 01:30
Published
Afghan women protest decree to cover faces

About a dozen women chanting "burqa is not my hijab" protested in the Afghan capital Tuesday against the Taliban's order for women to cover fully in public, including their faces.
Credit: euronews (in English) Duration: 01:00
Published
Danish Siddiqui wins second Pulitzer Prize posthumously for Covid coverage in India | Oneindia News

Journalist Danish Siddiqui, who lost his life while covering the conflict situation in Afghanistan, has been awarded the Pulitzer Prize for feature photography for his coverage of the Covid situation..
Credit: Oneindia Duration: 01:34
Published
Taliban stops issuing driving licences to women in Afghanistan | OneIndia News

Taliban threw the Afghanistan government last year and took hold of the country. Since then, many humanitarian issues specifically related to the right of women have cropped up. According to the report..
Credit: Oneindia Duration: 01:32
Published
Afghanistan: Taliban leader hails 'security' in rare appearance to mark Eid


Credit: FRANCE 24 English Duration: 01:21
Published
Afghanistan's Muslims celebrate Eid al-Fitr holiday

Muslims in Afghanistan attend Eid prayers as the fasting month of Ramadan comes to an end.
Credit: euronews (in English) Duration: 01:00
Published
Prince Charles hails BBC's 'impartiality' on visit

The Prince of Wales has paid tribute to journalists working to ensure the public has the "impartial truth" from conflict zones as he marked the 90th anniversary of BBC World Service. Prince Charles and..
Credit: ODN Duration: 03:53
Published
On This Day 1998: Inside The Heroin Trade

Heroin is one of the world's most addictive and destructive drugs and despite attempts to crack down on its supply routes into Europe, the illegal trafficking continued. Tribesmen in Pakistan and..
Credit: ODN Duration: 03:45
Published
Taliban warns Pakistan over alleged airstrikes, says 'won't tolerate invasions' | Oneindia News

On Sunday, Afghanistan's acting defence minister said that the Taliban administration would not tolerate 'invasions' from its neighbours after protesting against airstrikes it says were conducted..
Credit: Oneindia Duration: 01:49
Published
Assange supporters gather in front of court ordering his extradition to US

Supporters of Julian Assange gather in London after a UK court issued a formal order to extradite the WikiLeaks founder to the United States to face trial over the publication of secret files relating..
Credit: euronews (in English) Duration: 00:35
Published
Several killed and injured in a series of explosions outside Kabul school

Police said the blasts had targeted educational facilities in a mostly Shiite neighbourhood of Afghanistan's capital city.
Credit: euronews (in English) Duration: 00:44
Published
Three explosions rock a High school in western Kabul killing 6 people | OneIndia News

Afghan security and health officials reported on Tuesday that three blasts rocked a high school in western Kabul, killing killing 6 people and injuring almost a dozen. Among those who were killed, many..
Credit: Oneindia Duration: 01:04
Published
Taliban announce ban on harvesting poppies

In desperately poor Afghanistan the ban seems certain to further impoverish its poorest citizens at a time when the country is in an economic free fall.
Credit: euronews (in English) Duration: 00:25
Published
Taliban bans opium as Afghanistan's poppy harvest begins

Farmers say the ban will ruin them as many rely on opium revenues to pay their bills. The opium is sold to dealers who process it to produce heroin.
Credit: euronews (in English) Duration: 01:34
Published
US launches satellite TV channel for Afghanistan after VOA broadcast ban by Taliban | OneIndia News

US has launched a 24/7 direct-to-home satellite-delivered television channel for Afghanistan after the Taliban banned the Voice of America broadcast in the country. The 24/7 channel launched by the US..
Credit: Oneindia Duration: 01:43
Published
UN to Taliban on opening high school for girls: 'Respect right to education' | OneIndia News

In a press statement released, United Nations Security Council expressed deep concern and worry over the Right to Education of all female students in Afghanistan. This statement comes after Taliban..
Credit: Oneindia Duration: 01:47
Published
You Might Like



All female TV presenters in Afghanistan given 'non-negotiable' order to cover faces on air

All female television presenters in Afghanistan have been ordered by the Taliban to cover their faces while on air - as at least one host hit out at the move, saying it was "erasing" women.




Sky News - Published




India hosts SCO-RATS meet; focus on situation in Afghanistan




IndiaTimes - Published





India to host key SCO anti-terror meet today

India is set to host a Regional Anti-Terror Structure (RATS) talks under the auspices of the Shanghai Cooperation Organization (SCO) in New Delhi on Monday. All members of the SCO will be attending the..




IndiaTimes - Published





Taliban order all Afghan women to wear the burka in public

The Taliban have ordered all Afghan women to wear the all-covering burka in public.




Sky News - Published




MP's Noorjahan mango to weigh more than 4 kg per fruit, price to be more than Rs 1,000 apiece

A special variety of mango, Noorjahan originated in Afghanistan and only few trees are found in tribal-dominated Alirajpur district's Katthiwada area.




DNA - Published





Huge blast at Kabul mosque kills at least 10 on last Friday of Ramadan

A huge blast has hit a mosque in the Afghanistan capital of Kabul - killing at least 10 and wounding dozens more, officials have said.




Sky News - Published




Narcotics Control Bureau seizes 50 kg heroin from Delhi's Shaheen Bagh

As per DDG Operations of NCB, Sanjay Singh, seized heroin originated from Afghanistan and drug money is suspected to be channelled through hawala.




DNA - Published





Ukraine crisis could be 'wake-up' call for Europe to also look at developments in Asia: Jaishankar

External affairs minister S Jaishankar on Tuesday countered criticism of India's position on Ukraine, saying the Western powers have been oblivious to the pressing challenges facing Asia including last..




IndiaTimes - Published





India's position is clear on Russia-Ukraine crisis: Jaishankar

When asked about what "three things that keep him up at night", Jaishankar replied: "The shocks that the international order is experiencing, particularly in the past two years -- the Covid-19..




IndiaTimes - Published





Two held in Sunjwan encounter case; slain terrorists Pashtuns either from Pakistan or Afghanistan: Police

Two Kashmir residents were nabbed in connection with the Sunjwan encounter in which two suicide attackers of Pakistan-based Jaish-e-Mohammed (JeM) were killed. As per one of the arrested persons, the..




IndiaTimes - Published





Pupils among six killed and 11 injured in blasts near Kabul schools, police say

At least six people have been killed, including pupils, and 11 others injured in explosions targeting educational institutions in Kabul, Afghan police have said.




Sky News - Published




Pakistan grants two months extension to India for transportation of wheat, medicines to Afghanistan




IndiaTimes - Published





Taliban outlaws growing of lucrative opium poppy as it seeks easing of sanctions

Poppy growing has been banned by the Taliban in Afghanistan, the world's biggest opium producer.




Sky News - Published




UK pledges extra £286 million emergency aid to Afghanistan as humanitarian crisis grows

The UK has pledged to send an extra £286 million of emergency aid to the people of Afghanistan as the humanitarian crisis in the country grows.




Sky News - Published




Taliban leave girls in tears after shutting their schools again

The Taliban have sent girls home in tears from secondary schools in Afghanistan just days after announcing that they would be allowed back to the classroom.




Sky News - Published




Parents of photographer Danish Siddiqui, who was killed in Afghanistan, start legal action against Taliban

Danish Siddiqui, a Pulitzer Prize winner, was embedded with Afghan special forces when he was killed on July 16.




DNA - Published





Top Foreign Office civil servant responds to whistleblower's accusation that he misled MPs over Afghanistan evacuation

The Foreign Office's top civil servant has said a second whistleblower's claim that Boris Johnson was directly involved in the decision to evacuate Nowzad charity staff was based on an "assumption" by..




Sky News - Published





Senior Foreign Office whistleblower accuses top civil servant of misleading MPs over Afghanistan evacuation

A senior Foreign Office whistleblower has accused the department's top civil servant of misleading MPs over the Afghanistan evacuation.




Sky News - Published





Reopen embassy, will give security: Taliban tell India

With international recognition on mind, and following efforts by the government to strike the right chord with post-US withdrawal Afghanistan. The Taliban's UN ambassador-designate Suhail Shaheen told..




IndiaTimes - Published





New humanitarian visa route for Ukrainian refugees aims to learn the lessons of the Afghan evacuation

The government-backed refugee scheme being unveiled today will build on lessons learned from the Afghanistan evacuation last summer, according to government sources.




Sky News - Published





Family forced to flee war in Ukraine just months after escaping violence in Afghanistan

A family has escaped the war in Ukraine - just eight months after fleeing violence in Afghanistan.




Sky News - Published




India hits out at Pakistan at UNHRC: One who 'trained terror groups to fight in Afghanistan' is commenting on human rights in India




IndiaTimes - Published





India sends third consignment of wheat to Afghanistan via Pak




IndiaTimes - Published




MPs criticise UK response to Afghanistan crisis - as fears expressed same could happen in Ukraine

The government acted neither "swiftly nor with clarity of purpose" in response to Afghanistan's humanitarian crisis, MPs have said - as fears were expressed that similar failures could be made in..




Sky News - Published





India delivers fifth consignment of humanitarian assistance to Afghanistan

India is also likely to start the supply of 50,000 tonnes of wheat to Afghanistan by road transport through Pakistan from next week.




DNA - Published





India is your home, PM Modi tells Afghan Sikh-Hindu delegation

An Afghan Sikh-Hindu delegation on Saturday hailed Prime Minister Narendra Modi for enacting the Citizenship Amendment Act (CAA). In a meeting with PM Modi at his residence, the delegation praised the..




IndiaTimes - Published

Also reported by •DNA


Weapons left by US troops in Afghanistan found on terrorists killed at LoC: Maj Gen Chandpuria




IndiaTimes - Published





Afghan Hindu-Sikh delegation meets PM Modi

A delegation of Sikhs and Hindus from Afghanistan met Prime Minister Narendra Modi at his residence on Saturday. A large number of Afghan Hindus and Sikhs have been living in India, and the Indian..




IndiaTimes - Published





PM Modi to meet Afghan Sikh, Hindus community members soon

Indian Embassy in Rome and the United Nations World Food Program formally signed an MoU on 12 February for the distribution of wheat to Afghanistan.




DNA - Published





How one mistake by Pulwama conspirator Umar Farooq Alvi led to his elimination

NIA chargesheet said that Jaish commander Umar Farooq, the mastermind of the Pulwama attack, was trained at one of the terror camps in Afghanistan.




DNA - Published





India signs pact with WFP to send wheat to Afghanistan via Pak




IndiaTimes - Published





Two journalists held in Afghanistan by Taliban released

Two journalists, including one who used to work for the BBC, have been released after they were detained by the Taliban in Afghanistan.




Sky News - Published




Two journalists and number of Afghan nationals arrested in Kabul, UN says

Two journalists have been detained in Kabul, the United Nations has said.




Sky News - Published




'My heart and body shake': Afghan women defy Taliban




IndiaTimes - Published





Taliban blames Western sanctions for scenes of crisis and starvation in Sky News reports

Western economic sanctions are to blame for the humanitarian crisis in Afghanistan, a spokesman for the Taliban has told Sky News.




Sky News - Published




Plight of young Afghans 'absolutely heartbreaking', says children's commissioner, urging world to act

The world needs to act now to tackle Afghanistan's growing humanitarian crisis and help the children being locked up in prisons and sold by their desperate families to buy food because they are so..




Sky News - Published




Inside Afghanistan prison where children as young as 12 are held

The cells of Herat's main prison are crammed full. In each of the cells we go into, there are about 40 men laying jammed up against each other on the floor with some on bunk beds around the edges.




Sky News - Published




BREAKING: Tremors felt in Delhi, Jammu and Kashmir because of earthquake at Afghanistan-Tajikistan border

Strong tremors were felt in Delhi NCR and Jammu and Kashmir after an earthquake was reported in the west of Islamabad in Pakistan.




DNA - Published





Suicide bomber who targeted Kabul airport during Afghanistan evacuation acted alone, investigation finds

A suicide bomber who targeted Kabul airport during an evacuation mission in Afghanistan acted alone, a US investigation has found.




Sky News - Published