Afghanistan
Landlocked country in South-Central Asia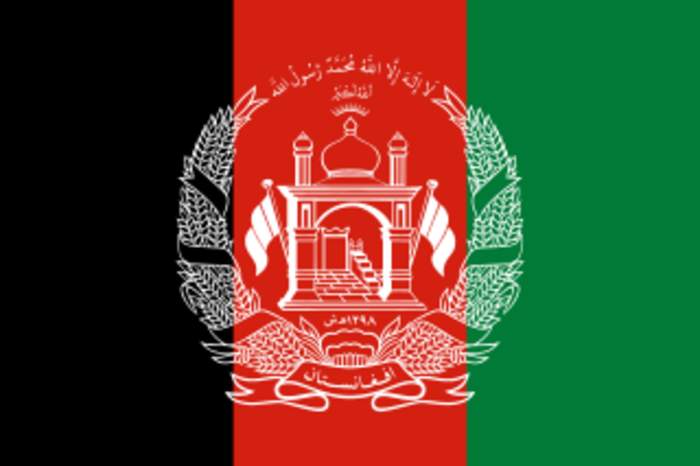 Afghanistan, officially the Islamic Republic of Afghanistan, is a landlocked country at the crossroads of Central and South Asia. Afghanistan is bordered by Pakistan to the east and south; Iran to the west; Turkmenistan, Uzbekistan, and Tajikistan to the north; and China to the northeast. Occupying 652,000 square kilometers (252,000 sq mi), it is a mountainous country with plains in the north and southwest. Kabul is the capital and largest city. The population is around 32 million, composed mostly of ethnic Pashtuns, Tajiks, Hazaras, and Uzbeks.


Two Afghan female judges shot dead in Kabul ambush

Afghan officials blame the Taliban for the attacks, an accusation the armed group denies.
Credit: Al Jazeera STUDIO Duration: 03:31
Published
Gunmen kill female judges in Afghan capital

Unknown gunmen shot and killed two female judges in Kabul on Sunday as they travelled to work. Emily Wither reports.
Credit: Reuters Studio Duration: 00:58
Published
Pentagon says US has dropped to 2,500 troops in Afghanistan


Credit: FRANCE 24 English Duration: 03:57
Published
US downsizes its troops in Afghanistan to 2,500

President Trump, who ordered the reduction last year, says that troop levels in Afghanistan reached a 19-year low.
Credit: Al Jazeera STUDIO Duration: 03:29
Published
Sciutto: There will be more guardsmen at inauguration than in Afghanistan

CNN's Jim Sciutto speaks with Sen. Chris Van Hollen (D-MD) about security as President-elect Biden's inauguration draws near.
Credit: Bleacher Report AOL Duration: 01:48
Published
'Please help us': Migrants endure Bosnia's winter

Hundreds of migrants are taking shelter in abandoned buildings in and around the northwestern Bosnian town of Bihac, wrapping up as best they can against the snow and freezing weather and hoping..
Credit: Reuters - Politics Duration: 01:53
Published
The Ghanis discuss peace, Covid and Afghanistan's future

Afghanistan's President Ashraf Ghani and First Lady Rula Ghani speak exclusively with Amanpour about talks with the Taliban, coronavirus, and relations with the US.
Credit: Bleacher Report AOL Duration: 15:39
Published
Ghani: 'With Pakistan we have a perennial problem'

Afghan President Ashraf Ghani discusses relations with Afghanistan's neighbors, the Taliban in Pakistan, and why Afghanistan wants a "maximum numbers of friends."
Credit: Bleacher Report AOL Duration: 03:00
Published
India to chair 3 key subsidiary bodies of UN Security Council: TS Tirumurti

Permanent Representative of India at United Nations Security Council, TS Tirumurti on January 08 informed that India will chair 3 key subsidiary bodies of UN Security Council. The three committees are..
Credit: ANI Duration: 01:43
Published
Assange U.S. extradition request is rejected

A British judge ruled on Monday that WikiLeaks' founder Julian Assange should not be extradited to the United States to face charges of breaking a spying law and conspiring to obtain secret U.S...
Credit: Reuters - Politics Duration: 01:46
Published
'Today is a victory' says partner of Julian Assange

Reacting to the decison not to extradite Julian Assange to the United States, his partner Stella Moris said: "Today is a victory for Julian. Today's victory is a first step towards justice in this..
Credit: ODN Duration: 01:55
Published
Pakistan has become a pawn of China due to CPEC: IAF Chief

Calling Pakistan a "pawn" in the Chinese policy, India Air Force Chief RKS Bhadauria said that country's increasing CPEC related debt trap will lead to military dependencies in future. The IAF Chief..
Credit: ANI Duration: 01:19
Published
MEA slams Pak's leadership for accusing India, calls it their daily routine to make humorous statements

Addressing a press conference in the national capital on December 24, the official spokesperson of Ministry of External Affairs (MEA), Anurag Srivastava said, "India will host the next meeting between..
Credit: ANI Duration: 01:22
Published
PM thanks armed forces personnel during Christmas video call

Prime Minister Boris Johnson has paid tribute to the armed forces personnelfor their work tackling Covid-19 during 2020. In a video call with troopsoverseas in Mali, Estonia, Somalia and Afghanistan,..
Credit: PA - Press Association STUDIO Duration: 01:40
Published
COVID-19 cases, deaths rise in Afghanistan as cold season sets in

Millions pledged in aid to deliver vaccine offer little comfort as officials struggle to put in basic containment moves.
Credit: Al Jazeera STUDIO Duration: 03:03
Published
Trump revives threat to veto defense bill

U.S. President Donald Trump on Sunday repeated his threat to veto a massive defense spending bill, which was passed by the Republican-controlled U.S. Senate on Friday, giving the president 10 days -..
Credit: Reuters - Politics Duration: 01:51
Published
'Terror groups find safe haven in Pakistan': Senator Mark Warner #HTLS2020

Senator Mark Warner spoke on the issue of terrorism during the 18th edition of the Hindustan Times Leadership Summit. Senator Warner said that India has shown a lot of restraint in dealing with..
Credit: HT Digital Content Duration: 02:54
Published
Kabul reels from spike in targeted killings

In the Afghan capital - once described the country's most secure city - there is fear and anxiety.
Credit: Al Jazeera STUDIO Duration: 03:04
Published
Italian police arrest 19 over people smuggling ring

Police said they dismantled a criminal organisation which was moving migrants from Afghanistan, Iran, Iraq and Pakistan to Italy and then into northern Europe.
Credit: euronews (in English) Duration: 01:03
Published
U.S. Congress defense bill defies Trump's wishes

U.S. lawmakers unveiled the final version of a massive annual defense policy bill on Thursday that defies several of President Donald Trump's demands. Gloria Tso reports.
Credit: Reuters - Politics Duration: 01:38
Published
Afghan govt, Taliban reach breakthrough deal

Afghan government and Taliban representatives said on Wednesday they had reached a preliminary deal to press on with peace talks, their first written agreement in 19 years of war and welcomed by the..
Credit: Reuters Studio Duration: 01:35
Published
You Might Like



Two female Supreme Court judges shot dead by gunmen in Kabul car ambush

Gunmen killed two female judges from Afghanistan's Supreme Court in an early morning ambush, which also saw their driver wounded.




Sky News - Published




India plans 20 million doses of vaccine supply to neighbours

India plans to offer 20 million doses of coronavirus vaccine to its neighbours as it draws up a policy to supply vials to countries across the globe, people with knowledge of the matter said. An Indian..




IndiaTimes - Published





Anguished over targeted killings in Afghanistan, says India

Stating that the people of Afghanistan longed for a peaceful future, the government called for an immediate and comprehensive ceasefire that will lay the ground for a meaningful peace process to..




IndiaTimes - Published





Won't send boots on the ground in Afghanistan, says Army Chief General Naravane

Army Chief Naravane on Tuesday (January 12) ruled out any plans of sending troops on the ground in Afghanistan.




DNA - Published





Gary Wilson column: Ireland in Abu Dhabi bubble for UAE & Afghanistan series

Ireland wicketkeeper-batsman Gary Wilson on the side's first action since their win over England as they face the UAE and Afghanistan in Abu Dhabi.




BBC Sport - Published





In a first, Indian & Afghan Ulemas condemn Taliban; call its actions illegitimate

In all 14 Islamic religious scholars participated in the meet, 7 each from both side.




DNA - Published





Exclusive: Chabahar can be fulcrum of transit between India and Central Asia: Indian envoy to Uzbekistan Manish Prabhat

India built the Shahid Behesti Port at Chabahar as part of the India, Iran, Afghanistan 2016 agreement to increase its connectivity with Afghanistan.




DNA - Published





Being criticised for small catches but can't allow drug lords free run in narcotics sale: NCB chief

"Ninety-five per cent of the world's heroin is manufactured in these two regions. Heroin is being pushed into the country from the Myanmar and Pakistan-Afghanistan side... the whole of northeast and..




IndiaTimes - Published





Entire Taliban brass based in Pak, says its chief negotiator

The disclosure by Mullah Baradar, the chief Taliban negotiator in the intra-Afghan peace talks, in a video that the entire Taliban leadership is based in Pakistan and that no decision is taken without..




IndiaTimes - Published





India to invite Afghanistan to next meet on Chabahar port

Afghanistan will be invited to the next meeting of India, Iran and Uzbekistan on joint use of strategically-located Chabahar port, the ministry of external affairs said on Thursday.




IndiaTimes - Published





Afghanisthan invited for second India-Uzbekistan-Iran trilateral meet on Chabahar

Chabahar has been a key connectivity project by India towards its west and has been providing connectivity via Iran to Afghanistan and beyond.




DNA - Published





Pakistan, China's espionage operations exposed through presence of Chinese spies in Afghanistan

The revelation shows the depth of Chinese espionage operations - but in a different part of the world.




DNA - Published





Terror, Afghanistan peace top agenda of PM's talks with Uzbek president




IndiaTimes - Published





India-Uzbekistan virtual summit: Afghanistan, counter-terror top focus by PM Narendra Modi

PM Narendra Modi said, "We have similar concerns" and similar views on "regional security situation".




DNA - Published





Gains of past two decades need to be preserved: PM Modi on Afghan peace process




IndiaTimes - Published




India, Uzbekistan standing firmly against terrorism: PM Modi

Talking about convergence of views between the two countries on regional issues, he said an Afghan-led and Afghan-controlled process is required to restore peace in Afghanistan. Modi also said that it..




IndiaTimes - Published





At UN, India highlights violence committed by Taliban in Afghanistan; reiterates calls for ceasefire

Peace process and violence cannot go hand in hand, and we call for an immediate and comprehensive ceasefire, India has said.




DNA - Published





External affairs minister Jaishankar speaks to Afghan foreign minister Haneef Atmar




IndiaTimes - Published





India-Afghanistan to sign agreement on Shatoot Dam soon, 2 million Kabul residents to get clean drinking water

New Delhi has been involved in a number of infrastructure projects in the country, like building Afghan Parliament and road from Delaram to Zaran.




DNA - Published





India to host SCO meet on Monday with participation of 7 PMs; Afghan President, Pak PM to give a miss

India has invited Turkmenistan as a special guest and will be represented by the Deputy Chairman of the Cabinet of Ministers.




DNA - Published





India's plan to build dam to aid Afghanistan likely to unnerve Pakistan

The government announced on Tuesday that it would build the Shahtoot Dam on Kabul river in Afghanistan, which will bring relief to the residents of Kabul but greatly unnerve neighbouring Pakistan,..




IndiaTimes - Published





India to launch phase 4 of community development projects in Afghanistan worth $80 million

India's EAM also announced that India has concluded with Afghanistan an agreement for the construction of the Shatoot dam.




DNA - Published





Afghan President Ghani praises India's role at Afghanistan conference in Geneva

During his address, the Afghan President thanked India for its commitment of over USD two billion and for the Chahbahar corridor.




DNA - Published





Indo-Pak wars' veteran Maj Gen (retd) R N Chibber passes away

Born on September 23, 1934, Gen chibber was commissioned into the Army on June 2, 1995, and was posted in Afghanistan from 1972 to 1975 as a military attaché.




IndiaTimes - Published





Pak's FATF future in limbo with its continuous involvement in Afghanistan

A few days before its full-scale review meeting, the FATF had reprimanded Pakistan for its `meagre progress` in combating terror financing and money l




DNA - Published





Afghanistan can succeed only when terrorism no longer flows across Durand Line: India at UN




IndiaTimes - Published





SCO Summit 2020: Afghan president thanks India for support amid COVID-19 crisis

India had sent 75,000 MT of wheat to Afghanistan with an aim to provide food security to the country during the COVID-19 pandemic.




DNA - Published





'Will continue to support Afghanistan's brave struggle against terrorism': PM Modi condemns Kabul attack

At least 22 people were killed including students on Monday after three gunmen stormed into Kabul University and opened fire on the students.




DNA - Published





Daily news wrap: Bihar phase II polls, 19 dead in Afghan university attack & more




IndiaTimes - Published





Afghanistan tries to beat Pakistan hurdles to send onions to India via Wagah




IndiaTimes - Published




Indo-Pacific, Afghanistan focus of discussion between Pompeo-Jaishankar

This is the second meeting between the ministers in a month and comes amidst Chinese aggression not only with India but with other countries in the region.




DNA - Published





Terror camps destroyed in 2019 Balakot airstrikes reactivated by Pakistan

Top JeM commander Juber, who was also involved in terror attacks in Afghanistan against NATO forces, has been asked to train the newly recruited terrorists in JeM camps of Balakot.




DNA - Published





Afghanistan's Ata Mohammad Noor meets EAM, Foreign Secretary in Delhi; briefs about Afghan peace process

Noor, an ethnic Tajik is the 3rd prominent Afghan leader to visit India in the last one month as peace talks in the country accelerate.




DNA - Published





Pakistan, Afghanistan handled COVID-19 better than India: Rahul Gandhi

Gandhi has repeatedly targeted the Central government and BJP on various issues pertaining to governance, COVID-19 and the economy.




DNA - Published

Also reported by •IndiaTimes


Rahul Gandhi slams Centre over Covid-19 handling, says Pakistan, Afghanistan did it better

Congress leader Rahul Gandhi on Friday criticised the Central government's handling of coronavirus pandemic, saying that even Pakistan and Afghanistan controlled Covid better than India. ​​"Another..




IndiaTimes - Published





India's health budget fourth lowest in world: Oxfam

Afghanistan and India set aside the same share for health in their budgets, 4%, just above a quarter of the recommended spending and one-third of what the second poorest country in the world, Burundi,..




IndiaTimes - Published





Afghanistan did not ask for direct engagement from India to tackle Taliban, says Abdullah Abdullah

Abdullah Abdullah, who is on a five-day India visit, on Saturday said that his discussion with the top Indian leadership was around "peace" process and Afghanistan did not ask for direct engagement..




DNA - Published





Head of Afghan peace council Abdullah Abdullah meets PM Narendra Modi




IndiaTimes - Published




Afghan peace negotiator Abdullah Abdullah arrives in Delhi, set to meet PM Narendra Modi, EAM Jaishankar

Abdullah Abdullah, the chief negotiator with Taliban in the intra-Afghan peace dialogue on Tuesday arrived in New Delhi for a five-day visit during which he is scheduled to meet with Prime Minister..




IndiaTimes - Published





Afghanistan's top negotiator Abdullah Abdullah to visit India on Oct 6

Afghan government's top negotiator for inter-Afghan talks, Abdullah Abdullah, will be visiting India from October 6 for four days.




DNA - Published





Pakistan targeting Indian professionals working in Afghanistan: MEA




IndiaTimes - Published





Indian citizenship granted to 2,120 Pakistanis, 188 Afghans, 99 Bangladeshis in last 4 years

Apart from 2,120 Pakistani, 188 Afghanistan and 99 Bangladeshi nationals, as many as 60 American, 58 Sri Lankan, 31 Nepali, 20 British, 19 Malaysian, 14 Canadian and 13 Singapore nationals were also..




IndiaTimes - Published





Last hostage from group of 7 Indians kidnapped in Afghanistan has returned to India: MEA

The seven Indians were kidnapped by Taliban terrorists in the restive northern Baghlan province. Two of those Indians had returned to India last month. The last remaining Indian national (out of the..




IndiaTimes - Published





India's ties with China and 5 other countries have not deteriorated: MoS MEA

"No", said Minister of state for external affairs V Muraleedharan in Lok Sabha in response to a written question on whether India's bilateral ties with neighbouring countries like Nepal, China,..




IndiaTimes - Published





Afghan soil shouldn't be used to export terror, says US




IndiaTimes - Published





US special envoy for Afghanistan Khalilzad holds talks with Jaishankar, Doval

Khalilzad arrived here on Tuesday to discuss the historic Afghan peace talks with Indian leaders. It was his fifth visit to India since January last year. In a statement, the US said both it and India..




IndiaTimes - Published





Amid Taliban talks, US special representative for Afghanistan reaches Delhi




IndiaTimes - Published





Head of Afghan peace council thanks India for continued support to Afghanistan

Head of Afghanistan's peace council Abdullah Abdullah held talks with a senior Indian official in Doha, covering various aspects of the historic dialogue between the Taliban and the Afghan government..




IndiaTimes - Published





ISI will rely on Haqqanis to counter India's influence in Afghanistan




IndiaTimes - Published





India backs Afghanistan peace talks but remains wary of Taliban-ISI links

As Taliban sat down in Doha for its direct engagement with Afghan government for peace, India participated in the inaugural session of negotiations with foreign minister S Jaishankar underscoring the..




IndiaTimes - Published