Elizabeth II
Queen of the United Kingdom and other realms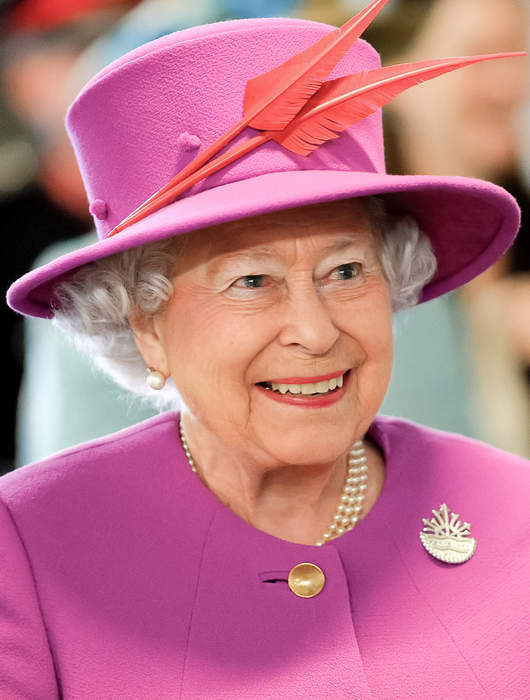 Elizabeth II is Queen of the United Kingdom and 14 other Commonwealth realms.


Barbados Removes Queen Elizabeth II as Head of State and Declares Rihanna a National Hero | THR News

The billionaire singer-entrepreneur becomes only the second woman to be given the honor, and 11th person in total.
Credit: The Hollywood Reporter Duration: 01:04
Published
Leaked video shows 'moment British F35 jet crashes into Mediterranean

A £100 million British F-35 fighter dropped off HMS Queen Elizabeth, the UK's flagship aircraft carrier, and into the Mediterranean without ever taking off, leaked footage appears to reveal.
Credit: Yahoo News Duration: 00:23
Published
Barbados drops Queen Elizabeth II and becomes world's newest republic

Barbados became independent in 1966 but retained Queen Elizabeth II as sovereign.
Credit: euronews (in English) Duration: 00:25
Published
Queen will miss Remembrance Sunday service after spraining her back

Britain's Queen Elizabeth II will miss the Remembrance Sunday service in central London after spraining her back, according to Buckingham Palace.
Credit: Bleacher Report AOL Duration: 01:56
Published
UK's Queen Elizabeth misses Remembrance Sunday service due to back sprain


Credit: FRANCE 24 English Duration: 01:43
Published
Princess Anne's London wedding draws world audience of 500 million in 1973

On this day in 1973, Princess Anne and Captain Mark Phililips were married at Westminster Abbey.As the Queen's only daughter and the first of Her Majesty's four children to marry, the wedding was a..
Credit: Yahoo News Duration: 01:46
Published
Queen calls for climate 'action' on Piccadilly billboard

The Queen's call for climate "action" rather than "words" on a billboard in London's iconic Piccadilly billboard. Report by Edwardst. Like us on Facebook at http://www.facebook.com/itn and follow us on..
Credit: ODN Duration: 01:53
Published
Sir David Attenborough and Queen Elizabeth II hopeful about the success of COP26

World leaders opened the COP26 climate summit in Glasgow with stark warnings and encouragements to find a solution to the climate crisis.
Credit: Bleacher Report AOL Duration: 02:59
Published
Queen Elizabeth resting after first night in hospital in years


Credit: FRANCE 24 English Duration: 03:14
Published
Watch: Queen Elizabeth II arrives at the Sydney Opera House for 1973 opening

On this day in 1973, Queen Elizabeth arrived with Prince Phillip in Australia to open the pioneering - and controversial - Sydney Opera House.
Credit: Yahoo News Duration: 01:00
Published
Navjot Singh Sidhu born in 1963 | Virender Sehwag born in 1978 | October 20th History |Oneindia News

On 20th October, in 1963 Navjot Singh Sidhu was born in Punjab, in 1978 Virender Sehwag was born and in 1973 the iconic Sydney Opera House was opened by Queen Elizabeth II. #NavjotSinghSidhubirthday..
Credit: Oneindia Duration: 03:55
Published
Watch: Queen Elizabeth seen using walking stick at major event

Queen Elizabeth, 95, was recorded using a walking stick for what is believed to be the first time at a major public event.
Credit: Bleacher Report AOL Duration: 00:49
Published
You Might Like



Rihanna Named National Hero During Barbados Republic Ceremony

The island of Barbados is now an independent republic, and one of its leaders' first orders of business is crowning homegrown jewel, Rihanna ... a national treasure. Monday marked an historic milestone..




TMZ.com - Published





Queen speaks of continuing 'friendship' as Barbados removes her as head of state

The Queen has sent the people of Barbados her "good wishes for your happiness, peace and prosperity in the future" and emphasised the importance of the "continuation of the friendship" with the UK as..




Sky News - Published




Queen attends rare royal double christening at Windsor

The Queen has attended a rare royal double christening at a private ceremony at Windsor.




Sky News - Published





Queen marks first wedding anniversary without Prince Philip

The Queen has marked her first wedding anniversary without her late husband the Duke of Edinburgh.




Sky News - Published





Queen seen standing and smiling at Windsor Castle

The Queen has been seen standing and smiling at Windsor Castle after missing the Remembrance Sunday service at the Cenotaph.




Sky News - Published





'None of us can slow the passage of time': Edward delivers Queen's message as she misses church event

The Queen has said "none of us can slow the passage of time" in a message to the Church of England's national assembly.




Sky News - Published





Queen to miss Remembrance Sunday service after spraining her back

The Queen will miss today's Remembrance Sunday service at the Cenotaph after spraining her back, Buckingham Palace has announced.




Sky News - Published





Queen to attend Remembrance Sunday service - as charity stresses importance of day being inclusive

The Queen will be attending the Remembrance Sunday service at the Cenotaph in central London, leading the nation in commemorating those who lost their lives in conflicts.




Sky News - Published





'None of us will live forever': Queen urges COP leaders to act for 'our children's children'

The Queen has urged world leaders to "rise above the politics of the moment, and achieve true statesmanship" at the COP26 summit.




Sky News - Published





Queen seen for first time since illness as she enjoys a solo drive around Windsor estate

The Queen has been seen driving her car around the Windsor estate just days after she was advised by doctors to rest for at least a fortnight.




Sky News - Published





Queen advised by doctors to rest for at least the next two weeks

The Queen has been advised by doctors to rest for at least the next two weeks, Buckingham Palace has said.




Sky News - Published





The Queen will not be attending COP26 climate change summit in Glasgow

The Queen will not be attending the COP26 climate change summit in Glasgow which starts this weekend, Buckingham Palace has announced.




Sky News - Published





Queen carries out first official engagements a week after overnight stay at hospital

The Queen has carried out her first official engagements since being told to rest by doctors and spending a night in hospital.




Sky News - Published





Queen Elizabeth Was Hospitalized, Allegations of Royal Coverup

Queen Elizabeth's condition is a mystery ... and there are now allegations the Palace lied about it to keep everything under wraps. The Queen was back at Windsor Castle Friday after being hospitalized..




TMZ.com - Published





Queen's recent tightly packed schedule in pictures before tour cancelled due to medical advice

The Queen has cancelled a trip to Northern Ireland after she "reluctantly accepted medical advice to rest for the next few days," Buckingham Palace has announced.




Sky News - Published





Queen cancels Northern Ireland trip 'on medical advice'

The Queen has "reluctantly accepted medical advice to rest for the next few days" and will not be travelling to Northern Ireland today, Buckingham Palace has said.




Sky News - Published





Queen 'irritated' by leaders who 'talk but don't do' on climate

The Queen has said she is "irritated" by the lack of progress on climate issues ahead of the COP26 summit in Glasgow.




Sky News - Published





'I'm obsessed with her': Kristen Stewart talks playing Princess Diana in Spencer

While speculation over whether the Queen watches The Crown rarely abates, the Royals as a rule say they don't watch fiction based on their lives




Sky News - Published





Queen to meet COVID heroes as she officially opens Scottish Parliament

The Queen is due to meet Scots who have helped communities during the COVID crisis as she formally opens the new session of the Scottish Parliament.




Sky News - Published





Prince Philip's will to be kept a secret to protect Queen's 'dignity', High Court rules

The Duke of Edinburgh's will is to remain a secret to protect the Queen's "dignity", the High Court has ruled.




Sky News - Published





Emma Raducanu: US Open champion 'outstanding' says Queen Elizabeth

The Queen leads the congratulations to Emma Raducanu after the 18-year-old clinches the US Open title with victory over Leylah Fernandez.




BBC Sport - Published





Queen supports Black Lives Matter, says senior royal representative

The Queen and the Royal Family support the Black Lives Matter movement, a senior representative of Buckingham Palace has said.




Sky News - Published





Alan Dershowitz Wants to Unseal Jeffrey Epstein Settlement to Help Prince Andrew

Prince Andrew's old friend, Alan Dershowitz, is trying to get him out of a jam with his sexual assault lawsuit ... by asking a judge to unseal some old legal docs involving Jeffrey Epstein. As you'll..




TMZ.com - Published





'Your performances have lifted the nation': Queen congratulates ParalympicsGB team on Games success

The Queen has sent a message to the ParalympicsGB team, saying their "performances have lifted the nation", after the athletes celebrated beating their 120 medal total at the London 2012 games.




Sky News - Published





Prince Andrew Sued for Sexual Assault

Prince Andrew sexually abused a teenage girl he met through Jeffrey Epstein ... this according to a new lawsuit. Queen Elizabeth's son is being sued for sexual assault in federal court by Virginia..




TMZ.com - Published





Queen Elizabeth, Prince William Wish Meghan Markle Happy 40th Birthday

Meghan Markle is waking up to tweets from the Royal family -- and nice ones -- wishing her a happy 40th birthday ... which, unfortunately, come off like calculated moves meant to keep up appearances...




TMZ.com - Published





Queen enjoys display of 18ft-long 'knitted Sandringham', says 92-year-old creator

The Queen was left impressed by an 18ft-long "knitted Sandringham" version of her Norfolk home created by a great-great grandmother over two years.




Sky News - Published





Queen sends message to Southgate and England team - and recalls memories of 1966 World Cup win

The Queen has sent a personal message to England manager Gareth Southgate ahead of the Euro 2020 final, praising his team's "spirit, commitment and pride", as she recalled her memories of their last..




Sky News - Published





Queen visits the Rovers on trip to Coronation Street set - as soap celebrates its 60th

The Queen has stopped by the Rovers during a visit to the set of Coronation Street.




Sky News - Published





Queen gives 'courageous' and 'dedicated' NHS the George Cross

The Queen has given the George Cross to the National Health Service, recognising its staff - past and present - across the UK.




Sky News - Published





Queen Victoria and Elizabeth II statues toppled in Canada over treatment of indigenous children

Statues of Queen Victoria and Queen Elizabeth II have been pulled down in Canada amid protests against the country's treatment of indigenous people.




Sky News - Published




Queen says we need to 'change the way we do things' during climate visit

The Queen has said "we are going to have to change the way we do things", as she spoke with experts in Scotland about their research into ways to reverse the effects of climate change.




Sky News - Published





The Queen visits Irn Bru factory as she tours Scotland for first time since Duke of Edinburgh died

The Queen has been introduced to Scotland's other national drink Irn Bru as she began a four-day visit to Scotland.




Sky News - Published





'He's full of…': What the Queen and PM said about 'poor man' Matt Hancock

The Queen and Boris Johnson have held their first face-to-face meeting since the pandemic began and one of the hot topics was the health secretary.




Sky News - Published





Queen's: Britain's Gordon Reid wins wheelchair title to boost Wimbledon hopes

Britain's Gordon Reid wins the Queen's wheelchair final with a commanding victory over Argentina's Gustavo Fernandez.




BBC Sport - Published





Queen Elizabeth Insists on Cutting Cake with Sword, Testy with Aide

Queen Elizabeth II isn't blind ... something she reminded an aide of when they tried giving her another option for cake-cutting ... other than the 3-foot sword she ended up using. Her Majesty..




TMZ.com - Published





Queen honours Philip's closest aides to mark day he would have turned 100

The Queen has honoured the Duke of Edinburgh's most loyal and trusted aides, some of whom had key roles in his funeral, in a rare set of awards to mark what would have been her late husband's 100th..




Sky News - Published





Queen marks what would have been Prince Philip's 100th birthday with planting of rose

The Queen has marked what would have been the Duke of Edinburgh's 100th birthday with the planting of a newly-bred rose named after her late husband.




Sky News - Published





Confusion over how Sussexes told Queen about using her nickname for their baby

Confusion remains over how Prince Harry and Meghan told the Queen they were going to use her nickname, Lilibet, for their baby daughter's first name.




Sky News - Published




Prince Harry and Meghan Markle's Daughter Born, Named Lilibet Diana

Prince Harry and Meghan Markle have welcomed their second child -- a baby girl who's been named to honor Harry's late mother, Princess Diana, as well as his grandmother, Queen Elizabeth. The Duke and..




TMZ.com - Published





Queen to meet President Biden at Windsor Castle

The Queen will meet US President Joe Biden and First Lady Jill Biden at Windsor Castle, Buckingham Palace has announced.




Sky News - Published





Queen visits namesake Royal Navy aircraft carrier ahead of its major military deployment

The Queen has visited a Royal Navy warship named after her ahead of its deployment to the Indo-Pacific region as the UK deepens its defence partnerships.




Sky News - Published





'Dressed down' Queen to carry out first major engagement since death of husband Philip

The Queen will "still feel the steadiness" of Prince Phillip at her side during the Queen's Speech on Tuesday, a royal expert has said.




Sky News - Published





'I didn't realise I was the first': Queen recalls receiving lifesaving award 80 years ago

The Queen has shared her memories of becoming the first young person in the Commonwealth to receive a junior lifesaving award from the Royal Life Saving Society.




Sky News - Published





Queen says 'reconciliation' in Northern Ireland 'cannot be taken for granted'

The Queen has said that "reconciliation, equality and mutual understanding" in Northern Ireland "cannot be taken for granted", in a message released to mark the country's centenary.




Sky News - Published





Queen makes first official appearance since Prince Philip's funeral

The Queen has carried out her first official public engagements since the death of the Duke of Edinburgh, with two virtual audiences from inside Windsor Castle.




Sky News - Published





Queen to mark her 95th birthday without Prince Philip

The Queen will celebrate her 95th birthday today - just days after the funeral of her husband Prince Philip.




Sky News - Published





Prince Philip Laid to Rest in Royal Funeral, Watch Live Stream

Prince Philip, the Duke of Edinburgh and late husband of Queen Elizabeth II, is being laid to rest in what's expected to be an emotional farewell, with the potential for some Royal Family tension .....




TMZ.com - Published





Queen arrives at St George's Chapel ahead of minute's silence for Prince Philip

The Queen has arrived at St George's Chapel for the funeral of Prince Philip as she prepares to say goodbye to her husband of 73 years.




Sky News - Published





Royal Family releases photo by Kate of Queen and Philip with seven great-grandchildren

The Royal Family has released a photograph by the Duchess of Cambridge of the Queen and the Duke of Edinburgh surrounded by seven of their great-grandchildren at Balmoral Castle in 2018.




Sky News - Published