Ganges
River in Bangladesh and India with major tributeries from Nepal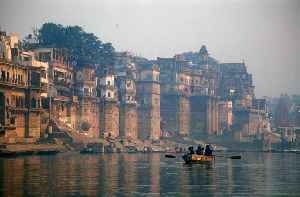 The Ganges, or Ganga, is a trans-boundary river of the Indian subcontinent which flows through the nations of India and Bangladesh. The 2,525 km (1,569 mi) river rises in the western Himalayas in the Indian state of Uttarakhand, and flows south and east through the Gangetic Plain of North India. After entering West Bengal, it divides into two rivers: the Hooghly and the Padma River. The Hooghly, or Adi Ganga, flows through several districts of West Bengal and into the Bay of Bengal near Sagar Island. The other, the Padma, also flows into and through Bangladesh, and joins the Meghna river which ultimately empties into the Bay of Bengal.


Lok Sabha polls 2019: Priyanka Gandhi begins 3-day UP visit, offers prayers at temple
During her three-day visit, Priyanka will cover a distance of 100-km by boat in Ganga from Allahabad to Varanasi -- the parliamentary constituency of Prime Minister Narendra Modi, hopping from one..
DNA - Published
Priyanka Gandhi kicks off her 'Ganga yatra' with a boat ride from Sangam to Arali ghat
IndiaTimes - Published
Camps set up to reunite 50,000 separated pilgrims at India's Kumbh Mela festival
Computerized camps have been set up to reunite thousands of pilgrims who were separated from friends and family after the second "Shahi Snan" (grand bath), at the ongoing 'Kumbh Mela' festival in..
Credit: Reuters Studio Duration: 01:39Published
A transgender leader makes strides in India
Laxmi Narayan Tripathi, a transgender leader and former reality TV star, has become an unlikely icon at India's Kumbh Mela, a huge religious festival being held at the banks of the Ganges river. Grace..
Credit: Reuters Studio Duration: 02:04Published
Priyanka Gandhi to 'float' Ganga, nationalism on campaign
The boat ride, which will start at Manaiya and culminate at Sitamarhi on Monday along the Ganga, will be the first day of Priyanka's three-day campaign
DNA - Published
This 28-year-old founded 'I support NaMo' group
In 2011, he worked as a key member of Ganga Samagra Abhiyan, a platform dedicated to the mission of saving the River Ganga.
DNA - Published
Lean water flow delays Priyanka's Ganga boat ride
Congress leader Priyanka Gandhi Vadra's scheduled boat ride from Allahabad to Varanasi will start from Monday. She is now scheduled to land in Lucknow on Sunday morning, where she will meet former MLAs..
IndiaTimes - Published
Search this site and the web:
You Might Like