Visakhapatnam
Metropolis in Andhra Pradesh, India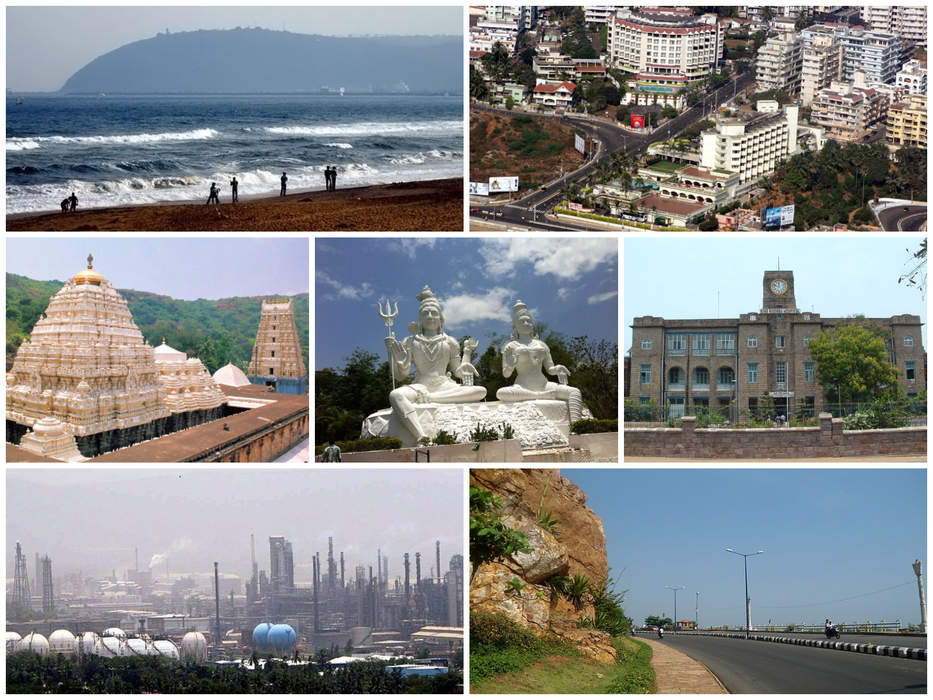 Visakhapatnam is the executive capital of the Indian state of Andhra Pradesh. It is also the most populated and largest city of Andhra Pradesh. It lies between the Eastern Ghats and the coast of the Bay of Bengal. It is the third largest city in the east coast of India after Chennai and Kolkata and the fourth largest city in South India. It is one of the four smart cities of Andhra Pradesh selected under Smart Cities Mission. Serving as the headquarters of its eponymous district, it is the most populous city in the state. With an estimated output of $43.5 billion, the city is the ninth largest contributor to India's overall gross domestic product as of 2016. Visakhapatnam serves as the headquarters for the Eastern Naval Command.


COVID-19: Indian Navy vaccinated

As the first phase of COVID-19 vaccination drive began on January 16, Indian Navy officers received their first shot in Visakhapatnam. Navy officers cherished the historical moment. A total of 1,91,181..
Credit: ANI Duration: 01:19
Published
4-day long Pongal celebrations begin in Visakhapatnam

Locals in Visakhapatnam celebrated 'Bhogi' festival on January 12. They gathered to light bonfires to burn their old belongings. Locals danced around the bonfire to celebrate the joyous occasion...
Credit: ANI Duration: 02:03
Published
Bangladeshi cargo vessel 'MV Maa' likely to be converted into restaurant at Visakhapatnam

Visakhapatnam administration proposes to convert Bangladeshi vessel 'MV Maa' into a floating restaurant after obtaining statutory clearance and clearance from its owner. 'MV Maa', anchored at Vizag..
Credit: ANI Duration: 03:20
Published
You Might Like



AP flyer who fled IGI has UK strain; 109 untraced in Pune

VISAKHAPATNAM/PUNE/BHUBANESWAR: The Andhra Pradesh government is on high alert after laboratory reports confirmed that the woman (47) who had evaded health authorities at Delhi airport on returning..




IndiaTimes - Published





Cyclone Nivar: Indian Navy, Coast Guard assets ready for rescue ops in Tamil Nadu, Puducherry

The Indian Navy has deployed INS Parundu, a vessel from Vishakapatnam with HADR bricks and diving teams to render assistance.




DNA - Published





China hopes Malabar naval drills will be conducive to peace, not contrary

China on Tuesday hoped that the quadrilateral Malabar exercises involving navies of India, the US, Japan and Australia would be conducive to the regional peace and stability instead of the contrary...




IndiaTimes - Published





Andhra Pradesh: Unable to handle rejection, man slits throat of 17-year-old girl with sharp weapon

The incident occurred near Saibaba temple in Visakhapatnam's Gajuwaka area.




DNA - Published





Indigenously-built stealth corvette INS Kavaratti commissioned into Indian Navy

Chief of Army Staff Gen MM Naravane commissioned the last of four indigenously-built anti-submarine warfare (ASW) stealth corvettes 'INS Kavaratti' into the Indian Navy in Visakhapatnam on Thursday...




IndiaTimes - Published





NIA arrests key ISI aide in Visakhapatnam espionage case




IndiaTimes - Published

Also reported by •DNA


Vishakapatnam crane collapse: HSL announces Rs 50 lakh ex-gratia, job for kin of deceased

HSL has announced an ex-gratia of Rs 50 lakh and job to the kin of the deceased in the crane collapse incident in Visakhapatnam.




DNA - Published





Crane collapse at Vizag shipyard kills 11 workers




IndiaTimes - Published





At least 10 killed as crane collapses over workers at Hindustan Shipyard in Visakhapatnam

At least ten people lost their lives after a crane collapsed in Visakhapatnam on Saturday.




DNA - Published





Two workers dead, four hospitalised after Benzimdazole gas leaks at Visakhapatnam pharma plant

The gas leak was reported around 11:30 PM, following which the pharmaceutical unit was shut down.




DNA - Published





Vizag gas leak: SC restrains AP govt, NGT from disbursing Rs 50cr compensation




IndiaTimes - Published





Vande Bharat Mission: Two airports in AP receive 459 stranded Indians

An Air India flight carrying 145 people stranded in London, landed at Vijayawada Airport here on Wednesday, as part of the biggest ever off-shore evacuation drive of Indian citizens under the Vande..




IndiaTimes - Published





Covid-19: Bengaluru firm to mass produce IIT-D developed testing kits in Vizag




IndiaTimes - Published





Navy develops solution for remote monitoring of Covid patients in ICU

The Eastern Naval Command, headquartered in Visakhapatnam, has deployed the remote monitoring facility at Visakha Institute of Medical Sciences (VIMS), which caters to Covid-19 patients from adjoining..




IndiaTimes - Published





Human error, negligence led to Vizag gas leak: Forensic report




IndiaTimes - Published





NDMA issues guidelines on industries' restart post-lockdown

Days after the gas leak accident at a polymer plant in Visakhapatnam, the National Disaster Management Authority (NDMA) has issued a set of guidelines on safe restart of industries post-lockdown. These..




IndiaTimes - Published





NDMA issues guidelines for restarting industrial activities to avoid Vizag-type tragedy

In the wake of the gas leak at a factory in Visakhapatnam, the National Disaster Management Authority (NDMA) has issued detailed guidelines for restarting industries after the lockdown and the..




IndiaTimes - Published





Vizag gas leak: LG Polymers issues official statement, says doing our best to help victims

On May 7, 11 persons were killed while over 1,000 were hospitalised due to gas leakage from LG Polymers chemical plant at RR Venkatapuram in Andhra Pradesh's Visakhapatnam.




DNA - Published





Visakhapatnam gas leak: LG Polymers apologises, offers 'every support' to affected




IndiaTimes - Published





Visakhapatnam: Angry villagers protest outside LG Polymers demanding immediate closure

Stressing that their lives were ruined completely, the protestors even put two dead bodies in front of the building.




DNA - Published





TDP chief urges PM Modi to set up scientific experts' committee to probe Vizag gas leak incident




IndiaTimes - Published





LG Polymers fined Rs 50cr for Vizag gas leak

The LG Polymers' plant in Vishakhapatnam violated green rules as far as its functioning under expanded capacity is concerned, the environment ministry said on Friday after conducting preliminary..




IndiaTimes - Published





National crisis management committee takes stock of Vizag gas leak situation




IndiaTimes - Published





Over 60% leaked styrene polymerised, plant safe: Official

Over 60 per cent of the styrene vapour that leaked from a tank in LG Polymers near Visakhapatnam on Thursday has polymerized so far and all chemical tanks in the plant are safe, district collector V..




IndiaTimes - Published





​Vizag gas leak: NGT notice to LG Polymers, environment ministry; company to pay Rs 50 crore for damages




IndiaTimes - Published





'Minuscule technical leak' at Vizag factory; situation under control: Officials




IndiaTimes - Published





NDRF plugs gas leak as PM takes stock of crisis

The Centre rushed a chemical and biological team of the National Disaster Response Force (NDRF) from Pune to Visakhapatnam where at least 11 people died after a gas leak from a polymer plant.




IndiaTimes - Published





11 killed in pre-dawn disaster as gas leaks at Vizag plant

In a pre-dawn disaster, at least 11 people, including two minors, were killed and hundreds of others fell sick when styrene vapours leaked from a chemical plant in Andhra Pradesh's Visakhapatnam on..




IndiaTimes - Published





LG Chem plant in India starts leaking toxic gas again, prompting evacuation

Toxic gas began leaking again from a factory owned by LG Chem in southern India's Visakhapatnam early on Friday, an official said, triggering a wider evacuation after at least 11 people were killed..




Reuters - Published





Vizag chemical plant gas leak incident needs to be fully investigated: UN chief




IndiaTimes - Published





Government should re-examine safety, health issues of workforce once factories reopen: AITUC after Vizag accident




IndiaTimes - Published





Vizag tragedy: Other fatal gas leak cases in India

In a gas leaked from a chemical plant in Visakhapatnam in the early hours of May 7, at least 11 people lost their lives and over 1,000 have fallen sick. But this isn't the lone incident of a gas leak..




IndiaTimes - Published





Plea in NGT seeks high-level committee to probe Vizag gas leak

Gas leaked from a chemical plant in Vizag in the early hours of Thursday killed at least 11 people and has affected over 1,000 people in nearby villages.




DNA - Published





Vizag gas leak: Andhra CM announces Rs 1 crore to kin of those dead, NHRC issues notice to state - Latest Updates

Here are the last updates in the Vizag gas leak case:




DNA - Published





Shocked, saddened over gas leak incident in Visakhapatnam: South Korean envoy

South Korean Ambassador Shin Bong-kil on Thursday said he was "shocked and saddened" over the gas leak incident at a chemical plant in Visakhapatnam which killed at least 11 people and left around..




IndiaTimes - Published





Centre sends NDRF team to Visakhapatnam after gas leak




IndiaTimes - Published





Visakhapatnam gas leak affects movement of at least 9 Shramik Special trains




IndiaTimes - Published





Vizag gas leak: Principal Secy to PM holds high-level review, directs to send expert teams

Principal Secretary to Prime Minister Narendra Modi, Dr PK Mishra, held a high-level review meeting over Vizag gas leak on Thursday and directed to send teams of experts on-site and also measures for..




IndiaTimes - Published





NHRC issues notice to Andhra Pradesh govt, Centre over Vizag gas leak tragedy

So far, 10 people have died in the tragedy.




DNA - Published





What is Styrene, the gas that killed 8 people in Visakhapatnam

According to reports, the leakage started at around 2:30 AM.




DNA - Published





Vishakapatnam gas leak: Chemical plant followed all safety protocols, it's an accident, says Andhra Pradesh DGP

The official also said that forensic teams are being sent to RR Venkatapuram village where the chemical plant is located.




DNA - Published





Vishakapatnam gas leak: PM Modi speakes with Andhra CM, assures all support

The death toll in the tragedy has reached eight.




DNA - Published





What is Styrene, the chemical compound that led to Vizag gas leak?




IndiaTimes - Published





Vizag gas leak: Amit Shah speaks to concerned authorities, NDMA officials

NEW DELHI: Union Home Minister Amit Shah on Thursday spoke to officials of the National Disaster Management Authority (NDMA) regarding the styrene gas leakage incident in Visakhapatnam. "The incident..




IndiaTimes - Published





Visakhapatnam gas leak: All you need to know about plant




IndiaTimes - Published





Six dead, over 100 hospitalized after gas leakage at LG Polymers plant in Andhra Pradesh

At least six people are dead after a chemical gas leakage at an LG Polymers facility located near Visakhapatnam in Andhra Pradesh, a local government official said on Thursday.




Reuters India - Published

Also reported by •Reuters •DNA


Eight dead, over 1000 hospitalised in gas leakage at chemical plant in Visakhapatnam

A team of police and National Disaster Relief Force is evacuating people from the nearby villages.




DNA - Published