National Health Service (England)
Publicly-funded healthcare system in England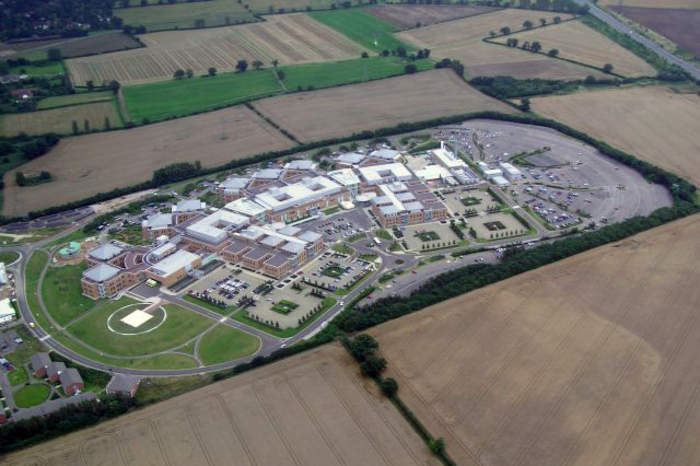 The National Health Service (NHS) is the publicly funded healthcare system in England, and one of the four National Health Service systems in the United Kingdom. It is the second largest single-payer healthcare system in the world after the Brazilian Sistema Único de Saúde. Primarily funded by the government from general taxation, and overseen by the Department of Health and Social Care, the NHS provides healthcare to all legal English residents and residents from other regions of the UK, with most services free at the point of use for most people. The NHS also conducts research through the National Institute for Health and Care Research (NIHR).


NHS hits record cancer referrals, but still delays in system

The UK is seeing a record number of people being referred for cancer treatment, after a sharp decline during the pandemic. NHS England says the number of referrals has hit 2.7 million. But, as Director..
Credit: ODN Duration: 00:51
Published
Southwark stabbings: 'Loving' family named as victims

Three generations of the same family have been stabbed to death in Southwark, London. Former NHS worker Dolet Hill, her partner Denton Burke, daughter Tanysha Ofori-Akuffo and granddaughter Samantha..
Credit: ODN Duration: 01:56
Published
Health Secretary defends National Insurance tax hike

Health Secretary Sajid Javid defends the National Insurance tax increase as a "right and fair" way of funding the NHS by taxing the highest earners. Report by Nelsonr. Like us on Facebook at..
Credit: ODN Duration: 00:49
Published
You Might Like



Wire cutters and drill bits among the items left inside NHS patients

"Never events" is the name given to things so serious that they should never happen - but in the NHS in England, there were 407 of them in a year.




Sky News - Published





Tumour-spotting 'metal detector' helps spot whether cancer has spread

A tool which has been likened to a metal detector could soon be used in the NHS to help determine whether a person's breast cancer has spread.




Sky News - Published





Google sued for using the NHS data of 1.6 million Brits 'without their knowledge or consent'

Google is being sued over its use of confidential medical records belonging to 1.6 million individuals in the UK.




Sky News - Published





Prescription charges frozen as ministers wrestle with cost of living crisis

NHS prescription charges in England are to be frozen as pressure mounts on ministers to ease the cost of living crisis following the recent Tory bruising at the polls.




Sky News - Published





Long COVID sufferers 'considering buying own oxygen' as number seeking help doubles, says charity

The number of people seeking help for long COVID has doubled and the NHS is struggling to keep up, a charity has warned.




Sky News - Published





Around 60,000 NHS workers living with PTSD after battling COVID pandemic

An estimated 60,000 NHS workers are believed to be living with post-traumatic stress as a result of the COVID-19 pandemic, according to new research.




Sky News - Published





More than 2.4 million young people now have access to NHS mental health support in schools and collages as backlog tackled

More than 2.4 million children and young people now have access to mental health support in schools and colleges as the NHS fast tracking services are aiming to help tackle record demand.




Sky News - Published





Middle aged people and women are not doing enough exercise, study warns

Middle-aged people and women in particular are less likely to exercise and are failing to meet NHS guidelines, according to a study in England.




Sky News - Published





Cancer referrals hit record-breaking 2.7 million after pandemic decline

A record-breaking 2.7 million people were referred for cancer checks in the past year, NHS England data reveals, as figures suggest the COVID pandemic saw numbers plummet in 2020.




Sky News - Published





More than 72,000 assaults on NHS staff took place over four years - but very few were reported to police

More than 72,000 assaults were carried out on hospital staff in the past four years but only a small percentage were reported to police, Sky News can reveal.




Sky News - Published





NHS boss's husband drove her to A&E with suspected stroke amid concern over ambulance delays

An NHS boss's husband drove her to A&E with a suspected stroke after he'd heard her "lamenting ambulance delays".




Sky News - Published





NHS compensation scheme 'not fit for purpose' and reform is 'long overdue', study finds

The NHS compensation scheme is "not fit for purpose" according to a report by MPs who say the system needs to be radically overhauled.




Sky News - Published





NHS England to be banned from using supply chains linked to slavery

NHS England will be banned from using products and services linked to slavery or human trafficking under a law making its way through parliament.




Sky News - Published





First Dates star Merlin Griffiths out of hospital after 'robotic' surgery to remove tumour

First Dates barman Merlin Griffiths has thanked the NHS for "literally saving my life" following surgery to remove a tumour.




Sky News - Published





Social distancing requirement scrapped in hospital and GP waiting rooms in England

Social distancing rules in the NHS have been scrapped, according to new guidance issued by the health service.




Sky News - Published





Syrian refugee says plan to send migrants to Rwanda is 'moral failure'

A Syrian refugee and filmmaker who shot to fame working as an NHS cleaner during the pandemic says the Home Office plans to send asylum seekers to Rwanda are an "ethical and moral failure".




Sky News - Published





Hospital waiting lists in England hit new high of 6.2 million

A record 6.2 million people in England were waiting to start routine hospital treatment at the end of February, according to NHS figures.




Sky News - Published





Number of people waiting more than a year for NHS treatment almost 200 times higher than pre-pandemic

The number of people waiting more than a year for hospital treatment is 186 times higher than it was before the pandemic began.




Sky News - Published




'The pain was eating me up from the inside' - Dozens of patients waiting more than three years for hospital care

A woman left waiting nearly four years to have various NHS surgeries, says the impact of the delays has been "soul destroying".




Sky News - Published





One in eight rented homes pose threat to health that 'costs NHS £340m a year'

More than one in eight privately rented homes in England are currently posing a "serious threat" to the health and safety of tenants, costing the NHS about £340m a year, according to a report from a..




Sky News - Published





Vulnerable COVID patients getting at-home treatment which improves symptoms 'within hours'

More than 32,000 vulnerable COVID patients in England have been treated with "cutting-edge" antiviral drugs which improve symptoms "within hours", the NHS has said.




Sky News - Published





Keep waist measurement 'less than half your height' to be healthy, NHS watchdog says

People should ensure their waist measurement is less than half their height to reduce the risk of potential health problems, an NHS watchdog has warned.




Sky News - Published





Millions of workers hit by National Insurance hikes from today

Millions of workers will begin paying higher National Insurance contributions from today as part of a plan to raise billions for the NHS and social care.




Sky News - Published





Key target for cancer treatment missed in 98% of NHS areas

Just two out of 107 NHS areas met the key cancer waiting time target in January, Sky News analysis has revealed.




Sky News - Published





More motorcyclists, pedestrians died in pandemic year on NHs in 2020 than in 2019




IndiaTimes - Published





NHS maternity scandal: What lessons can be learnt after babies and mothers died?

An independent review into maternity failings at Shrewsbury and Telford Hospital NHS Trust found that at least 210 deaths could have been avoided.




Sky News - Published





At least 201 babies and nine mothers died as a result of maternity failings at NHS trust

A major report into maternity failings at an NHS trust has found at least 210 deaths could have been avoided.




Sky News - Published





Report into hundreds of babies left dead or brain-damaged in NHS maternity unit to be published

A major report will today reveal the true scale of failings at a hospital trust where hundreds of babies died or were left brain damaged.




Sky News - Published





Pregnant women to be offered test to detect pre-eclampsia on NHS

Pregnant women who are suspected to have pre-eclampsia will be offered a test on the NHS to detect the condition.




Sky News - Published





'Long-term decline' in cancer care dragging down 'exhausted and demoralised' NHS staff

The government has overseen a "long-term decline" in critical cancer care and waiting times performance that is dragging "heroic" NHS staff down, MPs have said.




Sky News - Published





Liverpool captain Jordan Henderson spends the day with NHS ambulance staff

Liverpool captain Jordan Henderson spends the day with staff from the Yorkshire Ambulance Service to find out the impact of the Covid-19 pandemic.




BBC Sport - Published





Government to set out NHS reforms for patients to benefit from improved and personalised care

Patients will be given greater control and choice over their care in a raft of reforms aimed at improving the NHS.




Sky News - Published





NHS to tackle 'unacceptable inequalities' in maternity care

A new taskforce has been established to tackle disparities in maternity care experienced by women from ethnically diverse communities and those living in deprived areas.




Sky News - Published





NHS gene testing misses half of people at risk of cancer, study warns

NHS guidelines for genetic testing will miss half of the population that is carrying inherited genetic traits linked to cancer, a new study warns.




Sky News - Published





'I couldn't be more proud of her': How nurse who worked on COVID frontline became Olympic champion

The long and punishing COVID-19 shifts challenged every NHS worker but Vicky Wright used them to help her follow her Olympic dream.




Sky News - Published





NHS to stop taking money from gambling industry to fund addiction services

The NHS is set to stop taking money from the gambling industry for addiction treatments as it faces record demand for its specialist support.




Sky News - Published





COVID tests must remain free and self-isolation rules shouldn't be ditched, NHS leaders warn

Free tests and self-isolation rules must continue as the UK learns to live with COVID-19, NHS leaders have said.




Sky News - Published





Woman suing NHS over poor mental healthcare in prison faces extradition back to the same jail

A woman trying to become the first to publicly sue the NHS for poor mental healthcare in prison faces being extradited back to the same jail.




Sky News - Published





Schools issued guidance on teaching partisan issues like BLM and Israel-Palestine conflict

Teachers should avoid partisan support on issues like the Israel-Palestine conflict, the Black Lives Matter movement and NHS reform when in classrooms, according to new guidance published by the..




Sky News - Published





'They gave me a week to live': Heart transplant waiting list increases by 85% in 10 years

The number of people waiting for a heart transplant has gone up 85% in the last decade – and not enough organ donors are making their wishes clear to their family, the NHS has said.




Sky News - Published





'You might not clutch your chest and fall': Sky Sports star who had heart attack explains early symptoms

Thousands of lives could be saved if more people were aware they were experiencing the early signs of a heart attack and called 999, the NHS has said.




Sky News - Published





Transport ministry to challenge Madras HC order that quashed move to increase maximum speed limit on NHs




IndiaTimes - Published





NHS and social care link to be improved under Integration White Paper plans

The government has outlined some of its aims to improve the links between the NHS and social care in its Integration White Paper.




Sky News - Published





Recovery plan to tackle record NHS waiting lists in England unveiled by government

The government has unveiled its plan to tackle record NHS waiting lists in England as officials aim to get core health services back on track as the pandemic eases.




Sky News - Published





Cancer treatment waiting times at record high - how bad are they and why?

There are three main metrics by which the NHS measures its performance in treating cancer - and they are all about how long it takes patients to go through different stages of the health service.




Sky News - Published





Plan to tackle NHS backlog 'delayed at last minute' by Treasury - reports

A long-awaited plan to tackle the NHS backlog has been put on hold after the Treasury reportedly blocked a government announcement due to be made today.




Sky News - Published





'The NHS is there for you': Camilla and Theresa May urge abuse victims to seek help

The Duchess of Cornwall and former prime minister Theresa May have backed a campaign to encourage victims of sexual and domestic abuse to seek help through the NHS.




Sky News - Published





From heartbreak to hope - pioneering proton beam treatment gives Teddy back his future

The youngest patient ever to be treated using NHS pioneering beam therapy is celebrating a milestone anniversary.




Sky News - Published





NHS under pressure: Hospitals full at 9am as patients wait 12 hours to be seen in A&E

It is 9am and the hospital is already full.  




Sky News - Published





Health secretary announces review into mandatory COVID jabs for NHS staff

The health secretary says a review will be launched into plans for mandatory coronavirus vaccinations for NHS staff.




Sky News - Published