Justin Trudeau
23rd prime minister of Canada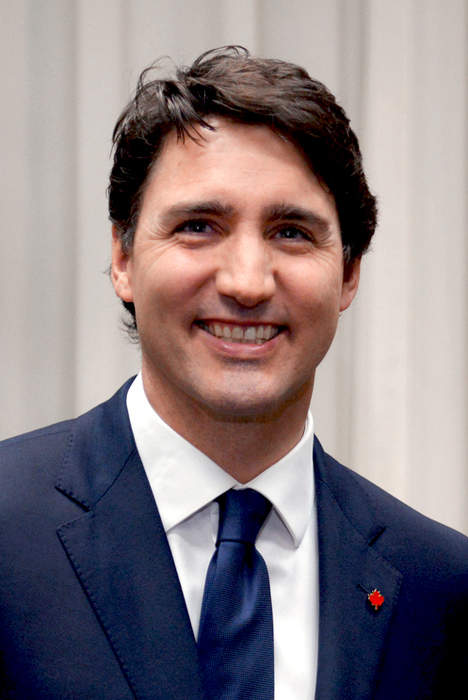 Justin Pierre James Trudeau is a Canadian politician who is the 23rd and current prime minister of Canada since November 2015 and the leader of the Liberal Party since April 2013. Trudeau is the second-youngest prime minister in Canadian history after Joe Clark; he is also the first to be the child or other relative of a previous holder of the post, as the eldest son of Pierre Trudeau.


Boris Johnson meets Justin Trudeau at G20 summit in Rome

Prime Minister Boris Johnson meets with his Canadian counterpart Justin Trudeau at the G20 summit in Rome, Italy. Report by Czubalam. Like us on Facebook at http://www.facebook.com/itn and follow us on..
Credit: ODN Duration: 00:38
Published
You Might Like



PM Modi congratulates Trudeau on election win




IndiaTimes - Published





Justin Trudeau wins Canada election but falls short of a majority

Justin Trudeau has won a third term as Canada's prime minister, but his early election gamble to win a majority of seats failed.




Sky News - Published




At 66 percent, PM Modi's global approval rating higher than Biden, Merkel, Trudeau and Johnson

PM Modi has emerged with a better approval rating compared to other prominent world leaders like Biden, Merkel, Trudeau, Macron.




DNA - Published





Canada to provide 10 million dollars to India to support fight against Covid-19: PM Justin Trudeau




IndiaTimes - Published





India approves 1 million doses of COVID vaccines for Canada

Vaccine support from New Delhi to Canada comes even as ties were frayed over comments by PM Justin Trudeau on the ongoing farmers' protests in India.




DNA - Published





'Trudeau hailed govt's bid to solve agri stir via talks'




IndiaTimes - Published





Canada's Trudeau commended Indian govt on dialogue with farmers, assured safety of diplomats: MEA

In December, the Canadian PM had commented on the ongoing farmers' protests in India angering New Delhi.




DNA - Published





Farmers' stir too featured in Trudeau-Modi talks

Canadian PM Justin Trudeau discussed with his Indian counterpart Narendra Modi "recent protests" by Indian farmers along with the commitment of both India and Canada to democratic principles and..




IndiaTimes - Published




India will do its best to facilitate Covid vaccines sought by Canada: PM assures Trudeau




IndiaTimes - Published





PM Modi speaks to Canada's Trudeau, assures Covid vaccine supply




IndiaTimes - Published

Also reported by •DNA


No foreign government supported farmers agitation: MEA

The only world leader to make a public comment on the issue was Canadian PM Justin Trudeau which was strongly slammed by India.




DNA - Published





Prime Minister of any country should not make comments on India's internal affairs, says Rajnath Singh on Trudeau's remarks

Defence minister Rajnath Singh on Wednesday took strong objection to remarks made by Canadian Prime Minister Justin Trudeau last month concerning protest by farmers on farm laws and said no leader of a..




IndiaTimes - Published





Justin Trudeau backing farmers but Canada opposes MSP at WTO




IndiaTimes - Published





Farm stir: Canada PM Trudeau reiterates stand on peaceful protests a day after India summons envoy

The Canadian PM commented that he "will always stand up for the right of peaceful protests".




DNA - Published





EAM Jaishankar to skip Canada-led COVID meet after Trudeau's remarks on farmers' protest

The meeting takes place next week, and ahead of that, Canada was told that India will not attend the meet.




DNA - Published





Canada opposes MSP, has scarce interest in well-being of Indian farmers: BJP

Reacting strongly, India on Friday summoned Canadian High Commissioner Nadir Patel and told him that the comments made by Trudeau and others in his cabinet on the protests were an "unacceptable..




IndiaTimes - Published





India hands demarche over Trudeau's farmers remarks




IndiaTimes - Published





Trudeau's remarks on farmers' protest: India summons Canadian envoy, says action can impact ties

India on Tuesday dismissed the remarks made by Canadian PM Justin Trudeau on farmers' protest, calling it "ill-informed" and "unwarranted".




DNA - Published





India warns Canada: Comments on farmers protest will have 'seriously damaging' impact on ties

India on Friday issued a strong warning to Canada over the remarks made by some of its leaders including Prime Minister Justin Trudeau on the ongoing farmers protest in the country.




IndiaTimes - Published





India summons Canadian high commissioner; Issues demarche over remarks by PM Trudeau, other leaders on farmers' protest

India on Friday summoned the Canadian High Commissioner and conveyed to him that the comments made by Canadian Prime Minister Justin Trudeau and some other leaders there on the farmers' agitation..




IndiaTimes - Published





When Canada opposed India's move to help farmers

Canadian Prime Minister Justin Trudeau's support for the protesting farmers in India appears to be ironical going by the stand his country has taken over the years on issues concerning the welfare of..




IndiaTimes - Published





Trudeau says 'situation is concerning', 'reached out to Indian authorities to highlight concerns




IndiaTimes - Published





Canadian PM Justin Trudeau 'expresses concern' over farmers' agitation, India calls it internal matter

"Such comments are unwarranted, especially when pertaining to the internal affairs of a democratic country," says MEA.




DNA - Published





Trudeau backs Sikh MP after he is ousted from House for calling a lawmaker racist




IndiaTimes - Published





Canada's Trudeau backs opposition leader kicked out of Parliament in racism row

Canadian Prime Minister Justin Trudeau on Thursday backed the leader of an opposition party who was ejected from the House of Commons for branding a member of another party a racist and refusing to..




Reuters - Published





Canada to present fiscal snapshot on July 8, too early for full update, PM Trudeau says

The Canadian government will unveil a "fiscal and economic snapshot" on July 8 to help show much money it has spent combating the coronavirus outbreak, Prime Minister Justin Trudeau said on Wednesday.




Reuters - Published





PM Modi, Trudeau discuss international collaboration to address health, economic crisis

During their telephonic conversation, the two leaders updated each other about the evolving situation related to the COVID-19 pandemic in their countries




DNA - Published





Canada to extend income support by eight weeks, U.S. border to remain closed, Trudeau says

Canada will extend by eight weeks federal income support for those who lost their jobs amid the COVID-19 outbreak, and the border with the United States will remain closed to non-essential travel, the..




Reuters - Published





Canada to extend income support for jobless during pandemic: Trudeau

Canada will extend the Canada Emergency Response Benefit (CERB) income support that was brought in to help people get through temporary job losses caused by the COVID-19 outbreak, Prime Minister Justin..




Reuters - Published




Canada's Trudeau calls arrest video of indigenous leader 'shocking'

Prime Minister Justin Trudeau said on Friday that newly released video showing a forceful arrest of a Canadian indigenous leader was "shocking," saying it raised serious questions.




Reuters - Published





Canada to mandate temperature checks for airline passengers, Trudeau says

Canada will make it a requirement to take airline passengers' temperatures before they fly and anyone with a fever will not be allowed to travel, Prime Minister Justin Trudeau said on Friday.




Reuters - Published





Canada's Trudeau wants body cameras for police, cites lack of public trust

Canadian Prime Minister Justin Trudeau on Monday said he wanted police forces across the country to wear body cameras to help overcome what he said was public distrust in the forces of law and order.




Reuters - Published





'Stand up to Trump!' Canada protesters shout to Trudeau who kneels at anti-racism rally

Canadian protesters chanted "Stand up to Trump!" to Prime Minister Justin Trudeau as he joined thousands at an anti-racism rally on Friday and took a knee alongside protesters.




Reuters - Published




Trudeau says discrimination by Canada police must end, after indigenous woman killed

Discrimination by Canadian police against indigenous people and people of color "needs to end," Prime Minister Justin Trudeau said on Friday, after police officers shot and killed an indigenous woman..




Reuters - Published





Canada's Trudeau, backed by rivals for now, has little chance to cash in on popularity boost

Canadian Prime Minister Justin Trudeau is soaring in the polls amid widespread approval of his handling of the coronavirus pandemic but has little chance of cashing in soon on his popularity with..




Reuters - Published

Also reported by •Reuters India


Canada's Trudeau, opposition leaders vow to fight racism at home

Canadian Liberal Prime Minister Justin Trudeau and his rivals in the opposition vowed on Monday to fight racism at home as violent protests continued in the United States following the death of a black..




Reuters - Published





Russia not welcome at G7, Canada's Trudeau says

Canada does not support Russia's return to the Group of Seven, proposed by U.S. President Donald Trump over the weekend, because Moscow continues to flout international law, Prime Minister Justin..




Reuters - Published





Canada says Russia should remain outside of the G7: PM Trudeau

Canada does not support Russia's return to the Group of Seven, as U.S. President Donald Trump proposed over the weekend, because it continues to flout international law, Prime Minister Justin Trudeau..




Reuters - Published





Canada vows changes in senior care after military shines spotlight on shortfalls

Canadian Prime Minister Justin Trudeau on Wednesday vowed to help provincial authorities revamp the country's senior care system after soldiers helping in nursing homes in Ontario and Quebec reported..




Reuters - Published





Canada's Trudeau says 'significant' health questions remain about in-person G7 meeting

Canadian Prime Minister Justin Trudeau said on Wednesday that there are still many health-related questions to be answered before he can say whether he will attend a face-to-face G7 meeting that..




Reuters - Published





Canadian soldiers witness 'deeply disturbing' scenes in seniors' residences: PM

Canadian soldiers helping to manage the coronavirus outbreak in seniors' residences have witnessed some "deeply disturbing" scenes, Prime Minister Justin Trudeau said on Tuesday, adding he was shocked..




Reuters - Published





Canada 'concerned' about the situation in Hong Kong, calls for dialogue: PM Trudeau

Canada is concerned about China's proposal to impose national security laws on Hong Kong and called for real dialogue in order to de-escalate tensions, the prime minister said on Friday.




Reuters - Published





China does not seem to understand independence of Canada's judiciary: Trudeau

China does not appear to understand that Canada's judiciary is independent, Prime Minister Justin Trudeau said on Thursday, taking a rare public swipe at Beijing at a time when bilateral ties are poor.




Reuters - Published




Canada, U.S. to extend travel ban; Trump muses about cattle block

Canada and the United States have agreed to extend a ban on non-essential travel between the two nations by another 30 days as part of the fight against the coronavirus, Prime Minister Justin Trudeau..




Reuters - Published





Canada, U.S. agree to 30-day extension of ban on non-essential travel: PM Trudeau

Canada and the United States have agreed to extend a ban on non-essential travel between the two nations by another 30 days as part of the fight against the coronavirus, Prime Minister Justin Trudeau..




Reuters - Published





Canada's Trudeau: world has changed even if pandemic ends, vaccine found

Canadians should accept the world will change even if a vaccine is found and the coronavirus pandemic ends, Canadian Prime Minister Justin Trudeau said on Thursday, urging people to adjust to a new..




Reuters - Published





Canada coronavirus death toll passes 5,000, Trudeau wants seniors' care reform

The Canadian coronavirus death toll passed the 5,000 mark on Tuesday and Prime Minister Justin Trudeau said major reforms were needed to seniors' residences, where more than 80% of the victims lived.




Reuters - Published





Trudeau warns premature reopening could send Canada 'back into confinement'

Prime Minister Justin Trudeau warned that if provinces move too quickly to reopen their economies, a flare-up of the coronavirus pandemic could send Canada "back into confinement this summer."




Reuters - Published