Ohio
State of the United States of America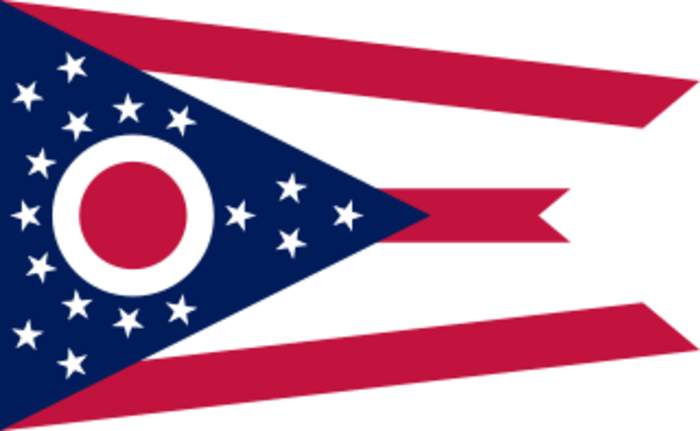 Ohio is a state in the East North Central region of the Midwestern United States. Of the fifty states, it is the 34th-largest by area, and with a population of nearly 11.7 million, is the seventh-most populous and tenth-most densely populated. The state's capital and largest city is Columbus, with the Columbus metro area, Greater Cincinnati, and Greater Cleveland being the largest metropolitan areas. Ohio is bordered by Lake Erie to the north, Pennsylvania to the east, West Virginia to the southeast, Kentucky to the southwest, Indiana to the west, and Michigan to the northwest. Ohio is historically known as the "Buckeye State" after its Ohio buckeye trees, and Ohioans are also known as "Buckeyes".


D.C. locks down, states on alert, for inauguration

[NFA] U.S. security forces are mounting a national operation to thwart any violence before President-elect Joe Biden takes office - while Democrats warned of possible political violence even after the..
Credit: Reuters - Politics Duration: 02:01
Published
See officers' heroic actions during vehicle fire

Body camera captured the heroic actions of police officers in Ohio to save an unconscious woman trapped in a burning vehicle.
Credit: Bleacher Report AOL Duration: 02:11
Published
Family has BLM sign stolen and replaced with Confederate flag

An Ohio family who adopted two mixed-race children refuses to be silenced after having their Black Lives Matter signs repeatedly stolen from their home. CNN affiliate WLWT reports.
Credit: Bleacher Report AOL Duration: 01:35
Published
Senator Sherrod Brown Vows to Join Sanders' Filibuster and Push for $2,000 Stimulus Checks

On Tuesday, Ohio Senator Sherrod Brown said he would lend his support to Vermont Senator Bernie Sanders.
Credit: Cover Video STUDIO Duration: 01:35
Published
Footage shows Black man fatally shot by Columbus police

[NFA] WARNING: GRAPHIC CONTENT. Police in Columbus, Ohio, said they relieved an officer of duty after he fatally shot an unarmed Black man on Tuesday. The city's second law enforcement shooting death..
Credit: Reuters Studio Duration: 01:30
Published
Trey Songz hosts 500-person indoor concert amid COVID-19 pandemic

On Saturday night, Trey Songz hosted an indoor "Champagne Saturdays" event at a nightclub in Ohio.
Credit: Cover Video STUDIO Duration: 01:16
Published
HUD In Cleveland: Biden's Pick For Head Housing Honcho

President-elect Joe Biden has picked his nominee to run the Department of Housing and Urban Development, or HUD. According to Business Insider, Biden will nominate Democratic Rep. Marcia Fudge of Ohio...
Credit: Wochit News Duration: 00:41
Published
Dramatic rescue of woman trapped in sinking car

Dramatic bodycam footage released by police in Alliance, Ohio, shows officers on Sunday clambering down a muddy riverbank and smashing a window of a sinking car in order to save a woman.
Credit: Reuters Studio Duration: 01:14
Published
Biden transition gets green light from GSA

[NFA] President-elect Biden was formally given the go-ahead by a key federal agency to begin his transition to the White House, shortly after Michigan certified him as the state's winner. This report..
Credit: Reuters - Politics Duration: 02:37
Published
You Might Like



Rep. Tim Ryan Was 'F****** Livid' Over Lack of Security at Riot

Congressman Tim Ryan isn't mincing words over the coup attempt -- he was "f****** livid" when the mob stormed the Capitol, because law enforcement assured Congress it would be safe. The U.S. Rep. from..




TMZ.com - Published





Trump Supporter Pisses Off Ohio Neighbors with Yard Signs After Riot

President Trump's call for unity after the failed coup hasn't found its way to the suburbs just yet ... this Ohio homeowner missed the memo, and he's got a new way to irk neighbors. Check out these..




TMZ.com - Published





New Body Cam Video Shows Cops Failed to Give Andre Hill First Aid for 10 Minutes

Andre Hill, the black man who was shot and killed by a Columbus, Ohio cop, lay dying for a full 10 minutes before he received ANY first aid from officers ... this based on newly-released body cam..




TMZ.com - Published





Ohio Cop Wrestles Old Man During Traffic Stop in Crazy Video

An Ohio couple says they were brutalized by cops during a simple traffic stop for tinted windows, but the Police Chief says there's way more to this story than the video shows. It went down in..




TMZ.com - Published





Ohio Cops Form Human Chain, Save Woman Trapped in Sinking Van

Cops in Ohio are being hailed heroes -- and rightfully so -- after rescuing a woman trapped inside a sinking van in a freezing lake ... and body cam footage caught the tense moments. The rescue went..




TMZ.com - Published





Guess Who This Umbrella Girl Turned Into!

Before this pint-sized kid with a parasol was making people laugh on Comedy Central, she was just another little runt waiting for rain to fall in Cincinnati, Ohio. This little lady brought the thunder..




TMZ.com - Published




LeBron James Begs For Help In Murder Case Involving Best Friend's Sister

LeBron James is pleading with citizens of Akron, Ohio to help police in a murder case involving his good friend's sister ... saying Wednesday, "My city I need y'all to go to work." Bron's lifelong..




TMZ.com - Published





Miami Univ. Football Players Charged After Wild Brawl At Fraternity Caught On Video

Three Miami University football players have been hit with criminal charges ... after cops say they were involved in a MASSIVE brawl at a fraternity house that was caught on video. According to the..




TMZ.com - Published





Cop Drags Handcuffed Black Teen Over Concrete During Arrest, Gets Paid Suspension

A police officer has been suspended after dragging an underage, black teenager across the pavement ... despite the fact the teen is not resisting. The incident went down in Mansfield, Ohio earlier this..




TMZ.com - Published





Cops Called on 'Homeless Jesus' Statue

Someone called the cops on Jesus ... because he was depicted as a homeless man sleeping on an Ohio park bench. A statue called "Homeless Jesus" is being hosted by the St. Barnabas Episcopal Church near..




TMZ.com - Published





Original Mouseketeer Bonni Lou Kern Dead at 79

Bonni Lou Kern -- one of the original 'Mickey Mouse Club' Mouseketeers in the '50s -- has died ... TMZ has learned. Bonni died Monday in Wooster, Ohio ... according to the Wayne County Health Dept...




TMZ.com - Published





Kanye West Sues to Get on Presidential Ballot in Ohio After Signatures Rejected

Kanye West is going after the top election official in Ohio for allegedly going out of his way to keep Ye off the presidential ballot ... according to a new lawsuit. Kanye's suing the state's..




TMZ.com - Published





Ohio Cop Saves Puppy After Being Left in Hot Car for Over An Hour

Who let the dog out? This awesome cop in Ohio who broke into a locked hot car to save a puppy from sweltering heat. The incident went down in Clarmont County, Ohio where a Miami Township cop responded..




TMZ.com - Published





President Trump's Ohio Event Hyped with 'Live and Let Die' as COVID Deaths Surge

Someone on President Trump's campaign team is painfully tone-deaf, opting to crank "Live and Let Die" before his Ohio event ... as about 1,000 Americans are killed daily by COVID-19. Ya probably..




TMZ.com - Published





Pope appoints Latino as new archbishop of Philadelphia

Pope Francis on Thursday appointed Nelson Perez, the current Roman Catholic bishop of Cleveland, Ohio, to be the new archbishop of Philadelphia, the latest Latino to head a major U.S. archdiocese.




Reuters - Published





'All I can do is pray': A family in limbo as U.S. slows refugee admissions

Somali refugee Ramlo Ali Noor will never be reunited with her 16-year-old son in her new home in Columbus, Ohio.




Reuters - Published




Trump to meet with India, Australia leaders in U.S. next week

U.S. President Donald Trump will meet next week with the leaders of India and Australia at events in Texas and Ohio to promote trade and investment.




Reuters - Published





Tally of US mass shootings in 2019 already almost equal to incidents in 2018; study shows attacks have uniform traits

Back-to-back mass shootings in US' Texas and Ohio brought the total number of mass killings so far this year to 23, leaving 131 people dead




Firstpost - Published





Donald Trump proposes tighter gun control tied to immigration reform after Ohio, Texas mass shootings that left 29 people dead

US President Donald Trump on Monday urged Republicans and Democrats to agree on tighter gun control




Firstpost - Published





Democrats aim their outrage at Trump after two mass shootings

Two mass shootings that killed 29 people in Texas and Ohio reverberated across the U.S. political arena on Sunday, with some Democratic presidential candidates accusing President Donald Trump of..




Reuters - Published




Democrats condemn Trump, white nationalism after two mass shootings

Two mass shootings that killed 29 people in Texas and Ohio reverberated across the U.S. political arena on Sunday, with some Democratic presidential candidates accusing President Donald Trump of..




Reuters - Published




President Trump: 'hate has no place in our country'

U.S. President Donald Trump said on Sunday that "hate has no place in our country" after two mass shootings killed 29 people in Texas and Ohio.




Reuters - Published





Factbox: Major shootings in the United States

Two mass shootings within 13 hours of each other left 20 people dead in Texas and killed nine people in Ohio, carnage that shocked a country that has become grimly accustomed to mass shootings and..




Reuters - Published





30 dead, several injured in US' Texas, Ohio after two separate mass shootings reported within 24 hours

Two separate mass shootings within 24 hours left 30 people dead and several others injured in the US states of Texas and Ohio.




Firstpost - Published





In less than a minute, Ohio gunman kills nine people, including sister

A gunman dressed in body armor opened fire in downtown Dayton, Ohio, early on Sunday, killing nine people including his sister and wounding 27 others, authorities said, in the second deadly U.S. mass..




Reuters - Published




Thirty people die in two mass shootings in Texas and Ohio

Thirty people died and dozens were wounded in two mass shootings within just 13 hours of each other in the United States, shocking the country and prompting calls from some politicians for tighter gun..




Reuters - Published





Mass shooting at Ohio's Dayton kills 9, suspected gunman dead, say police; second shooting incident in US in the last 24 hours

Nine people in Ohio have been killed in the second mass shooting in the US in less than 24 hours




Firstpost - Published