Spice Girls
British girl group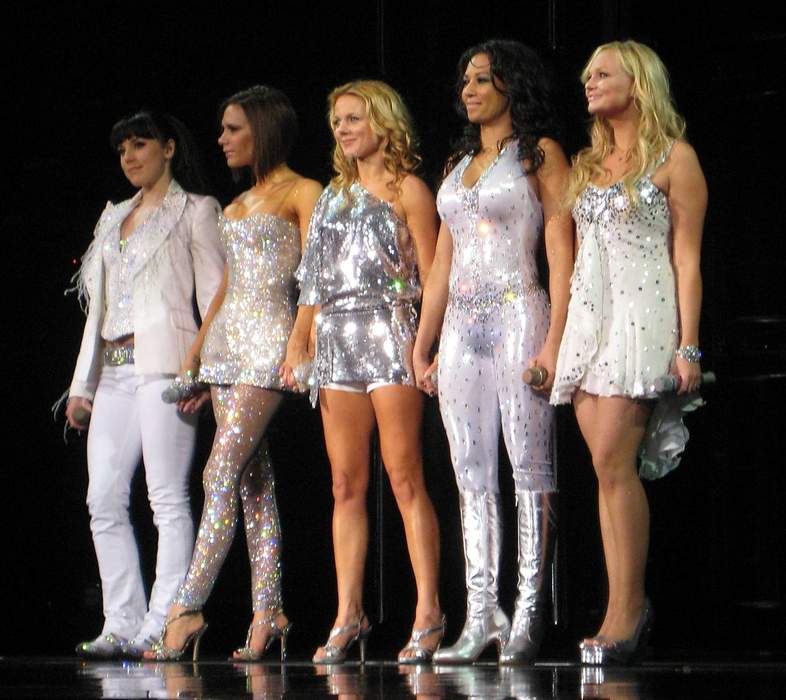 The Spice Girls are a British girl group formed in 1994, consisting of Melanie Brown, also known as Mel B ; Melanie Chisholm, or Melanie C ; Emma Bunton ; Geri Halliwell ; and Victoria Beckham. With their "girl power" mantra, they redefined the girl-group concept by targeting a young female fanbase. They led the teen pop resurgence of the 1990s, were a major part of the Cool Britannia era, and became pop culture icons of the decade.


You Might Like
Icons who met The Queen - from Mandela and Mother Theresa to the Spice Girls
During more than 70 years as Queen and head of the Commonwealth, Elizabeth met many of the most famous people on the planet.
Sky News - Published
The Queen, Spice Girls and Three Lions stars react to Euro 2022 win
Celebrations are taking place across the country as football fans mark England's historic win over Germany in the Euro 2022 final.
Sky News - Published
David Beckham shares video of wife doing Spice Girls karaoke and former England captain breakdances
Victoria Beckham has returned to her Spice Girl roots for a brief sing-song while on holiday in St Tropez.
Sky News - Published
Mel B says she will 'make sure' Spice Girls tour in 2023
The Spice Girls will reunite for a tour in 2023, Mel B has said.
Sky News - Published
Spice Girls' 'Sporty Spice' Mel C Arrives for 'DWTS' Debut
Mel C is here to tell us what we really, really want -- and that would be ... that she's joining "Dancing With the Stars," so things are sure to get sporty! The Spice Girls singer was spotted wearing a..
TMZ.com - Published
Tokyo Olympics: Katarina Johnson-Thompson & Spice Girl Melanie C's quick-fire questions
World heptathlon champion Katarina Johnson-Thompson and Spice Girl Melanie C face quick-fire questions.
BBC Sport - Published
Spice Girl Emma Bunton marries long-time fiance Jade Jones
Spice Girl Emma Bunton has married her long-time fiance Jade Jones.
Sky News - Published
The most popular Spice Girls songs revealed - which is your favourite?
Twenty-five years on from the release of their debut single Wannabe, the Spice Girls remain the best-selling girl group of all time.
Sky News - Published
Mel B in Shocking Short Film Highlighting Domestic Violence
Mel B appears beaten, broken and trapped in a disturbing new video made to raise domestic violence awareness, and it has some people drawing connections to the singer's past. The Spice Girls singer..
TMZ.com - Published
Cow Named After Posh Spice Breaks World Sale Record
Here's a story with some meat on it -- a "stylish and shapely" bovine, much like her namesake, mooed down the competition for a world record! Oh yeah, and she's a Spice Girl. The heifer's name is "Posh..
TMZ.com - Published