Military
Organization primarily tasked with preparing for and conducting war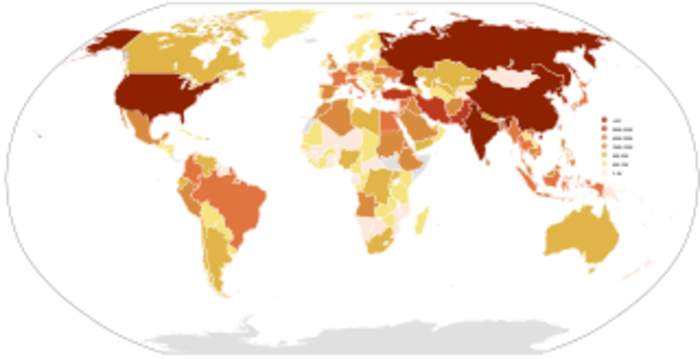 A military, also known collectively as armed forces, is a heavily armed, highly organized force primarily intended for warfare. It is typically officially authorized and maintained by a sovereign state, with its members identifiable by their distinct military uniform. It may consist of one or more military branches such as an army, navy, air force, space force, marines, or coast guard. The main task of the military is usually defined as defence of the state and its interests against external armed threats.


Armed Forces rehearse for Duke of Edinburgh's funeral

Members of the Armed Forces including the Royal Navy and Welsh Guards rehearse the drill manoeuvres and musical components for the Duke of Edinburgh's funeral at Windsor Castle on Saturday.
Credit: PA - Press Association STUDIO Duration: 01:00
Published
You Might Like



PM Modi hails role of armed forces in fight against COVID-19

Along with the efforts by the health professionals, the Armed Forces too have pitched in this battle against an invisible yet deadly enemy.




DNA - Published





Armed Forces get emergency financial powers to fight COVID-19 crisis

They will establish and operate hospitals, quarantine facilities and to undertake procurement of COVID-specific equipment without the usual clearance.




DNA - Published





Military's rogue move puts Myanmar at dangerous and disturbing crossroads

The warning signs have been growing but many hoped the military wouldn't drag Myanmar onto this perilous road.




Sky News - Published




Singapore, India sign pact on cooperation between two navies

India and Singapore on Wednesday signed an agreement on submarine rescue support and cooperation between the two navies during the 5th Defence Ministers dialogue held virtually between Defence Minister..




IndiaTimes - Published





CDS General Bipin Rawat, Army chief greet veteran community

"Veterans have been our strength and source of our motivation. Armed Forces have displayed courage in times of conflict and compassion to support the people of our nation. These are the virtues..




IndiaTimes - Published





If tested, India will give befitting reply: PM Modi in Diwali address to soldiers

Prime Minister Narendra Modi on Saturday reached Rajasthan's Jaisalmer border to celebrate Diwali with the Armed Forces, in continuation of his set tradition since he took over as the Prime Minister of..




DNA - Published





PM Modi says Parliament stands with Armed Forces; Opposition demands details of India-China border situation

The Prime Minister, while speaking to the media ahead of Monsoon session, stated categorically that the parliamentarians will send out a message of their unequivocal support to brave jawans facing..




IndiaTimes - Published





Defence minister Rajnath Singh witnesses para dropping skills of Armed Forces at Stakna, Leh

Troops of Armed Forces carried out para dropping exercise here in presence of the Defence minister and Army officials. The Defence minister also witnessed scoping weapons. Defence minister is on a..




IndiaTimes - Published





India, China continue Army talks in Galwan area, Hot Springs

Sources said that after the June 6 talks between Military commanders followed by other rounds of talks, there has not been any considerable build-up activity by both sides and Chinese aggressive..




IndiaTimes - Published





Brazil's military cabinet members push for general to become health minister: source

Military members of the Brazilian cabinet are pushing for deputy health minister Eduardo Pazuello, an army general on active duty, to become the new health minister, making permanent his interim role,..




Reuters - Published





'India strengthening 'Stree Shakti' in Armed Forces': Rajnath Singh welcomes SC verdict on permanent commision for women

Taking to Twitter, Union Defence Rajnath Singh said that he wholeheartedly welcomed the verdict.




DNA - Published





Dutch court not competent to hear war crimes case against Israel's Gantz

A Dutch district court on Wednesday ruled that it does not have jurisdiction to hear a case against former Israeli Armed Forces chief Benny Gantz brought by a Dutch Palestinian who lost six relatives..




Reuters - Published





'Very-very bold step': IAF chief RKS Bhadauria welcomes creation of CDS post, promises to full support to Gen Rawat

Bhadauria said it is the responsibility of the three services of the Armed Forces to support the CDS.




DNA - Published





Bolivia armed forces commander orders troops onto streets against 'vandals'

Bolivia's Armed Forces Commander Williams Kaliman said on Monday he had ordered troops to conduct joint operations with police against "groups of vandals."




Reuters - Published





Who is Minty Agarwal, IAF officer honoured with Yudh Seva medal

Her skill was recognised by the Armed Forces, thus awarded accordingly with one of India's most distinguished wartime awards - the Yudh Seva medal.




DNA - Published





Pakistan is keeping a sinister eye on J-K: Rajnath Singh to Armed Forces

Addressing armed forces personnel on the eve of 73rd Independence Day, Defence Minister Rajnath Singh on Wednesday said Pakistan is keeping a sinister eye on Jammu and Kashmir and sends terrorists into..




DNA - Published





Sudan's RSF to report to Armed Forces' General commander: Constitutional Declaration Draft

Sudan's Rapid Support Forces (RSF), its most powerful paramilitary group, will report to the General Commander of the armed forces during an incoming period of transitional rule, a draft of a..




Reuters - Published





We salute grit, valour of those who defended India: President on Kargil Vijay Diwas

"On Kargil Vijay Diwas, a grateful nation acknowledges the gallantry of our Armed Forces on the heights of Kargil in 1999. We salute the grit and valour of those who defended India, and record our..




IndiaTimes - Published





Will work for you and succeed: Defence minister tells Armed Forces veterans




IndiaTimes - Published