Hans Raj Hans
Indian singer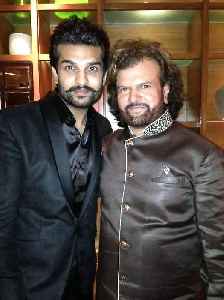 Hans Raj Hans is an Indian singer turned politician. He is a member of Bharatiya Janata Party and a recipient of the civilian honour of Padma Shri.


'Deputy Speaker heckled by BJP youths at Dharamshala'
With the nearing by-elections ahead at Dharamshala, this assembly constituency has been divided into four zones and Hans Raj has been given charge for one zone. He was attending the program of Bhartiya..
IndiaTimes - Published
Jawaharlal Nehru University should be renamed after Modi, says MP Hans Raj Hans
He says the prevailing situation in Jammu and Kashmir was necessary to fix the "mistakes" committed by "our ancestors"
DNA - Published
'Rename JNU as MNU', suggests BJP MP Hans Raj Hans says, 'something should be named after Modi ji'
Praising PM Modi on Article 370 move, BJP parliamentarian Hans Raj Hans said, "I would say we should rename JNU after Prime Minister Narendra Modi as MNU. Something should be named after Modi ji."
DNA - Published
'Isiliye kehte hai agar Modi hai to mumkin hai': Hans Raj Hans praises PM on Article 370 move
Addressing students at Jawaharlal Nehru University (JNU), singer-turned-politician Hans Raj Hans was speaking on Jammu and Kashmir (J&K) after the abrogation of Article 370.
DNA - Published
Lok Sabha Election Results: Smriti Irani, Gautam Gambhir, Ravi Shankar Prasad, Hans Raj Hans among first-time winners
Among other winners were LJP chief Ramvilas Paswan's brother Pashupati Kumar Paras and BJP's Tejasvi Surya.
DNA - Published
Saffron sweep in Delhi, AAP pushed to number 3
The scale of BJP's victory can be gauged from the fact that two of its candidates — Hans Raj Hans and Parvesh Sahib Singh Verma — got more than 60% votes while the other five too crossed the 50%..
IndiaTimes - Published
Denied ticket by BJP, Delhi MP Udit Raj joins Congress
The BJP had replaced Udit Raj from the North West Lok Sabha constituency with Punjabi Sufi singer Hans Raj Hans.
DNA - Published
BJP fields singer Hans Raj Hans from North-West Delhi Lok Sabha seat; here is full list of seven candidates in Delhi
With Hans Raj Hans' candidature, BJP has now announced candidates for all seven seats in Delhi.
DNA - Published
Udit Raj asks BJP to clear confusion over his candidature amid reports of party fielding Hans Raj Hans
Sitting MP from the reserved North-West Delhi parliamentary seat Udit Raj on Monday asked the BJP to clear the confusion over his candidature for the Lok Sabha polls.
DNA - Published
You Might Like