Raksha Bandhan
Annual ritual originating from the Indian Subcontinent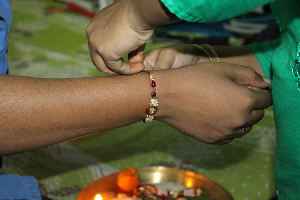 Raksha Bandhan, also Rakshabandhan, is a popular, traditionally Hindu, annual rite, or ceremony, which is central to a festival of the same name, celebrated in India, some other parts of South Asia, and among people around the world influenced by Hindu culture. On this day, sisters of all ages tie a talisman, or amulet, called the rakhi, around the wrists of their brothers, symbolically protecting them, receiving a gift in return, and traditionally investing the brothers with a share of the responsibility of their potential care.


Mumbai: 'Brother' takes women cancer patients for a movie treat
GOOD SAMARITAN: Sisters in Jharkhand, Ashish celebrates Raksha Bandhan with them
DNA - Published
Rape accused Kuldeep Sengar features in Independence Day advertisement
The advertisement wishing the local people on Independence Day and Raksha Bandhan was given by the Ugu Panchayat chairman and advocate Anuj Kumar Dikshit
DNA - Published
Mumbai: Jogeshwari woman loses Rs 4 lakh gold, cops get it back
Like all sisters, Prity too had gone to visit her brother at Santacruz to tie Rakhi. In the melee she left her 10 tola (100 grams) gold ornaments worth Rs 4 lakh in the auto-rickshaw she was travelling..
DNA - Published
Raksha Bandhan 2019: PM Narendra Modi's Pakistani rakhi sister hails triple talaq law
It may be recalled that Qamar Mohsin Shaikh is a Pakistani national who came to India after marriage. She had been tying 'rakhi' on PM Modi's wrist for the last 24 years.
DNA - Published
Raksha Bandhan 2019: Women, children tie Rakhi to PM Modi
PM wished the nation on the occasion of Rakshabandhan.
DNA - Published
Raksha Bandhan 2019: WhatsApp messages, SMS and Rakhi quotes to send your sibilings
Happy Raksha Bandhan to all our readers!
DNA - Published
You Might Like