Mikoyan MiG-29K
Carrier-based multirole combat aircraft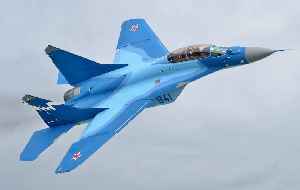 The Mikoyan MiG-29K is a Russian all-weather carrier-based multirole fighter aircraft developed by the Mikoyan Design Bureau. The MiG-29K was developed in the late 1980s from the MiG-29M. Mikoyan describes it as a 4+ generation aircraft.


You Might Like
Navy's MiG-29K aircraft crashes in Goa, pilot ejects safely
IndiaTimes - Published
Also reported by •DNA
MiG-29K crashes in Goa after bird hit, even as airbases yet to get avian radars
IndiaTimes - Published
Navy fighter aircraft crashes in Goa
A MiG-29K aircraft crashed in Goa on Saturday soon after it took off for a training mission, said sources in the Indian Navy. As per initial reports, both the pilots managed to eject safely. The..
IndiaTimes - Published
Navy builds case for 3rd aircraft carrier
The move comes after the Navy hosted defence minister Rajnath Singh on board its solitary aircraft carrier, the 44,400-tonne INS Vikramaditya, which operates the supersonic MiG-29K fighters from its..
IndiaTimes - Published
Rajnath Singh interacts with 'Black Panthers' onboard INS Vikaramditya
Defence minister Rajnath Singh interacted with Indian Naval Air Squadron 303, also known as "Black Panthers", onboard aircraft carrier INS Vikramaditya. "RM was also briefed about the functioning of..
IndiaTimes - Published
'Do we need such cheap tourists in Goa?' Passengers sleeping on airport floor irks the internet
The Goa airport is part of the Navy's INS Hansa base, which is home to several fighter squadrons, including MiG 29K.
DNA - Published
Fuel tank falls from MiG-29K at Goa airstrip, flights disrupted
The Indian Navy stated that while taking off for an operational mission from Dabolim airfield at about 1 pm, the external fuel tank of a MiG-29K aircraft got jettisoned inadvertently on the runway.
DNA - Published