Alibaba Group
Hangzhou-based group of Internet-based e-commerce businesses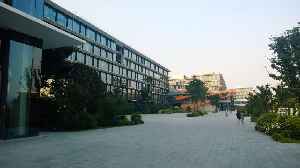 Alibaba Group Holding Limited is a Chinese multinational technology company specializing in e-commerce, retail, Internet, and technology. Founded on 4 April 1999 in Hangzhou, Zhejiang, the company provides consumer-to-consumer (C2C), business-to-consumer (B2C), and business-to-business (B2B) sales services via web portals, as well as electronic payment services, shopping search engines and cloud computing services. It owns and operates a diverse array of businesses around the world in numerous sectors.


Baidu weighs leaving the Nasdaq -sources

Chinese search engine giant Baidu is considering delisting from the Nasdaq and moving to an exchange closer to home to boost its valuation amid rising tension between the United States and China over..
Credit: Reuters Studio Duration: 01:29
Published
Flight bookings surge as Beijing relaxes quarantine rules

Flight bookings surged by up to 15 times after Beijing relaxed quarantine rules, raising hope that a release of pent-up demand ahead of a major holiday will breathe life into China's battered tourism..
Credit: Reuters Studio Duration: 01:10
Published
China using health tracking mobile system to curtail the spread of coronavirus

Chinese tech giants Alibaba and Tencent will now host a new health code system that uses QR codes to indicate the health status of citizens.
Credit: Reuters - 3D Animations (Next Me Duration: 01:04
Published
You Might Like
Coronavirus supplies donated by Alibaba's Ma arrive in Africa
A first planeload of protective and medical equipment donated to Africa by Chinese billionaire and Alibaba co-founder Jack Ma to help it fight the coronavirus arrived in the Ethiopian capital Addis..
Reuters - Published
More African countries confirm first coronavirus cases as Jack Ma pledges aid
Chinese billionaire and Alibaba co-founder Jack Ma pledged to donate over 1 million coronavirus tests to Africa on Monday, as more African nations confirmed their first cases or shut borders amid fears..
Reuters - Published
Shanghai Fashion Week to go ahead online as virus disrupts events
Shanghai Fashion Week, initially postponed due to the coronavirus outbreak, will go ahead as scheduled online in a tie-up with Alibaba Group's Tmall marketplace, its organizers said.
Reuters - Published
China seeks help of national tech giants to track coronavirus with QR codes
China's government is enlisting the help of Alibaba Group Holding Ltd and Tencent Holdings Ltd to expand color-based systems for tracking individuals affected with the coronavirus nationwide.
Reuters - Published
Alibaba offers $2.86 billion in loans to firms hit by coronavirus outbreak
Alibaba Group Holdings said on Monday its affiliate Ant Financial's WeBank unit would offer 20 billion yuan ($2.86 billion) in loans to companies in China in light of the coronavirus outbreak, with..
Reuters - Published
In bid to curb virus, China firms tell staff to work from home even after holidays end
Chinese corporate giants including Alibaba Group Holding and Tencent Holdings Ltd said they have asked staff to work from home for one week after an extended Lunar New Year break ends, seeking to limit..
Reuters - Published
Alibaba's Taobao takes down overpriced face masks on its marketplace
Alibaba's Taobao marketplace said on Sunday that it has removed sales of face masks from shops that show "unstable prices or false advertising", as prices for the products surged as Chinese consumers..
Reuters - Published
Virus outbreak prompts Chinese travel firms to offer free cancellations
Chinese travel booking platforms from Trip.com to Alibaba Group's Fliggy said on Tuesday they would offer free cancellations on bookings made for Wuhan amid mounting fears over a viral outbreak in the..
Reuters - Published
Police shooting rattles Hong Kong markets, investors count on Alibaba listing
Hong Kong's share index lost almost 3% as unrest in the Asian financial hub worsened on Monday, with police firing live rounds at anti-government protesters on the eastern side of island and firing..
Reuters - Published
Brooklyn Nets owner, Alibaba co-founder Tsai decries Houston Rockets GM's Hong Kong tweet
Joseph Tsai, owner of the Brooklyn Nets and co-founder of Chinese e-commerce giant Alibaba Group Holding Ltd, said that the damage from Houston Rockets general manager Daryl Morey's tweet in support of..
Reuters - Published