Venus
Second planet from the Sun in the Solar System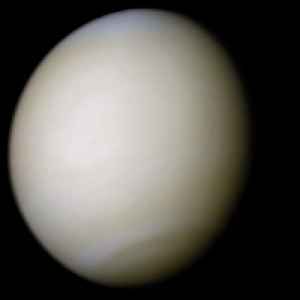 Venus is the second planet from the Sun, orbiting it every 224.7 Earth days. It has the longest rotation period of any planet in the Solar System and rotates in the opposite direction to most other planets. It does not have any natural satellites. It is named after the Roman goddess of love and beauty. It is the second-brightest natural object in the night sky after the Moon, reaching an apparent magnitude of −4.6 – bright enough to cast shadows at night and, rarely, visible to the naked eye in broad daylight. Orbiting within Earth's orbit, Venus is an inferior planet and never appears to venture far from the Sun; its maximum angular distance from the Sun (elongation) is 47.8°.


ISRO planning 7 interplanetary missions, Venus on the to-do list
Mission to study Sun's corona, Venus, Mars Orbiter 2, Chandrayaan 3 are next on ISRO's list.
DNA - Published
Search this site and the web:
You Might Like