Goa
State in India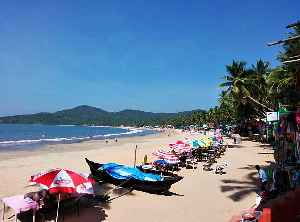 Goa is a state on the southwestern coast of India within the region known as the Konkan, separated from the Deccan highlands of the state of Karnataka by the Western Ghats. It is bounded by Maharashtra to the north and Karnataka to the east and south, with the Arabian Sea forming its western coast. It is India's smallest state by area and the fourth-smallest by population. Goa has the highest GDP per capita among all Indian states, two and a half times that of the country. It was ranked the best-placed state by the Eleventh Finance Commission for its infrastructure and ranked on top for the best quality of life in India by the National Commission on Population based on the 12 Indicators.


Goa shack worker gets 10-year term 11 years after Scarlett death
The high court of Bombay at Goa on Friday sentenced Samson D'Souza to 10 years' rigorous imprisonment for the death of British teenager Scarlett Keeling at the Anjuna beach 11 years ago. While..
IndiaTimes - Published
HC convicts one in British teenager Scarlett Keeling death case
Bombay HC's Goa bench has convicted Samson D'Souza in the 2008 British teenager Scarlett Eden Keeling death case, overturning his acquittal by the trial court. Scarlett was found dead with bruises on..
IndiaTimes - Published
Goa Forward Party withdraws support to BJP-led government
The regional party decided to end its alliance with the BJP just a day after their ministers were asked to quit from Pramod Sawant-led Goa cabinet to adjust Congress rebels as ministers in the..
DNA - Published
Also reported by •IndiaTimes
BJP involved in 'conspiracy' to lure MLAs in Karnataka, Goa: Congress
IndiaTimes - Published
Goa cabinet expands, rebels in
Three Congress legislators take oath days after 10 party MLAs switch side to the BJP
DNA - Published
BJP is dismantling Manohar Parrikar's legacy in Goa says NDA ally
IndiaTimes - Published
Goa cabinet reshuffle: 3 Congress defectors take oath as ministers
CM Pramod Sawant, who took over the reins of the state following the demise of Manohar Parrikar, dropped ministers of BJP's ally - Goa Forward Party. Following deputy CM Vijai Sardesai's removal from..
IndiaTimes - Published
Goa cabinet rejig: 3 Congress defectors, Michael Lobo inducted in Pramod Sawant's cabinet
Congress defectors who joined BJP and inducted as ministers in Goa government are Filipe Nery Rodrigues, Jennifer Monserratte and Chandrakant Kavleka.
DNA - Published
Goa: Four ministers dropped, new ones including Michael Lobo to be sworn in at 3 PM
Deputy Speaker of Goa Assembly Michael Lobo Saturday resigned from the post, paving the way for his induction into the Pramod Sawant-led cabinet.
DNA - Published
You Might Like