Kinnaur district
District of Himachal Pradesh in India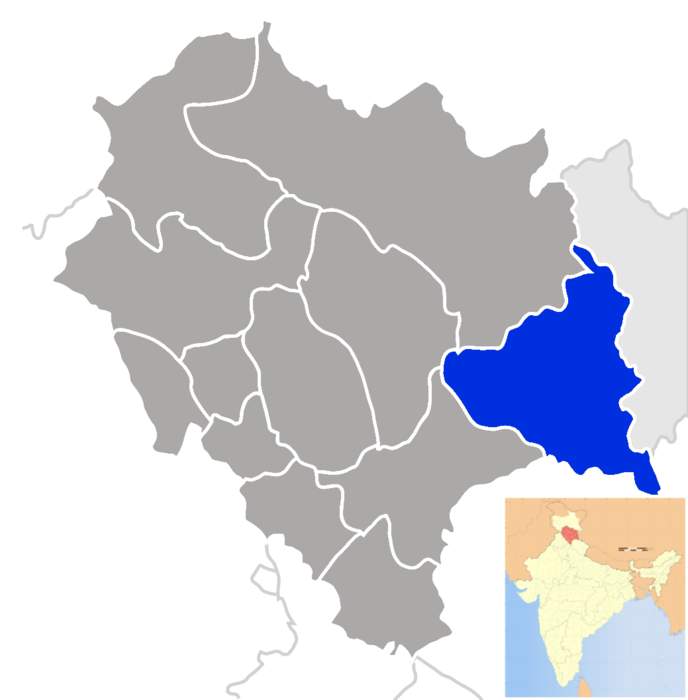 Kinnaur is one of the twelve administrative districts of the state of Himachal Pradesh in northern India. The district is divided into three administrative areas – Pooh, Kalpa, and Nichar (Bhabanagar), and has six tehsils. The administrative headquarters of the district is at Reckong Peo. The mountain peak of Kinnaur Kailash is found in this district. As of 2011, it is the second least populous district of Himachal Pradesh, after Lahaul and Spiti.


You Might Like
President Kovind expresses condolences over Kinnaur tragedy
IndiaTimes - Published
10 killed, 30 missing in second Himachal Pradesh landslide in a fortnight
A second major landslide in Himachal Pradesh in just over 15 days left 10 people dead, including a child and five women, and 13 others injured on Wednesday. The massive landslide between Chaura and..
IndiaTimes - Published
Kinnaur landslide: 10 dead, 14 rescued from debris
A large part of the mountain fell down in the Nigulseri area in the Kinnaur district and several vehicles including a bus were buried in the debris.
DNA - Published
Major landslide hits Himachal's Kinnaur; around 40 feared trapped in debris
A state roadways bus, which was on its way to Hardwar from Rekong Peo via Shimla and several other vehicles were buried in the landslide.
DNA - Published
Jaipur doctor dies in Himachal Pradesh landslide, minutes after tweeting photo
Dr Deepa Sharma, was among nine tourists who were killed in a landslide in Himachal Pradesh's Kinnaur district on Sunday
DNA - Published
Landslide kills 9 tourists in Himachal Pradesh
Nine tourists were killed and three others injured on Sunday afternoon after heavy boulders, set loose by a massive landslide, fell on their van near Basteri village in Kinnaur district of Himachal..
IndiaTimes - Published
Himachal Pradesh: Nine dead in landslide incident in Kinnaur, PM announces Rs 2 lakh ex gratia
Nine people died while three were injured in Kinnaur district after a bridge collapsed as a result of boulders rolling down a hill due to a landslide.
DNA - Published
Cold wave conditions prevail in most parts of north India
Kalpa in Kinnaur district recorded a low of minus 0.6 degrees Celsius, while Manali, Dalhousie and Kufri recorded a low of 1.2, 3.7 and 4.1 degrees Celsius, respectively. Hisar in Haryana braved the..
IndiaTimes - Published
ITBP launches 7-day trekking expedition to spread awareness on Covid-19 in Himachal Pradesh
The 19th Battalion of the Indo-Tibetan Border Police (ITBP) has launched a 7-day trekking expedition in Sarahan in Kinnaur district in the wake of the Covid-19 pandemic. According to the ITBP, the..
IndiaTimes - Published
Ladakh face-off: Alert in Himachal Pradesh's Lahaul-Spiti, Kinnaur border districts
All state intelligence units have also been alerted in this regard, State police spokesperson Khushal Sharma said.
DNA - Published
10-ft high glacier wall breaks and slides on to highway in Himachal Pradesh; video goes viral
A scary video of a glacier wall breaking off and sliding on the highway in Kinnaur, Himachal Pradesh is going viral on social media.
DNA - Published