United States Department of Defense
United States federal executive department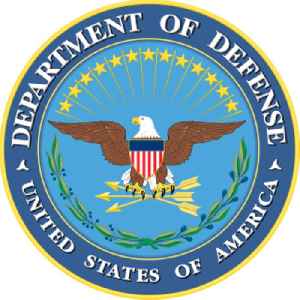 The United States Department of Defense is an executive branch department of the federal government charged with coordinating and supervising all agencies and functions of the government directly related to national security and the United States Armed Forces. The DoD is the largest employer in the world, with nearly 1.3 million active-duty service members as of 2016. More employees include over 826,000 National Guard and Reservists from the armed forces, and over 732,000 civilians bringing the total to over 2.8 million employees. Headquartered at the Pentagon in Arlington, Virginia, just outside Washington, D.C., the DoD's stated mission is to provide "the military forces needed to deter war and ensure our nation's security".


U.S. forces strike Syrian al Qaeda facility: Defense Department
U.S. forces struck an al Qaeda facility north of Idlib in Syria on Saturday in an attack aimed at the organization's leadership, U.S. Central Command, part of the Department of Defense, said.
Reuters - Published
U.S. Marine killed in Iraq identified
The Department of Defense (DOD) identified on Sunday the U.S. service member who died during an Iraqi Security Force (IFS) mission as Gunnery Sergeant Scott A. Koppenhafer, 35, of Mancos, Colorado.
Reuters - Published
Trump defends hotel use amid Air Force controversy
President Donald Trump dismisses Democrats' allegations of impropriety over the U.S. military's use of a Scottish airport near a Trump-owned golf course. Rough Cut (no reporter narration).
Credit: Reuters Studio Duration: 01:08Published
U.S. presses Cambodia over possible Chinese military presence
The U.S. Defense Department has asked Cambodia to explain why it suddenly turned down an offer to repair a naval base, saying the decision had raised speculation of possible plans for hosting China's..
Reuters - Published
Pentagon mulling military request to send 5,000 troops to Middle East: officials
The U.S. Department of Defense is considering a U.S. military request to send about 5,000 additional troops to the Middle East amid increasing tensions with Iran, two U.S. officials told Reuters on..
Reuters - Published
Pentagon confirms North Korea launched multiple ballistic missiles
The U.S. Defense Department said launches by North Korea earlier on Thursday consisted of multiple ballistic missiles that flew in excess of 300 km (185 miles) and landed in the ocean.
Reuters - Published
US didn't spy on India's ASAT test: Pentagon
"No US assets were spying on India. In fact, the US continues to expand its enduring partnership with India, resulting in enhanced interoperability and stronger economic ties," US Defense Department..
IndiaTimes - Published
Islamic State no longer holds any territory in Syria: White House
The U.S. Defense Department says the militant group Islamic State no longer holds any territory in Syria, a White House spokeswoman said on Friday.
Reuters - Published
Donald Trump administration asks US military to house 5,000 migrant children amid mounting border crisis
The Department of Health and Human Services (HHS), "requested DoD support to identify space to house up to 5,000 unaccompanied alien children on DoD installations, if needed, through 30 September,..
Firstpost - Published
You Might Like