NATO
Intergovernmental military alliance of Western states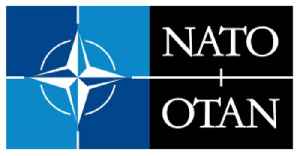 The North Atlantic Treaty Organization, also called the North Atlantic Alliance, is an intergovernmental military alliance between 30 North American and European countries. The organization implements the North Atlantic Treaty that was signed on 4 April 1949. NATO constitutes a system of collective defence whereby its independent member states agree to mutual defence in response to an attack by any external party. NATO's Headquarters are located in Evere, Brussels, Belgium, while the headquarters of Allied Command Operations is near Mons, Belgium.


Protesters hold anti-NATO rally in Greece

A few hundred protesters marched through central Athens on Tuesday, as NATO Secretary General Jens Stoltenberg met with Greek officials.View on euronews
Credit: euronews (in English) Duration: 00:50
Published
World leaders wish Trumps well

[NFA] Domestic and world leaders, rivals and allies alike, have lined up to send their good wishes to Donald and Melania Trump after they tested positive for COVID-19. Though some were a little less..
Credit: Reuters - Politics Duration: 01:37
Published
Rescue bid to herd whales out to sea before naval exercise

Wildlife volunteers have been attempting to herd a group of northern bottlenose whales out of a loch in northwest Scotland in hopes of luring them back into the open sea. The mission is urgent..
Credit: ODN Duration: 01:34
Published
Belarus abruptly swears in Lukashenko

Alexander Lukashenko was suddenly sworn in as Belarusian president on Wednesday, despite protests against his disputed election. The opposition immediately cried foul. Lucy Fielder reports.
Credit: Reuters - Politics Duration: 01:27
Published
Palestinians reject Israel-Bahrain deal

Palestinians in Gaza burned pictures of Israeli, U.S., Bahraini and United Arab Emirates leaders on Saturday in protest over the two Gulf countries' moves to normalize ties with Israel. Fred Katayama..
Credit: Reuters - Politics Duration: 01:17
Published
NATO chief: 'Proof beyond doubt' Navalny poisoned with Novichok

Alliance members demand Moscow reveal Novichok programme to global chemical weapons agency as West-Russia tension brews.
Credit: Al Jazeera STUDIO Duration: 01:49
Published
Navalny poisoning 'requires an international response', says NATO

"Russia has serious questions it must answer," NATO Secretary General Jens Stoltenberg said at a press conference.View on euronews
Credit: euronews (in English) Duration: 01:17
Published
President Lukashenko claims NATO has aggressive plans against Belarus

Belarus' authoritarian leader has accused NATO of aggressively poisitioning forces along its Polish and Lithuanian borders.
Credit: Euronews English Duration: 01:20
Published
You Might Like



Terror camps destroyed in 2019 Balakot airstrikes reactivated by Pakistan

Top JeM commander Juber, who was also involved in terror attacks in Afghanistan against NATO forces, has been asked to train the newly recruited terrorists in JeM camps of Balakot.




DNA - Published





Quad talks: Can 'Asian Nato' take on China in Indo-Pacific?




IndiaTimes - Published





NATO to investigate Mediterranean incident between French, Turkish warships

NATO will investigate French accusations that Turkey's navy failed to respond to an allied call for inspection this month in the Mediterranean, the alliance chief said on Thursday, an incident Paris..




Reuters - Published




French claim that warship harassed by Turkish navy untrue: Turkish military official

A senior Turkish military official said on Wednesday it was "completely untrue" that the Turkish navy had harassed a French warship on a NATO mission, denying an assertion by a French defence ministry..




Reuters - Published





France accuses Turkey of hostile acts to stop enforcement of Libya arms embargo

France accused Turkey's navy on Wednesday of acting in a "hostile and aggressive" manner towards its NATO allies to prevent them from enforcing a United Nations arms embargo on Libya.




Reuters - Published





Turkey still blocking defence plan for Poland, Baltics, NATO envoys say

Turkey continues to block a NATO defence plan for Poland and Baltic states despite a deal last year between Turkey's president and allied leaders, three allied diplomats and a French defence official..




Reuters - Published




NATO must deal with, not ignore Turkish problem: French official

NATO must not bury its head in the sand with regard to Turkey's recent behaviour towards its allies, a French defence ministry official said on Wednesday, and accused the Turkish navy of harassing a..




Reuters - Published





Turkey accuses France of exacerbating Libya crisis

Turkey angrily accused France on Tuesday of exacerbating the crisis in Libya and violating U.N. and NATO decisions by supporting the forces of Khalifa Haftar against the internationally recognised..




Reuters - Published





Turkey slams French criticism of its actions in Libya

Turkey on Tuesday slammed French criticism of its role in Libya, saying the comments showed the "dark and inexplicable" policy by France towards Libya, and accused its NATO ally of exacerbating the..




Reuters - Published





No details yet on Trump's Germany pullout, NATO chief says

NATO is seeking details on U.S. President Donald Trump's decision to cut U.S. troops numbers in Germany, NATO Secretary-General Jens Stoltenberg said on Tuesday, after the proposed reduction caught..




Reuters - Published





Trump says U.S. to pull some troops from Germany over NATO spending feud

President Donald Trump said on Monday he would cut the number of U.S. troops in Germany to 25,000, faulting the close U.S. ally for failing to meet NATO's defense spending target and accusing it of..




Reuters - Published




France wants talks about 'aggressive' Turkish role in Libya

France wants talks with NATO allies to discuss Turkey's increasingly "aggressive" role in Libya, a presidential official said on Monday, and the foreign ministry accused Ankara of thwarting truce..




Reuters - Published




Denmark agrees to send more troops to Iraq's NATO training mission

Denmark will send up to 285 military personnel to NATO's non-combat training operation in Iraq as it takes over leadership of the mission training Iraqi security forces from Canada by the end of 2020,..




Reuters - Published





Trump troop pullout would still leave hefty U.S. footprint in Europe

U.S. President Donald Trump's reported plan to remove 9,500 troops from Germany is the latest move to rattle his NATO allies but, even if they are pulled out, America's military footprint in Europe..




Reuters - Published





Germany has no confirmation of U.S. troop withdrawal, values them

The German government said on Monday it had not had official confirmation from Washington of any decision by U.S. President Donald Trump to withdraw thousands of troops from Germany, but stressed that..




Reuters - Published





Exclusive: U.S. troop strength in Afghanistan down to close to 8,600 ahead of schedule - sources

U.S. troop strength in Afghanistan is down to nearly 8,600, well ahead of a schedule agreed with Taliban militants in late February, in part because of concerns about the spread of the coronavirus,..




Reuters - Published

Also reported by •Reuters India


Exclusive: U.S. ahead of schedule in cutting Afghanistan troop strength - sources

U.S. troop strength in Afghanistan is down to nearly 8,600, well ahead of a schedule agreed with Taliban militants in late February, in part because of concerns about the spread of the coronavirus,..




Reuters - Published

Also reported by •Reuters India


European NATO allies voice concern over U.S. plan to quit Open Skies

European members of NATO told the United States on Friday they were uneasy about its plan to withdraw from the 35-nation Open Skies treaty that allows unarmed surveillance flights over member..




Reuters - Published





NATO to discuss Open Skies treaty after U.S. announces withdrawal

NATO envoys will discuss the future of the Open Skies treaty on Friday after the United States announced it would quit the 35-nation pact that allows unarmed surveillance flights over member countries,..




Reuters - Published





Russia says U.S. withdrawal from Open Skies treaty will affect all members: RIA

The U.S. withdrawal from the Open Skies treaty will affect the interests of all of its participants, who are also members of NATO, RIA state news agency quoted Russian Deputy Foreign Minister Alexander..




Reuters - Published





Trump envoy accuses Germany of undermining NATO's nuclear deterrent

The U.S. ambassador in Berlin has accused Germany of undermining NATO's nuclear deterrent, taking aim at Chancellor Angela Merkel's junior coalition partners after some of their leaders called for..




Reuters - Published





Canadian military helicopter crashes in Mediterranean: NATO

A Canadian military helicopter crashed in the Mediterranean off the coast of Greece on Wednesday, prompting a search and rescue mission, NATO said in a statement on Thursday, after Canada had confirmed..




Reuters - Published





Canadian helicopter engaged in NATO exercises missing off Greek coast

A Canadian helicopter engaged in North Atlantic Treaty Organization exercises off the coast of Greece disappeared and search-and-rescue efforts were under way, the Canadian Armed Forces said on..




Reuters - Published





Turkey flies medical aid to coronavirus-stricken U.S.

A Turkish military plane carrying medical supplies and protective equipment was heading for the United States on Tuesday to deliver aid to its NATO ally battling the coronavirus outbreak.




Reuters - Published





NATO calls on Taliban to reduce violence, seek peace: statement

The U.S.-led NATO alliance called on Friday for Afghanistan's Taliban militants to cut violence levels and join peace talks, saying prisoner releases should also be speeded up.




Reuters - Published





Turkey repeats working group offer to U.S. to solve row over Russian defense purchase

Turkey on Tuesday repeated an offer to the United States to establish a technical working group including NATO to help solve a dispute over Ankara's purchase of Russian missile defenses that angered..




Reuters - Published





NATO mission in Kosovo reports first COVID-19 case

A member of the NATO-led peacekeeping mission in Kosovo has tested positive with the new coronavirus, the mission said in a statement on Friday, adding that it would not have any impact on its work.




Reuters - Published





Rockets hit U.S. air base in Afghanistan; no casualties

Five rockets hit a major U.S. air base in Afghanistan on Thursday but there were no casualties, Afghanistan's NATO-led force said, in an attack claimed by the Islamic State militant group.




Reuters - Published





NATO welcomes North Macedonia as 30th ally

NATO foreign ministers welcomed North Macedonia as the alliance's newest member on Thursday, ending a long process that included a change to the country's name.




Reuters - Published





Economic shock of coronavirus casts pall on NATO spending goals

The economic shock of the coronavirus pandemic is likely to undermine NATO defence targets cherished by U.S. President Donald Trump, diplomats and experts say, as governments move closer to spending..




Reuters - Published





Spain asks NATO for coronavirus testing kits, ventilators, protective gear

The Spanish army has asked its NATO partners for coronavirus testing kits, ventilators and protective gear as part of the alliance's international assistance arrangements, Spanish armed forces chief..




Reuters - Published





India, Nepal lock down to stave off coronavirus, NATO troops in Afghanistan infected

Authorities enforced lockdowns across most of India, Nepal and parts of Pakistan on Tuesday to halt the spread of coronavirus in one of the world's most densely populated regions, as four NATO..




Reuters - Published





Four NATO service members arriving in Afghanistan test positive for coronavirus

Four NATO service members in Afghanistan tested positive for coronavirus shortly after entering the country, the first confirmed cases in the mission, NATO said in a statement on Tuesday.




Reuters - Published





NATO scales down exercises due to coronavirus

NATO is scaling down military exercises in Europe to curb the spread of the coronavirus, but alliance missions are continuing, including the drawdown of the U.S.-led force in Afghanistan following a..




Reuters - Published





U.S. says in talks with NATO allies to provide Turkey military aid

The U.S. is discussing with its NATO allies what they can offer Turkey in terms of military assistance in Idlib and discussing measures that may be taken if Russia and the Syrian government breaks a..




Reuters - Published





Erdogan to seek more EU help for refugees stuck in Turkey

Turkish President Tayyip Erdogan will seek European financial, political and military support in talks on Monday with EU and NATO leaders but will be told he must first stop encouraging migrants to..




Reuters - Published





U.S. to withdraw troops from Afghanistan in 14 months if Taliban conditions met

The United States and NATO would withdraw all troops in Afghanistan within 14 months if the Taliban upheld its commitments, according to a joint statement released by the U.S. and Afghan governments on..




Reuters - Published





NATO calls on Russia, Syria to halt Idlib offensive

NATO's secretary-general called on Russia and Syria on Friday to halt the offensive in Idlib and said, after a meeting of the alliance's ambassadors, that NATO stood in solidarity with Turkey.




Reuters - Published





NATO envoys to meet to discuss Syria at Turkey's request

NATO ambassadors will meet in Brussels at Turkey's request on Friday to hold consultations about developments in Syria, the alliance said after the killing of 33 Turkish soldiers in a Syrian air strike..




Reuters - Published




U.S. says it stands by Turkey after attack on Turkish soldiers in Syria

The United States is very concerned about a reported attack on Turkish soldiers in Syria's Idlib region and it stands by its NATO ally Turkey, the U.S. State Department said on Thursday.




Reuters - Published





Climate activist Thunberg heads growing field of Nobel Peace Prize candidates

Teenage climate activist Greta Thunberg, pro-democracy campaigners in Hong Kong and the NATO military alliance are among those tipped for the 2020 Nobel Peace Prize, following nominations by..




Reuters - Published





NATO to expand Iraq training mission in response to Trump

NATO defense ministers agreed on Wednesday to expand the Western alliance's training mission in Iraq, NATO Secretary-General Jens Stoltenberg said, responding to a demand by U.S. President Donald Trump..




Reuters - Published




NATO agrees to expand Iraq training mission, Stoltenberg says

NATO defense ministers agreed on Wednesday to expand the Western alliance's training mission in Iraq, NATO Secretary-General Jens Stoltenberg said, responding to a demand by U.S. President Donald Trump..




Reuters - Published





NATO's image worsens sharply in France, United States, study shows

NATO's public image in the United States and France worsened sharply last year, according to a Pew Research Center study, after U.S. President Donald Trump and French President Emmanuel Macron..




Reuters - Published





North Macedonia hopes for NATO accession ratification in March

North Macedonia's President Stevo Pendarovski said on Tuesday that he expects the procedure of ratification country's membership in North Atlantic Treaty organization to be completed next month.




Reuters - Published