Birmingham
City in West Midlands, England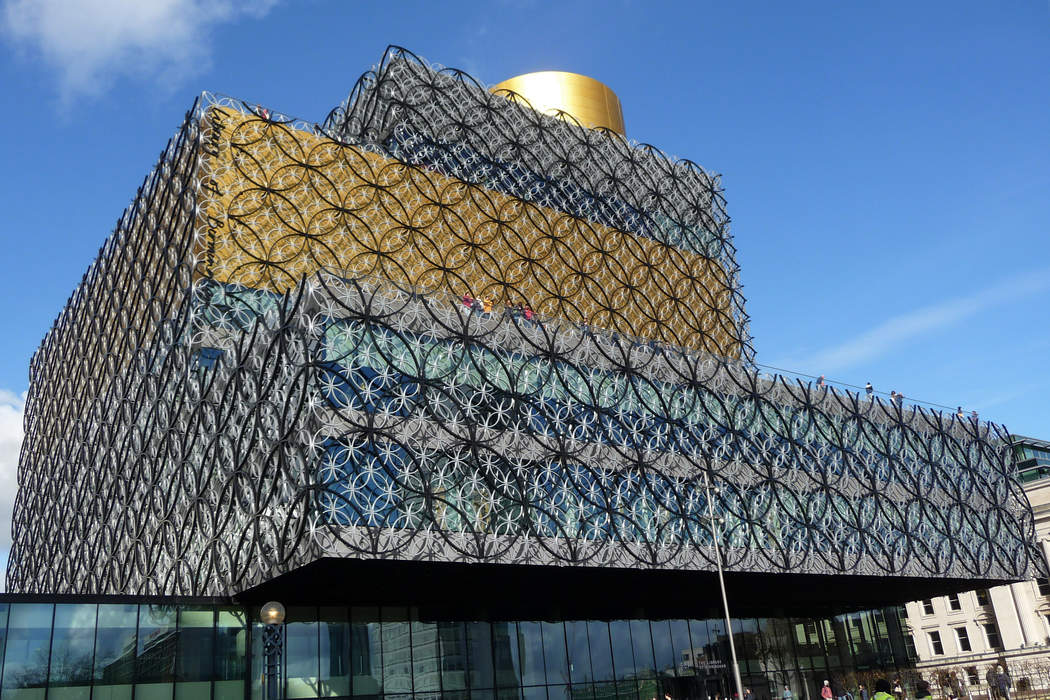 Birmingham is a city and metropolitan borough in the metropolitan county of West Midlands in England. It is the second-largest city in Britain – commonly referred to as the second city of the United Kingdom – with a population of 1.145 million in the city proper. Birmingham borders the Black Country to its west and together with its city of Wolverhampton and towns including Dudley and Solihull to the south-east, forms the West Midlands conurbation. The wider metropolitan area has a population of 4.3 million, making it the largest outside of London.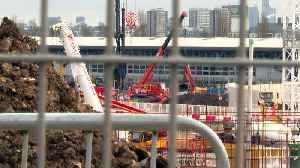 Rishi Sunak scraps the HS2 line to Manchester

The Prime Minister put an end to weeks of speculation after he confirmed the high-speed train line connecting Birmingham to Manchester would be axed. The Prime Minister told his party's conference,..
Credit: ODN Duration: 01:37
Published
You Might Like



Three police officers injured after clashes involving fans of Polish team outside Villa match

Three police officers have been injured following disorder outside Aston Villa's ground in Birmingham ahead of a Europa Conference League match.




Sky News - Published




Rooney ends waits for Blues win with Owls victory

Wayne Rooney wins his first game as Birmingham boss at the sixth attempt thanks to substitute Jordan James' winner against the Championship's bottom side Sheffield Wednesday.




BBC Sport - Published





Businesses forced to rely on foreign workers as UK remains divided on record-high migration

In Birmingham's famous Balti triangle, skilled chefs from Pakistan prepare curry at Al Faisals restaurant.




Sky News - Published





Police name teenager found dead five days after another boy, 16, fatally shot

A teenager whose body was found near the scene of the fatal shooting of another boy in Birmingham has been named as 17-year-old Jaydon Beckford.




Sky News - Published





Man sleeping in underpass set alight and suffers potentially life-changing injuries

A man believed to be sleeping rough in an underpass in Birmingham has suffered potentially life-changing injuries to his face and hands after being set on fire.




Sky News - Published





'Top draw tennis' - Boulter puts GB ahead in BJK Cup

Watch the best shots as Katie Boulter beats Sweden's Kajsa Rinaldo Persson 6-1 7-6 (7-5) to put Great Britain 2-1 ahead in the Billie Jean King Cup play-offs in Birmingham.




BBC Sport - Published





GB win four medals on day three in Birmingham

Great Britain win three individual tumbling medals and one team bronze on day three of the Trampoline, Tumbling and DMT World Championships in Birmingham.




BBC Sport - Published





Bellingham nets as Rooney's Birmingham lose again

Birmingham old boy Jobe Bellingham hits the first of Sunderland's three goals as Wayne Rooney's Blues suffer a fourth loss in five games.




BBC Sport - Published





GB win two team golds in Birmingham

Great Britain win women's double-mini trampoline team gold for the first time at the Trampolining and Tumbling World Championships.




BBC Sport - Published





'I can't think of a better day to march for ceasefire, than Armistice Day'

"As humans we can't stand for this," says Isa Ahmed from Birmingham. "It's against human rights. It's against international law."




Sky News - Published





Championship: Six games, Rooney's first home match as Birmingham boss

Follow live scores and text updates as Birmingham City host Hull City, plus five more games in the Championship.




BBC Sport - Published





Birmingham wage rumours 'a load of rubbish' - Rooney

Wayne Rooney calls rumours of his reported salary "a load of rubbish" as he prepares for his first game as Birmingham boss.




BBC Sport - Published





Birmingham part company with head coach Eustace

Birmingham City part company with head coach John Eustace after 15 months in charge, and with Blues sixth in the Championship.




BBC Sport - Published





HS2 will go to Manchester - but from Birmingham it will run on existing tracks

HS2 will start at Euston rather than Old Oak Common - but between Birmingham and Manchester it will not be high speed, Sky News understands.




Sky News - Published





Osmajic winner keeps Preston top of Championship

Championship leaders Preston come from behind to continue their unbeaten start to the campaign with a 2-1 win over Birmingham.




BBC Sport - Published





'I almost lost my Commonwealth bronze at the dancing'

Scotland's Commonwealth Games squash bronze medallist Rory Stewart on Birmingham celebrations and how Covid revived his career.




BBC Sport - Published





Birmingham sign Man Utd forward Fuso

Birmingham City sign Brazil forward Ivana Fuso from Manchester United on transfer deadline day for a club record fee.




BBC Sport - Published





Woman says she was 'strip-searched and left in police cell for 16 hours without clothing'

"They were like savages," says Sinead Foley, 37, who was strip searched by police in Birmingham in November last year.




Sky News - Published





Williams' Birmingham run ended by Ostapenko

Venus Williams' short but unexpected run at the Birmingham Classic comes to an end with defeat by second seed Jelena Ostapenko in a three-set thriller.




BBC Sport - Published





Cardiff, Newport, Swansea & Wrexham learn fixtures

Wrexham host MK Dons on EFL return, as Newport visit Accrington, Cardiff travel to Leeds United and Swansea host Birmingham to start 2023-24.




BBC Sport - Published





GB's Dart reaches Birmingham quarter-finals

Britain's Harriet Dart reaches a second successive quarter-final as she continues her Wimbledon preparations at the Birmingham Classic.




BBC Sport - Published




British number one Boulter loses Birmingham opener

British number one Katie Boulter suffers a first-round defeat at the Birmingham Classic, two days after winning her first WTA Tour title.




BBC Sport - Published





Amritpal Singh's handler based in UK passes away

Avtar Singh Khanda, a leading exponent of Khalistan who groomed Amritpal Singh to lead the attempt to revive secessionism and the mastermind of the March vandalisation of the Indian High Commission in..




IndiaTimes - Published





Captain Deeney among six released by Birmingham

Birmingham City captain Troy Deeney heads a list of six first-team players leaving the Championship club at the end of their contracts.




BBC Sport - Published





Watch: British Kabaddi League in Birmingham

Watch live coverage of day two of the Birmingham circuit of the British Kabaddi League.




BBC Sport - Published




Edwards and Mousasi weigh in before Bellator 296

Watch the Bellator 296 weigh-in as Birmingham's Fabian Edwards goes head-to-head with the Netherlands' Gegard Mousasi.




BBC Sport - Published





Surrey pacemen on top against faltering Bears

Kemar Roach takes three wickets as Surrey have the better of a rain-hit day against Warwickshire in Birmingham.




BBC Sport - Published





The late-night league inspired by Ramadan

During Ramadan, the area of Saltley in east Birmingham plays host to a league with a difference, with games kicking off at midnight after Muslim players have broken their fast - Football Focus joins..




BBC Sport - Published





Birmingham owners move closer to selling club

Birmingham City's owners say they have entered a period of exclusive negotiations to sell the club.




BBC Sport - Published





Girl, 15, dies after being hit by a bus in Birmingham

A 15-year-old girl has died after being hit by a bus in Birmingham.




Sky News - Published





'Remarkable' Shaw comparable to Haaland - Taylor

Five talking points before the weekend's Women's FA Cup quarter-finals, as Aston Villa host Manchester City while Lewes and Birmingham eye upsets




BBC Sport - Published





Watch: All England Open Badminton Championships - semi-finals

Watch the semi-finals of the All England Open Badminton Championships from Utilita Arena, Birmingham.




BBC Sport - Published




'Utterly bizarre!' Hat-wearing Dendy wins long jump

America's Marquis Dendy, wearing a hat and balaclava, wins the men's long jump as the World Indoor Tour Final, Birmingham.




BBC Sport - Published





Muir cruises to 1000m victory in Birmingham

Watch Laura Muir cruise to victory in the women's 1000m at the World Indoor Tour Final, Birmingham.




BBC Sport - Published





'Relaxed' Asher-Smith storms to 60m win

Dina Asher-Smith storms to victory in the women's 60m at the World Indoor Tour Final, Birmingham.




BBC Sport - Published





Watch: Athletics 2023 - UK Indoor Championships day two

Watch day two of the UK Indoor Championships in the Utilita Arena, Birmingham, with finals including the men's and women's 200m.




BBC Sport - Published





Prescod cruises through to take GB 60m title

Watch as Reece Prescod beats reigning champion Adam Thomas, to take the men's 60m British title at the UK Indoor Athletics Championships, Birmingham.




BBC Sport - Published





Watch: Athletics 2023 - Women's 60m heats under way

Watch as Daryll Neita and Reece Prescod compete in the UK Indoor Championships in the Utilita Arena, Birmingham




BBC Sport - Published





Hannibal stars as Birmingham beat Baggies in derby

On-loan Hannibal Mejbri scores one and makes the other as Birmingham City win the West Midlands derby against West Bromwich Albion.




BBC Sport - Published





Swans boss Martin 'has never felt so low'

Russell Martin says he has "never felt so low," as Swansea City boss as his side are beaten 4-3 by Birmingham.




BBC Sport - Published





Birmingham come from behind to win at Forest Green

Birmingham City come from behind to beat Forest Green and earn an FA Cup fourth-round trip to Blackburn.




BBC Sport - Published





Forest Green take FA Cup lead with Stevenson stunner

League One Forest Green take the lead against Birmingham with a brilliant goal from Ben Stevenson in the FA Cup third round.




BBC Sport - Published





Family of Cody Fisher say they have been left 'broken' after footballer was killed on Boxing Day

The mother of a 23-year-old footballer stabbed to death in a Birmingham nightclub has told Sky News her "life sentence" started on Boxing Day, the day her son was killed.




Sky News - Published





Third man arrested on suspicion of murder after footballer was stabbed to death in Birmingham nightclub

A third man has been arrested on suspicion of murder after footballer Cody Fisher was stabbed to death in a Birmingham nightclub on Boxing Day, West Midlands Police has said.




Sky News - Published





Two men arrested over death of footballer in Birmingham nightclub

Two men have been arrested on suspicion of murder over the stabbing death of footballer Cody Fisher in a Birmingham nightclub.




Sky News - Published





Man stabbed on Birmingham club dancefloor named as footballer Cody Fisher

The 23-year-old man stabbed to death on the dancefloor of a Birmingham nightclub has been named as footballer Cody Fisher.




Sky News - Published





Man stabbed to death on dancefloor of Birmingham nightclub - police launch murder investigation

A 23-year-old man has died after being stabbed on the dancefloor in a nightclub in Birmingham.




Sky News - Published





Birmingham to host 2026 European Championships

Birmingham is chosen to host the European Athletics Championships in 2026 and the event will take place at the Alexander Stadium.




BBC Sport - Published





Championship: In-form Birmingham host Sunderland

Follow live text commentary of Birmingham v Sunderland in the Championship.




BBC Sport - Published





These parts of the UK are most likely to struggle with access to affordable food - does your area feature?

People living in areas of Birmingham and Liverpool are most likely to struggle with access to affordable food, according to new research.




Sky News - Published