Carrie Lam
Chief Executive of Hong Kong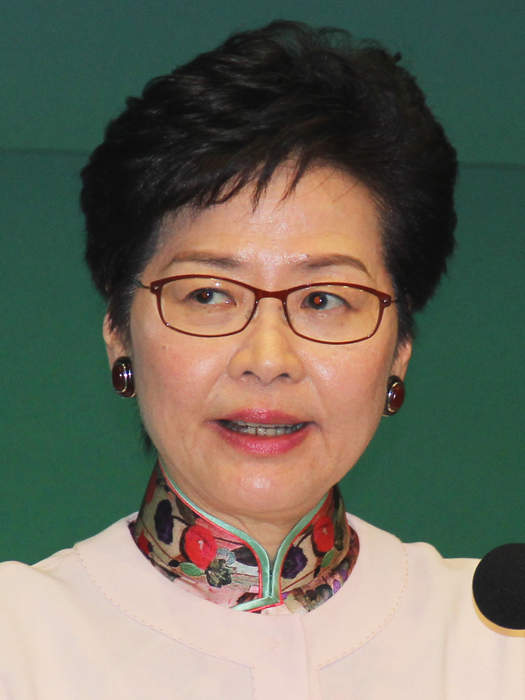 Carrie Lam Cheng Yuet-ngor is a Hong Kong politician serving as the fourth and current Chief Executive of Hong Kong since 2017 and Chairperson of the Committee for Safeguarding National Security since 2020. She served as Chief Secretary for Administration from 2012 to 2017 and Secretary for Development from 2007 to 2012.


HK leader defends proposed privacy law changes

Hong Kong leader Carrie Lam said on Tuesday that proposed changes to the city's privacy law will only target illegal "doxxing" behaviour, referring to the practice of the sharing of people's personal..
Credit: Reuters - Politics Duration: 02:05
Published
The rise and fall of Hong Kong's Apple Daily

Hong Kong tabloid Apple Daily has increasingly been under the scrutiny of the authorities since the arrest last August of owner Jimmy Lai. Megan Revell reports.
Credit: Reuters - Politics Duration: 02:31
Published
You Might Like



Hong Kong leader says opponents of security law are "enemy of the people"

Hong Kong leader Carrie Lam on Tuesday urged opponents of Beijing's plan to impose national security legislation in the financial hub to stop "smearing" the effort, saying those who did were "the enemy..




Reuters - Published




Hong Kong government considers further relaxation of coronavirus restrictions

Hong Kong is moving towards a further relaxation of social gathering restrictions related to the coronavirus, Chief Executive Carrie Lam said before a cabinet meeting on Tuesday.




Reuters - Published





Hong Kong cannot afford more protest 'chaos', says leader

Hong Kong leader Carrie Lam warned on Tuesday that the Chinese-ruled city cannot afford further "chaos" as activists marked a year of pro-democracy rallies with lunchtime protests in several shopping..




Reuters - Published





Hong Kong leader warns protesters that city cannot afford more 'chaos'

Hong Kong leader Carrie Lam warned on Tuesday the city could not afford further "chaos" as activists marked a year of sustained pro-democracy rallies with lunchtime protests in several shopping malls.




Reuters - Published

Also reported by •Reuters India


Hong Kong leader says Beijing will not back down on new security law

Hong Kong leader Carrie Lam said on Wednesday the central government will not back down on plans for national security legislation for the financial hub, even as Britain stepped up criticism of the..




Reuters - Published





Hong Kong leader calls out 'double standards' on national security, points to U.S.

Hong Kong leader Carrie Lam accused foreign governments of "double standards" in their reaction to Beijing's plans to impose national security laws on the city, pointing to anti-police brutality..




Reuters - Published

Also reported by •Reuters India


Hong Kong leader says security law will not hurt freedom amid global alarm

Hong Kong leader Carrie Lam said on Tuesday Beijing's proposed national security law for the city, which has raised alarm in the global financial centre and abroad, would not trample on its cherished..




Reuters India - Published

Also reported by •Reuters


Carrie Lam says security laws will not affect Hong Kong's rights and freedoms

Hong Kong leader Carrie Lam on Tuesday added to a raft of attempts by local and Beijing officials to provide reassurance that proposed national security laws would not trample on the city's rights and..




Reuters India - Published





Hong Kong leader says national security legislation to improve business confidence: Xinhua

Hong Kong leader Carrie Lam said late on Friday the Chinese proposal to impose national security laws on Hong Kong will improve business confidence in the city and will not damage the interests of..




Reuters - Published





Hong Kong leader expects pro-democracy protests to continue

Hong Kong leader Carrie Lam said on Friday she did not expect pro-democracy protests that have been taking place since June last year to end, even as the central government in Beijing announced plans..




Reuters - Published





Hong Kong government will accept police watchdog recommendations, says Lam

Hong Kong leader Carrie Lam said on Friday her government will accept the recommendations made by the police watchdog in its review of the force's handling of often violent pro-democracy protests since..




Reuters - Published





Ignoring social distancing, protesters mock Hong Kong leader Lam on her birthday

Hundreds of protesters gathered in shopping malls across Hong Kong on Wednesday, flouting coronavirus-related social distancing rules to mock unpopular Chief Executive Carrie Lam on her birthday.




Reuters India - Published

Also reported by •Reuters


Hong Kong civil servants to return to work as lockdown eases

Hong Kong leader Carrie Lam said on Tuesday most civil servants will gradually return to work from May 4, although the government had not yet decided whether to ease travel and social distancing..




Reuters - Published





Hong Kong leader says reshuffle aimed at economic recovery after coronavirus

Hong Kong leader Carrie Lam said on Wednesday the replacement of several ministers was aimed at reviving the coronavirus-hit economy and was unrelated to recent remarks by institutions in mainladn..




Reuters - Published





Hong Kong extends restrictions to preserve success of coronavirus efforts

Hong Kong's government will extend restrictions aimed at tackling the coronavirus for another 14 days to preserve the city's success in keeping the number of cases down, Chief Executive Carrie Lam said..




Reuters - Published





Hong Kong to extend coronavirus-related restrictions by 14 days

Hong Kong's government will extend social restrictions aimed at tackling the coronavirus for another 14 days, the Chine-ruled city's leader Carrie Lam said on Tuesday.




Reuters - Published





Hong Kong bans public gatherings of more than four people

Hong Kong leader Carrie Lam banned public gatherings of more than four people on Friday, hours after the Asian financial hub reported 65 new cases of coronavirus infections, its biggest daily increase..




Reuters - Published





Hong Kong to quarantine all people entering the city from Thursday

Hong Kong will quarantine for 14 days all people entering the Chinese-ruled city starting midnight on Thursday to prevent the spread of the coronavirus, the Asian financial hub's leader Carrie Lam said..




Reuters - Published





Hong Kong to bring back 533 stranded citizens from Wuhan

Hong Kong has hired four charter flights to bring back 533 citizens from around the central mainland China city of Wuhan, where the new coronavirus originated, Chief Executive Carrie Lam said on..




Reuters - Published





Hong Kong leader increases funds to tackle coronavirus

Hong Kong leader Carrie Lam on Tuesday increased a relief fund to tackle the impact of the coronavirus outbreak as she urged residents to accept the government's quarantine plans for returning..




Reuters - Published




Hong Kong to further tighten mainland China border

Hong Kong will close two cruise terminals and will put anyone coming from mainland China into compulsory quarantine for 14 days, its leader Carrie Lam said on Wednesday.




Reuters - Published





Hong Kong suspends 10 border checkpoints with mainland China in bid to curb virus

Hong Kong leader Carrie Lam announced on Monday the suspension of 10 border crossings out of 13 with mainland China in a bid to curb the spread of the new coronavirus, stopping short of calls for the..




Reuters - Published




Hong Kong leader rejects calls to close border despite virus fears

Hong Kong leader Carrie Lam rejected calls from a medical union on Friday to close the border with mainland China to contain the spread of the new coronavirus, and urged health staff not to go through..




Reuters - Published





Hong Kong suspends some rail, ferry links with China mainland to curb virus spread

Hong Kong leader Carrie Lam announced on Tuesday a suspension of high-speed rail and ferry links with mainland China as the global financial hub scrambles along with many countries to limit the spread..




Reuters - Published




Hong Kong to suspend high-speed rail service in bid to halt spread of coronavirus

Hong Kong leader Carrie Lam said on Tuesday the high-speed rail service between the city and mainland China would be suspended from Jan. 30, and all cross-border ferry services would also be suspended..




Reuters - Published





Hong Kong leader declares virus emergency, halts official visits to mainland China

Hong Kong leader Carrie Lam on Saturday declared a virus emergency in the Asian financial hub, announcing a package of measures to limit the city's links with mainland China.




Reuters - Published





Lam says Hong Kong has system in place to handle coronavirus

Hong Kong leader Carrie Lam told global elites in Davos on Thursday she is "cautiously confident" the city will get through the flu-like virus that threatens to inflict more pain on the protest-hit..




Reuters - Published





Hong Kong leader Lam insists to stay on to tackle crises

A confident Carrie Lam said on Wednesday that Hong Kong had several crises to manage, but insisted she was staying on as the Chinese-ruled city's leader, dismissing calls to step down.




Reuters - Published





Lam says government is forming independent committee to review Hong Kong situation

Hong Kong leader Carrie Lam said on Wednesday that the government was about to announce the formation of an independent committee to study the situation in the city, which has been rocked by seven..




Reuters - Published





Hong Kong leader Lam says her job to remain to deal with crises

Hong Kong leader Carrie Lam said on Wednesday that the city had several crises to manage and that it was her job to remain.




Reuters - Published





Hong Kong's Lam says city vigilant over coronavirus

Hong Kong leader Carrie Lam said on Wednesday that the government had been very vigilant over the coronavirus, adding that the rapid flow of people across the border made the city highly vulnerable to..




Reuters - Published





Hong Kong's Lam in Davos charm drive as protests persist

For Hong Kong leader Carrie Lam the World Economic Forum in Davos is a chance to convince global business and political leaders that the Asian financial hub is back on track.




Reuters - Published




'One country, two systems' can continue beyond 2047: Hong Kong leader

The principle that ensures Hong Kong enjoys freedoms unavailable in mainland China can continue beyond its 2047 expiry date as long as the city's youngsters do not destroy it with "temporary..




Reuters - Published





Hong Kong applauds its financial prowess amid protests

Hong Kong's chief executive Carrie Lam and top finance officials praised the Chinese-ruled city's resilience as a global financial hub on Monday amid more than six months of often violent pro-democracy..




Reuters - Published





Hong Kong leader says financial hub's strengths intact despite protests

Hong Kong Chief Executive Carrie Lam said on Monday the Chinese-ruled city's strengths as a global financial hub have not been undermined by months of pro-democracy protests.




Reuters - Published





Hong Kong leader vows to work closely with Beijing's new envoy

Hong Kong Chief Executive Carrie Lam said on Tuesday she would work closely with Beijing's top official in the Asian financial hub to bring it "back on the right path" after more than six months of..




Reuters - Published





Hong Kong leader says China to offer economic support to embattled city

Hong Kong leader Carrie Lam said on Monday she had briefed China's leader Xi Jinping on the city's protests, and said China would continue to support and offer favorable economic policies for the..




Reuters - Published





China's Xi vows support for Hong Kong leader during 'most difficult' time

Chinese President Xi Jinping met Hong Kong leader Carrie Lam in Beijing on Monday, saying he recognized her courage to govern the Asian financial hub in these "most difficult" times.




Reuters - Published





Chinese President Xi vows support for Hong Kong leader: media

Chinese President Xi Jinping met Hong Kong leader Carrie Lam in Beijing on Monday where he said he recognized her courage to govern the Asian financial hub in "exceptional times" and supported the..




Reuters - Published





Chinese Premier says Hong Kong not yet out of protest 'dilemma'

Chinese Premier Li Keqiang met with Hong Kong leader Carrie Lam in Beijing on Monday, saying the Asian financial hub was not yet out of the "dilemma" facing the city's economy after months of sometimes..




Reuters - Published