Cooch Behar district
District of West Bengal in India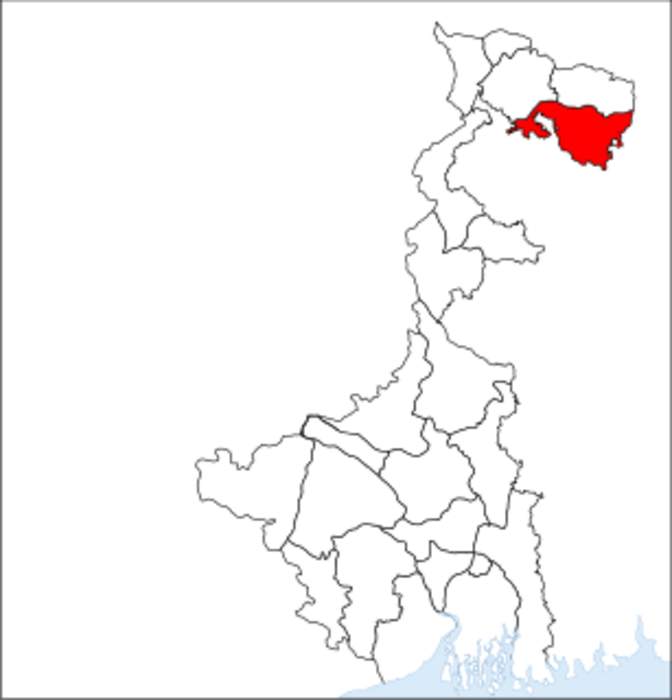 Cooch Behar district is a district of the state of West Bengal, India, as well as the district's namesake town. During the British Raj, the town of Cooch Behar was the seat of a princely state of Koch Bihar, ruled by the Koch dynasty.


You Might Like
Mamata Banerjee meets kin of Sitalkuchi dead, vows not to 'spare anyone'
Bengal CM Mamata Banerjee met the families of the five Sitalkuchi residents killed during polling in north Bengal's Cooch Behar. All five deceased were Rajbanshis, she said, alluding to BJP's criticism..
IndiaTimes - Published
Didi's instigation caused Cooch Behar firing: PM Modi
PM Narendra Modi iterated on Monday that Saturday's CISF firing at Sitalkuchi in north Bengal's Cooch Behar, which led to four deaths, would not have happened without CM Mamata Banerjee's alleged..
IndiaTimes - Published
It's genocide, says Didi; CM provoked it, counters Shah
West Bengal chief minister Mamata Banerjee has termed as "genocide" the incident in which four people died in firing by central forces at a polling booth in Sitalkuchi in the Cooch Behar district..
IndiaTimes - Published
4 killed as CISF opens fire after mob attack in Bengal
Five people were killed, four of them when a CISF unit that had been attacked opened fire on a mob, in Cooch Behar's Sitalkuchi on Saturday as Bengal's fourth round of polling turned out to be the..
IndiaTimes - Published
EC bans entry of politicians for 72 hours in violence-hit district of Bengal
The Election Commission on Saturday, in an unprecedented order, barred the entry of leaders of all political parties in the geographical limits of Cooch Behar district for the next 72 hours citing..
IndiaTimes - Published
Mamata asks for Union home minister's resignation over central forces firing killing 4 during polling
Chief minister Mamata Banerjee on Saturday sought Union home minister Amit Shah's resignation over firing by central forces at Sitalkuchi in Cooch Behar, killing four people. ​​At a rally in..
IndiaTimes - Published
CRPF harassing voters in Bengal at Amit Shah's behest: Mamata Banerjee
​​ Addressing a rally here in Cooch Behar district, she accused personnel of the central force of molesting women and beating people during the ongoing assembly elections. "They are obstructing..
IndiaTimes - Published
West Bengal: Villagers cut off bully with trench
Tired of being bullied by the unbridled son of a local leader, villagers of Balabhut area in Coochbehar found a novel way to put him in his place: They dug a deep trench around his house overnight,..
DNA - Published