Babri Masjid
Mosque in Ayodhya, India, destroyed in 1992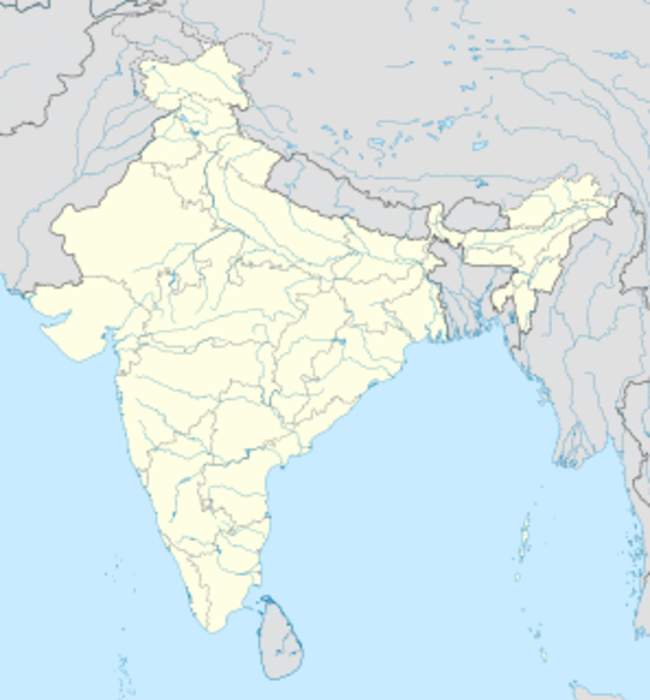 Babri Masjid was a mosque in Ayodhya, India, at a site believed by many Hindus to be the birthplace of Hindu deity Rama. It has been a focus of dispute between the Hindu and Muslim communities since the 18th century. According to the mosque's inscriptions, it was built in 1528–29 by general Mir Baqi, on the orders of the Mughal emperor Babur. The mosque was attacked and demolished by Hindu Kar Sevaks in 1992, which ignited communal violence across the Indian subcontinent.


Watch: Ayodhya bathes in glee, lights ahead of 'Deepotsav'

Preparations for the 'Deepotsav' is underway in Ayodhaya. The city bathed in lights, festivities and glee for the upcoming Diwali celebrations. Uttar Pradesh Tourism Department aims to beat their own..
Credit: ANI Duration: 01:37
Published
You Might Like



Babri: BJP leaders didn't conspire but lost control on December 6, claims new book




IndiaTimes - Published





SC refuses to extend security of retired judge who delivered verdict in Babri Masjid demolition case




IndiaTimes - Published





Those questioning our Hindutva were hiding with tail between legs during Babri demolition: Uddhav Thackeray




IndiaTimes - Published





AIMPLB will challenge in HC acquittal of all Babri accused

The All India Muslim Personal Law Board on Saturday issued a statement to say that it will challenge in the high court the special CBI court verdict acqutting all accused on the Babri Masjid demolition..




IndiaTimes - Published





Hindu academic makes first donation of Rs 21K for Ayodhya mosque

Meanwhile, all accused in the Babri Masjid demolition case acquitted by the Special CBI Court in Lucknow on September 30.




DNA - Published





MEA slams Pakistan over its Babri Masjid verdict remarks, says India a mature democracy where everyone follows rule of law




IndiaTimes - Published





CBI did not probe possibility of Pak intel agencies' role in Babri case: Court




IndiaTimes - Published





Centre sent advisory to all states & UTs to take precautionary steps to maintain communal peace prior to Babri verdict




IndiaTimes - Published





Cong demolished Babri, no other mosque will be touched: Katiyar




IndiaTimes - Published





Was it magic that brought down Babri, asks Owaisi




IndiaTimes - Published





Vindication of belief, says LK Advani after acquittal in Babri case

Acquitted of conspiracy charges in the 1992 Babri mosque demolition case, BJP veteran L K Advani on Wednesday welcomed the court verdict, saying the judgment vindicated his and his party's commitment..




IndiaTimes - Published





All accused in Babri case acquitted after CBI fails to produce evidence




IndiaTimes - Published





Babri case verdict: Vindication of truth and justice, says VHP




IndiaTimes - Published





Liberhan Commission had termed Babri demolition a result of 'great painstaking preparation and pre-planning'




IndiaTimes - Published





Babri verdict: Pawaiya says victory of 110cr Hindus, Chouhan says truth prevails




IndiaTimes - Published





'Moment of happiness for all of us': LK Advani after Babri verdict




IndiaTimes - Published





Urge Centre to file an appeal against acquittal: Cong's Randeep Singh Surjewala on Babri demolition case verdict

All 32 accused in the Babri Masjid demolition case have been acquitted by a special CBI court in Lucknow including LK Advani, Uma Bharti, Kalyan Singh and Murli Manohar Joshi. The acquitted leaders..




DNA - Published





Babri verdict: TMC comes out with a guarded response




IndiaTimes - Published





Babri Masjid demolition case verdict vindicates my beliefs: LK Advani

The BJP veteran further added, "I also feel blessed that this judgement has come in the footsteps of another landmark verdict of the Supreme Court given in November 2019, which paved the way for my..




DNA - Published

Also reported by •IndiaTimes


Babri demolition case: L K Advani, Murli Manohar Joshi among 32 accused acquitted




IndiaTimes - Published





'Black day' for Indian judiciary: Asaduddin Owaisi upset with CBI court verdict on Babri Masjid demolition case

All 32 accused in the Babri Masjid demolition case have been acquitted by a special CBI court in Lucknow including LK Advani, Uma Bharti, Kalyan Singh and Murli Manohar Joshi. The acquitted leaders..




DNA - Published





Special court verdict in Babri case runs counter to SC judgment, constitutional spirit: Congress




IndiaTimes - Published





RSS welcomes Babri case verdict, calls for harmony




IndiaTimes - Published





Rajnath Singh welcomes verdict in Babri Masjid demolition case

Speaking about the special CBI court's verdict to acquit all accused in the Babri case, Raut told reporters "the case in the special court lost its relevance after the supreme court's verdict on Ram..




IndiaTimes - Published





Babri case lost its relevance after 2019 SC verdict: Shiv Sena

Speaking about the special CBI court's verdict to acquit all accused in the Babri case, Raut told reporters "the case in the special court lost its relevance after the supreme court's verdict on Ram..




IndiaTimes - Published




Babri Masjid demolition case: Main litigant in Ayodhya land dispute welcomes CBI court's verdict




IndiaTimes - Published





CBI court acquits all 32 accused in Babri Masjid demolition case




IndiaTimes - Published




Satyamev Jayate, says Yogi Adityanath after Babri verdict




IndiaTimes - Published





Know all about the Babri Masjid demolition case Judge Surendra Kumar Yadav who pronounced the verdict

In the life of Special Judge Surendra Kumar Yadav, who heard this 28-year-old criminal case, it seems that Faizabad has been returning to him regularly.




DNA - Published





Jai Shri Ram: Advani on being acquitted from Babri demolition case




IndiaTimes - Published





Babri Masjid Demolition Case Verdict: LK Advani and others acquitted welcome judgement, term it as historic

All 32 accused in the Babri Masjid demolition case have been acquitted by a special CBI court including LK Advani, Uma Bharti, Kalyan Singh and Murli Manohar Joshi. The acquitted leaders have welcomed..




DNA - Published





Babri mosque demolition case: All acquitted, key points of verdict




IndiaTimes - Published





BREAKING: CBI acquits LK Advani, MM Joshi & others in Babri Masjid demolition case

The special CBI court pronounced its verdict on September 30 in the December 6, 1992 Babri demolition case in Ayodhya. All accused have been acquitted.




DNA - Published





Babri Demolition Case Verdict: All 32 accused acquitted including Advani, Joshi, Uma, Kalyan Singh

The special CBI court pronounced its verdict on September 30 in the December 6, 1992 Babri demolition case in Ayodhya. All accused have been acquitted including LK Advani, Uma Bharti, Kalyan Singh and..




DNA - Published





Babri demolition case: How many years can court sentence, if Advani, Joshi, Kalyan Singh, Uma Bharati found guilty

There are a total of 32 accused in the Ayodhya Babri demolition case, including BJP veteran LK Advani, Murali Manohar Joshi, former UP Chief Minister Kalyan Singh, former Union Minister Uma Bharti, and..




DNA - Published





Babri verdict: BJP leaders Advani, Joshi, Bharti unlikely to be present in court

BJP veterans LK Advani, MM Joshi, Uma Bharti and Kalyan Singh, all accused in the Babri mosque demolition case, are unlikely to be present in the trial court on Wednesday at the time of delivery of..




IndiaTimes - Published





High alert in UP ahead of Babri Masjid demolition verdict, these people unlikely to attend proceedings

The seventeen accused in the case also include Bal Thackeray, Ashok Singhal, Mahant Avaidyanath, Giriraj Kishore, and Vijayaraje Scindia who passed away during the trial.




DNA - Published





High alert in UP as court to rule on Babri demolition case today

Almost 28 years after the Babri Masjid was demolished in Ayodhya on December 6, 1992, a special court here will, on Wednesday, decide the fate of some of the big names of the Sangh Parivar accused of..




IndiaTimes - Published





'Will not seek bail, ready to hang if found guilty': Uma Bharti ahead of Babri demolition verdict




IndiaTimes - Published





Babri demolition verdict on September 30

A CBI court on Wednesday said it would pronounce judgment in the 1992 Babri Masjid demolition case on September 30. Special judge SK Yadav directed all the accused, including former deputy prime..




IndiaTimes - Published




Special CBI court to pronounce judgment in Babri Masjid demolition case on 30 September

Special CBI judge Surendra Kumar Yadav has directed all the 32 accused to remain present in the court on the day of the judgment.




DNA - Published





Ram Janmbhoomi-Babri dispute 'most fiercely-contested case in India's history': Ex-CJI Ranjan Gogoi

The Ram Janmbhoomi-Babri Masjid land dispute at Ayodhya was the "most fiercely-contested cases in India's legal history" in which every point was "hotly" debated and "passionately" argued by the..




IndiaTimes - Published





Babri Masjid demolition case: SC extends deadline till September 30 for verdict by CBI special court

The Supreme Court granted another month to a Lucknow court to pronounce its judgment in cases related to the demolition of Babri Masjid against senior BJP leaders including Lal Krishna Advani, Murali..




IndiaTimes - Published





Babri Masjid demolition case: SC grants Lucknow court another month to pronounce verdict

The Supreme Court granted another month to a Lucknow court to pronounce its judgment in cases related to the demolition of Babri Masjid against senior BJP leaders including Lal Krishna Advani, Murali..




IndiaTimes - Published





Trust to invite Yogi for inauguration event at masjid site

The Indo-Islamic Cultural Foundation, the trust constituted by Sunni Waqf Board for construction of an alternate mosque in Ayodhya in lieu of Babri Masjid, has decided to invite UP CM Yogi Adityanath..




IndiaTimes - Published





Ahead of bhoomi pujan, Ayodhya DM hands over five-acre plot for mosque

Ahead of 'bhoomi pujan' ceremony for Ram Temple, Ayodhya district magistrate Anuj Kumar Jha handed over the five-acre land mandated by the Supreme Court in lieu of Babri Masjid to Sunni Waqf Board..




IndiaTimes - Published





Babri demolition case: L K Advani deposes via video link




IndiaTimes - Published




SC refuses to entertain plea against home delivery of liquor in Pune, Nasik

The Babri mosque demolition trial is presently at the stage of recording of statements of 32 accused in the case under Section 313 of CrPC during which they get an opportunity to refute the prosecution..




IndiaTimes - Published





Babri mosque demolition trial: Murli Manohar Joshi likely to depose on Thursday, LK Advani on Friday




IndiaTimes - Published





Babri mosque demolition case: Advani to depose on July 24; MM Joshi on July 23




IndiaTimes - Published