Scotland
Country in north-west Europe, part of the United Kingdom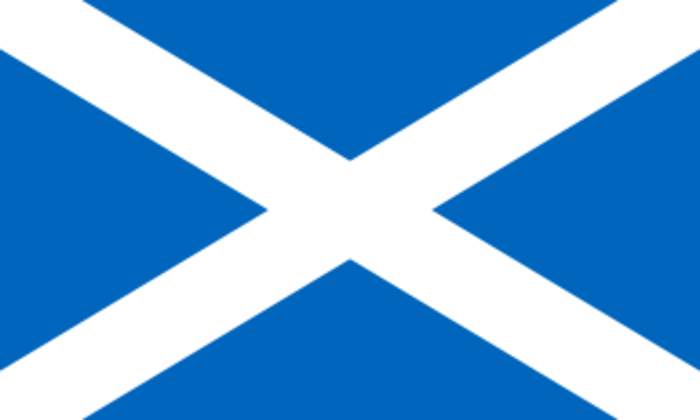 Scotland is a country that is part of the United Kingdom. Covering the northern third of the island of Great Britain, mainland Scotland has a 96-mile (154 km) border with England to the southeast and is otherwise surrounded by the Atlantic Ocean to the north and west, the North Sea to the northeast and the Irish Sea to the south. The country also contains more than 790 islands, principally in the archipelagos of the Hebrides and the Northern Isles. Most of the population, including the capital Edinburgh, is concentrated in the Central Belt – the plain between the Scottish Highlands and the Southern Uplands – in the Scottish Lowlands.


Shapps defends decision to ease isolation rules on August 16

Transport Secretary Grant Shapps has defended the government's decision to wait nine days longer than Wales for self-isolation rules to change. In England, self-isolation rules following a Covid-19..
Credit: ODN Duration: 00:32
Published
Rishi Sunak: 'Our plan for jobs is working'

Chancellor Rishi Sunak has insisted the government's post-pandemic plan for jobs, which he set out this time last year, is "working". During a visit to Scotland today he said: "A year ago, people..
Credit: ODN Duration: 00:53
Published
Kilted Charles meets beach-cleaning group in north of Scotland

A kilted Prince of Wales met volunteer beach cleaners as he began a visit to the north of Scotland.
Credit: PA - Press Association STUDIO Duration: 00:41
Published
England to scrap quarantine for fully jabbed EU and US visitors

Fully vaccinated travellers from the US and much of Europe will be able to enter England and Scotland without quarantining, starting next week.Transport Secretary Grant Shapps announced that people who..
Credit: PA - Press Association STUDIO Duration: 01:03
Published
Nicola Sturgeon urges 'careful and cautious' Covid travel

Scottish First Minister Nicola Sturgeon has said international travel must open up in a "careful and cautious way", as UK ministers discuss allowing quarantine-free travel for fully jabbed US and EU..
Credit: ODN Duration: 01:27
Published
Looking for a UK cycling holiday? Check out this 5-day route through England and Scotland

Filled with stunning beaches and dramatic castles, a trip up Northumberland's coast and into Scotland is the perfect UK cycling holiday.
Credit: euronews (in English) Duration: 03:16
Published
Sturgeon warned against 'pandering' to Indy Ref 'hardcore'

Cabinet Office Minister Michael Gove has said a second Scottish independence referendum remains off the government's agenda, insisting ministers are instead focusing on Covid and the economy. The..
Credit: ODN Duration: 01:12
Published
Endangered Amur tiger cubs take first steps outside in Scotland

Courtesy RZSSThree endangered Amur tiger cubs have been exploring their outside enclosure for the first time at their home in the Highlands.Following their first health check and vaccinations, the..
Credit: PA - Press Association STUDIO Duration: 00:47
Published
Bolts inspire artist Rebecca Thomson

22-year-old hockey fan Rebecca Thomson is an artist who was born in Scotland. Her favorite local team is the Fife Flyers- the oldest professional team in the United Kingdom.
Credit: ABC Action News Duration: 01:36
Published
Balearics to go amber and Croatia green in changes to coronavirus travel lists

Ibiza, Mallorca and Menorca will be added to the amber travel list due to a surge in coronavirus cases, a little over a fortnight after they went green.The change for those returning to England,..
Credit: PA - Press Association STUDIO Duration: 01:30
Published
Scotland to move to lowest level of Covid restrictions

Coronavirus restrictions are to ease in Scotland on Monday as Nicola Sturgeon confirmed the country will move to Level 0 of lockdown measures, with some changes to original plans.The First Minister..
Credit: PA - Press Association STUDIO Duration: 01:33
Published
Marcus Smith swaps Three Lions for the Lions

Credit: England RugbyMarcus Smith revealed he traded one golden ticket for another as his British and Irish Lions call-up left him unable to attend England's Euro 2020 final.Harlequins fly-half Smith..
Credit: PA - Press Association STUDIO Duration: 01:22
Published
PM's Covid approach 'an exception', says Sturgeon in plea for caution

The UK Government's approach to dropping coronavirus regulations "is something of an exception", Nicola Sturgeon said as she stressed she and her ministers will have to "think carefully about..
Credit: PA - Press Association STUDIO Duration: 01:21
Published
Stuart Hogg to seek advice from Alun Wyn Jones before leading Lions

Stuart Hogg will seek advice from Alun Wyn Jones ahead of Saturday's clash with the Sigma Lions after being named British and Irish Lions captain for the first fixture on South African soil.Jones was..
Credit: PA - Press Association STUDIO Duration: 01:20
Published
Queen and Princess Royal visit Edinburgh Climate Change Institute

The Queen and the Princess Royal have visited the Edinburgh Climate Change Institute to learn about its work. It was the monarch's final engagement as part of the traditional Royal Week visit to..
Credit: PA - Press Association STUDIO Duration: 00:50
Published
Rare white puffin spotted on remote island

A rare white puffin has been spotted on a remote island in the north of Scotland.The puffin was seen on Handa Island Wildlife Reserve off the coast of Sutherland by rangers from the Scottish Wildlife..
Credit: PA - Press Association STUDIO Duration: 00:43
Published
Queen receives Scotland's First Minister Nicola Sturgeon in Edinburgh

The Queen has met Scotland's First Minister, Nicola Sturgeon, during an audience at the Palace of Holyroodhouse in Edinburgh.The meeting at the Queen's official residence in Scotland took place..
Credit: PA - Press Association STUDIO Duration: 00:31
Published
William quenches his thirst during Irn Bru factory visit with Queen

The Duke of Cambridge joined his grandmother at an Irn Bru factory near Glasgow and officially opened the company's new process facility.The tour marked the Queen's first official visit in Scotland..
Credit: PA - Press Association STUDIO Duration: 00:59
Published
Sturgeon brands 'One Britain One Nation Day' 'ludicrous'

Nicola Sturgeon described the government's plan to celebrate 'One Britain One Nation Day' on Friday as "ludicrous". Speaking after meeting with EU citizens living in Scotland the first minister also..
Credit: ODN Duration: 01:07
Published
Disappointed Scotland fans: "We could have done better"

Disappointed Scotland fans have reacted to the team's crashing out of Euro 2020 after losing 3-1 to Croatia at Hampden Park on Tuesday night. Report by Buseld. Like us on Facebook at..
Credit: ODN Duration: 00:58
Published
Euro 2020 briefing: Scotland eliminated after Croatia defeat

All the latest statistics from the Euro 2020 tournament, after Scotland are knocked out after losing 3-1 to Croatia.
Credit: PA - Press Association STUDIO Duration: 01:06
Published
England top Group D and qualify for Euro 2020 knockout stage

Gareth Southgate is ready to take things up a gear after England sealed a Wembley return in the round of 16 by beating the Czech Republic to top their European Championship group.Having opened with a..
Credit: PA - Press Association STUDIO Duration: 01:45
Published
Scotland's Euro 2020 adventure ends with defeat to Croatia

Scotland's hopes of winning through to the knockout stages of a major tournament for the first time ended with a sobering 3-1 Euro 2020 defeat by Croatia at Hampden Park.The Scots, playing in their..
Credit: PA - Press Association STUDIO Duration: 01:00
Published
Croatia beat Scotland 3-1 to reach Euro 2021 last 16


Credit: FRANCE 24 English Duration: 02:22
Published
You Might Like



Infection rates rise across most of UK - but 'possible signs' of slowing in England

Infection rates have continued to rise across England, Wales and Northern Ireland - but dropped in Scotland, according to the latest estimates.




Sky News - Published





Drug-related deaths in Scotland expected to hit record levels for the seventh year in a row

Drug-related deaths in Scotland are expected to hit record levels for the seventh year in a row.




Sky News - Published





British and Irish Lions 2021: Injured prop Wyn Jones replaced by Rory Sutherland against South Africa

Injured British and Irish Lions prop Wyn Jones is ruled out of Saturday's first Test against South Africa, with Scotland's Rory Sutherland starting and Mako Vunipola of England added to the bench.




BBC Sport - Published





The Hundred: Abtaha Maqsood of Birmingham Phoenix and Scotland tells BBC Sport her story

Abtaha Maqsood tells BBC Sport her journey, from being the only female in her junior team to representing Birmingham Phoenix.




BBC Sport - Published





Pedro Martinez Losa: Scotland close to appointing Bordeaux manager

Pedro Martinez Losa is close to being appointed as Scotland Women head coach, BBC Scotland has learned.




BBC Sport - Published





Lockdown restrictions in Scotland to ease from Monday, Sturgeon says

Lockdown restrictions in Scotland will be eased from Monday, Nicola Sturgeon has said - but with certain conditions.




Sky News - Published





British and Irish Lions: Finn Russell's tour may be over admits Gatland

Scotland fly-half Finn Russell may be forced home from the British and Irish Lions tour of South Africa with an Achilles tear admits head coach Warren Gatland.




BBC Sport - Published





Diamond League Monaco: Laura Muir runs second fastest 800m by British woman

Great Britain's Laura Muir runs the second fastest 800m by a British woman to set a new Scottish record at the Monaco Diamond League with Jemma Reekie finishing in second place.




BBC Sport - Published





COVID infection rates rise across UK as England, Scotland and Wales hit four-month highs

Coronavirus infection rates have risen sharply across the UK - with England, Scotland and Wales all recording their highest in more than four months, according to latest estimates.




Sky News - Published





Declaration of Independence Copy Found in Attic Sells for $4.42 Million

One of the few copies of the Declaration of Independence, which was found in an attic in Scotland, has sold for a whopping $4,420,000! It's an incredible story ... a woman named Cathy Marsden who works..




TMZ.com - Published





Billy Gilmour: Norwich City sign Chelsea and Scotland midfielder on loan for season

Norwich City sign Scotland midfielder Billy Gilmour on a season-long from Chelsea.




BBC Sport - Published





Queen says we need to 'change the way we do things' during climate visit

The Queen has said "we are going to have to change the way we do things", as she spoke with experts in Scotland about their research into ways to reverse the effects of climate change.




Sky News - Published





British and Irish Lions: Stuart Hogg to captain Lions in South Africa opener

Scotland's Stuart Hogg captains a new-look British and Irish Lions XV in their tour opener against the Emirates Lions in Johannesburg on Saturday.




BBC Sport - Published





Nearly 2,000 COVID cases linked to Scotland fans watching Euro 2020 games

Nearly 2,000 COVID cases in Scotland have been linked to football fans watching Euro 2020 fixtures.




Sky News - Published





Scotland lifts ban on non-essential travel from Manchester and Salford

The Scottish government has announced it will lift its ban on non-essential travel from Manchester and Salford.




Sky News - Published





Euro 2020: England - a look back through major tournament highs and lows

BBC Sport takes a look back through time at England in major tournaments, from Gascoigne's goal against Scotland in Euro 96 all the way through to the present day.




BBC Sport - Published





The Queen visits Irn Bru factory as she tours Scotland for first time since Duke of Edinburgh died

The Queen has been introduced to Scotland's other national drink Irn Bru as she began a four-day visit to Scotland.




Sky News - Published





Shaun Maloney: A little bit of Scotland remains at Euro 2020 to help steer Belgium

Former Scotland midfielder Shaun Maloney will be "the diminutive character in the background" looking to help Belgium overcome Portugal at Euro 2020, writes Tom English.




BBC Sport - Published





Woman dies after being incorrectly excluded from cervical screening programme

A woman has died following an error in Scotland's cervical screening programme.




Sky News - Published





British and Irish Lions v Japan: Justin Tipuric replaces Hamish Watson in line-up

Wales flanker Justin Tipuric comes into the British and Irish Lions side to play Japan on Saturday after Scotland's Hamish Watson is ruled out by a training-ground concussion.




BBC Sport - Published





Billy Gilmour: Chelsea's Scotland midfielder in talks over loan move

Scotland midfielder Billy Gilmour is in talks with Chelsea about going out on loan next season.




BBC Sport - Published





Euro 2020 - Croatia 3-1 Scotland: Luka Modric masterclass - Croatia's midfield maestro rolls back the years

Watch the best of Luka Modric's sublime performance in Croatia's 3-1 win in Scotland at Euro 2020.




BBC Sport - Published





Euros 2020: Steve Clarke says Scotland will learn from their Euros exit

Steve Clarke, Andrew Robertson and John McGinn react to Scotland's exit, with manager Clarke saying his side were tired after their game against England and that they will learn a lot from the..




BBC Sport - Published





It's tough being a Scotland supporter but there's hope for the future

"No Scotland, no party", chants the Tartan Army and that seems fair enough.




Sky News - Published





Euro 2020: Scotland v Croatia highlights on Sportscene

Steven Thompson is joined by Chris Iwelumo and Callum Davidson for highlights of Scotland's final Euro 2020 group match against Croatia.




BBC Sport - Published





Croatia 3-1 Scotland: John McGinn says Euro 2020 must 'be the start'

Reaching Euro 2020 must "be the start" for Scotland at major tournaments, after they "didn't do ourselves justice" at the finals, says midfielder John McGinn.




BBC Sport - Published





Euro 2020: Scotland knocked out of Euros after Croatia defeat in Glasgow

Watch highlights as Luka Modric's superb strike ends Scotland's dream of making history by progressing at Euro 2020, with a heart-breaking 3-1 defeat by Croatia at Hampden.




BBC Sport - Published





Euro 2020: 'Back in the game!' - Callum McGregor's vital goal brings Scotland level against Croatia

Croatia fail to clear their lines and the ball falls to Callum McGregor who scores his first international goal, a low drilled effort on the edge of the 18-yard box to give Scotland a much needed..




BBC Sport - Published





Euro 2020: Luka Modric's 'sensational' finish puts Croatia in front

A sublime strike from Luka Modric, curling a shot with the outside of his foot from 20-yards out gives Croatia the lead for a second time against Scotland.




BBC Sport - Published





Scotland crash out of Euro 2020 after defeat to Croatia - while England top Group D

Scotland have been knocked out of Euro 2020 after losing 3-1 against Croatia and finishing bottom of Group D.




Sky News - Published





Euro 2020: All the latest as Scotland face Croatia in must-win match




Sky News - Published





Current COVID-19 restrictions in Scotland to remain in place until 19 July, Sturgeon says

The current COVID-19 restrictions in Scotland will remain in place until 19 July after a 40% increase in new cases in the last week, First Minister Nicola Sturgeon has said.




Sky News - Published





Lockdown easing delayed in Scotland with restrictions to remain in place until 19 July - Sturgeon

The current COVID-19 restrictions in Scotland will remain in place until 19 July after a 40% increase in new cases in the last week, First Minister Nicola Sturgeon has said.




Sky News - Published





England players Mason Mount and Ben Chilwell will have to self-isolate until Monday

England players Ben Chilwell and Mason Mount will have to self-isolate until Monday after coming into close contact with Scotland's Billy Gilmour, the Football Association has announced.




Sky News - Published





Build up to England and Scotland's Euro 2020 games after COVID case




Sky News - Published





Who could England face in Euro 2020 last 16? What do Scotland need to qualify?

England have secured a spot in the last 16, but what do Scotland need in the final group game and who might await them in the Euro 2020 knockout stages?




BBC Sport - Published





Euro 2020: Croatia v Scotland - Liam Cooper says goals will come for Scots in must-win game

Scotland are confident they can turn good play into goals in Tuesday's must-win meeting with Croatia, says defender Liam Cooper.




BBC Sport - Published





Unless you've been there you wouldn't understand: Murray on Naomi Osaka, injuries and supporting Scotland

With Wimbledon less than a week away two-time champion Andy Murray is preparing to compete in the singles for the first time in four years.




Sky News - Published





Euro 2020: England's Ben Chilwell and Mason Mount to self-isolate after Gilmour Covid-19 test

England's Ben Chilwell and Mason Mount have to self-isolate after coming into close contact with Scotland's Billy Gilmour and could now miss Tuesday's game against the Czech Republic at Wembley.




BBC Sport - Published





Two England players isolating after coming into contact with Billy Gilmour

Two England players, Ben Chilwell and Mason Mount, are isolating after coming into contact with Scotland star Billy Gilmour at Friday's match.




Sky News - Published





'I'm not interested': Sturgeon accuses Burnham of 'generating spat' over North West travel ban

Nicola Sturgeon has accused Andy Burnham of "generating a spat" with her over Scotland's newly-imposed Greater Manchester travel ban, as the political fallout from the decision continues.




Sky News - Published





Scotland's Billy Gilmour to miss final Euro 2020 group game after positive COVID test

Scotland midfielder Billy Gilmour will miss the team's final Euro 2020 Group D match against Croatia after testing positive for COVID-19, the Scottish FA has confirmed.




Sky News - Published





Ban on assisted dying 'isn't working': Calls for its legalisation as bill is lodged in Scotland

A proposal to approve assisted dying in Scotland will be lodged in Holyrood on Monday, in a third attempt to change the legislation.




Sky News - Published





'Straightforward arrogance': Burnham criticises Scottish govt over North West travel ban

Greater Manchester mayor Andy Burnham has said Scotland's imposition of a travel ban to the northwest of England is "unnecessary", accusing its government of "hypocrisy".




Sky News - Published





Euro 2020: Meet Stephen O'Donnell, Scotland's Wembley hero with a passion for baking

Praised by AC-12, picked out by Jose Mourinho, lauded by the First Minister and very likely celebrating by baking cakes - meet Scotland defender Stephen O'Donnell.




BBC Sport - Published





Euro 2020: What England need to change against Czech Republic - Alan Shearer

Former England captain and BBC Sport columnist Alan Shearer says now the dust has settled on Friday's disappointing draw with Scotland, there is no need for the Three Lions to panic.




BBC Sport - Published





Euro 2020: Scotland's 'irresistible edge' stunned hosts England to justify rampant celebration

Scotland's celebrations were justified as their intensity subdued England to breathe new life into their Euro 2020 finals campaign, writes Tom English.




BBC Sport - Published





James McFadden: Scotland now have belief to finish off job against Croatia

BBC Sport Scotland columnist James McFadden on Steve Clarke's side's heroic draw at Wembley




BBC Sport - Published





Clean-up and 30 arrests after England-Scotland clash

A clean-up is under way and police have made 30 arrests after Friday night's goalless Euro 2020 clash between England and Scotland.




Sky News - Published





England fans couldn't get away from the stadium quickly enough. Scotland's fans stayed to sing

The difference at the end was how the two sets of supporters left the stadium. England couldn't get away quick enough, while Scotland stayed to sing. 




Sky News - Published