Times Square
Intersection and area in Manhattan, New York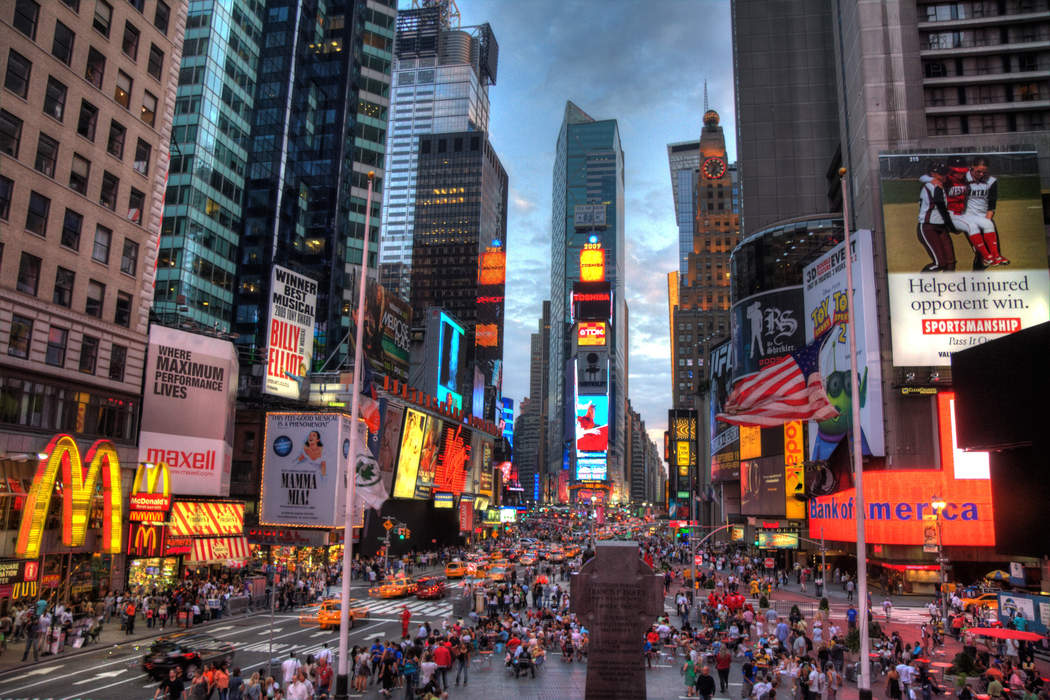 Times Square is a major commercial intersection, tourist destination, entertainment center, and neighborhood in the Midtown Manhattan section of New York City, at the junction of Broadway and Seventh Avenue. Brightly lit by numerous billboards and advertisements, it stretches from West 42nd to West 47th Streets, and is sometimes referred to as "the Crossroads of the World", "the Center of the Universe", "the heart of the Great White Way", and "the heart of the world". One of the world's busiest pedestrian areas, it is also the hub of the Broadway Theater District and a major center of the world's entertainment industry. Times Square is one of the world's most visited tourist attractions, drawing an estimated 50 million visitors annually. Approximately 330,000 people pass through Times Square daily, many of them tourists, while over 460,000 pedestrians walk through Times Square on its busiest days.


NYC recovery challenged by spike in homelessness

Times Square and the surrounding areas have been overrun with homeless and mentally ill people, an unfortunate fallout from the health crisis, officials say. Lisa Bernhard produced this report.
Credit: Reuters - Politics Duration: 02:32
Published
Israeli, Palestinian demonstrators gather in NYC

Pro-Israel and pro-Palestinian demonstrators gathered on opposing sides of the street in New York's Times Square on Thursday night following the announcement of a ceasefire in the Middle East.
Credit: euronews (in English) Duration: 02:00
Published
3 injured in Times Square shooting

Two women and a 4-year-old girl, believed to be innocent bystanders, were wounded in a shooting at New York's Times Square, according to New York police. CNN's Alison Kosik has more.
Credit: Bleacher Report AOL Duration: 03:05
Published
Three people shot in New York's Times Square

Three people including a four-year-old girl were shot in New York City's Times Square after gunfire broke out in a dispute that they were apparently not involved in, the city's top police official said..
Credit: Reuters - Politics Duration: 00:52
Published
You Might Like
Wayne Brady Rooting for Alex Trebek to Win Emmy for Game Show Host
Wayne Brady is incredibly honored to be nominated for a Daytime Emmy alongside Alex Trebek ... but losing to him? Well, that'd be one helluva honor too. We got the "Let's Make a Deal" host in Times..
TMZ.com - Published
Woman & Toddler Shot in Times Square, Gunman on the Loose
ABC reports that a fight between four men is what led to the shooting ... with two adults and a 4-year-old being shot. They say, citing law enforcement, one adult and the child were hit in the thigh,..
TMZ.com - Published
Jennifer Lopez, Pitbull Headlining NYE in Times Square for Frontline Heroes
There's still a concert in Times Square tonight, but Jennifer Lopez, Pitbull and Machine Gun Kelly won't be performing for drunken revelers ... instead it's all for 2020's biggest heroes. Like most..
TMZ.com - Published
Mariah Carey to Virtually Host Airbnb's Dome on New Year's Eve
Struggling to make plans for New Year's Eve? Mariah Carey's got ya covered with this SICK dome up for grabs through Airbnb. The vacation rental company is offering this unbelievable 1-night stay under..
TMZ.com - Published
New Year's Eve Ball Drop in Times Square Going Virtual This Year
It seems 2020 will alter one final tradition before it wraps up, and there will even be a countdown for it -- New York's iconic ball drop for New Year's Eve is going virtual. Organizers of the annual..
TMZ.com - Published
Car Plows Through Times Square Protest of Daniel Prude Killing
It's become the tactic of choice for domestic terrorists ... using a car as a weapon to attack protesters. A Ford Taurus careened through a Black Lives Matter protest Thursday night, as at least 350..
TMZ.com - Published
Largest digital display of Lord Ram shines in New York's Times Square
IndiaTimes - Published
From Ayodhya to New York: Here's how Indians in the US will mark Ram Temple festivities at Times Square on August 5
Images of Lord Ram and 3D portraits of the grand Ram Temple in Ayodhya will be shown across the giant billboards in the iconic Times Square to celebrate the temple's groundbreaking ceremony.
DNA - Published
Lord Ram's images to be displayed in Times Square to celebrate August 5 Ram Temple groundbreaking
Prominent community leader and President of the American India Public Affairs Committee Jagdish Sewhani told that among the prominent billboards that are being leased for the occasion are the giant..
IndiaTimes - Published
Indian-American community holds 'Boycott China' protest at Times Square in New York
A large number of Indian-Americans chanting 'Bharat Mata Ki Jai' and other patriotic slogans staged a protest against China at the iconic Times Square here, demanding an economic boycott and a..
IndiaTimes - Published
Robot with coronavirus advice hits Times Square
Worried about the spread of coronavirus? A five-foot tall (1.5 meter) Promobot might have your answer.
Reuters - Published
Indian-Americans hold events in New York in support of CAA
Members of the Indian diaspora held events at different places to express their support for the amended Citizenship Act, terming it as a historic step taken by the Indian govt. A group of..
IndiaTimes - Published
Bangladeshi immigrant, influenced by Islamic State ideology, charged with planning Times Square attack
Alam, who lived in Queens, expressed admiration for the Islamic State and spoke approvingly of the 11 September, 2001 Al Qaeda attacks on the United States, which Alam called a complete success. Now..
Firstpost - Published