United States Geological Survey
Scientific agency of the United States government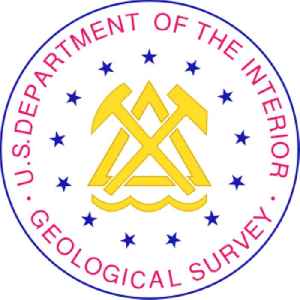 The United States Geological Survey is a scientific agency of the United States government. The scientists of the USGS study the landscape of the United States, its natural resources, and the natural hazards that threaten it. The organization has four major science disciplines, concerning biology, geography, geology, and hydrology. The USGS is a fact-finding research organization with no regulatory responsibility.


Quake causes panic in eastern Indonesia; one killed
A magnitude 7.3 earthquake struck the Moluccas islands in eastern Indonesia on Sunday, the U.S. Geological Survey (USGS) reported, killing one person and causing panic among residents.
Reuters - Published
Quake with 7.3 magnitude strikes in eastern Indonesia: USGS
An earthquake with a magnitude of 7.3 struck southeast of the city of Ternate, in the Moluccas in the eastern area of Indonesia, the U.S. Geological Survey reported.
Reuters - Published
More Earthquakes To Come In California?
Southern California residents are nervously combing through the damage following two major earthquakes. As thousands of aftershocks rattle the region, CNN reports the threat of dangerous tremors isn't..
Credit: Wochit News Duration: 00:36Published
Seismologists Can Only Predict Earthquakes By Looking In The Rear-View Mirror
Over the next week, Southern California has only a 27% chance of experiencing a third earthquake greater than magnitude 6. But according to Reuters, it has a 96% chance of going through a tremor of..
Credit: Wochit News Duration: 00:59Published
As California Deals With Earthquake Fallout, Experts Warn Of Bigger Quakes To Come
A 7.1-magnitude earthquake rocked communities near the Mojave Desert on Friday, one day after a 6.4-magnitude quake there. According to CNN, aftershocks have occurred an average of once a minute since..
Credit: Wochit News Duration: 00:42Published
One Aftershock A Minute Is What Southern Californians Are Experiencing Now
CNN reports the earth hasn't stopped rumbling under Southern California since Thursday. That's when a powerful 6.4-magnitude earthquake rattled Ridgecrest and the surrounding area. The US Geological..
Credit: Wochit News Duration: 00:52Published
A bigger earthquake hits South California
A 7.1 magnitude earthquake struck in South California on Friday evening, with officials warning that there's more to come. Matthew Larotonda reports.
Credit: Reuters Studio Duration: 01:47Published
Strong aftershock in California after July 4th quake
A strong aftershock shook Southern California early on Friday as residents were still assessing the damage from the July 4 quake, the strongest in the region in 25 years, which was felt by more than 20..
Credit: Reuters Studio Duration: 01:20Published
Shattered liquor bottles, pools slosh during CA quake
A powerful earthquake struck Southern California on Thursday, as caught on dramatic videos in a town northeast of Los Angeles, but authorities had no early reports of injuries. Rough Cut (no reporter..
Credit: Reuters Studio Duration: 00:33Published
Quake of magnitude 7.5 shakes Australian city
A deep earthquake of magnitude 7.5 struck off the coasts of East Timor and Indonesia on Monday with the shaking felt in Australia's northern city of Darwin, about 700 km (435 miles) from the epicenter,..
Credit: Reuters Studio Duration: 01:23Published
Death toll from China quakes rises to 11
The death toll from two strong earthquakes rose to 11 with 122 people injured, according to state media. The quakes hit the southwestern province of Sichuan late on Monday. Rough cut - no reporter..
Credit: Reuters Studio Duration: 01:13Published
Strong Earthquake Hits Northern Peru
CNN reports One person was killed and at least 11 people have been injured in Peru, with a further seven injuries in neighboring Ecuador, after an 8.0 magnitude earthquake struck northern Peru on..
Credit: Wochit News Duration: 00:33Published
Quake of magnitude 6.6 strikes west of Australia's Broome: USGS
An earthquake of magnitude 6.6 struck west of Australia's beach resort of Broome, the United States Geological Survey said on Sunday, with residents saying the impact shook some buildings and pushed..
Reuters - Published
Search this site and the web:
You Might Like