BrahMos
Fastest supersonic cruise missile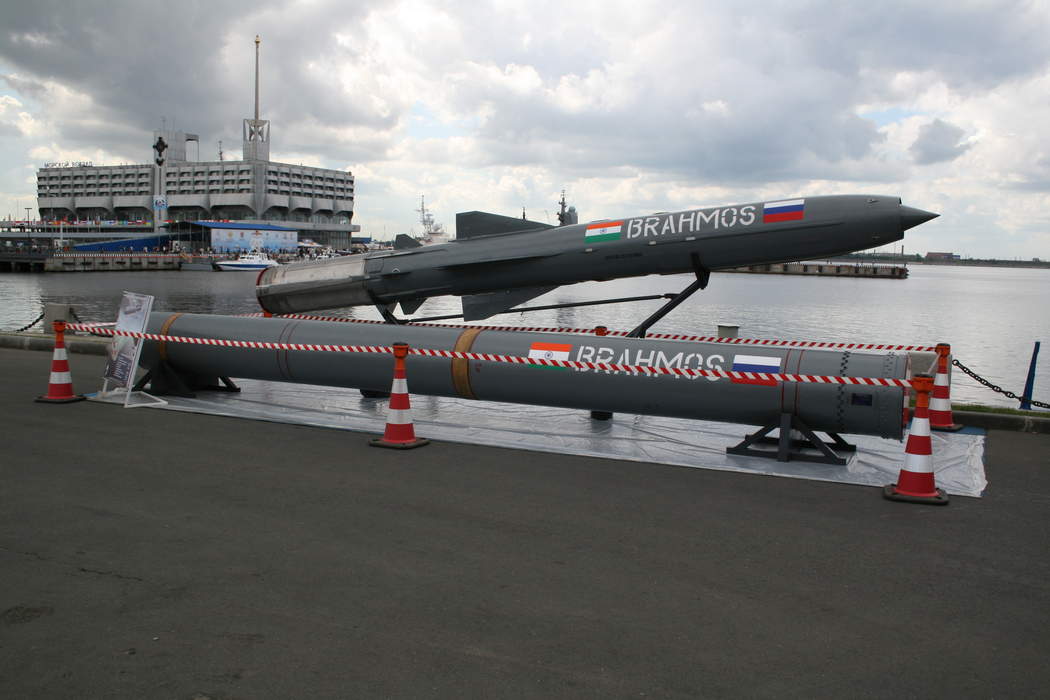 The BrahMos is a medium-range ramjet supersonic cruise missile that can be launched from submarine, ships, aircraft, or land. It is the fastest supersonic cruise missile in the world. It is a joint venture between the Russian Federation's NPO Mashinostroyeniya and India's Defence Research and Development Organisation (DRDO), who together have formed BrahMos Aerospace. It is based on the Russian P-800 Oniks cruise missile and other similar sea-skimming Russian cruise missile technology. The name BrahMos is a portmanteau formed from the names of two rivers, the Brahmaputra of India and the Moskva of Russia.


India's show of strength at R-Day parade

In the 72nd Republic Day parade, Lieutenant General Vijay Kumar Mishra led from the front as the Parade Commander. Winners of the Param Vir Chakra and the Ashok Chakra led the parade down to Rajpath...
Credit: ANI Duration: 02:40
Published
You Might Like



India draws up nations' list for Akash, BrahMos export




IndiaTimes - Published





Indian Navy to acquire 38 extended range BrahMos missiles for new warships soon




IndiaTimes - Published





India successfully tests anti-ship version of BrahMos supersonic cruise missile




IndiaTimes - Published

Also reported by •DNA


BrahMos hits target with 'pinpoint precision' in test firing

India on Wednesday conducted two more "live operational firings" of the BrahMos supersonic cruise missile in the Andaman and Nicobar archipelago. The land-attack variant of the "deep-strike..




IndiaTimes - Published





India to carry out multiple 'live tests' of BrahMos missile this week

India will undertake multiple operational firings of the BrahMos supersonic cruise missile this week, in yet another hard-nosed display of its precision-strike capabilities amidst the ongoing military..




IndiaTimes - Published

Also reported by •DNA


India to carry out multiple launches of BrahMos supersonic cruise missiles by month-end

The defence services are scheduled to carry out multiple test-firings of the BrahMos in the last week of November against different targets in the Indian Ocean Region. The tests would help the defence..




IndiaTimes - Published





IAF successfully test-fires BrahMos supersonic cruise missile from Sukhoi-30 jet




IndiaTimes - Published




BrahMos supersonic cruise missile successfully test fired from INS Chennai, will ensure warship's invincibility

BRAHMOS supersonic cruise missile was successfully test fired on Sunday from the Indian Navy's indigenously-built stealth destroyer INS Chennai, hitting a target in the Arabian Sea, the Defence..




IndiaTimes - Published





India successfully fires 'super' BrahMos




IndiaTimes - Published





This Indian BrahMos supersonic cruise missile with increased firepower can easily penetrate Chinese defence

On the one hand, there is tension on the border with China, on the other hand, the Indian Army is also strengthening its defence capability.




DNA - Published





India successfully tests extended range BrahMos missile

India on Wednesday successfully tested the extended range version of the BrahMos supersonic cruise missile, which has emerged as a primary precision-strike conventional weapon for the armed forces,..




IndiaTimes - Published





Extended range BrahMos test-fired successfully

India on Wednesday successfully tested the extended range version of the BrahMos supersonic cruise missile, which has emerged as a primary precision-strike conventional weapon for the armed forces,..




IndiaTimes - Published





India may give Indonesia BrahMos missiles




IndiaTimes - Published





BrahMos-embedded Sukhoi-30MKI is a gamechanger for India's maritime security, General Bipin Rawat says

Chief of Defence Staff General Bipin Rawat on Monday dedicated the newly resurrected 222 Squadron with BrahMos-embedded Sukhoi-30MKIs to the nation at a function at the Airforce Station (AFS) in..




IndiaTimes - Published





Eye on China, South gets 1st Sukhoi squad with BrahMos

India now has a new lethal weapons platform to keep a 'strategic eye' over the Indian Ocean Region (IOR), especially the Bay of Bengal, as well as carry out 'long-range precision strikes'..




IndiaTimes - Published





BrahMos missiles successfully testfired from land and air platforms




IndiaTimes - Published





BrahMos supersonic missile may be exported to friendly countries

BrahMos ramjet supersonic cruise missile can be launched from land, aircraft, ships and submarines




DNA - Published





Nod for two BrahMos supersonic cruise missile batteries for Navy

The Defence Minister also cleared the acquisition of 'Made in India' software-defined radios for the armed forces




DNA - Published





Defence ministry to decide on buying two BrahMos missile coastal batteries to tackle enemy warships

In his first Defence Acquisition Council (DAC) meeting, defence minister Rajnath Singh will decide on acquisition of weapon systems worth around Rs 12,000 crore including the procurement of two Brahmos..




IndiaTimes - Published





Upgraded BrahMos with 500-km range ready: CEO, BrahMos Aerospace

"India has successfully test-fired a vertical deep dive version of BrahMos, the world's fastest supersonic cruise missile.




IndiaTimes - Published





Integration of Brahmos missiles on Sukhoi jets to be fast-tracked

Weeks after the Balakot air strikes, the government decided to fast-track integration of the Brahmos supersonic cruise missile on over 40 Sukhoi fighter jets, a closely guarded strategic project aimed..




IndiaTimes - Published





BrahMos joint venture started with corpus of Rs 1,300 cr, value now stands at Rs 40,000 cr

The BrahMos venture between India and Russia to build supersonic cruise missiles was started with an initial investment of Rs 1,300 crore and the business has now grown to the tune of Rs 40,000 crore,..




IndiaTimes - Published





Indian armed forces may soon get supersonic cruise missile 'BrahMos' with a firing range up to 450 kms

The anti-ship version of the missile was launched around noon from the launch complex-3 of the ITR, Defence Research and Development (DRDO) sources said.




DNA - Published