BrahMos
Supersonic cruise missile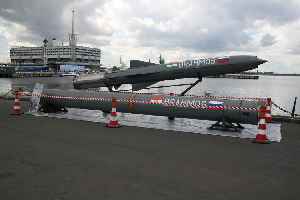 The BrahMos is a medium-range ramjet supersonic cruise missile that can be launched from submarine, ships, aircraft, or land. It is the fastest supersonic cruise missile in the world. It is a joint venture between the Russian Federation's NPO Mashinostroyeniya and India's Defence Research and Development Organisation (DRDO), who together have formed BrahMos Aerospace. It is based on the Russian P-800 Oniks cruise missile and other similar sea-skimming Russian cruise missile technology. The name BrahMos is a portmanteau formed from the names of two rivers, the Brahmaputra of India and the Moskva of Russia.


BrahMos supersonic missile may be exported to friendly countries
BrahMos ramjet supersonic cruise missile can be launched from land, aircraft, ships and submarines
DNA - Published
Nod for two BrahMos supersonic cruise missile batteries for Navy
The Defence Minister also cleared the acquisition of 'Made in India' software-defined radios for the armed forces
DNA - Published
Defence ministry to decide on buying two BrahMos missile coastal batteries to tackle enemy warships
In his first Defence Acquisition Council (DAC) meeting, defence minister Rajnath Singh will decide on acquisition of weapon systems worth around Rs 12,000 crore including the procurement of two Brahmos..
IndiaTimes - Published
Upgraded BrahMos with 500-km range ready: CEO, BrahMos Aerospace
"India has successfully test-fired a vertical deep dive version of BrahMos, the world's fastest supersonic cruise missile.
IndiaTimes - Published
Integration of Brahmos missiles on Sukhoi jets to be fast-tracked
Weeks after the Balakot air strikes, the government decided to fast-track integration of the Brahmos supersonic cruise missile on over 40 Sukhoi fighter jets, a closely guarded strategic project aimed..
IndiaTimes - Published
BrahMos joint venture started with corpus of Rs 1,300 cr, value now stands at Rs 40,000 cr
The BrahMos venture between India and Russia to build supersonic cruise missiles was started with an initial investment of Rs 1,300 crore and the business has now grown to the tune of Rs 40,000 crore,..
IndiaTimes - Published
Indian armed forces may soon get supersonic cruise missile 'BrahMos' with a firing range up to 450 kms
The anti-ship version of the missile was launched around noon from the launch complex-3 of the ITR, Defence Research and Development (DRDO) sources said.
DNA - Published
IAF launches air-to-land Brahmos from Su-30 MKI in the Andamans
IndiaTimes - Published
IAF successfully test fires aerial version of BrahMos missile
The Indian Air Force Wednesday said it has successfully test fired the aerial version of the supersonic BrahMos cruise missile from a Su-30 MKI fighter aircraft. The 2.5 tonne air-to-surface missile..
IndiaTimes - Published
INS Imphal, the new guided-missile destroyer
Though the ship's launch weight was 3,037-tonne, it will go up to a massive 7,300-tonne once it is ready for commissioning with all its weapon systems, including BrahMos supersonic cruise missiles, as..
IndiaTimes - Published
Part of missile washed ashore; suspected to be that of Brahmos
IndiaTimes - Published
You Might Like