Mars
Fourth planet from the Sun in the Solar System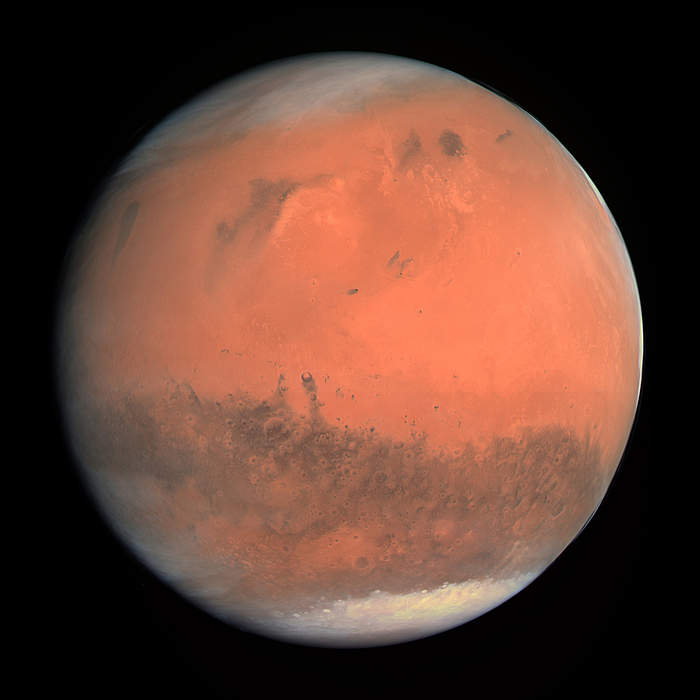 Mars is the fourth planet from the Sun and the second-smallest planet in the Solar System, being larger than only Mercury. In English, Mars carries the name of the Roman god of war and is often referred to as the "Red Planet". The latter refers to the effect of the iron oxide prevalent on Mars's surface, which gives it a reddish appearance distinctive among the astronomical bodies visible to the naked eye. Mars is a terrestrial planet with a thin atmosphere, with surface features reminiscent of the impact craters of the Moon and the valleys, deserts and polar ice caps of Earth.


NASA's Insight Lander reveals new data about Mars

Three years after NASA's Insight Lander arrived on Mars, its data reveals that Mars is larger, lighter and has a more liquid core than previously thought. CNN's Kristin Fisher reports.
Credit: Bleacher Report AOL Duration: 02:06
Published
Mars, Venus, Moon set to align on July 12-13| Planetary conjunction| Oneindia News

Mars, Venus will be aligned by a separation of just 0.5 degrees with the crescent Moon within four degrees of the two planets. The Bengaluru-based Indian Institute of Astrophysics said that the..
Credit: Oneindia Duration: 01:47
Published
Compared: Who's winning the space tourism race?

How do the three competing bids to open up space travel compare? We've compared Bezos, Branson and Musk's startups. Rosanna Philpott has more.
Credit: Reuters - Politics Duration: 03:47
Published
Sand science: Dubai researchers dig up secrets to sustain life on Earth & Mars

It's predicted that 90% of Earth's land will be degraded by 2050, as urbanisation and climate change desertify it, turning the planet's surface into dust and sand. This sediment makes up 75% of..
Credit: euronews (in English) Duration: 04:00
Published
UAE Mars probe could help battle climate change on Earth

While orbiting Mars, the Emirati 'Hope' probe will collect data that may help us understand planet Earth's changing climate.
Credit: Euronews English Duration: 01:35
Published
Ask Our Astronaut | What's next in space exploration?

Our space correspondent Luca Parmitano answers a question on space exploration and whether we should focus more on the Moon or Mars.
Credit: Euronews English Duration: 01:09
Published
Watch Carl Sagan in 1985 predict what year humans will land on Mars

In 1985, Carl Sagan told a crowd of space enthusiasts and aerospace engineers that humans would get to Mars in the not-too-distant future. Check out his lofty prediction in this video pulled from the..
Credit: Bleacher Report AOL Duration: 02:08
Published
You Might Like



Mysterious methane detections on Mars baffle NASA scientists

Detections of methane on Mars have excited scientists because, on Earth, the gas is often produced by microbes - its presence could indicate that similar life was, or is, present on the red planet.




Sky News - Published





The sound of Mars: Chinese release recording of Martian surface by their rover lander

A new recording featuring the sound of Mars has been released by China's space agency.




Sky News - Published




China's Mars rover Zhurong makes first tracks on red planet

China's first Mars rover has driven down the ramp of its landing capsule and is now roaming the surface of the red planet.




Sky News - Published




'Nine minutes of terror' as China becomes second country to land on Mars

China has landed a spacecraft on Mars for the first time, become the second country to arrive on the Red Planet.




Sky News - Published




SpaceX's Starship finally completes successful test flight

SpaceX has finally nailed a test flight of the rocket ship that tech billionaire Elon Musk wants to use to send people to Mars.




Sky News - Published





Elon Musk Says People Will Die Traveling to Mars

Elon Musk made a startling comment about the impending voyage to Mars, saying, "A bunch of people will probably die." Elon was deep in conversation with Peter Diamandis, founder of the X Prize..




TMZ.com - Published





NASA Completes First Powered Flight on Mars with Mini Helicopter

It's another small step for man and giant leap for mankind -- this on Mars, where NASA just pulled off the first-ever powered flight on another planet ... courtesy of a mini helicopter. NASA flew the..




TMZ.com - Published





NASA's Ingenuity helicopter makes first historic flight on Mars

A helicopter has made the first ever flight on another planet, NASA has said.




Sky News - Published




Technical issue delays historic flight for Mars helicopter Ingenuity

The first ever flight on another planet has been delayed until at least 14 April, NASA has said, following the discovery of a technical issue with the Ingenuity mini-helicopter stationed on Mars.




Sky News - Published




Mysterious rumblings from inside of Mars detected by NASA lander

Scientists at NASA have reported an exciting detection by its Insight lander on Mars - mysterious rumblings coming from the interior of the planet.




Sky News - Published





'Hear that?' NASA shares first recording of rover driving on Mars

NASA's Perseverance rover has sent back the first sounds of it driving on Mars - giving further insight into the Red Planet's environment.




Sky News - Published




Elon Musk's plans for life on Mars a 'dangerous delusion'

Elon Musk's plans to send humans to Mars are a "dangerous delusion", according to Britain's chief astrophysicist Lord Martin Rees.




Sky News - Published




'I'm on the move!': NASA's Perseverance rover takes its first test drive on Mars

NASA's Perseverance rover has taken its first drive on Mars, just weeks after landing on the Red Planet.




Sky News - Published




Elon Musk's SpaceX Starship Rocket Explodes Again Upon Landing

Elon Musk has some expensive bugs to fix -- another unmanned test flight of a SpaceX rocket he hoped would go to Mars went up in flames. SpaceX nearly completed the successful test flight Wednesday at..




TMZ.com - Published





Hindi lands on Mars, thanks to Perseverance




IndiaTimes - Published





From UP to Karnataka, 12 desis drive Nasa's Mars mission




IndiaTimes - Published





Perseverance rover takes 11 million earthling names to Mars

Nearly 11 million people landed on Mars last week - even if it was just in names only.




Sky News - Published




This India-born scientist is paving our way to Mars with space rocks




IndiaTimes - Published





Space enthusiasts reveal hidden message on Perseverance rover's parachute

Space enthusiasts claim they have decoded a hidden message on the British-made parachute that helped NASA's Perseverance rover to land safely on Mars.




Sky News - Published





Watch live: NASA shares new images from Mars - and reveals what rover will do next




Sky News - Published





Greetings from Mars: NASA releases new pictures captured by the Perseverance rover

NASA has released new pictures captured by the Perseverance rover as it touched down on Mars last week.




Sky News - Published





Scientists decode how Mars may have lost its atmosphere




IndiaTimes - Published





It's tough to land on Mars, Nasa did a good job; our 2nd Mars mission will be an orbital one: Isro chief




IndiaTimes - Published





New picture released of Perseverance rover above Mars

NASA has released a new image of the Perseverance rover two metres above the surface of Mars as it gave more details of the mission.




Sky News - Published




Nasa Mars mission: Bengaluru-born Swati Mohan guided Perseverance rover through 'seven minutes of terror'




IndiaTimes - Published





NASA's Perseverance Mars Rover Attempts Landing, Watch Live Stream

NASA's Mars rover is wrapping up the final leg of a long journey to the Red Planet -- it's just about time for landing, and TMZ is streaming live. The Perseverance rover is tasked with searching for..




TMZ.com - Published





NASA's Perseverance rover safely lands on Mars

NASA's mission to search for signs of ancient life on Mars has successfully landed after a seven-month journey in space and a considerably shorter trip through the Martian atmosphere.




Sky News - Published




Perseverance rover sends back first pictures from Mars after successful landing

NASA's mission to search for signs of ancient life on Mars has sent back its first images from the surface of the Red Planet after a successful landing.




Sky News - Published




Desi Company aiding astronaut training inks space tourism deal

With offices in Bengaluru and Chennai, Valles Marineris International — named after the canyon system on Mars — has supported its Russian partner Aviakom to supply simulators used for astronaut..




IndiaTimes - Published





Mars landing: Everything to expect and how you can watch it

In just two days, NASA's Perseverance rover will complete its seven-month journey to Mars and begin the shortest and by far the most intense stage of its mission: landing.




Sky News - Published




UAE's Hope probe: First photo from Mars mission released

The United Arab Emirates has published the first image of Mars sent by its space probe.




Sky News - Published




Chinese spacecraft becomes second to reach Mars orbit this month

China has become the sixth nation to ever reach Mars, after its dual orbiter and lander Tianwen-1 spacecraft successfully entered the planet's orbit.




Sky News - Published




United Arab Emirates successfully inserts probe into Mars orbit

The United Arab Emirates has become the fifth nation to ever reach Mars, with its space probe successfully inserting into Martian orbit at 3.57pm UK time on Tuesday.




Sky News - Published