Faridabad
Metropolis in Haryana, India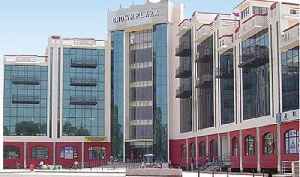 Faridabad is the most populous and largest city in the north Indian state of Haryana. It is a leading industrial centre and is situated in the National Capital Region bordering the Indian capital New Delhi. It is one of the major satellite cities of Delhi and is located 284 kilometres south of the state capital Chandigarh. The river Yamuna forms the eastern district boundary with Uttar Pradesh. The Government of India included it in the second list of Smart Cities Mission on 24 May 2016. Faridabad has been described as the eighth fastest growing city in the world and the third in India by the City Mayors Foundation survey. As per the 2001 Delhi regional plan, Faridabad is part of the Delhi Metropolitan Area (DMA).


Faridabad: DCP Vikram Kapoor commits suicide, shoots himself dead with service revolver
An investigation into the matter is underway.
DNA - Published
Faridabad: DCP Vikram Kapoor allegedly commits suicide
The exact reason behind this extreme step is not known yet. Further details in this regard are awaited.
DNA - Published
Faridabad: Gangster's wife, domestic help arrested in Congress leader Vikas Chaudhary's murder case
Police have arrested two persons -- gangster Kaushal's wife Roshni and their servant Naresh -- in the recent murder of Vikas Chaudhary.
DNA - Published
Congress workers protest at Faridabad hospital demanding slain leader's body
Vikas Chaudhary, a Haryana Congress spokesman, wot as shdead Thursday at a gym's parking lot.
DNA - Published
Rahul Gandhi and others condemn killing of Congress leader in Faridabad
Congress president Rahul Gandhi Thursday condemned the killing of the party's Haryana unit leader Vikas Chaudhary in Faridabad and said it reflects the deteriorating law-and-order situation in the..
DNA - Published
Congress leader's killing in Faridabad reflects deteriorating law-and-order situation in Haryana: Rahul Gandhi
IndiaTimes - Published
NOTA: Marginal hike in Delhi's satellite constituencies
Delhi's satellite districts of Gurgaon, Faridabad, Ghaziabad and Gautam Buddh Nagar witnessed a marginal hike in NOTA voters in the Lok Sabha elections, accounting for 26,241 votes, according to..
DNA - Published
In Faridabad, BJP bags 69% vote share
IndiaTimes - Published
EC orders re-polling at Faridabad booth after polling agent caught trying to influence voters
EC looks for course correction
DNA - Published
Faridabad Lok Sabha Constituency: Candidates for 2019 LS Poll, past results, all updates
Faridabad is one of the 10 constituencies in Haryana going to vote on May 12. It consists of the following assembly segments - Hathin, Hodal, Palwal, Prithla, Faridabad NIT, Badkhal, Ballabgarh,..
DNA - Published
Lok Sabha polls: Congress fields Hooda from Sonipat, replaces Lalit Nagar with Avtar Singh Badhana in Faridabad
All 10 Lok Sabha seats of Haryana go to polls in the sixth phase on May 12.
DNA - Published
Also reported by •IndiaTimes
BJP releases 1st list for Haryana, retains 5 sitting MPs, fields state minister from Kurukshetra
The party has not yet announced candidates from Hisar and Rohtak seats, currently held by opposition INLD and Congress respectively. Haryana has 10 Lok Sabha constituencies. The BJP has retained its..
DNA - Published
You Might Like