Tulsa, Oklahoma
City in the United States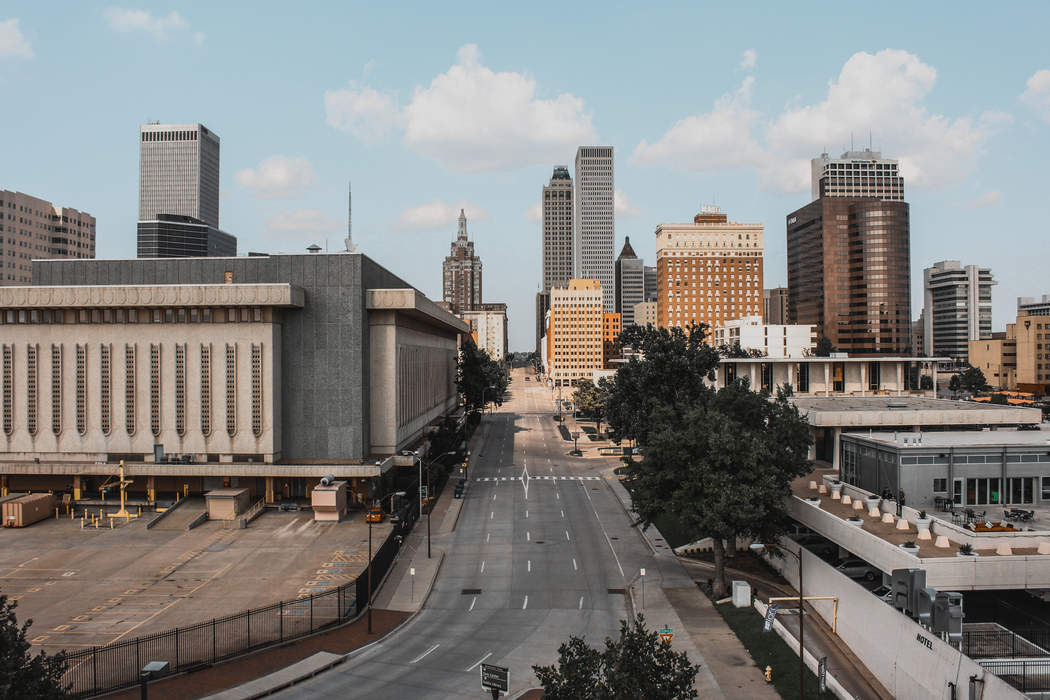 Tulsa is the second-largest city in the state of Oklahoma and 47th-most populous city in the United States. The population was 413,066 as of the 2020 census. It is the principal municipality of the Tulsa Metropolitan Area, a region with 1,023,988 residents. The city serves as the county seat of Tulsa County, the most densely populated county in Oklahoma, with urban development extending into Osage, Rogers, and Wagoner counties.


You Might Like
Post Malone Helps Fans Pull Off Gender Reveal at Concert
Post Malone's up for any huge task during his shows, even those outside of music -- like, revealing the gender of his fans' baby while up onstage!!! The rapper got to answer that very important..
TMZ.com - Published
Gunman who killed four people at Tulsa hospital 'targeted doctor who performed his back surgery'
A gunman who killed four people at a hospital in Oklahoma targeted the doctor who performed back surgery on him, the Tulsa Police chief said.
Sky News - Published
Gunman Opens Fire at Oklahoma Hospital Kills at Least 3
Another mass shooting ... as a gunman opened fire at a Tulsa hospital, killing at least 3 other people before turning the gun on himself. The incident happened Wednesday at St. Francis Hospital. The..
TMZ.com - Published
US PGA Championship: Phil Mickelson and Tiger Woods named in 156-man field
Defending champion Phil Mickelson and 15-time major winner Tiger Woods are named in the 156-man field for the US PGA Championship in Tulsa, Oklahoma.
BBC Sport - Published
The Gap Band Founder Ronnie Wilson Dead at 73
R&B legend Ronnie Wilson, a founding member of The Gap Band and "Uncle" Charlie Wilson's older brother, is dead ... TMZ has confirmed. Ronnie's wife, Linda Boulware-Wilson, tells TMZ ... he died at..
TMZ.com - Published
Five more bodies found in search for victims of 1921 Tulsa race massacre
More coffins of people believed to be victims of the 1921 race massacre in Tulsa have been found, city officials have said.
Sky News - Published
Biden becomes first US president to commemorate Tulsa race massacre as he visits site
Joe Biden has become the first sitting US president to visit the site of the Tulsa massacre - 100 years since one of America's darkest episodes of racial violence.
Sky News - Published
Biden to become first president to participate in remembrances of Tulsa race massacre
Hundreds of people gathered outside a church in Tulsa, Oklahoma, to commemorate the 100th anniversary of the deadliest racist massacre in the US - and President Joe Biden is set to honour the victims..
Sky News - Published
'More the number of tests, more the number of cases': Trump urges health officials to 'slow' down COVID-19 testing
He took to the stage to deliver his re-election campaign speech at Tulsa, Oklahoma,; without wearing a face mask and thousands who attended the rally followed suit.
DNA - Published
Record spikes in new coronavirus cases, hospitalizations sweep parts of U.S.
New coronavirus cases and hospitalizations in record numbers swept through more U.S. states, including Florida and Texas, as most push ahead with reopening and President Donald Trump plans an indoor..
Reuters India - Published