Varanasi
Metropolis in Uttar Pradesh, India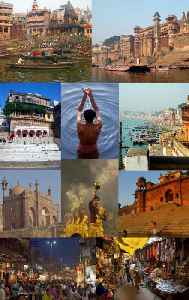 Varanasi, also known as Benares, Banaras, or Kashi, is a city on the banks of the river Ganga in the Uttar Pradesh, India, 320 kilometres (200 mi) south-east of the state capital, Lucknow, and 121 kilometres (75 mi) east of Allahabad. A major religious hub in India, it is the holiest of the seven sacred cities in Hinduism and Jainism, and played an important role in the development of Buddhism and Ravidassia. Varanasi lies along National Highway 2, which connects it to Kolkata, Kanpur, Agra, and Delhi, and is served by Varanasi Junction railway station and Lal Bahadur Shastri International Airport.


Varanasi for PM Narendra Modi, Amit Shah in Gujarat
BJP springs its 1st list on Holi, names 184 LS candidates
DNA - Published
BJP's 1st list for Lok Sabha polls: Narendra Modi to seek re-election from Varanasi, Amit Shah to contest from Gandhinagar
IndiaTimes - Published
On Modi's turf Varanasi, Priyanka talks of a 'new freedom struggle'
IndiaTimes - Published
Lok Sabha polls 2019: Priyanka Gandhi begins 3-day UP visit, offers prayers at temple
During her three-day visit, Priyanka will cover a distance of 100-km by boat in Ganga from Allahabad to Varanasi -- the parliamentary constituency of Prime Minister Narendra Modi, hopping from one..
DNA - Published
Lean water flow delays Priyanka's Ganga boat ride
Congress leader Priyanka Gandhi Vadra's scheduled boat ride from Allahabad to Varanasi will start from Monday. She is now scheduled to land in Lucknow on Sunday morning, where she will meet former MLAs..
IndiaTimes - Published
Will contest against PM Modi in Varanasi: Bhim Army chief
The Bhim Army, which has been trying to mobilise Dalits in Uttar Pradesh, also told PTI that it will field a candidate against Union minister Smriti Irani and "wherever there's a need of a strong..
DNA - Published
At rally attended by Kanshi Ram's sister, Bhim Army chief says will fight against Modi in Varanasi
Bhim Army chief Chandrashekhar Azad on Friday addressed a rally with BSP founder Kanshi Ram's sister and announced that he will contest the Lok Sabha elections against Prime Minister Narendra Modi from..
IndiaTimes - Published
You Might Like