Varanasi
Metropolis in Uttar Pradesh, India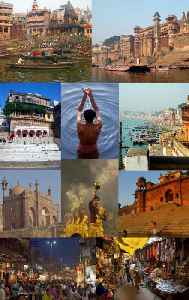 Varanasi, also known as Benares, Banaras, or Kashi, is a city on the banks of the river Ganga in Uttar Pradesh, India, 320 kilometres (200 mi) south-east of the state capital, Lucknow, and 121 kilometres (75 mi) east of Allahabad. A major religious hub in India, it is the holiest of the seven sacred cities in Hinduism and Jainism, and played an important role in the development of Buddhism and Ravidassia. Varanasi lies along National Highway 2, which connects it to Kolkata, Kanpur, Agra, and Delhi, and is served by Varanasi Junction railway station and Lal Bahadur Shastri International Airport.


Priyanka from Varanasi? Battle of perception may catapult her ahead of Rahul Gandhi
IndiaTimes - Published
'Will be happy to fight from Varanasi if Rahul asks me to'
Responding to questions on whether she would contest from Varanasi, Priyanka said: "You will find out.
IndiaTimes - Published
Happy to contest against Modi in Varanasi if Rahul asks, says Priyanka Gandhi
Last month, Priyanka Gandhi had thrown a hint that she is not averse to taking on Modi in Varanasi.
DNA - Published
Will contest from Varanasi if Rahul asks: Priyanka
IndiaTimes - Published
Don't let the music die: PM's constituency waits for music academy
When Prime Minister Narendra Modi chose Varanasi as his parliamentary constituency in 2014, artists of the famed Benaras Gharana had but one aspiration – to revive this ancient city's musical..
IndiaTimes - Published
Priyanka vs PM? Rahul Gandhi is not telling yet
In an interview, Rahul Gandhi was asked to clarify the issue in view of feverish talk that his sister and newly-inducted AICC general secretary Priyanka Gandhi Vadra may contest from Varanasi. The..
IndiaTimes - Published
In U-turn, Bhim army chief says won't contest against PM Modi in Varanasi
IndiaTimes - Published
Nationalism vs local issues - a dilemma for Vadodara voters
This urban seat was in the spotlight in 2014 when Prime Minister Narendra Modi won it by defeating Congress veteran Madhusudan Mistry by a margin of over 5.7 lakh votes. However, when Modi chose to be..
IndiaTimes - Published
Priyanka Gandhi Vadra vs PM Modi in Varanasi not fully ruled out: Reports
Several reports emerged that Priyanka is giving serious thought to suggestions from a set of leaders that she contest from Varanasi as a consensus Opposition candidate.
DNA - Published
You Might Like