Wang Yi (politician)
Chinese diplomat and politician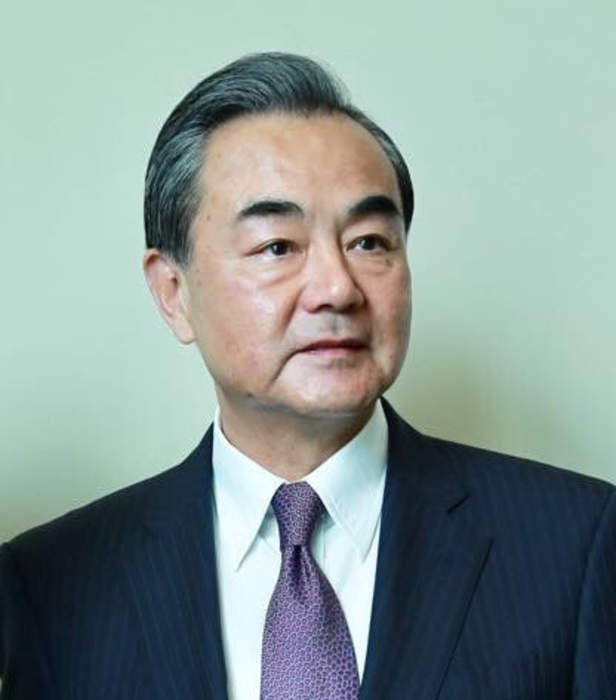 Wang Yi is a Chinese diplomat and politician who has been the foreign minister since March 2013. He formerly served as China's Vice Foreign Minister, Ambassador to Japan and Director of the Taiwan Affairs Office. He has served as the Foreign Minister since March 2013 and a State Councilor since March 2018.


Global Chit-Chat: Is China's bonhomie with Russia & Iran a response to west?| Oneindia News

Russian Foreign Minister Sergei Lavrov met with his Chinese counterpart Wang Yi in Guilin city in Guangxi Zhuang Autonomous Region in southern China. The two sides discussed the Iran nuclear deal,..
Credit: Oneindia Duration: 14:38
Published
Turkey raises Uighur issues with China amid protests

Turkey raised the issue of Uighur Muslims during talks with China's foreign minister in Ankara on Thursday, Turkish Foreign Minister Mevlut Cavusoglu said, as hundreds of Uighurs protested against the..
Credit: Reuters - Politics Duration: 01:35
Published
U.S., China conclude 'tough' talks in Alaska

U.S. and Chinese officials concluded on Friday what Washington called "tough and direct" talks in Alaska, which laid bare the depth of tensions between the world's two largest economies at the outset..
Credit: Reuters - Politics Duration: 02:00
Published
U.S., China clash at first major talks of Biden era

The first high-level U.S.-China talks of the Biden administration got off to a fiery start on Thursday, with both sides leveling sharp rebukes of the others' policies. Flora Bradley-Watson reports.
Credit: Reuters - Politics Duration: 02:02
Published
China urges U.S. to reopen dialogue after Trump

Chinese Foreign Minister Wang Yi urged US President Joe Biden to undo restrictive moves against China by the Trump administration, including lifting trade tariffs, in order to repair bilateral ties..
Credit: Reuters - Politics Duration: 01:34
Published
You Might Like



Amid LAC 'thaw', China blames India for tension

As India seeks early troop disengagement in remaining areas in Ladakh after Pangong Tso, Chinese foreign minister Wang Yi on Sunday reiterated Beijing's position that the border issue was not the..




IndiaTimes - Published





Ties will remain affected unless there is peace on border: Jaishankar to Wang

India has told China in unambiguous terms that the bilateral ties will continue to be deeply affected if there is no peace on the border with foreign minister S Jaishankar conveying the point to his..




IndiaTimes - Published





LAC row: Jaishankar talks to Wang Yi, reviews status of disengagement




IndiaTimes - Published





External Affairs Minister Jaishankar speaks with Chinese counterpart Wang Yi, reviews status of disengagement at Ladakh

They discussed the implementation of their Moscow Agreement on the border standoff and also reviewed the status of disengagement in Eastern Ladakh.




DNA - Published

Also reported by •IndiaTimes


Despite uneasy calm, fears of a spark at LAC remains a concern

As a tense "standstill" between Indian and Chinese armies along the Line of Actual Control (LAC) in Ladakh drags on, the possibility of a misunderstanding or accident triggering a larger conflict..




IndiaTimes - Published





Calm at LAC since Moscow Pact, Indian Army prepares for winter

Thursday will mark one week since India's external affairs minister S Jaishankar and Chinese Foreign Minister Wang Yi met in Moscow for over 2 hours. After the meet, both sides came out with a..




DNA - Published





China cites Indian statement, media reports to claim LAC violation

While he described the consensus reached by foreign minister S Jaishankar and his counterpart Wang Yi as an important step for easing the situation, China's ambassador Sun Weidong seemed to raise the..




IndiaTimes - Published





India-China tensions: Despite disengagement talks between foreign ministers, situation remains unchanged at LAC

The 5-point joint statement after the meet between S Jaishankar and Wang Yi called on border troops of both sides to continue "dialogue, quickly disengage, maintain proper distance and ease tensions."




DNA - Published





All eyes on India-China commanders' meeting

The crucial test of the joint statement that external affairs minister S Jaishankar and his Chinese counterpart Wang Yi hammered out is in PLA pulling back from the Line of Actual Control. A verifiable..




IndiaTimes - Published





S Jaishankar set bottomline amid 'heated' talks

Top sources said the Indian mantra on the LAC would be "verifying" Chinese disengagement promises. In recent weeks, Chinese troops have repeatedly gone back on their commitments. Wang Yi was quoted as..




IndiaTimes - Published





China ready to take conciliatory steps to de-escalate tensions at LAC: Foreign minister Wang

China is ready to take "conciliatory steps" in order to avoid new violations of the obligations on India-Chinese border, said Chinese Foreign Minister Wang Yi on Friday, a day after holding a crucial..




IndiaTimes - Published





EAM Jaishankar to meet Chinese counterpart Wang Yi shortly in Moscow :MEA




IndiaTimes - Published





Chinese foreign minister to attend luncheon meeting with Indian, Russian counterparts in Moscow

Chinese Foreign Minister Wang Yi is slated to attend a luncheon meeting with his counterparts from India and Russia in Moscow on September 10, the Chinese Foreign Ministry said on Wednesday. Wang is..




IndiaTimes - Published





LAC stand-off: Talks only option to restore peace, Delhi tells Beijing

While holding China responsible for the deteriorating border situation, the MEA said Thursday the way forward was to hold negotiations "sincerely" and that India remained committed to resolving the..




IndiaTimes - Published





LAC face-off: Solution 'has to be found' in diplomacy, says foreign minister S Jaishankar

Confirming he would be meeting his Chinese counterpart Wang Yi in Moscow on September 10, foreign minister S. Jaishankar said, the solution to the current India-China crisis in the western sector..




IndiaTimes - Published





Border not demarcated, dispute will recur: China

As the military standoff on the LAC intensifies, Chinese foreign minister and state councillor Wang Yi told an international audience in Paris that there will always be problems with India of the kind..




IndiaTimes - Published





Jaishankar may come face to face with China, Pak mantris in September

The government is considering a proposal by Russia to have a physical meeting of the foreign ministers of SCO and Brics countries on September 10. If it happens, foreign minister S Jaishankar will come..




IndiaTimes - Published





PM Modi calls for 'reformed multilateralism' at UN

Prime Minister Narendra Modi on Friday said it was important to "assess the UN's role and relevance in today's world" while making a strong pitch for a "reformed multilateralism". PM Modi..




IndiaTimes - Published





NSA Ajit Doval monitoring border situation, LAC stand-off expected to be resolved amicably soon: Sources

National Security Advisor Ajit Doval is monitoring the India and China border situation continuously with the Indian Army and the standoff between the troops of two countries is expected to be resolved..




IndiaTimes - Published





India, China begin disengagement after talks between NSA Doval, Chinese foreign minister

Over a two hours long telephonic conversation on Sunday evening, NSA Ajit Doval and Wang Yi, China's foreign minister finalized the elements of disengagement in eastern Ladakh and de-escalation along..




IndiaTimes - Published





India, China agree that differences should not become disputes after key phone call

With Prime Minister Narendra Modi visiting the forward areas in Ladakh over the weekend coupled with sustained diplomatic pressure, the India-China border face-off appears to have reached some sort of..




IndiaTimes - Published





Russia rules out mediating between India and China

Russia on Tuesday ruled out mediating between India and China following the violent clashes in the Galwan Valley, saying the two nations do not need any kind of assistance to resolve their..




IndiaTimes - Published





Premeditated action led to clash, will seriously impact ties: Jaishankar to Chinese counterpart

Premeditated and planned action by Chinese troops was directly responsible for the violence and casualties during the June 15 border clash and this unprecedented development would have a serious impact..




IndiaTimes - Published





Chinese side took pre-meditated and planned action in Galwan Valley: EAM Jaishankar tells China's Foreign Minister

Chinese side took pre-meditated and planned action in Galwan Valley that was directly responsible for the resulting violence, EAM Jaishankar told Chinese Foreign Minister Wang Yi.




DNA - Published





Ladakh face-off: Chinese foreign minister speaks to Jaishankar

Chinese foreign minister Wang Yi spoke to external affairs minister S Jaishankar during which he emphasised that both sides should strengthen communication and coordination to resolve their differences..




IndiaTimes - Published





Jaishankar to meet China FM in virtual RIC meet on June 22

Even as India wrestles with Chinese intrusions along the Line of Actual Control in Ladakh, foreign minister S Jaishankar is scheduled to meet his Chinese counterpart Wang Yi at a virtual..




IndiaTimes - Published





China tells U.S. to stop wasting time in coronavirus battle

The United States should stop wasting time in its fight against the coronavirus and work with China to combat it, rather than spreading lies and attacking the country, the Chinese government's top..




Reuters - Published





China, U.S. to gain from cooperation, lose from confrontation - senior Chinese diplomat

The Chinese government's top diplomat, Wang Yi, said on Sunday that China and the United States both stand to gain from cooperation and would lose from confrontation, adding both sides must find a way..




Reuters - Published




China hopes U.S., North Korea can resume meaningful dialogue

China hopes the United State and North Korea can resume meaningful dialogue as soon as possible, the Chinese government's top diplomat Wang Yi said on Sunday.




Reuters - Published





China diplomat says U.S. should not challenge China's red line on Taiwan

The United States should not challenge China's red line on Chinese-claimed Taiwan, the Chinese government's top diplomat Wang Yi said on Sunday.




Reuters - Published





China says WHO chief has done a good job

World Health Organization (WHO) chief Tedros Adhanom Ghebreyesus has done a good job and countries with decency will support the body, the Chinese government's top diplomat Wang Yi said on Sunday.




Reuters - Published





Senior Chinese diplomat says new legislation on Hong Kong to have no impact on freedoms, rights

The Chinese government's top diplomat Wang Yi said on Sunday new China legislation on Hong Kong that is being considered would target a narrow category of acts and would have no impact on the city's..




Reuters - Published





Those who want China to pay virus compensation are daydreaming - diplomat

Those who want to make China pay compensation for the coronavirus outbreak are daydreaming, the Chinese government's top diplomat Wang Yi said on Sunday.




Reuters - Published





Jaishankar discusses cooperation on COVID-19 with EU and China

External affairs minister S Jaishankar on Tuesday said he had a discussion with Chinese Foreign Minister Wang Yi and High Representative of the European Union for Foreign Affairs and Security Policy,..




IndiaTimes - Published





U.S. criticism of China is 'lies', foreign minister says

China's State Councillor and Foreign Minister Wang Yi dismissed U.S. criticism of his country as "lies" on Saturday, shortly after U.S. Secretary of State Mike Pompeo criticized its foreign policy and..




Reuters - Published





Senior China diplomat says One China principle unshaken after Taiwan election

Senior Chinese diplomat Wang Yi said Monday that the One China principle will not be changed by the Taiwan election result and will not be shaken by the wrong words and actions of Western politicians.




Reuters - Published





Chinese court sentences Early Rain Church pastor to nine years jail for subversion

A Chinese court sentenced the pastor of the Early Rain Covenant Church, Wang Yi, to nine years in prison on charges of inciting subversion of state power and illegally operating a business.




Reuters - Published





NSA Ajit Doval, Chinese Foreign Minister Wang Yi discuss India-China boundary issue

Doval and Yi resolved to intensify their efforts to achieve a fair, reasonable and mutually acceptable solution to the India-China boundary question in accordance with the directives provided by PM..




DNA - Published

Also reported by •IndiaTimes


India-China Boundary Question: Special Representatives of both countries to hold border talks today

The Indian delegation will be led by National Security Advisor (NSA) Ajit Doval, while the Chinese side will be led by State Counsellor& Foreign Minister Wang Yi.




DNA - Published





India-China Boundary Issue: NSA Ajit Doval meets Chinese Foreign Minister Wang Yi

The Indian delegation is led by National Security Advisor (NSA) Ajit Doval, while the Chinese side is led by State Counsellor& Foreign Minister Wang Yi.




DNA - Published




China pushes for another discussion on J&K at UNSC

Beijing is pushing for yet another discussion on Jammu & Kashmir in the UN Security Council on Tuesday. Chinese foreign minister Wang Yi will be in India to hold boundary talks with NSA Ajit Doval this..




IndiaTimes - Published





India and China likely to iron out differences in city of Taj

After the recent strife in bilateral ties, India and China are looking to add some oomph to efforts by diplomats on both sides to stabilise the relationship. The government is considering hosting the..




IndiaTimes - Published





Senior China diplomat says U.S. seriously damaged hard-won mutual trust

Senior Chinese diplomat Wang Yi said on Friday that the United States has successively acted to attack and suppress China, seriously damaging the hard-won mutual trust between the countries.




Reuters - Published





Senior China diplomat urges U.S. to meet China halfway, improve relations

Senior Chinese diplomat Wang Yi said on Friday the United States should meet China halfway and promote a healthy and stable development of bilateral relations, as the countries continue to clash on..




Reuters - Published





Senior China diplomat says Beijing will never allow anyone to destroy HK's stability

China resolutely opposes U.S. lawmakers' passing of a Hong Kong human rights bill and will never allow anyone to destroy Hong Kong's prosperity and stability, senior Chinese diplomat Wang Yi said on..




Reuters - Published





Spruced up and fortified, TN port town Mamallapuram awaits Xi, Modi

Xi touches down in Chennai around lunchtime and will undertake an hour-long drive to this seashore town around 4 pm. He will undertake an hour-long drive to Mamallapuram town around 4 pm. The next day,..




IndiaTimes - Published





India hits back at China for raising Kashmir ar UNGA, says CPEC changing status quo in PoK

The response came after Wang Yi, the Foreign Minister of China, said at UNGA that India through its "unilateral" action by removing special status to Jammu and Kashmir is changing the "status quo" in..




DNA - Published





China's Wang Yi rejects U.S. criticisms, says both sides should cooperate

China's top diplomat, Foreign Minister and State Councilor Wang Yi, hit back at tough criticisms from the United States on Tuesday and said the world's two biggest economies should respect each others'..




Reuters - Published





India takes strong exception to reference of J&K in Pak-China joint statement

India on Tuesday objected to the reference made to Jammu and Kashmir in a China-Pakistan joint statement issued after Chinese foreign minister Wang Yi's visit to Islamabad. The external affairs..




IndiaTimes - Published





India asks Chinese foreign minister to reschedule trip

India has rescheduled Chinese foreign minister Wang Yi's September 9 visit for talks on the boundary issue with national security adviser Ajit Doval. While there is no official confirmation yet,..




IndiaTimes - Published