Gavin Newsom
40th governor of California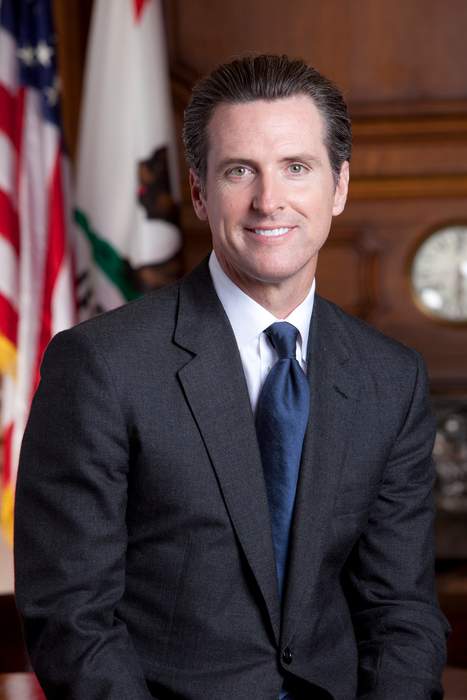 Gavin Christopher Newsom is an American politician and businessman serving as the 40th and current governor of California since January 2019. A member of the Democratic Party, he previously served as the 49th lieutenant governor of California from 2011 to 2019 and as the 42nd mayor of San Francisco from 2004 to 2011.


California plans to fully reopen June 15

California plans to fully reopen in June subject to ongoing mask wearing and a continued supply of vaccines. Governor Gavin Newsom said the state's mask mandate would remain "in place for the short..
Credit: Bleacher Report AOL Duration: 08:06
Published
Caitlyn Jenner reportedly considering running for California governor

The 71-year-old reality star is said to be "actively exploring" the prospect of running against current Governor Gavin Newsom in a possible recall election.
Credit: Cover Video STUDIO Duration: 00:52
Published
California aims to fully reopen by June 15

California will fully reopen its economy on June 15 if COVID-19 hospitalizations are low and stable, and vaccine supplies are plentiful enough for everyone over the age of 16 who wants to be..
Credit: Reuters - Politics Duration: 01:23
Published
Four dead in California shooting, including child

Four people were killed, one of them a child, in a shooting on Wednesday at an office building in suburban Los Angeles. The suspect has been taken into custody. Ryan Brooks reports.
Credit: Reuters - Politics Duration: 01:13
Published
Trump supporters say why they won't take Covid-19 vaccine

CNN's Donie O'Sullivan speaks with Trump supporters and QAnon believers outside a rally to repeal Gavin Newsom.
Credit: Bleacher Report AOL Duration: 03:24
Published
California governor reacts to petition on recall vote

California Gov. Gavin Newsom reacts to a recall campaign against him that has now gathered more than 1.5 million signatures.
Credit: Bleacher Report AOL Duration: 03:05
Published
Tapper asks Newsom: What on earth were you thinking?

Gov. Gavin Newsom (D-CA) discusses a dinner he attended flouting California's Covid-19 guidance.
Credit: Bleacher Report AOL Duration: 02:03
Published
California reaches deal to reopen schools

California Governor Gavin Newsom said on Monday he and Democratic lawmakers had reached a deal to fund the reopening of schools for students up to second grade, as the numbers of new COVID-19 cases in..
Credit: Reuters - Politics Duration: 02:39
Published
CA Rep. Bass: We will fight effort to recall Gov. Newsom

Democratic Rep. Karen Bass of California tells CNN's Dana Bash that the recall effort against Gov. Newsom is a "threat" and that Democrats will work to defeat it.
Credit: Bleacher Report AOL Duration: 00:38
Published
You Might Like
Adam Carolla Slams Gov. Newsom, Says COVID Restriction Lift 'Too Little, Too Late'
Adam Carolla is still not a fan of Gov. Gavin Newsom ... if anything, the comedian's more furious as he suspects there's a political motive behind Newsom lifting COVID restrictions in Cali. The..
TMZ.com - Published
Mastro's Open in Malibu for Dine-In, Despite Outdoor Dining Ban
Adam Carolla's got another option the next time he wants to stick it to Gov. Gavin Newsom by sitting down at an L.A. restaurant to dine-in ... and this one's got ocean views. Mastro's Ocean Club..
TMZ.com - Published
Adam Carolla Says Gov. Newsom Should Be Recalled, Rails on Lockdown
Adam Carolla supports the recall effort gaining steam against Gov. Gavin Newsom -- because he says the guy's a tyrant, and that Californians should snap out of his BS spell. We talked to the comedian..
TMZ.com - Published
'Growing Pains' Star Kirk Cameron Holds Massive Christmas Carol Gathering
Kirk Cameron stuck it to Gov. Gavin Newsom and his COVID guidelines by getting hundreds of people together in public to sing Christmas carols ... something he does not regret. The "Growing Pains" star..
TMZ.com - Published
Restaurant Owner Calls Out Film Set Next Door to Her Shuttered Bar
An L.A. restaurant owner is calling out Mayor Garcetti and Gov. Newsom for allowing film sets to continue operating, while once again closing down outdoor dining ... but her comparison might be apples..
TMZ.com - Published
Governor Gavin Newsom Slammed for Acting Like 'King' in Bizarre Weather Forecast
This bizarre weather report is pretty shocking ... as the meteorologist goes after California Governor Gavin Newsom, referring to him as a king who is ruining Thanksgiving, and that's just for..
TMZ.com - Published
Jay-Z & Meek Mill's REFORM Alliance Scores Major Victory in California
REFORM Alliance -- the criminal justice reform org launched by Jay-Z, Meek Mill, Michael Rubin and others -- is celebrating its first major victory with CA Gov. Gavin Newsom signing a new bill into..
TMZ.com - Published
CA Passes Law Allowing Trans Prisoners to be Housed by Gender Identity
California Governor Gavin Newsom just signed a new law allowing transgender prisoners in the State to be housed based on their gender identity rather than their biological sex. Newsom signed SB 132..
TMZ.com - Published
California monitoring 8,400 people for possible coronavirus
California is monitoring more than 8,400 people who arrived on commercial flights for coronavirus symptoms from "points of concern," but the state lacks test kits and has been held back by federal..
Reuters - Published
Thousands in California being monitored for coronavirus: governor
California health officials are monitoring 8,400 people for coronavirus symptoms after their arrival on domestic commercial flights, but the state had only a limited supply of test kits available,..
Reuters - Published
Trump Declares State of Emergency - And Could Be Getting Sued as a Result
by Alice Monroe - The ongoing political fracas between Donald Trump and Congress with regard to the funding of his proposed border wall with the US and Mexico appears to have been knocked up a gear,..
One News Page Staff - Published