Melania Trump
Former model and businesswoman; Former First Lady of the United States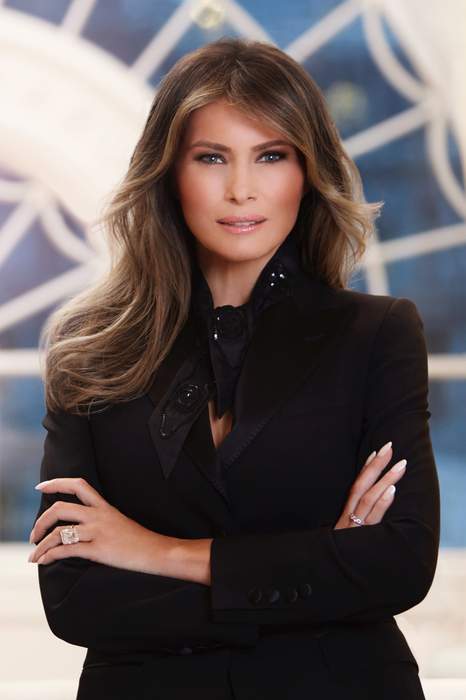 Melania Trump is a Slovene-American former model and businesswoman who served as the first lady of the United States from 2017 to 2021, as the wife of President Donald Trump.


Melania Trump Launches NFT Platform

Melania Trump , Launches NFT Platform. CNN explains that an NFT is a one-of-a-kind piece of digital content linked to the blockchain. . Recently, NFTs have garnered the interest of big brands, sports..
Credit: Wibbitz Top Stories Duration: 01:30
Published
You Might Like



Tim Matheson Not Pursuing Death Threat Case Linked to Melania Tweet

Tim Matheson says he's no longer getting death threats or money demands from the person who was pissed about his tweet at Melania Trump ... so he's moving on with his life. We broke the story ... the..




TMZ.com - Published





Tim Matheson Calls Cops Over Death Threat for Insulting Melania Trump

"Animal House" star Tim Matheson says he's getting threatened with way more than a food fight after tweeting something "ignorant" about the former First Lady. Law enforcement sources tell TMZ .....




TMZ.com - Published





Melania Trump says 'violence is never the answer' in White House farewell speech

First Lady Melania Trump has advised Americans that "violence is never the answer" in her White House farewell speech.




Sky News - Published




Melania Trump Condemns Violence, Calls for Unity Over Capitol Siege

First Lady Melania Trump's first public reaction to the violent insurrection at the U.S. Capitol is to call for peace and unity -- but her remarks might feel a tad ... too little, too late. FLOTUS..




TMZ.com - Published





Melania Trump hits out at 'personal attacks' on her after Capitol riot

Melania Trump has said she is "disappointed" and "disheartened" by the Capitol riot last week - before adding it is "shameful" she has since been the target of "salacious gossip" and "personal..




Sky News - Published





Donald Trump Says 'Elitist Snobs' in Fashion Biz Kept Melania Off Magazine Covers

Donald Trump has too many grievances to count ... the latest being his anger that Melania has not graced a single magazine cover in the 4 years he's been President, and he thinks he knows why. Trump..




TMZ.com - Published





Melania Trump Plans to Decorate White House for Christmas One Last Time

Talk about awkward situations ... Melania Trump's preparing to spread Christmas cheer at the White House while a ticked off President Trump appears to be in full Grinch mode. Good luck! A rep for the..




TMZ.com - Published





Fake Melania Trump Conspiracy, Impersonators Not Booking Gigs

The #FakeMelania conspiracy theory is having real-world effects on hard-working folks ... Melania Trump impersonators tell us their well's run dry. Here's the deal ... lots of people book well-paying..




TMZ.com - Published





Melania Appears to Pull Hand Away from President Trump After Debate

Melania Trump apparently wasn't in the mood to get handsy with President Trump after the debate -- and the new debate is about whether she dissed him on camera. The moment, as they walked off the stage..




TMZ.com - Published





President Trump's Interactions Before Positive COVID Test, Photo Contact Tracing

President Trump has been in close, maskless contact with many, many people -- in his administration and otherwise -- over the past several days ... people he may have exposed to the coronavirus. As you..




TMZ.com - Published





Prez wishes Donald Trump, Melania speedy recovery after they tested Covid-19 positive




IndiaTimes - Published





PM Modi wishes speedy recovery to US President Donald Trump from COVID-19

Earlier in the day, President Trump had announced that he and his wife Melania Trump have been tested positive for coronavirus.




DNA - Published





PM Modi wishes President Trump, Melania Trump 'quick recovery' from Covid-19




IndiaTimes - Published





President Trump and Melania Test Positive for COVID-19

President Trump and First Lady Melania Trump have both contracted the coronavirus. The President broke the news with a tweet, saying ... "Tonight @FLOTUS and I tested positive for COVID-19. We will..




TMZ.com - Published





President Trump Booed While Paying Respect to Ruth Bader Ginsburg

President Trump is getting blatantly, and loudly, disrespected for his attempt to pay his respects to Supreme Court Justice Ruth Bader Ginsburg ... and the chants he heard have a familiar ring. First..




TMZ.com - Published





Trump lauds PM Modi as 'great leader, loyal friend' on his 70th birthday

US President Donald Trump greeted Prime Minister Narendra Modi on his 70th birthday, praising him as a "great leader and loyal friend". He also posted a photograph of him and First lady Melania Trump..




IndiaTimes - Published





Bette Midler Goes After Melania Trump, Calls Her Illegal Alien with Bad English

Bette Midler is under fire for making xenophobic comments during Melania Trump's RNC speech, tweeting, "Get that illegal alien off the stage!" and "Oh, God. She still can't speak English." The First..




TMZ.com - Published





'Namaste Trump' event responsible for spread of COVID-19 in Delhi, Gujarat, Mumbai: Shiv Sena MP Sanjay Raut

It is to be noted that the United States President Donald Trump came for a 2-day visit to India on February 24-25 along with his wife, First Lady Melania Trump, son-in-law Jared Kushner, and daughter..




DNA - Published





In the city of the Taj Mahal, coronavirus resurgence carries warning signs

On Feb. 25, a day after U.S. President Donald Trump and his wife Melania posed for pictures outside the Taj Mahal on an official visit to India, Sumit Kapoor returned to his nearby home from a trip to..




Reuters - Published

Also reported by •Reuters India


'The U.S. is praying for you', Melania Trump tells UK PM Johnson's pregnant fiancée

U.S First Lady Melania Trump called Carrie Symonds, the pregnant fiancée of British Prime Minister Boris Johnson, to wish the couple a speedy recovery from the coronavirus, a White House statement..




Reuters - Published





46 million people watched Namaste Trump event on 180 TV channels: BARC data

US President Donald Trump and First Lady Melania Trump were given a rousing welcome in presence of more than 1,00,000 people at the Motera stadium in Ahmedabad. The event was shown live by over 180 TV..




IndiaTimes - Published





Delhi school's happy hour with Melania




IndiaTimes - Published





Watch: This little Sardar's dance moves during Melania Trump's school visit is just adorable

A lot of group activities and performances were organised in the honour of the visit of First Lady. But one thing that grabbed Melania's attention was a little Sardar.




DNA - Published





US First Lady Melania Trump visits Delhi govt school, attends 'Happiness Class'

All the students were dressed in traditional attire for Melania's visit.




DNA - Published





Excited children at Delhi govt school welcome Melania Trump to their 'happy world'

US First Lady Melania Trump was welcomed with thunderous applause by excited students as she interacted with them at a Delhi government school. Melania attended 'Happiness Classes' at the Sarvodaya..




IndiaTimes - Published





Melania Trump says she is inspired by happiness curriculum




IndiaTimes - Published





Donald Trump, Melania get clicked with CISF personnel in Agra

During the visit to the Taj Mahal in Agra on Monday, United States President Donald Trump and First Lady Melania Trump got their photograph clicked posing with the Central Industrial Security Force..




IndiaTimes - Published





Melania, Ivanka Trump opt for shades of white on day-2 of India visit

On arrival at the Rashtrapati Bhavan, the First Lady stepped out of the 'The Beast' wearing a midi-length collared white dress with a skater hemline. The outfit had colourful flower motifs printed on..




IndiaTimes - Published





US President pays tribute to Mahatma Gandhi at Rajghat

US President Donald Trump on Tuesday paid tributes at Rajghat, the memorial dedicated to India's founding father Mahatma Gandhi. Trump, accompanied by First Lady Melania Trump, laid a wreath at the..




IndiaTimes - Published





Love will be in the air at Prez dinner today

When US President Donald Trump and First Lady Melania Trump sit down to a ceremonial dinner at Rashtrapati Bhavan on Tuesday evening, the hors d'oeuvres will be brought out to the strains of Eric..




IndiaTimes - Published





US President Donald Trump lands in Delhi for main leg of India visit

US President Donald Trump arrived in the national capital on Monday evening for the main leg of his maiden India trip during which he will hold extensive talks with Prime Minister Narendra Modi. Trump..




IndiaTimes - Published





US President, First Lady skip food during Sabarmati Ashram visit

United States President Donald Trump and First Lady Melania Trump did not eat anything, including Gujarati delicacy 'Khaman' which was part of the high tea menu, during their visit to the Sabarmati..




IndiaTimes - Published





Top News of the Day | Feb 24, 2020: Trump family tours India, cop dies during clashes over CAA in Delhi's Maujpur & more

In top news of the day on Monday, February 24, 2020, US President Donald Trump and First Lady Melania Trump attended events and toured India, as part of their two-day visit. A Delhi Police head..




DNA - Published





Holding hands, Donald and Melania Trump tour Taj Mahal; joined by Ivanka, Jared Kushner

The visitors seemed to be taking the mausoleum in all its beauty, surrounded by perfectly trimmed shrubs in the garden and a clear blue sky.




DNA - Published





President Trump arrives in Agra to a boisterous welcome

US President Donald Trump and his wife Melania arrived in Agra on Monday to keep their date with the Taj Mahal even as hundreds of artistes welcomed the American leader at the airport with beautiful..




IndiaTimes - Published





Trump appreciated simple lifestyle of Mahatma Gandhi: Sabarmati Ashram trustee Kartikeya Sarabhai

The visitors' book bears the signature of Trump and his wife Melania Trump.




DNA - Published





Namastey Trump: US First Lady Melania adds Indian twist to her look; Ivanka mesmerises in a classy attire

First Lady of the United States Melania Trump looked beautiful in a white jumpsuit, while Ivanka Trump opted for a classy attire as they touched down in Ahmedabad.




DNA - Published





Trump, wife try spinning 'charkha' at Sabarmati Ashram

US President Donald Trump and his wife Melania on Monday tried their hands at spinning the 'charkha' (spinning wheel) at the Sabarmati Ashram here.




IndiaTimes - Published





Melania, Ivanka Trump exude elegance with subtle yet stylish outfits

First Lady Melania descended the Air Force One wearing a full-sleeved wide-legged white jumpsuit paired with a deep green coloured knotted belt, accentuating her waist. Melania kept her hair loose with..




IndiaTimes - Published





US President Donald Trump, Melania Trump to be accorded traditional welcome

The five-star hotel, symbolised by the distinctive logo of hands folded in the traditional 'Namaste', will harp on its own branding and the fact that 'Namaste Trump' has been trending all over. The..




IndiaTimes - Published





Melania Trump's visit: US embassy says no objection to presence of Kejriwal, Sisodia




IndiaTimes - Published





Honoured that he will be with us tomorrow: PM Modi on Trump visit to India

Trump will arrive in India and visit Ahmedabad-Agra-New Delhi in his two-day visit with his wife and First Lady Melania Trump, daughter Ivanka Trump, and his son in law Jared Kushner.




DNA - Published





Agra gets a hurried makeover to sweep Trumps off their feet

: The tryst will last just a couple of hours, but Agra is going for a hurried beauty therapy. With barely 48 hours left for the rendezvous, the likely route of US President Donald Trump and first lady..




IndiaTimes - Published





Top News of the Day | Feb 22, 2020: SC judge praises PM; Kejriwal barred from Melania Trump's school visit & more

Here are the top news of the day




DNA - Published





Kejriwal, Sisodia unlikely to accompany Melania during Delhi school visit

Sources said that both were to attend the programme since the school comes under the government of Delhi. Melania Trump after reaching Hyderabad House here on February 25 will move to a Delhi..




IndiaTimes - Published





Arvind Kejriwal, Manish Sisodia barred from attending Melania Trump's Delhi govt school visit: AAP

US First Lady Melania Trump is scheduled to visit a Delhi government school in South Delhi to attend a "happiness class". The curriculum was introduced by Manish Sisodia two years ago.




DNA - Published





Donald Trump to discuss CAA, NRC, raise 'religious freedom' issue with PM Modi during India visit: US official

Donald Trump is visiting Ahmedabad and New Delhi on February 24-25 along with his wife and First Lady Melania Trump.




DNA - Published





Ivanka Trump will also accompany dad to India

US President Donald Trump will be accompanied by not just his wife Melania and son-in-law Jared Kushner but also his high-profile daughter Ivanka on his maiden visit to India as president starting on..




IndiaTimes - Published





Melania Trump to visit Delhi govt school during India visit: Sources




IndiaTimes - Published





S Jaishankar meets Pompeo, Pelosi on sidelines of Munich Security Conference

President Trump and First Lady Melania Trump will pay a state visit to India on February 24 and 25 at the invitation of Prime Minister Narendra Modi, it was announced this week. In addition to New..




IndiaTimes - Published