Greenpeace
Non-governmental environmental organization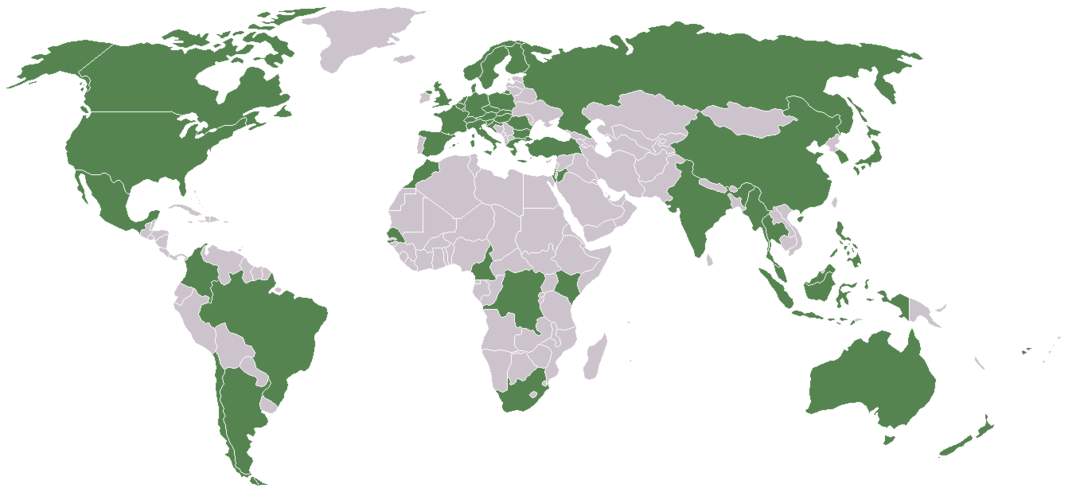 Greenpeace is a non-governmental environmental organization with offices in over 55 countries and an international coordinating body in Amsterdam, the Netherlands. Greenpeace was founded in 1971 by Irving Stowe and Dorothy Stowe, Canadian and US expat environmental activists. Greenpeace states its goal is to "ensure the ability of the Earth to nurture life in all its diversity" and focuses its campaigning on worldwide issues such as climate change, deforestation, overfishing, commercial whaling, genetic engineering, and anti-nuclear issues. It uses direct action, lobbying, research, and ecotage to achieve its goals. The global organization does not accept funding from governments, corporations, or political parties, relying on three million individual supporters and foundation grants. Greenpeace has a general consultative status with the United Nations Economic and Social Council and is a founding member of the INGO Accountability Charter, an international non-governmental organization that intends to foster accountability and transparency of non-governmental organizations.


You Might Like
Oceans are in a 'death spiral' with world leaders 'dragging their feet', Greenpeace warns
The oceans are in a "death spiral" from climate change and destructive fishing, with world leaders doing little to stop it, an environmental pressure group has warned.
Sky News - Published
24,000 deaths, 5.8% GDP loss in Delhi due to air pollution in first half of 2020: Greenpeace study
It is also considered to be the highest economic cost of air pollution in terms of GDP across 28 major cities in the world.
DNA - Published
Fire raging near Ukraine's Chernobyl poses radiation risk, say activists
A huge forest fire in Ukraine that has been raging for more than a week is now just one kilometre from the defunct Chernobyl nuclear power plant and poses a radiation risk, Greenpeace Russia warned on..
Reuters - Published
Greenpeace activist applies for top job at Poland's coal-burning utility
Greenpeace activist, Pawel Szypulski, said on Thursday he was applying for the chief executive job at Poland's biggest utility PGE, with a plan to eliminate polluting coal from the group's power..
Reuters - Published
Jharkhand's Jharia most polluted city, Delhi reduces air pollution marginally: Greenpeace report
The coal-belching town of Jharia in Jharkhand continues to be the most polluted city in India, while Delhi has made marginal improvement in reducing its air pollution level, according to a Greenpeace..
IndiaTimes - Published
German court rejects farmers' climate lawsuit, appeal possible
A German court on Thursday rejected a lawsuit brought by three farming families and the Greenpeace environmental pressure group against the German government's climate policies, saying that they had no..
Reuters - Published
German court to rule on farmers' climate change challenge
A family of farmers worried that their windswept North Sea island will be engulfed by rising sea-levels is among a Greenpeace-led group of plaintiffs seeking a court ruling that Germany must act faster..
Reuters - Published
Polish coast guard boards Greenpeace ship in coal protest
Armed Polish border guards boarded a Greenpeace ship blocking a delivery of coal in the port of Gdansk late on Monday and detained two activists, officials said on Tuesday.
Reuters - Published
G20 nations agree on deal to reduce marine plastic pollution, but details of implementation unclear for now
The deal would be 'the first step' to tackling plastic waste, Hiroaki Odachi of Greenpeace Japan said in a statement.
Firstpost - Published