Priyanka Gandhi
Indian politician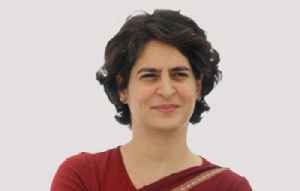 Priyanka Gandhi, also known by her married name Priyanka Gandhi Vadra, is an Indian politician and the general secretary of the All India Congress Committee in charge of Eastern Uttar Pradesh. She is the daughter of Rajiv Gandhi and Sonia Gandhi, sister of Rahul Gandhi, and granddaughter of Feroze and Indira Gandhi, making her a member of the politically prominent Nehru-Gandhi family. She is also a trustee of Rajiv Gandhi Foundation.


Hathras shocker: Congress workers detained; UP CM forms SIT l Latest updates

Protests have broken out in many parts of Uttar Pradesh against the Hathras incident. Congress workers were lathi charged and detained by police when they were going to gherao the Chief Minister's..
Credit: HT Digital Content Duration: 01:51
Published
'Only headmaster's son can come first': BJP's Narottam Mishra mocks Congress

As the Congress deals with the leadership issue raised by several party leaders in a letter to the interim Chief Sonia Gandhi, the BJP has mocked the Congress. Speaking to the media, Madhya Pradesh..
Credit: HT Digital Content Duration: 02:26
Published
Congress is like a school where only headmaster's child tops in class: Narottam Mishra

While speaking to media in Bhopal on August 24, the Home Minister of Madhya Pradesh, Narottam Mishra spoke on meetings of Congress party over party president post. He said, "There are many eligible..
Credit: ANI Duration: 01:28
Published
Watch: Rajasthan Congress MLAs sing tunes in bus on way to Jaipur

Congress MLAs who stayed at Suryagarh hotel in Jaisalmer sung songs on-board a bus on August 12. They are enroute to airport and will return to Jaipur. Yesterday, Congress leader Sachin Pilot also..
Credit: ANI Duration: 01:07
Published
Watch: Supporters of Sachin Pilot welcome him as he returns to Jaipur

Sachin Pilot arrived in Jaipur on August 11, a day after his interaction with top Congress leadership. Supporters raised slogans and welcomed him, as he returned to Jaipur. He met Rahul Gandhi and..
Credit: ANI Duration: 02:36
Published
Priyanka, Rahul Gandhi assured road map to solve issues: Sachin Pilot

Disgruntled Congress leader Sachin Pilot on his meeting with Priyanka Gandhi and Rahul Gandhi said they have assured to solve the turmoil. Pilot said, "In our meeting, Priyanka ji and Rahul ji heard..
Credit: ANI Duration: 02:55
Published
'Not worried about posts, was a battle of ideology': Sachin Pilot

Weeks after raising the banner of rebellion in Rajasthan and putting the Gehlot government under threat, Sachin Pilot has now made truce with the Congress. This happened after a meeting with Congress..
Credit: HT Digital Content Duration: 04:32
Published
Vikram Chandra on Rahul trying persuade rebel Pilot, & other top stories

Days before the crucial Rajasthan assembly session, rebel Congress leader Sachin Pilot met Rahul Gandhi and Priyanka Gandhi in Delhi. The meeting came amid indications of a possible breakthrough with..
Credit: HT Digital Content Duration: 05:47
Published
Robert Vadra meets parents of minor rape victim at AIIMS

Robert Vadra, son-in-law of Congress interim president Sonia Gandhi and husband of party leader Priyanka Gandhi on August 08 visited the AIIMS where a 12-year-old rape victim who is admitted at the..
Credit: ANI Duration: 03:12
Published
Raksha Bandhan: PM Modi, Priyanka Gandhi, Big B & others extend wishes

India celebrated Raksha Bandhan on August 3 this year. Veteran singer Lata Mangeshkar and spiritual leader Mata Amritanandmayi extended their greetings to Prime Minister Narendra Modi on the occasion...
Credit: HT Digital Content Duration: 04:14
Published
You Might Like



Hathras rape: Priyanka Gandhi demands Yogi Adityanath's resignation; UP govt forms 3-member SIT probe panel

After politics erupted on the death of the Hathras gang-rape victim, UP CM Yogi Adityanath directed trial of the Hathras gang-rape case in a fast track court and constituted a three-member SIT to probe..




DNA - Published





You are accountable for safety of women in UP: Priyanka to Adityanath

The 19-year-old Dalit woman was raped allegedly by four men in Uttar Pradesh's Hathras district on September 14. She died at a hospital in Delhi where she was undergoing treatment on Tuesday morning...




IndiaTimes - Published





Hathras Gangrape Victim Death Case: Priyanka Gandhi attacks CM Yogi Adityanath on women safety, Mayawati demands justice

Politics has erupted after the death of Hathras gang-rape victim on Tuesday. Congress leader Priyanka Gandhi and Bahujan Samaj Party supremo Mayawati tweeted on the issues. The Hathras Gangrape victim..




DNA - Published





Why do recruitments get stalled in UP, asks Priyanka Gandhi




IndiaTimes - Published





Dr Kafeel Khan meets Priyanka Gandhi in Delhi




IndiaTimes - Published





Tough time for farmers, BJP govt eager to get its 'rich friends' into agri sector: Priyanka Gandhi

Accusing the BJP government of not listening to the farmers, Congress leader Priyanka Gandhi Vadra on Saturday said that the central government seems eager to get its "billionaire friends" into the..




IndiaTimes - Published





Youth facing injustice in UP due to unemployment, poor recruitment processes: Priyanka Gandhi




IndiaTimes - Published





PPE kit scam in every district of UP: Priyanka Gandhi




IndiaTimes - Published





Need to support youth in their 'fight' for employment: Priyanka

Congress leader Priyanka Gandhi Vadra on Wednesday said the youth are raising their voice over stalled recruitments, examination dates and new jobs, as she underlined the need for supporting their..




IndiaTimes - Published





Four more members added to Priyanka Gandhi's advisory council

Congress interim President Sonia Gandhi has appointed four additional members to the advisory council of Priyanka Gandhi Vadra, party general secretary in-charge of Uttar Pradesh.




IndiaTimes - Published





Hope UP government will release Kafeel Khan without any 'malice': Priyanka Gandhi

The Allahabad High Court has ordered the immediate release of Khan, who has been in jail since January after a speech he delivered at the Aligarh Muslim University during the anti-Citizenship..




IndiaTimes - Published





Priyanka Gandhi attacks Centre over plummeting GDP growth

Congress leader Priyanka Gandhi Vadra on Tuesday attacked the Central government over the plummeting GDP growth and said that her brother and former party president Rahul Gandhi had predicted about the..




IndiaTimes - Published





UP government should provide insurance cover to all journalists: Priyanka Gandhi

Congress leader Priyanka Gandhi Vadra on Tuesday urged the Uttar Pradesh government to provide insurance cover to journalists. Her appeal to the government came after the death of a young journalist..




IndiaTimes - Published





'Nobody is safe': Priyanka Gandhi slams UP CM over double murder

"The UP CM may say anything in the House, but right next to his residence, in a VIP area, the wife and son of a senior railway officer Mr. RD Bajpai being killed in broad daylight, shows that the..




IndiaTimes - Published





'Come and work with me': Mother Teresa told Priyanka after Rajiv's assassination

"Come and work with me," was what Mother Teresa told Priyanka Gandhi when she visited former Prime Minister Rajiv Gandhi's family after his assassination in 1991.This anecdotal account was shared by..




IndiaTimes - Published





Take cognizance of 'very bad' situation of women's safety in UP: Priyanka to Guv

Congress leader Priyanka Gandhi Vadra on Wednesday urged Uttar Pradesh Governor Anandiben Patel to take cognizance of the situation of women's safety in the state which she alleged had become "very..




IndiaTimes - Published





Priyanka Gandhi Vadra slams UP government over journalists' death

"Shubham MTripathi was killed on June 19, Vikram Joshi was killed on July 20, Ratan Singh was killed on August 24. Three journalists were killed in three months. FIRs have been filed against 11..




IndiaTimes - Published





With you in fight for justice: Priyanka Gandhi to Sudiksha's family

A Congress delegation met the family of Sudiksha Bhati, who died earlier this month in a road crash, at their Greater Noida home on Friday and extended Rs 5 lakh aid along with a condolence letter from..




IndiaTimes - Published





UP government threatens people instead of solving problems: Priyanka Gandhi




IndiaTimes - Published





Priyanka pitch for Congress leadership change a result of power tussle in Nehru-Gandhi family, say partymen

After facing embarrassing drubbings in the last two Lok Sabha elections and several state polls in the last few years, Congress leaders and workers were already restive over the issue of party..




IndiaTimes - Published





Discomfited by Priyanka stand, Congress says RaGa prez pick

Congress general secretary Priyanka Gandhi Vadra's statement that a non-Gandhi should head the organisation triggered discomfort in the party which questioned the "media interest" in her..




IndiaTimes - Published





Rahul, Priyanka slam UP govt, say caste violence, crimes against women rising

Former Congress chief Rahul Gandhi and party leader Priyanka Gandhi Vadra hit out at the Yogi Adityanath government in Uttar Pradesh on Monday, alleging that incidents of caste violence and crimes..




IndiaTimes - Published





Rahul Gandhi a failed politician, his recent statements are frustrated utterances: Sambit Patra

"The allegations are not only unfounded, but this is a typical characteristic feature of Congress and Rahul Gandhi. He is a failed leader and these are frustrated utterances of his. According to Rahul,..




IndiaTimes - Published





Priyanka Gandhi lauds soldiers, healthcare workers, farmers on Independence Day

Congress general secretary Priyanka Gandhi Vadra on Saturday lauded the soldiers, healthcare workers, farmers and labourers across the country on the occasion of the 74th Independence Day. The Congress..




IndiaTimes - Published





Bulandshahr incident shows that there is no fear of law in UP: Priyanka Gandhi

Congress general secretary Priyanka Gandhi Vadra said that the Bulandshahr incident reflects that there is no fear of law in Uttar Pradesh and the women are insecure in the state. Her reaction came on..




IndiaTimes - Published





Priyanka slams Yogi govt on Bulandshahr incident

Congress General Secretary Priyanka Gandhi Vadra has slammed the Yogi Adityanath government over the Bulandshahr accident in which a US student was killed. The accident, which took place on Monday, was..




IndiaTimes - Published





Sachin Pilot thanks Sonia Gandhi for noting, addressing his and rebel MLAs' grievances

Former Rajasthan deputy chief minister Sachin Pilot on Tuesday thanked Congress interim president Sonia Gandhi and party leaders Priyanka Gandhi Vadra and Rahul Gandhi for noting and addressing his and..




IndiaTimes - Published





Sachin Pilot cancels flight from Congress after meeting Rahul, Priyanka

Sachin Pilot met Congress leaders Rahul Gandhi and Priyanka Gandhi Vadra and rolled back his rebellion on the assurance that his grievances would be "redressed" even though the terms of the peace..




IndiaTimes - Published





'No desire for any post': Sachin Pilot calls truce after meeting with Gandhis, says wanted self-respect to remain intact

Pilot, who was sacked as deputy CM and as state unit chief, said he has no desire for any post and just wanted the self-respect to remain intact. His statement came after a meeting with Rahul Gandhi..




DNA - Published





Priyanka Gandhi in 3-member Congress panel to address issues raised by Pilot

Congress rebel Sachin Pilot met Congress leaders Rahul Gandhi and Priyanka Gandhi Vadra on Monday. On the same day, Bhanwar Lal Sharma, a lead figure of team Pilot, met Gehlot in Jaipur.




DNA - Published





Signs of reconciliation in Rajasthan Congress; Sachin Pilot meets Rahul, Priyanka Gandhi in Delhi

Congress rebel Sachin Pilot met Congress leaders Rahul Gandhi and Priyanka Gandhi Vadra on Monday. On the same day, Bhanwar Lal Sharma, a lead figure of team Pilot, met Gehlot in Jaipur.




DNA - Published





Signs of reconciliation in Rajasthan Congress; Sonia Gandhi to form 3-member panel to address issues raised by Pilot

Congress rebel Sachin Pilot met Congress leaders Rahul Gandhi and Priyanka Gandhi Vadra on Monday. On the same day, Bhanwar Lal Sharma, a lead figure of team Pilot, met Gehlot in Jaipur.




DNA - Published





'Dictatorship in J&K for past one year': Priyanka Gandhi targets govt over Saifuddin Soz's 'detention'

Congress general secretary Priyanka Gandhi Vadra on Thursday attacked the BJP government for treating her party leader Saifuddin Soz as a "prisoner", and alleged Jammu and Kashmir has been under a..




IndiaTimes - Published





Congress ally IUML expresses displeasure over Priyanka Gandhi's Ayodhya statement

The Indian Union Muslim League, a major ally in the Congress-led United Progressive Alliance, on Wednesday passed a resolution expressing displeasure over Priyanka Gandhi Vadra's statement on the..




IndiaTimes - Published





Congress slams Owaisi for his tweet against Priyanka Gandhi, says Congress ideology is Hindu-Muslim bhai bhai




IndiaTimes - Published





Ram Temple bhoomipujan should celebrate national unity cultural confluence: Priyanka Gandhi

Congress national general secretary Priyanka Gandhi on Tuesday said that the Bhoomipujan of Ramlalla's temple slated to take place on August 5 should be an occasion that spreads a message of national..




IndiaTimes - Published





Priyanka Gandhi hopes groundbreaking ceremony of Ram temple becomes marker of national unity




IndiaTimes - Published




I have learned love, truth and patience from my brother: Priyanka Gandhi

Extending warm greetings and good wishes to the countrymen on the occasion of Raksha Bandhan, Congress general secretary Priyanka Gandhi Vadra on Monday said she has learnt love, truth and patience..




IndiaTimes - Published





Priyanka urges Uttar Pradesh CM Yogi to check crime

Congress general secretary Priyanka Gandhi Vadra on Saturday wrote to Uttar Pradesh Chief Minister Yogi Adityanath urging him to ensure law and order and control crime in the state. In a letter dated..




IndiaTimes - Published





'Jungle raj growing in UP': Priyanka Gandhi slams Yogi govt over death of Bulandshahr lawyer

ongress general secretary Priyanka Gandhi Vadra on Saturday slammed the Yogi Adityanath government in Uttar Pradesh over deteriorating law and order situation, alleging 'jungle raj' was growing in the..




IndiaTimes - Published





Priyanka Gandhi exits government bungalow, moves to Ggn




IndiaTimes - Published




Rajasthan BJP chief Satish Poonia targets Priyanka Gandhi over BSP MLAs controversy

BJP state president Satish Poonia on Tuesday targeted Congress general secretary Priyanka Gandhi Vadra over her tweet regarding the BSP issuing a whip to its six MLAs who joined the Congress in..




IndiaTimes - Published





BSP whip to MLAs: Priyanka Gandhi says it is clean chit to those who murdered democracy

"Undeclared spokespersons of the BJP have issued a whip in support of the BJP. But, this is not a whip but a clean chit to those who murder democracy and the Constitution," she said in a tweet in..




IndiaTimes - Published





Kidnappings on rise; fix deteriorating law and order: Priyanka to UP CM

"Two days ago, a delegation of our party met the family. They are very worried and upset. They have written in a letter seeking help and strict directive to the police officers to fully assist them,"..




IndiaTimes - Published





Priyanka Gandhi calls for rethink on B Ed entrance exam amid rapid spread of Covid-19

There have been coronavirus cases in different educational institutions and in such a situation, it does not seem appropriate to put 4.5 lakh students at risk without assessing their safety, Congress..




IndiaTimes - Published





Priyanka Gandhi talks to BJP MP Anil Baluni, to vacate official house soon




IndiaTimes - Published





Priyanka Gandhi invites BJP MP Anil Baluni for tea before vacating bungalow: Source




IndiaTimes - Published




Centre trying to topple state governments elected by people amid pandemic: Priyanka Gandhi




IndiaTimes - Published





Priyanka Gandhi writes letter to UP CM Yogi Adityanath, slams state govt over Covid-19 handling

Congress leader Priyanka Gandhi Vadra on Saturday attacked the Yogi Adityanath government over its handling of the Covid-19 crisis, saying that at a time when there is an "explosive" rise in cases, its..




IndiaTimes - Published





'Law & order surrendered to goons': Priyanka Gandhi slams UP govt over murder of Vikram Joshi, Sanjeet Yadav

Gandhi said that the law and order in the state 'has been 'surrendered to the goons'.




DNA - Published