Priyanka Gandhi
Indian politician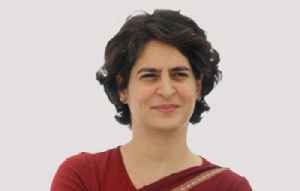 Priyanka Gandhi, also known by her married name Priyanka Gandhi Vadra, is an Indian politician and the general secretary of the All India Congress Committee in charge of Eastern Uttar Pradesh. She is the daughter of Rajiv Gandhi and Sonia Gandhi, sister of Rahul Gandhi, and granddaughter of Feroze and Indira Gandhi, making her a member of the politically prominent Nehru-Gandhi family. She is also a trustee of Rajiv Gandhi Foundation.


Robert Vadra meets parents of minor rape victim at AIIMS

Robert Vadra, son-in-law of Congress interim president Sonia Gandhi and husband of party leader Priyanka Gandhi on August 08 visited the AIIMS where a 12-year-old rape victim who is admitted at the..
Credit: ANI Duration: 03:12
Published
Raksha Bandhan: PM Modi, Priyanka Gandhi, Big B & others extend wishes

India celebrated Raksha Bandhan on August 3 this year. Veteran singer Lata Mangeshkar and spiritual leader Mata Amritanandmayi extended their greetings to Prime Minister Narendra Modi on the occasion...
Credit: HT Digital Content Duration: 04:14
Published
Congress leader Priyanka Gandhi vacates Delhi bungalow after Centre's order

Congress general secretary Priyanka Gandhi Vadra vacated her official Lodhi Estate bungalow on Thursday. Priyanka handed over the possession to CPWD on Thursday. An official statement issued by the..
Credit: HT Digital Content Duration: 01:11
Published
Priyanka Gandhi vacates Delhi's government bungalow

Congress general secretary Priyanka Gandhi Vadra handed over the documents of her central government allotted accommodation, to officials of Central Public Works Department. She vacated the..
Credit: ANI Duration: 01:09
Published
Vikas Dubey encounter: BJP govt turned UP into 'apradh pradesh', says Priyanka Gandhi

While speaking to media in the national capital on July 10, the General Secretary of Indian National Congress, Priyanka Gandhi Vadra spoke on Vikas Dubey encounter case. She said, "Bharatiya Janata..
Credit: ANI Duration: 02:10
Published
Won't let PM Modi to give our land to China: Priyanka Gandhi

All India Congress Committee's general secretary for Uttar Pradesh (east) Priyanka Gandhi Vadra on June 26 warned Prime Minister Narendra Modi over border tensions with China, and said, "We'll not let..
Credit: ANI Duration: 01:44
Published
You Might Like



'Dictatorship in J&K for past one year': Priyanka Gandhi targets govt over Saifuddin Soz's 'detention'

Congress general secretary Priyanka Gandhi Vadra on Thursday attacked the BJP government for treating her party leader Saifuddin Soz as a "prisoner", and alleged Jammu and Kashmir has been under a..




IndiaTimes - Published





Congress ally IUML expresses displeasure over Priyanka Gandhi's Ayodhya statement

The Indian Union Muslim League, a major ally in the Congress-led United Progressive Alliance, on Wednesday passed a resolution expressing displeasure over Priyanka Gandhi Vadra's statement on the..




IndiaTimes - Published





Congress slams Owaisi for his tweet against Priyanka Gandhi, says Congress ideology is Hindu-Muslim bhai bhai




IndiaTimes - Published





Ram Temple bhoomipujan should celebrate national unity cultural confluence: Priyanka Gandhi

Congress national general secretary Priyanka Gandhi on Tuesday said that the Bhoomipujan of Ramlalla's temple slated to take place on August 5 should be an occasion that spreads a message of national..




IndiaTimes - Published





Priyanka Gandhi hopes groundbreaking ceremony of Ram temple becomes marker of national unity




IndiaTimes - Published




I have learned love, truth and patience from my brother: Priyanka Gandhi

Extending warm greetings and good wishes to the countrymen on the occasion of Raksha Bandhan, Congress general secretary Priyanka Gandhi Vadra on Monday said she has learnt love, truth and patience..




IndiaTimes - Published





Priyanka urges Uttar Pradesh CM Yogi to check crime

Congress general secretary Priyanka Gandhi Vadra on Saturday wrote to Uttar Pradesh Chief Minister Yogi Adityanath urging him to ensure law and order and control crime in the state. In a letter dated..




IndiaTimes - Published





'Jungle raj growing in UP': Priyanka Gandhi slams Yogi govt over death of Bulandshahr lawyer

ongress general secretary Priyanka Gandhi Vadra on Saturday slammed the Yogi Adityanath government in Uttar Pradesh over deteriorating law and order situation, alleging 'jungle raj' was growing in the..




IndiaTimes - Published





Priyanka Gandhi exits government bungalow, moves to Ggn




IndiaTimes - Published




Rajasthan BJP chief Satish Poonia targets Priyanka Gandhi over BSP MLAs controversy

BJP state president Satish Poonia on Tuesday targeted Congress general secretary Priyanka Gandhi Vadra over her tweet regarding the BSP issuing a whip to its six MLAs who joined the Congress in..




IndiaTimes - Published





BSP whip to MLAs: Priyanka Gandhi says it is clean chit to those who murdered democracy

"Undeclared spokespersons of the BJP have issued a whip in support of the BJP. But, this is not a whip but a clean chit to those who murder democracy and the Constitution," she said in a tweet in..




IndiaTimes - Published





Kidnappings on rise; fix deteriorating law and order: Priyanka to UP CM

"Two days ago, a delegation of our party met the family. They are very worried and upset. They have written in a letter seeking help and strict directive to the police officers to fully assist them,"..




IndiaTimes - Published





Priyanka Gandhi calls for rethink on B Ed entrance exam amid rapid spread of Covid-19

There have been coronavirus cases in different educational institutions and in such a situation, it does not seem appropriate to put 4.5 lakh students at risk without assessing their safety, Congress..




IndiaTimes - Published





Priyanka Gandhi talks to BJP MP Anil Baluni, to vacate official house soon




IndiaTimes - Published





Priyanka Gandhi invites BJP MP Anil Baluni for tea before vacating bungalow: Source




IndiaTimes - Published




Centre trying to topple state governments elected by people amid pandemic: Priyanka Gandhi




IndiaTimes - Published





Priyanka Gandhi writes letter to UP CM Yogi Adityanath, slams state govt over Covid-19 handling

Congress leader Priyanka Gandhi Vadra on Saturday attacked the Yogi Adityanath government over its handling of the Covid-19 crisis, saying that at a time when there is an "explosive" rise in cases, its..




IndiaTimes - Published





'Law & order surrendered to goons': Priyanka Gandhi slams UP govt over murder of Vikram Joshi, Sanjeet Yadav

Gandhi said that the law and order in the state 'has been 'surrendered to the goons'.




DNA - Published





Priyanka Gandhi Vadra all set to vacate her govt bungalow, will shift to house in Gurugram

Sources close to Priyanka Gandhi Vadra have stated that she will stay in Gurugram for the next few months. She is currently scouting two or three places in the national capital for rented accommodation..




IndiaTimes - Published





'Promised Ram Raj, gave Gunda Raj': Rahul Gandhi condoles journalist Vikram Joshi's death, slams UP govt over incident

A day earlier, Congress' Priyanka Gandhi had criticised the Yogi government over the attack on the journalist and deteriorating law and order in Uttar Pradesh




DNA - Published





Priyanka Gandhi slams UP govt over attack on journalist in Ghaziabad

Congress leader Priyanka Gandhi Vadra on Tuesday attacked the Uttar Pradesh government over the law-and-order situation in the state after a journalist was reportedly shot at in Ghaziabad. A journalist..




IndiaTimes - Published





Help flood-hit people, Priyanka Gandhi tells Congress leaders, workers

Congress General Secretary Priyanka Gandhi Vadra on Monday appealed to party leaders and workers to do everything possible to help those affected by floods in several parts of the country.




IndiaTimes - Published





Covid took 'gigantic form' in UP as govt didn't pay attention to testing, contact tracing: Priyanka Gandhi




IndiaTimes - Published





Priyanka Gandhi slams UP govt over handling of Covid-19 pandemic

The Covid-19 ward of the medical college is full of drainage water. The patients are worried and there is no system of draining out the water, the Congress general secretary in-charge of UP East..




IndiaTimes - Published





Priyanka, Puri cross swords over house

Congress general secretary Priyanka Gandhi Vadra and housing minister Hardeep Singh Puri engaged in a Twitter war on Tuesday over a report which claimed that a request was made to the PM to let her..




IndiaTimes - Published





Govt bungalow row: What Puri, Priyanka said on Twitter

Union minister Hardeep Singh Puri and Congress leader Priyanka Gandhi Vadra on Tuesday engaged in a war of words over Lodhi Estate bungalow with Puri claiming that a Congress leader had requested him..




IndiaTimes - Published





'A powerful Congress leader called': Hardeep Puri triggers row after Priyanka Gandhi debunks reports on Lutyens bungalow

Reacting to Priyanka Gandhi's tweet and Hardeep Puri said a "powerful" congress leader did call him and request that "35, Lodhi Estate be allotted to another INC MP so that Priyanka Vadra can stay on".




DNA - Published





Twitter row breaks out between Priyanka Gandhi, Hardeep Singh Puri over Lutyens' bungalow

Reacting to Priyanka Gandhi's tweet and Hardeep Puri said a "powerful" congress leader did call him about it without revealing who from the Congress had made the call.




DNA - Published





Facts speak for themselves: Puri on row over Priyanka Gandhi bungalow




IndiaTimes - Published





Priyanka Gandhi to vacate govt accommodation by August 1

Congress leader Priyanka Gandhi Vadra on Tuesday said she would be vacating her government accommodation in Lodhi Estate here by August 1, terming as "fake news" reports that she had sought more time..




IndiaTimes - Published





Will vacate govt accommodation by August 1: Priyanka Gandhi Vadra




IndiaTimes - Published





Rahul, Priyanka in touch with Pilot, trying to placate him: Sources

Top Congress leaders, including Rahul Gandhi and Priyanka Gandhi, are in touch with Sachin Pilot and are trying to placate him, a day after the Rajasthan deputy CM declared open rebellion against Chief..




IndiaTimes - Published





No one has understood UP govt's logic of weekend lockdown 'baby pack': Priyanka

"UP: Coronavirus cases in the last three days -- July 10 -- 1,347, July 11 -- 1,403 and July 12 -- 1,388," said Priyanka Gandhi said in a tweet, adding, "No one has understood the logic of the weekend..




IndiaTimes - Published





UP assembly polls to be fought under leadership of Priyanka Gandhi: Lallu

ongress general secretary Priyanka Gandhi Vadra will be the "face of the party" in the 2022 Uttar Pradesh Assembly elections, UP Congress chief Ajay Kumar Lallu said on Sunday.




IndiaTimes - Published





Priyanka Gandhi Vadra demands thorough investigation into woman panchayat officer suicide case

In a letter to Uttar Pradesh chief minister Yogi Adityanath, she said the young and honest officer posted in Ballia had raised several questions on the functioning of her department. In a Facebook..




IndiaTimes - Published





Support aggressive stand of Rahul, Priyanka Gandhi on national interest issues: Digvijaya Singh




IndiaTimes - Published





'Culprit killed but what about those who aided him?' asks Priyanka Gandhi Vadra

Soon after gangster Vikas Dubey was killed in an encounter by the Uttar Pradesh Police on Friday, Congress General Secretary Priyanka Gandhi Vadra raised questions on those who aided the gangster.




DNA - Published





Priyanka Gandhi to shift out of her Lutyens bungalow by month-end




IndiaTimes - Published





Priyanka Gandhi demands CBI probe to ascertain facts about 'grant of protection' to gangster Vikas Dubey




IndiaTimes - Published





MHA sets up inter-ministerial committee to probe violation of legal provisions by Rajiv Gandhi Foundation & others

The other trustees include former Prime Minister Manmohan Singh and party leaders including Rahul Gandhi, Priyanka Gandhi Vadra and P Chidambaram.




DNA - Published





UP CM has done nothing except cover up statistics on crime: Priyanka

Congress leader Priyanka Gandhi Vadra on Monday attacked the Yogi Adityanath government over the state of law and order in Uttar Pradesh, saying what has the chief minister done except cover up..




IndiaTimes - Published





BJP national media head Anil Baluni to get bungalow currently occupied by Priyanka Gandhi

The government has allotted a Lutyens' Delhi bungalow, currently occupied by Congress leader Priyanka Gandhi, to the BJP's national media head and Rajya Sabha member Anil Baluni, an official of the..




IndiaTimes - Published





Priyanka Gandhi hits out at UP govt over rising crime




IndiaTimes - Published





No one safe in UP's jungle raj, says Priyanka; Congress to launch e-campaign against crime

There is a "jungle raj" prevailing in Uttar Pradesh where no one, including police, is safe, Congress national general secretary Priyanka Gandhi Vadra said on Saturday, a day after eight policemen..




IndiaTimes - Published





Sonia Gandhi's demand for OBC seat reservation in NEET is for social justice: Priyanka Gandhi

Lending her support to Congress President Sonia Gandhi's demand for reservation of seats for Other Backward Class (OBC) students in medical institutions in the states/UTs under the national quota in..




IndiaTimes - Published





Priyanka Gandhi calls meeting of UP Cong leaders over law and order situation

The state unit had asked party workers to light candles outside their houses to pay tribute to the policemen who sacrificed their lives and show solidarity towards their families. Kanpur incident has..




IndiaTimes - Published





Another proof of hooliganism in UP: Rahul Gandhi on killing of policemen in Kanpur

"Another proof of 'Gundaraj' in UP. When the police are not safe, how will the public be? My heartfelt condolences are with the families of the slain martyrs and I wish the injured a speedy recovery,"..




IndiaTimes - Published





Law and order situation in UP has deteriorated, CM should take strict action: Priyanka Gandhi Vadra on Kanpur encounter

Congress General Secretary in-charge of Uttar Pradesh Priyanka Gandhi Vadra on Friday paid condolences to the family members of eight police personnel who lost their lives after being fired upon by..




IndiaTimes - Published





Eviction notice to Priyanka: Congress accuses govt of 'trickery, treachery'

The Congress accused the government on Thursday of "trickery and treachery" for its "manipulative approach" in serving an eviction notice to party leader Priyanka Gandhi Vadra with regard to a bungalow..




IndiaTimes - Published





UP CM has turned a blind eye to ground realities of Covid crisis: Priyanka Gandhi




IndiaTimes - Published