Nagpur
Winter capital of Maharashtra, India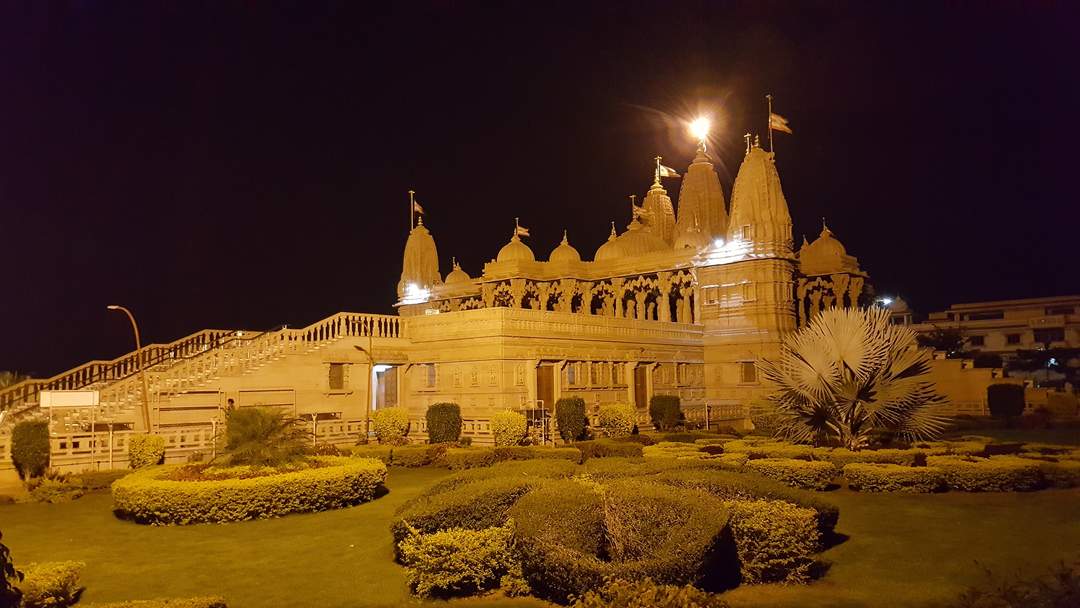 Nagpur is the third largest city and the winter capital of the Indian state of Maharashtra. It is the 13th largest city in India by population and according to an Oxford Economics report, Nagpur is projected to be the fifth fastest growing city in the world from 2019 to 2035 with an average growth of 8.41%. It has been proposed as one of the Smart Cities in Maharashtra and is one of the top ten cities in India in Smart City Project execution.


Locals turn away eyes from COVID guidelines

Locals in Nagpur defied COVID protocols at public places amid the devastating second wave of COVID-19 pandemic. People in large numbers rushed to the market area to make purchase. The state is under..
Credit: ANI Duration: 01:03
Published
Air ambulance flight's wheel falls on ground at Mumbai airport, lands safely

A Jet Serve Aviation C-90 aircraft VT-JIL was operating an Ambulance flight from Nagpur with patient on board. While departing, a wheel was separated and fallen on the ground. The Aircraft was safely..
Credit: ANI Duration: 01:14
Published
Train carrying 45,000 litres milk leaves for Delhi from Nagpur

First milk train with 45,000 liters of milk left from Nagpur on May 05. The milk train will be docked at Delhi's Hazrat Nizamuddin station. The milk will help Delhi to meet up the demand during the..
Credit: ANI Duration: 01:23
Published
Fire breaks out in Nagpur Commissioner Office

A massive fire broke out at Commissioner Office in Maharashtra's Nagpur on May 02. Fire tenders present at the spot to douse the flames. Reason behind the fire is yet to be ascertained. However, flames..
Credit: ANI Duration: 01:20
Published
Watch: Oxygen Express reaches Maharashtra; Nagpur, Nashik get life-saving gas

The first Oxygen Express returned to Maharashtra, four days after it started its journey. The train carried seven tankers filled with liquid medical oxygen from Visakhapatnam. The Oxygen Express..
Credit: HT Digital Content Duration: 03:01
Published
Received 45 MT of oxygen from Visakhapatnam, informs Nagpur Add. Municipal Commissioner

Received three tankers with a capacity of 15 MT each in Nagpur, informed Nagpur Additional Municipal Commissioner Jalaj Sharma on April 23. "We have received three tankers here in Nagpur, with a..
Credit: ANI Duration: 01:22
Published
RORO Oxygen Express arrives at Nagpur Junction

Roll On Roll Off (RORO) Oxygen Express has arrived at Nagpur Junction Railway Station on April 23 amid Oxygen crisis in Maharashtra. The RORO Oxygen Express reached Nagpur with 7 oxygen tankers, of..
Credit: ANI Duration: 01:33
Published
Watch: Covid-19 patients seen sharing beds at Nagpur hospital amid case surge

In Nagpur, Covid-19 patients were seen sharing a bed in a hospital. This comes amid reports of beds in hospitals getting full due to a surge in Covid-19 cases. In the video, several patients can be..
Credit: HT Digital Content Duration: 01:57
Published
Watch: COVID patients share beds at Nagpur hospital amid case surge

In a viral video, COVID-19 patient were seen sharing beds at Government Medical College and Hospital, Nagpur. This comes at a time when the country, is dealing with the second wave of coronavirus...
Credit: ANI Duration: 02:23
Published
You Might Like



COVID-19: Covaxin clinical trials for children begin at AIIMS Patna

The trials are also slated to take place in 525 subjects at various sites, including AIIMS, Delhi, and Meditrina Institute of Medical Sciences, Nagpur




DNA - Published





Covaxin set for clinical trials on children aged between 2 and 18 years

The trial will take place in 525 subjects at various sites, including AIIMS Delhi, AIIMS Patna and Meditrina Institute of Medical Sciences, Nagpur.




DNA - Published





Bharat Biotech's Covaxin recommended by expert panel for phase 2/3 trials on 2-18 year-olds

Bharat Biotech's Covid-19 vaccine Covaxin was on Tuesday recommended by an expert panel for phase II/III clinical trial on those aged between two to 18 years, official sources said. The trial will take..




IndiaTimes - Published





WhatsApp group admins not liable for members' posts: HC

The Nagpur bench of the Bombay high court has ruled that WhatsApp group admins can't be held liable for objectionable content posted by a member unless it is proved there was common intention or a..




IndiaTimes - Published





Plant 10 trees to give back oxygen to nature: Nagpur hospital to discharged patient




IndiaTimes - Published





RSS chief Mohan Bhagwat tests Covid-19 positive, hospitalised

Rashtriya Swayamsevak Sangh (RSS) chief Mohan Bhagwat has tested coronavirus positive and he has been admitted to a private hospital in Nagpur, sources said on Friday. Bhagwat has been admitted to the..




IndiaTimes - Published





Maharashtra: 4 dead, some injured in fire at private hospital in Nagpur




IndiaTimes - Published





Maharashtra COVID-19: Nearly 50,000 cases in 24 hours, Pune alone records 10,000 infections

5 districts in Maharashtra- Mumbai (60,846), Pune (73,599), Thane (48,660), Nagpur (52,408), and Nashik (31,512) reported highest jump in COVID cases.




DNA - Published





Covid-19: Hundreds of beds made available in Nagpur, occupied in less than hour

The efforts taken by medical colleges, civic and district administrations in the last two days brought the ongoing bed crisis under control to a certain extent. However, sheer high number of patients..




IndiaTimes - Published





Lockdown in Nagpur? Know all about restrictions, what's open and what's not

Amid a massive surge in COVID-19 cases, the Nagpur district administration announced strict measures till March 31.




DNA - Published





BJP wants to govern Assam from Nagpur but Congress will work as per wishes of locals, says Rahul Gandhi




IndiaTimes - Published





COVID-19: Lockdown in Mumbai, Pune? Here's what Maharashtra's Health Minister Rajesh Tope said

Restrictions have been imposed in a few cities of Maharashtra, including lockdown in Nagpur, and night curfew in Pune and Latur.




DNA - Published





In this week, Nagpur has seen its most Covid cases




IndiaTimes - Published





After Nagpur, THIS district in Maharashtra announces lockdown due to rising COVID-19 cases

This comes a day after the administration announced lockdown in Nagpur from March 15 to March 21.




DNA - Published





As cases surge, Nagpur to see stricter curbs for a week




IndiaTimes - Published





Covid-19 Complete lockdown announced in Nagpur from March 15 to March 21

The Maharashtra government on Thursday announced a complete lockdown in Nagpur district from March 15 to 21. However, essential services will remain open during the lockdown, says Nagpur guardian..




IndiaTimes - Published





After Nagpur, lockdown in Mumbai too? Fear looms as city records over 1500 new coronavirus cases

A week-long lockdown has been imposed in Nagpur from March 15 and it will remain in place till March 21.




DNA - Published





COVID-19: Lockdown in Maharashtra's Nagpur from March 15, what's open and what's not

With the rising COVID-19 cases in Maharashtra, the administration has decided to impose a lockdown in Nagpur from March 15.




DNA - Published





Wedding venue in Nagpur turns Covid detection centre




IndiaTimes - Published





Railway Recruitment 2021: 2532 posts up for grabs, get govt job without any exam

The Central Railway is offering these vacancies at various locations like Pune, Mumbai, Solapur, Nagpur and Bhusawal.




DNA - Published





COVID-19: After Pune, Maharashtra govt imposes restrictions in Nagpur, shuts down schools, colleges till March 7

In wake of rising COVID-19 cases, all weekly markets, schools, colleges and coaching centres have been closed till March 7.




DNA - Published





COVID-19: Schools, colleges shut down in Pune till February 28, restrictions on public movement

Maharashtra government is planning to impose a night curfew in Yavatmal, Amravati and Nagpur districts to curb the spread of the deadly viral disease.




DNA - Published





COVID-19: Maharashtra government issues new curbs for Nagpur and other cities, check full list here

On February 19, Maharashtra reported more than 6,000 new COVID-19 cases in a span of 24 hours, the biggest single-day rise in the past three months.




DNA - Published





Drawing inspiration from South Indian star Rajinikanth, tea-seller in Nagpur serves tea with unique swagger

The tea-stall owner has a swagger and style about him equalled by no one in his line of business.




DNA - Published





Congress will never implement CAA if voted to power in Assam: Rahul Gandhi

Accusing the BJP and RSS of dividing Assam, Congress leader Rahul Gandhi on Sunday said that his party will protect every principle of the Assam Accord and will never implement the Citizenship..




IndiaTimes - Published





Covaxin trials for kids likely soon in Nagpur

Bharat Biotech, makers of indigenous Covid-19 vaccine Covaxin, is expected to start vaccine trial for children by February-end or early March this year. As per international regulations, only vaccines..




IndiaTimes - Published





Country's first station integrating road, rail and metro terminals to come up by end 2023 at Nagpur: Gadkari




IndiaTimes - Published





Demanding cash from wife not harassment: HC acquits man in suicide abetment case

Demanding money from the wife is a "vague term" and can't be considered harassment as per Section 498A of the IPC, the Nagpur bench of Bombay high court has ruled while acquitting a man who was..




IndiaTimes - Published





Cute boy gives threat to a barber, video goes VIRAL

Anup Petkar, a resident of Nagpur, has yet again shared a video of his boy Anushrut getting a haircut.




DNA - Published





Supreme Court stays Bombay HC's skin-to-skin order under Pocso Act

The Supreme Court on Wednesday stayed the acquittal order of the accused in the case where Nagpur Bench of Bombay High Court had said that groping a minor's breast without "skin to skin contact" can't..




IndiaTimes - Published





10 premature babies die in Maharashtra hospital blaze, 7 rescued

Ten premature babies died — three to four of them charred — after a fire broke out in the Sick Newborn Care Unit (SNCU) of the District General Hospital here, about 60km from Nagpur, between 1.30am..




IndiaTimes - Published





Nationalism not giving speeches from Nagpur: Sachin Pilot




IndiaTimes - Published





Maharashtra: BMC all set for COVID vaccination drive, dry run begins in 4 districts

The full-fledged dry runs shall be carried out at multiple locations in Jalna, Nandurbar, Nagpur and Pune.




DNA - Published





RSS ideologue Vaidya cremated; Bhagwat, Gadkari pay tributes

The last rites of Rashtriya Swayamsevak Sangh (RSS) ideologue Madhav Govind Vaidya were performed at a crematorium at Nagpur in Maharashtra on Sunday. RSS chief Mohan Bhagwat, RSS Nagpur Mahanagar..




IndiaTimes - Published





Breaking: RSS ideologue and first spokesperson MG Vaidya passes away at 97

Rashtriya Swayamsevak Sangh (RSS) ideologue Madhav Govind Vaidya, who had recovered from coronavirus infection died at a private hospital in Nagpur.




DNA - Published





Maharashtra MLC polls: 'Overconfident' BJP losing ground, says Shiv Sena

The Shiv Sena on Saturday said the results of the elections to five Maharashtra Legislative Council seats showed that the "overconfident" BJP was losing ground in the state. It said that the most..




IndiaTimes - Published





Take a Seaplane from Sabarmati to Statue of Unity in just Rs 1500

According to SpiceJet officials, the Seaplane has gone through successful trials in Nagpur, Guwahati and Mumbai and is one of the most sought after aircraft.




DNA - Published





RSS chief Mohan Bhagwat's address on Dussehra: Key points

RSS chief Mohan Bhagwat said that the organisation acknowledges the country as Hindu and Hindutva as the essence of this country's selfhood. The RSS chief addresses the Sangh's 'swayamsevaks' or..




IndiaTimes - Published





Maharashtra home minister Anil Deshmukh receives threat call over Kangana Ranaut issue

Maharashtra Home Minister Anil Deshmukh received a threat call on Tuesday for criticising actress Kangana Ranaut during the Assembly Session yesterday. The threat call was received at the Minister's..




IndiaTimes - Published





Shiv Sena criticizes Devendra Fadnavis' demand for opening temples in Maharashtra

Beed, Sangli, Kolhapur, Osmanabad, and Nagpur are the new hotspots in Maharashtra.




DNA - Published





WB govt allows flights from 6 cities with high COVID-19 cases from Sept 1

Earlier, the Kolkata airport has announced an extension on restrictions of flights arriving in Kolkata from six cities--Delhi, Mumbai, Pune, Chennai, Nagpur, and Ahmedabad, till August 31 in view of..




DNA - Published





Research-based technology institutes needed, says Nitin Gadkari

The country needs research-based technology institutes to make our engineers at par with the best in the world, said Union minister Nitin Gadkari during the inauguration of RCOEM-TATA CIIIT, Centre For..




IndiaTimes - Published





Independence Day: RSS chief hoists national flag in Nagpur

RSS chief Mohan Bhagwat hoisted the national flag at the Sangh headquarters in Mahal area of the city on Saturday as part of the 74th Independence Day celebrations.




IndiaTimes - Published





Kozhikode plane crash: Captain Sathe had planned to pay surprise visit on mother's birthday

Captain Deepak Sathe, pilot of the Air India Express flight who died along with 17 others after the plane crashed at Kerala's Kozhikode airport, had planned to pay a surprise visit to Nagpur on his..




IndiaTimes - Published





WB govt extends restriction on flights to Kolkata from six cities till Aug 15

Earlier, on July 17, flight operations to Kolkata from Delhi, Mumbai, Pune, Chennai, Nagpur, and Ahmedabad were suspended on the request of West Bengal government till July 31.




DNA - Published





'Janta curfew' in Nagpur on Saturday, Sunday; essential services to remain functional

Nagpur municipal commissioner Tukaram Mundhe announced the imposition of 'janta curfew' on July 25 and 26 to curb the rising number of COVID-19 cases.




DNA - Published





West Bengal Lockdown: Ban on passenger flights to Kolkata from 6 cities extended till July 31

Flight operations to Kolkata from Delhi, Mumbai, Pune, Chennai, Nagpur and Ahmedabad were suspended from July 6 to July 19 on the request of West Bengal government.




DNA - Published

Also reported by •IndiaTimes


Flights from Delhi, 5 other cities can't land in Kolkata

The civil aviation ministry has announced suspension of flights to Kolkata from six cities with a high incidence of Covid-19, including Delhi and Mumbai, with effect from Monday in accordance with a..




IndiaTimes - Published





145 stranded MBBS students from Nagpur, rest of Maharashtra, MP, Chattisgarh return home from Russia

A total of 145 MBBS students stranded in Russia since Feb-March following the lockdown landed at Nagpur's Babasaheb Ambedkar International Airport in Vande Bharat flight at 12.15 am on Thursday. This..




IndiaTimes - Published





India does not want land of China or Pakistan but peace: Nitin Gadkari

India is not interested in land of Pakistan or China but wanted peace and amity, Union minister and senior BJP leader Nitin Gadkari said on Sunday. Addressing virtual 'Jan Samvad' rally of Gujarat BJP..




IndiaTimes - Published